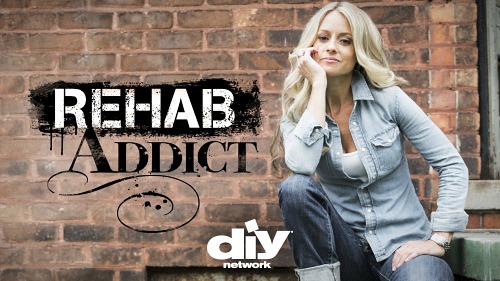 One of the top searches on my blog lately is this one: "Rehab Addict canceled?" Readers have also been asking if a new season of the show is coming to HGTV/DIY Network and if so, when. So I've been searching for the answers to give you guys, and they came from Nicole Curtis herself…
She makes it easier than some other show hosts to get answers because she keeps an active Facebook page where she interacts with her followers. Here's what she posted:
"SEASON 5 KICKS OFF SEPTEMBER 22ND!"
That's good news for those of us who enjoy watching her fixing up old houses.
She wrote, "Season 5 includes my Pool House!! This was once a crappy 1970's garage."
Haven't seen the show? Here's how the network describes it:
Nicole Curtis is a sweet-talking, hammer-swinging whirlwind. The Detroit native is a licensed Realtor and interior designer with a passion for restoring and preserving old houses. She uses her eclectic style to create high-end details on a budget. She shops discount stores, flea markets and reuse centers for interesting elements that give each restoration a personality as unique as her own.
An article about her in the Star Tribune says, "Now 37, she's been rescuing old houses — buying, rehabbing and selling them — for almost two decades. 'I believe old houses hold memories and soul.'"
Senior VP of original programming and development at DIY Network and HGTV Steven Lerner says it was hard to convince Nicole to do Rehab Addict when they first approached her. She agreed, as long as they kept it "raw and real."
Now it's one of the network's highest-rated shows. Since HGTV added it to their prime-time lineup, it's found an even wider audience of (somewhat rabid) fans.
One of her next house projects is going to be a 1904 cottage. "Old is better," she says. "We've started a movement."
For more information about "Rehab Addict," visit Nicole's Facebook page,