Have you been watching Drew and Jonathan Scott remodel their own place in Las Vegas on HGTV's Property Brothers at Home?
The 5,000-square-foot house was in foreclosure when they bought it. Jonathan says, "It's a nice house. It was built in 2008. It was just boring."
They spent 5 months turning it into a place where their family could gather for holidays and vacations.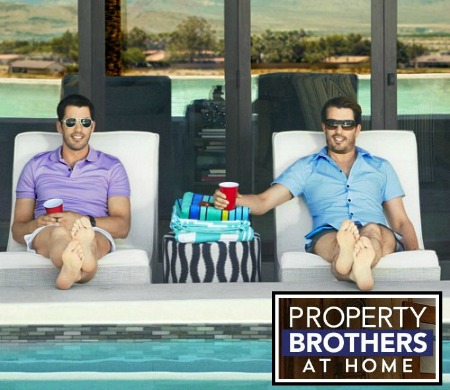 They recently gave a fun interview to the Daily Beast and said the biggest misconception about them is that they're gay (nope). I had to laugh because one of the top searches on my blog each week is "Property Brothers gay?"
The other question they hear a lot: "Are they single?" Answer: Jonathan is, but Drew has a girlfriend (sorry, Ladies).
They're originally from Vancouver.
According to an article in the Las Vegas Review, Jonathan moved to Las Vegas seven years ago to renovate foreclosures and further his secondary career as a magician. Drew followed two years later.
They bought this house together in 2011 but were working and traveling too much to do anything with it before now.


How Scripted Is Property Brothers?
BTW, since I wrote about how scripted Property Brothers is, I heard from someone working behind the scenes who confirmed it:
Like House Hunters, Property Brothers is also a completely forgone conclusion IN EVERY EPISODE. For The Unsellables we even find the alternative homes, the agents don't do anything, they just connect us with the buyers and we feature them as a thanks. The nature of all 'reality' TV is highly contrived — 'real life' is often just too boring.
On Property Brothers the home has already been purchased in advance. They cast people who have access to both the old home and the new property simultaneously. It's true that some episodes don't end with a purchase but there are other episodes where a selection/purchase is implied but in actuality never takes place. Furthermore, often times listing prices are altered for the audience from the agent's actual listing price."
For more information about "Property Brothers at Home,"

Photos by David Tsay.