Have you been watching Drew and Jonathan Scott remodel their own place in Las Vegas on HGTV's Property Brothers at Home? Here's a look at how it turned out. For starters, the backyard is no longer a dirt pit, but a "mini waterpark" with a commercial-grade slide, swim-up bar, and infinity pool…
The 5,000-square-foot house was in foreclosure when they bought it. Jonathan says, "It's a nice house. It was built in 2008. It was just boring." To give you an idea of what they had to start with, here's how the living room looked before:
Jonathan designed a walnut shelving unit on the two-story wall to showcase mementos from their world travels and tiled "a herringbone pattern" around the fireplace:
They replaced three windows with a collapsible glass wall that opens to the backyard: "We just open the accordion wall, and the living room and pool area become one enormous entertaining space."
They spent 5 months turning it into a place where their family could gather for holidays and vacations.
If you saw the episode where they remodeled the kitchen, you know the original had dark wood cabinets that looked a lot like these. They took the cabinet doors off and replaced them with new laminate fronts that were stained dark walnut to look like wood, which seemed a little counter-intuitive to me. I think I missed where they explained why they didn't just re-stain the original wood.
The kitchen had a lot of granite — even on the backsplash — which they left as-is.
Tonight's episode will show the two-bedroom guest house they built for their parents in the backyard (9 p.m. ET).
The game room has a custom wet bar, Brunswick billiards table, and an old-school upright arcade console loaded with 60 classic games. "JD is into all this stuff, so the loft was designed with him in mind," Drew says.
They recently gave a fun interview to the Daily Beast and said the biggest misconception about them is that they're gay (nope). I had to laugh because one of the top searches on my blog each week is "Property Brothers gay?" No idea why Google sends people here for the answer because — until I read that article, anyway — I had no idea. Ha.
The other question they hear a lot: "Are they single?" Answer: Jonathan is, but Drew has a girlfriend (sorry, Ladies).
They're originally from Vancouver. According to an article in the Las Vegas Review, Jonathan moved to Las Vegas seven years ago to renovate foreclosures and further his secondary career as a magician. Drew followed two years later. They bought this house together in 2011 but were working and traveling too much to do anything with it before now.
My first thought when I saw this photo of them with their parents and big bro JD was that he looks like Harry Connick Jr. Harry could at least pass as their fourth brother, don't you think?
Like what they did with their place? For more photos by David Tsay and information about the show and their house, visit HGTV and the Las Vegas Review. You can also watch their interview with Kathie Lee and Hoda on Today.
BTW, since I wrote about how scripted Property Brothers is, I heard from someone working behind the scenes who confirmed it:
Like House Hunters, Property Brothers is also a completely forgone conclusion IN EVERY EPISODE. For The Unsellables we even find the alternative homes, the agents don't do anything, they just connect us with the buyers and we feature them as a thanks. The nature of all 'reality' TV is highly contrived — 'real life' is often just too boring.
He also explained:
"On Property Brothers the home has already been purchased in advance. They cast people who have access to both the old home and the new property simultaneously. It's true that some episodes don't end with a purchase but there are other episodes where a selection/purchase is implied but in actuality never takes place. Furthermore, often times listing prices are altered for the audience from the agent's actual listing price." Interesting!
I love getting the behind-the-scenes scoop about these shows. I don't think that should surprise anyone out there at this point, but just in case you didn't know — it's all about entertainment, folks. Never take reality TV too seriously. 😉

 P.S. Visit my HGTV page to see more, including…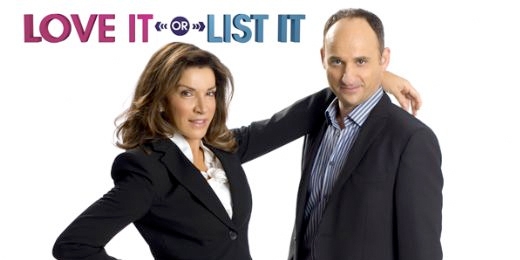 How Fake is Love It or List It?
Have you seen HGTV's Urban Oasis 2014 in Atlanta? They're giving it away and there's not much time left to enter (the deadline is October 10).…
My favorite new show on HGTV is "Fixer Upper." Chip and Joanna Gaines take on old houses that a lot of people would consider tear-downs and…