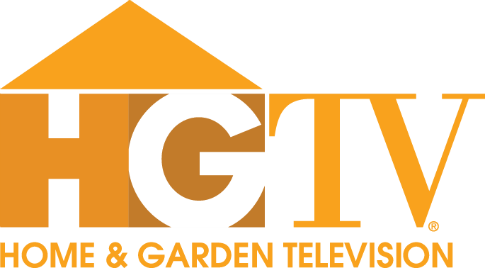 Whenever I write about HGTV, readers ask some of the same questions. For instance: "Why do they air shows like Love It or List It in constant rotation?" And another big one: "Is Property Brothers as scripted and fake as House Hunters?"
So I thought today I'd take a minute to try to answer them. Although I'm not sure you'll like what I found!

Why Has HGTV Turned Into "Real Estate TV"?
When I wrote about HGTV's upcoming schedule, it generated lots of comments from readers who said they're fed up with all the real estate and renovation shows and miss the more straightforward decorating and gardening series from days of old. This comment from a reader named Linda sums a lot of them up:
"I'd really like to know how many viewers they have lost since the have changed to real estate tv. It was once a very talked about channel, everything was learned on HGTV from Matt & Sherry, Kitty, and shows like Decorating Cents, or Design on a Dime. I'd really like to know what the heck are the board thinking. They prefer losing money. LISTEN TO YOUR VIEWERS!!! or you'll lose them all!"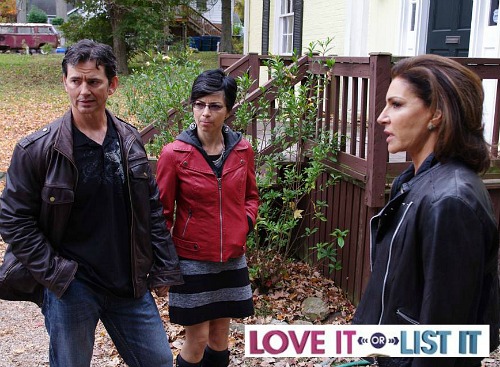 HGTV's Steve Lerner says they're getting big ratings for those shows:
"We've found that our viewers' appetite for real estate and renovation programming is virtually insatiable."
For those of you who are wondering why there are a million episodes of shows like House Hunters on the air each week, Lerner (who is the Senior VP of Programming) explains:
"While we have a number of strong new performers on our programming slate including Beachfront Bargain Hunt, many of our viewer favorite programs helped HGTV attract more viewers than ever in 2013.
"With the continued success of the House Hunters franchise, Love It or List It and Property Brothers, viewers seem to never tire of real estate, renovation and peeking inside other peoples' homes."
In other words, they keep airing those shows because people keep watching them.
I know they must get a lot of viewers because every time one of those shows airs, I get a surge of traffic to posts I've written about them, such as:
Here's a chart that HGTV created for prospective ad buyers that shows the top-rated shows and how they rank: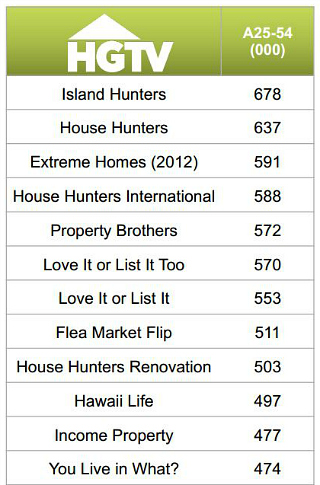 As a side note: I have to laugh because a lot of media outlets predicted the end of House Hunters after my post about how they produce that show went viral in 2012, but it's doing just fine. And the news that Love It or List It is pretty fake, too, apparently hasn't hurt it, either. People are still watching those shows anyway.
One of the other questions I get asked a lot:
"Is Property Brothers fake, too?"
Toronto Life ran an article recently that looked into Property Brothers and concluded that it's scripted as much as the other shows are. Emily Landau reported:
A couple I know were looking to buy a home and contacted the show to see if they could appear. "Not to burst your bubble," the casting researcher cheerily replied, "but we very rarely have couples or families on the show who haven't bought a house already."
She then sent them a casting packet that read, "Our onscreen Realtor, Drew, will present the houses to you, but, off-screen, your Realtor is the one who completes your deal. We need to state that we will only feature people who have purchased a property."
Though the brothers would have you believe that they're doing the work, Jonathan, the long-haired contractor, barely touches the renovation. The heavy lifting is done by the show's less telegenic construction crew, but he'll dutifully wear his tool belt and plaid shirt in solidarity.
Which pretty much matches the stories I've heard about it over the years. That's the way most of these types of shows are produced because it keeps production time and costs down.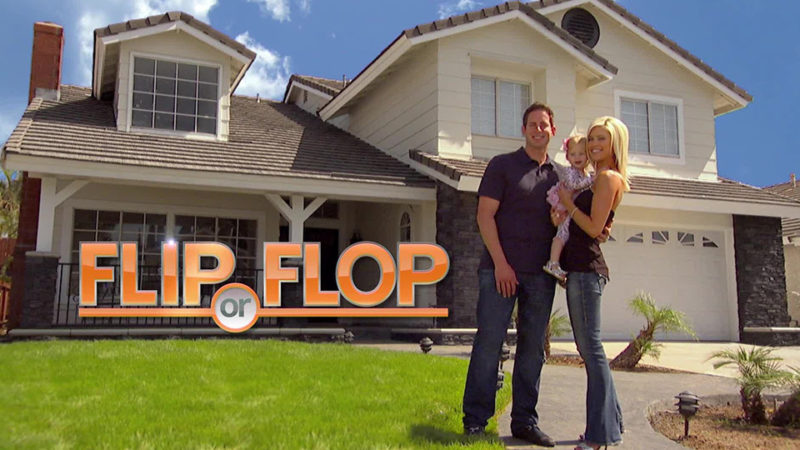 Here's a press release I recently got about Property Brothers and other shows we already see a lot of:
HGTV PREMIERES NEW EPISODES OF NINE SERIES
More international house hunts, fantasy homes tours and dream makeovers are on the way as HGTV offers new episodes of nine popular series, including House Hunters, House Hunters International, House Hunters Renovation, Property Virgins (Egypt Sherrod), You Live In What?, Love It or List It (Hilary Farr and David Visentin), Extreme Homes, Property Brothers (Drew Scott and Jonathan Scott), and Renovation Raiders (Amy Matthews). The new episodes will premiere January-March 2014.
That's right. Even more of those shows are headed our way! Will you be watching any of them? Or are you missing the "good old days" of straightforward decorating and gardening shows on HGTV?