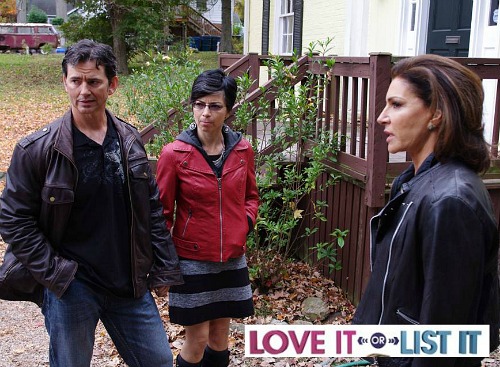 I have spies everywhere. One of them wrote me from North Carolina last fall, reporting, "Love It or List It is currently shooting at a house around the corner from me!" That was big news because the show had never filmed outside Canada before.
According to my spy in NC:
I drove by yesterday on my way home and saw all the trucks, cars, etc., and thought there was either a party going on somewhere on the street and that maybe the house in question was being (heavily) renovated.
Drove by tonight and saw equipment that looked suspiciously like a TV or film production, so I asked. They at first wouldn't tell me until I said, 'Well, shoot! My house needs an overhaul and I'm on the fence, and they piped up and told me which show it was.
I'll make a note to regularly walk one of the dogs down the street, and will definitely see if I can get any scoop from the homeowners.
This is why I love my readers so much. She not only kept me posted on the LIOLI activity in her neighborhood but contacted her neighbor and asked her to share what it was like being on the show with us.
Matt and Marci's episode aired for the first time on March 16, and here's the official description:
Meet Matt and Marci:
After ditching suburban space to join his wife Marci in her charming but tiny home, Matt quickly began feeling buried. Realtor David will work to find them a home that combines the space Matt needs to breathe with the charm artist Marci is so inspired by. Meanwhile, designer Hilary will prove the true potential of their house by redesigning and expanding many of its highly debated spaces.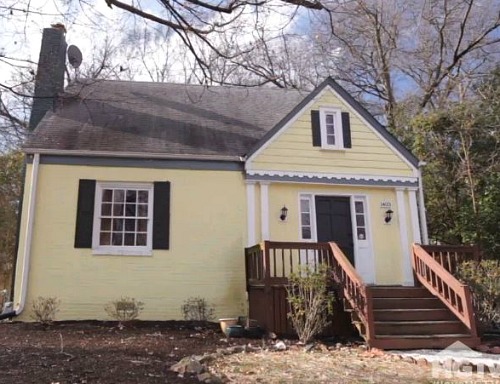 Their yellow cottage was cute and charming but pretty tight on space, especially since Marci is an artist who needs room for both her studio and yoga classes she teaches.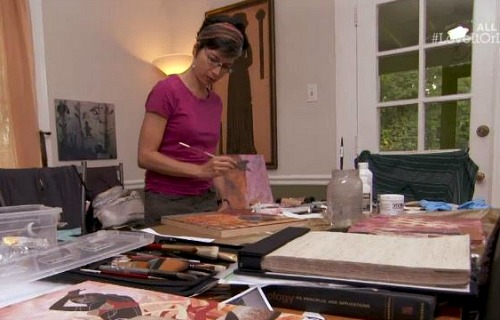 I asked Marci some questions about the experience, and she graciously agreed to tell us what she could, although she is bound by a confidentiality agreement not to reveal certain details.
Marci's Story:
My husband, Matt, and I were lucky enough to get on the show when it came to the Triangle to film their first season outside of Canada. We had actually been working with a designer for six months prior to figure out if building an addition onto our house, as well as renovating other parts, was a good idea to help solve our issue with lack of space.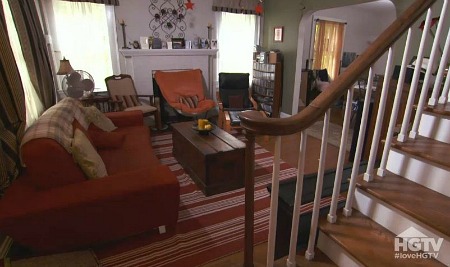 However, after receiving bids from a series of general contractors to do the work, we came to realize our budget wasn't going to support the amount of changes we wanted to make to the house. Having already pared back our plans as far as we felt comfortable doing, we were at a real crossroads about what, if anything, to do next.
It was right about that time when I saw an email on our listserv passing on a message about a HGTV show seeking homeowners who might be interested in being on their show.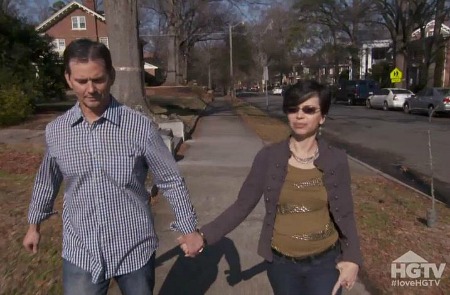 Sure enough, when I followed up on it, it was "Love It or List It," a show we were familiar with and loved. As probably many viewers have done, Matt and I had joked with each other that we would be perfect for the show, as we were a couple truly on the fence about whether or not we had the budget to make our house into something we could both love or if it would be better to list it (with or without renovations).
Presented with this fortuitous situation, we decided to apply for the show and later found out that we were chosen to be on the first season stateside. However, another consideration for doing the work on the house, we wanted the work to be able to qualify for a historic tax credit. Fortunately, the production team was willing to be flexible with us to help keep our renovation within the tax credit parameters.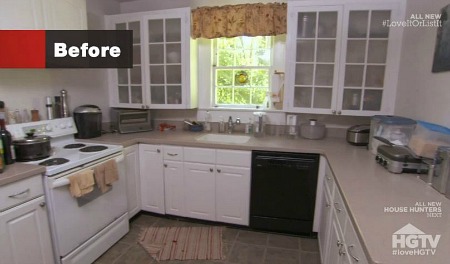 Our renovation took roughly 7 weeks to complete, though we believe some of the renovations done on the show are completed in even a shorter window. We had further good fortune when some friends of ours offered to put us up for the duration of the renovation, as it is a requirement that you move out of the house while work is being done. As depicted on the show, the only time we got to see our house after the work began was for the "homeowner visits" filmed with Hilary.
Meeting David and Hilary was a thrill and they have every bit of that back and forth repartee as you would expect having watched the show. They were truly both quite fun to work with. In fact, the entire crew was really nice and it was a happy coincidence that many of them were also cat lovers…since part of our episode had to do with maintaining a good space for our two cats to sleep overnight!
The "final reveal" was indeed a total surprise for us, as we didn't know what the finished project would look like until the time of the reveal. So, it was good to learn that when you watch the show, no one is faking their reactions when they see the final product!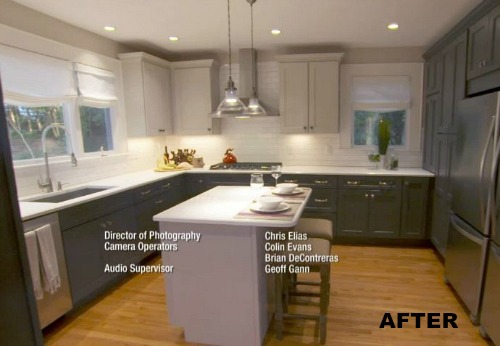 Another issue we had was for finding the space for me to indulge my creative side (with painting and jewelry). As I had a number of existing paintings, all of the art you see on the walls during the show is actually mine…which worked out well due to copyright issues that could otherwise arise from showing any art pieces without the artist's permission. (You can see more of my art and jewelry at my website for Ubasti Studio.)
Anyhow, cheers to those interested in knowing more about our experience on the show and have fun tuning in to see if my husband and I "love it or list it!" -Marci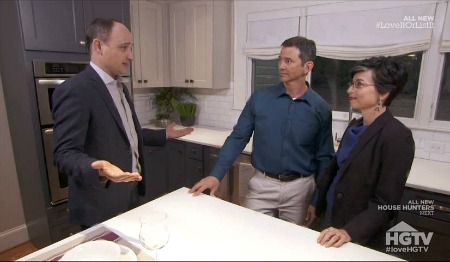 I talked to her again after the episode aired and she says they're planning to put it on the market sometime this year after they have the upstairs bathroom renovated, too.
My spy reports that another neighbor's house was chosen as one of Matt and Marci's three options to buy, and they spent an entire day shooting in it. They got the square footage wrong in the episode, though, saying it was 1,500 square feet when it's actually 2,300, so you really do have to take the information on these shows with a grain of salt. 😉
You can watch their episode (Season 11, Ep 5, "Charming Cat-astrophe") online at HGTV.com if you missed it, as long as you get the station on cable (they make you sign in).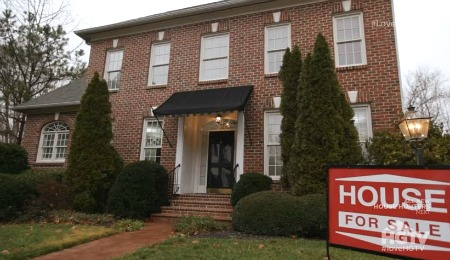 *UPDATE*
Their yellow bungalow is on the market now — see the listing photos here.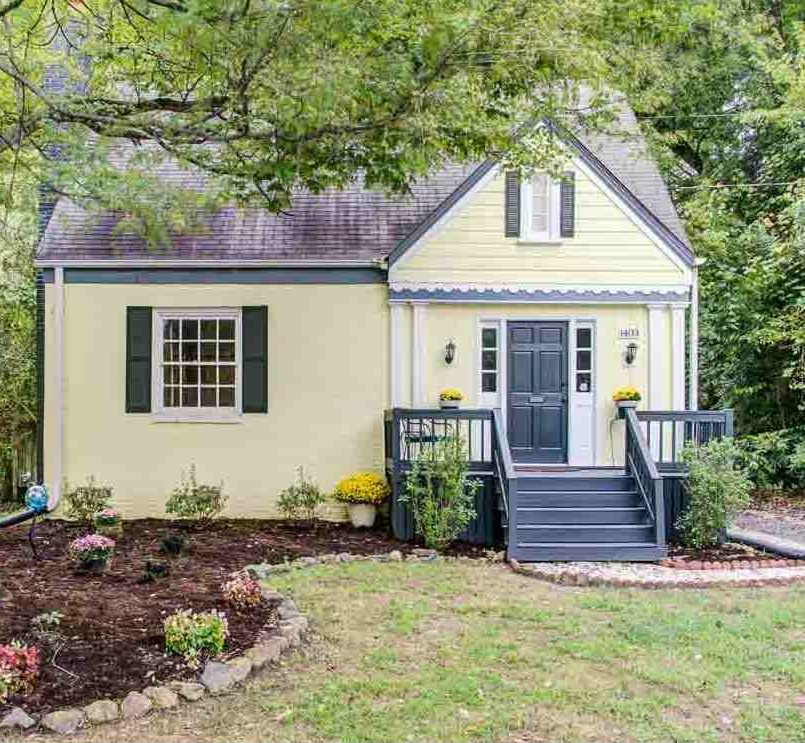 Thanks to Marci for the peek behind the scenes and her neighbors for the additional scoop!
BTW, I now have a dedicated HGTV page to make it easier for you to find answers to your burning questions about the shows.