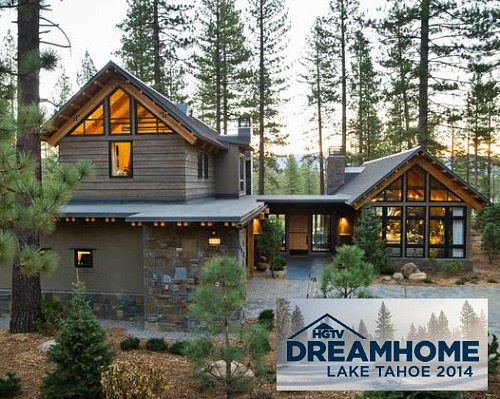 Have you seen this year's HGTV Dream Home in California?
Architect David Bourke gave the 3,200 square-foot house "new mountain style" with a mix of traditional, modern, and industrial elements.
According to HGTV, "Wood and veneered fieldstone are among classic mountain home materials utilized in this build. A large glass box in shape and appearance, the foyer is designed to connect the home's public and private wings."
"Wood, metal and stone elements are repeated throughout the home to emphasize its New Mountain architecture. Using those same materials in the entryway gives guests a preview of the style to come."
"Brilliant fall foliage inspired the bright yellow hue of the leather upholstery that covers a series of bar stools in the open concept kitchen. They cozy up to a granite island that's nearly 16 feet long."
"As interior designer Linda Woodrum chose fabrics for this room with a view, she was careful to stick with subtle patterns and solids that didn't compete with the outdoors. The flowy white draperies are mounted at the top of the wall in order to draw the eye up."
HGTV's 18th annual Dream Home is located in the Schaffer's Mill community of Truckee, California with panoramic views of the Carson Range between California and Nevada.
Visit HGTV.com for all the photos by Eric Perry and more information.
Rhoda of Southern Hospitality got to tour the house in person, and you can see the photos she took of it on her blog, too. And, of course, watch for the special airing on HGTV!
Want it? The winner gets the house (estimated at about $2 million) along with the furnishings, a $250,000 cash prize provided by Quicken Loans, and a 2015 GMC Yukon Denali.
You can enter twice a day: once on HGTV.com and once on FrontDoor.com.