Every December, designer Sarah Richardson heads north to her weekend getaway in Ontario to spend the holidays there with her husband Alexander and daughters Robin and Fiona. She told HGTV Magazine, "It's two weeks of nonstop baking, family visits, and snowy adventures."

Sarah Richardson's House in Ontario
When you live in Canada, a big mudroom like this would be a must-have. Sarah used a soft green-blue paint (looks like Tidewater by Sherwin-Williams) for the closet doors and found the vintage light fixture at a Toronto flea market. Wall hooks are mounted low enough that the girls can hang their own things when they come in.
"I love icy colors year-round, and they work especially well in this house," Sarah says. This nook is "their little hideaway."
The kitchen has white shutter-style upper cabinets and soft gray lower cabinets. "We bake a lot, so I wanted durable countertops," says Sarah. She chose white quartz for the counters and cream and gray quartz for the island. "Spilled wine, hot pots, even paint haven't harmed them," she says.
She says the girls love to sit on the window seat in the kitchen's eating area, which has a practical, "heavy-duty leather cushion."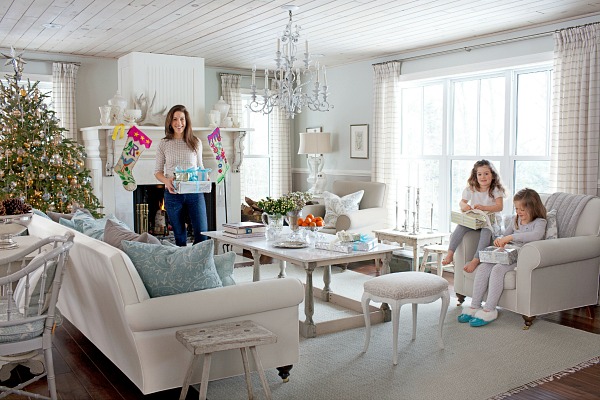 Like it? Check the December issue of HGTV Magazine for the story by Jessica Dodell-Feder and all the photos by Bjorn Wallander.

P.S. Click here to see more houses she's designed, including…
(Visited 43 times, 1 visits today)