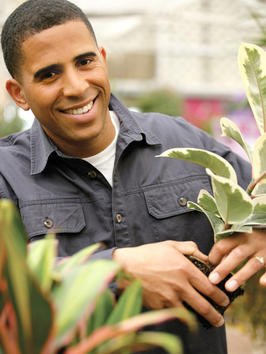 A couple of weeks ago I told you that Ahmed Hassan had been replaced by new host Matt Blashaw on Yard Crashers, the DIY Network show that he made popular. Unhappy viewers continue to leave comments on that post, and most conclude with statements like, "Until Ahmed is back, I won't be watching!"
I just heard from Ahmed's manager Kelley Nayo, who said:
"Thank you for blogging about Ahmed's departure from Yard Crashers earlier this month. I think your blog summed up the feelings of many viewers and we are grateful for your voice. The outpouring of love from the fans has been amazing.
"One of the fans was so displeased that she started a petition at change.org. If you want to join the movement, please do and spread the word.
"While we we have no idea about the effectiveness of such a petition, we do appreciate each signature as it sends a clear message to the network about Ahmed's popularity. Often times, decisions are made in a vacuum. Thanks so much and please keep voicing your opinion – the power of social media is unprecedented."
On his Facebook page, Ahmed thanked his fans for their support and made it clear that it's appreciated:
You all are so amazing! Winnie Cheung started a petition at Change.org asking DIY Network to bring me back to Yard Crashers and over 400 of you have signed it! That's a lot of love! Thanks for the good vibes!
I assume this means he'd be willing to return to the show if the powers that be offer it. Obviously, we don't know the whole story since the network has remained mum about the decision, but for a lot of viewers, Ahmed is the show, and not the same without him.
Click here to sign the petition if you want to see him back on TV.
P.S. You can read my original post about his departure and all of the outraged comments about it here: Ahmed Hassan Replaced by New Host.
(Visited 64 times, 3 visits today)