Remember Bronson Pinchot, the actor best known for playing Balki on the sitcom Perfect Strangers? Since then, he fell in love with the small rural town of Harford, Pennsylvania, and started buying old, neglected houses that he felt deserved rescuing.
Now he has a show on the DIY Network called The Bronson Pinchot Project that follows along as he restores them with his crew of local contractors.
After getting sucked into a marathon of episodes last weekend, I thought it would be fun to show you some of his dramatic before and afters. Take a look!


The Bronson Pinchot Project

This early 19th-century Greek Revival was the first house that he found in Harford.
"It was a July day in 2000. I had only one day on the East Coast before I was due to travel West. I'd seen a very cropped photograph of the house, which then was choked with trees (dying locusts) and wildly overgrown lilacs, and painted yellow (with plenty of fat bugs trapped forever in the sloppy paint job) and with the columns bending bowlegged in all directions and criss-crossed with scarifying spiraling cracks, and their bases rotted out and replaced with concrete."

He could see the potential in it, though:
"When I opened the door, the smell of cinnamon toast caressed me. I fell head over heels. Only a few years later, after year-round work under tarps with turbo heaters in the winter, it looked like this. And it had its own TV show."
It also inspired him to buy more old houses in the town that were in bad shape.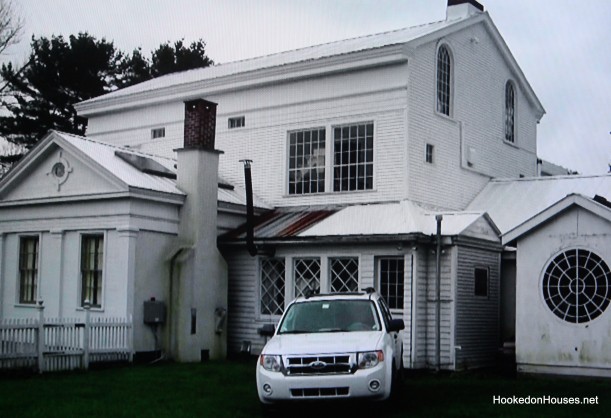 In one episode, he gives the "Christmas Cabin"–an addition added onto the back of the house (above) that he thinks will be the perfect spot for a tall 17′ tree–a makeover. Here's how the addition looked before:
And the fireplace wall after–with a mantel salvaged from an old house (one complaint–the afters are often still being shown at the end of the episodes while credits flash over them):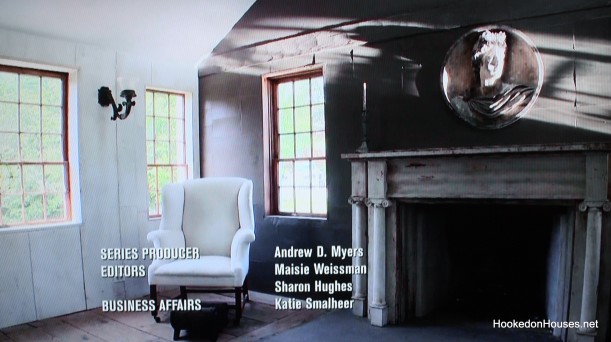 As you can see, he remodels houses so they look, well, old. Most of the salvaged wood he uses is not repainted because he likes the patina of it.
He began collecting architectural salvage in the late '80s and now has houses to use a lot of his pieces in–like that fireplace, and the bust above it, which was so heavy it had to be built into the wall.
New (old) French doors were added to the room for more light, leading to the garden:

The kitchen in the Christmas Cabin before:

And after:
Bronson loves to disguise refrigerators and other appliances. In this case, the fridge is stealthily hidden behind this cabinet (below)–see the handle he's reaching for underneath it?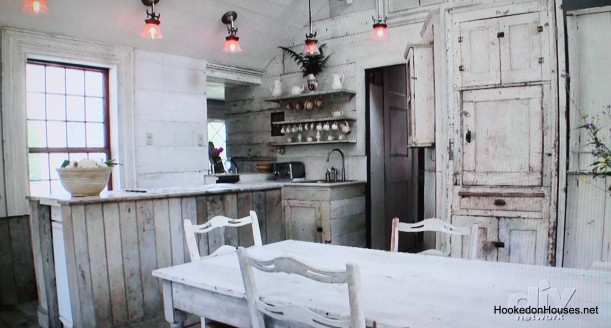 One of my favorite episodes shows him transforming the exterior of another house he owns in Harford, called Decker Court. It was built in 1840, and let's just say he saw potential in it that I never would have.
Here's how it looked before:

And after:
That picket fence was from the 1800s and had been stored in a local barn for decades before he put it back to use. It kind of fascinates me how he leaves everything looking weather-beaten and worn.
This looks like a building you'd find on a back lot in Hollywood. I could see it being used in a period film of some kind.
The kitchen inside Decker Court was pretty blah, too:
He tore it down to the studs, uncovered the original wood floors, and gave it the look of an old country kitchen:
This time the fridge is hidden behind what looks like built-in shelves.
Those pieces of china are glued to the shelves, and if you pull on one of them, they open to reveal a fridge behind:
Would I want to live in houses that are "newly aged" and countrified like this? Probably not. But I think it's fun to see how he has a creative vision for these old houses and executes his ideas in unusual ways. They're almost like art installations. And I could totally see him working as a set designer, couldn't you?
He now owns 5 houses, 2 stores, and this tiny Post Office in Harford, which reminds me of the one my grandmother worked at when I was little (he uses it to store salvaged items for future renovations):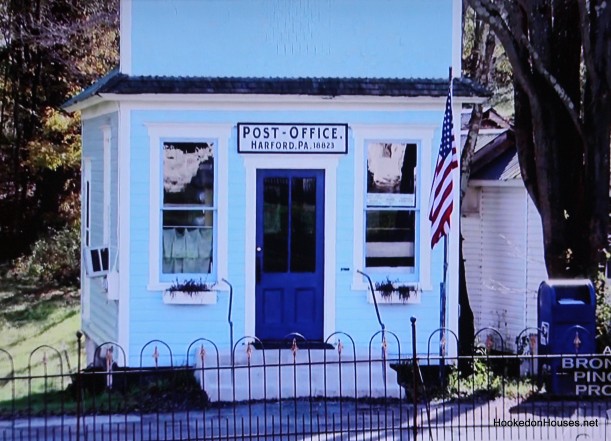 Have you been watching the show? Check the DIY Network website for dates and times of upcoming episodes (looks like more are airing this weekend). Bronson announced that the show was picked up for a second season, and they're starting production on it now. Can't wait to see what else he has up his sleeve!

On TLC's reality show The Little Couple this season, we watched as Bill and Jen moved into their new home together. Because Bill is 4'…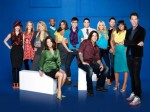 It's baaaack! HGTV's reality competition show for decorators who want to win their own show on the network starts Season 7 Tuesday night. Noticeably absent,…