Have to say, I wasn't crazy about last year's Green Home, so my expectations were pretty low for this one. I wasn't even going to tune in to the special on HGTV…but then I heard that it was "inspired by classic Southern farmhouses and redefined for modern families."
Well, I can't resist a white farmhouse, so I had to check it out. Have you seen it yet?
The front door is down in what looks like the foundation (love the stone). Seems like an odd place to enter the house–almost like you're going in through the basement.
This year's Green Home sits in Serenbe, a picturesque sustainable community about 30 miles from Atlanta.
The kitchen mixes rustic with modern.
There's a lot going on in this master bedroom–I can't say I'm crazy about that headboard against the striped wall and the various patterns thrown together. I need things to be a little more serene in mine. But if I win, that's an easy change, right?
The master bath:
A fun kid's room with a loft (there's a TV and gaming system up there):
The guest room has what looks like the Rojo Tall Cabinet from Crate & Barrel. Have you noticed that bed skirts and dust ruffles are apparently "out" now? You rarely see them any more.
The house, which has 2,300 square feet, was designed by architect Steve Kemp and residential designer Georgia Muncaster of Kemp Hall Studio.
"The concept was to mix an old with a new feel," Georgia explained. "That's why we wanted to do the very rustic stone foundation. We have the simple form of the farmhouse with a traditional siding used in a different way and then the traditional metal roof."
One of my favorite spaces in the house is this homework/craft room upstairs, overlooking the courtyard:
This room was created as a space for "quiet reflection," but all I'd be thinking about would be, "How soon can I repaint?"
The windows on either side of this "Georgia Room"–not to mention the wicker furniture–give it a sunroom vibe that I like. It's meant to be like an outdoor room, so it isn't air conditioned.
Did you see the Green Home special on HGTV, hosted by Monica Pedersen? I've liked her since her Designed to Sell days (I miss that show!).
I just finished reading her new book, Make It Beautiful: Designs and Ideas for Entertaining at Home–it comes out May 8, but the publisher sent me an advance copy. I enjoyed it but hope to see a decorating book from her in the future (the kinds of parties I throw these days usually involve pizza delivery and paper napkins–ha).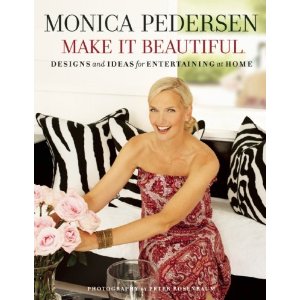 I learned some interesting things about her in the book–like that she started as a print model but was always interested in houses and design. It was a Sears commercial that she landed–playing a housewife with a cordless drill–that got her the audition for Designed to Sell. The rest, as they say, is HGTV history.
The one-car detached garage was designed "to look like an old farmstead wagon shed" and sits (kind of inconveniently, esp. when you have a car full of groceries) behind the house, and up a bunch of steps:
Like this year's Green Home? Personally, I would have preferred to have seen more farmhouse and less modern. But overall, I liked it better than last year's.
Want to win it? You can enter twice a day until June 1. Visit HGTV.com for all the details about the sweepstakes.
How do you think it compares to the Green Homes of the past few years?
(Visited 11 times, 1 visits today)