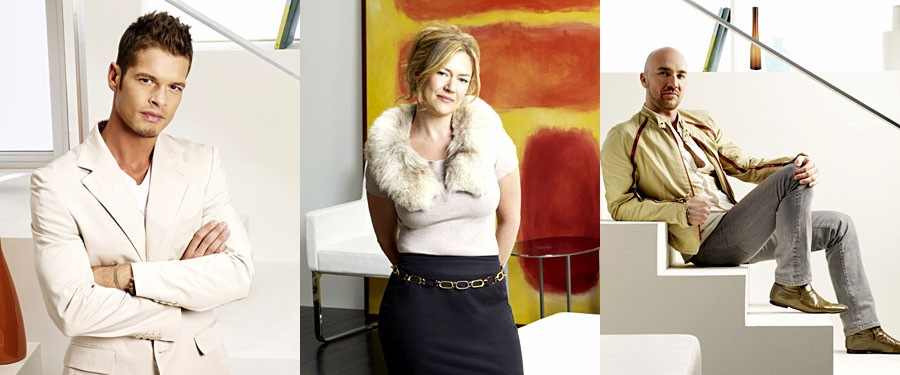 Boy, what a crazy week it's been. If you follow me on Twitter, then you know I spent Election Day in the hospital while my husband had surgery. Now he's home and recovering nicely. Thanks to all of you who wrote and asked how he's doing! I have the best, most caring blog (and Twitter!) friends, I have to say.
It was fun to come home that night to see that so many of you had voted for your favorite kitchen in my Election Day post. The blue kitchen won by a squeaker! The white kitchen was a close second. The polls will remain open a little longer, so if you haven't voted yet, now's your chance.
Okay. So last night was the "Top Design" finale. Did you see it? Well, here's the run-down for you. (Spoiler alert! Don't read any further if you don't want to know who won!)
For the final challenge, each of the designers had a townhouse to decorate from top to bottom in only 4 days. They were each given 2 carpenters, 1 seamstress, and 1 former contestant to help them out.
Eddie Ross came back to help Preston, noting that since he had just been eliminated himself, he felt "like slitting my wrists right now." But he would be happy, you know, to help. Sure. Just so long as Preston didn't ask him to do anything like fetch him coffee. "I am NOT his assistant."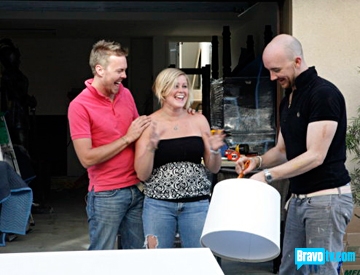 Natalie returned to help Nathan, throwing herself into his arms and squealing with glee.
Andrea came back to help Ondine, which was a little ironic because it was her decision to bail on the competition that got Ondine into the finals in the first place. Andrea commented that she's been kicking herself for quitting. Yeah, I bet. I mean, wouldn't you?
So we watched them work. We watched Eddie mouth off, as usual. We saw Ondine panic that her carpenters wouldn't finish their projects on time. We cringed as Nathan had a crew of about 7 men move a giant Indian chest (which he referred to as a "sarcophagus") upstairs to the family room, only to realize it was way too big and out place there.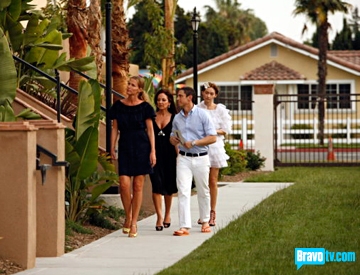 Then it was time for the judges to tour their spaces. First up: Ondine's place, which she described as "retro modern."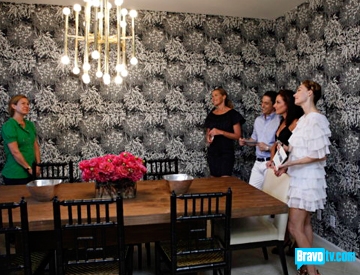 Kelly Wearstler was back with yet another "interesting" outfit. This week she was channeling "Heidi":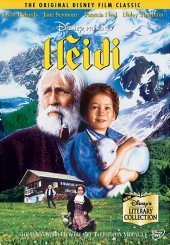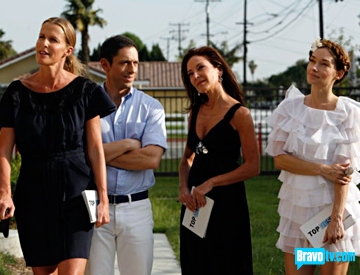 Ondine's living room: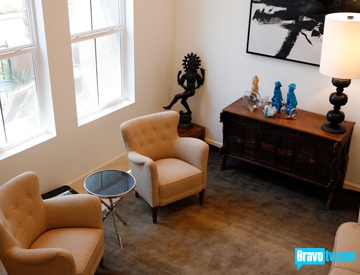 Little girl's room with built-in bed alcove: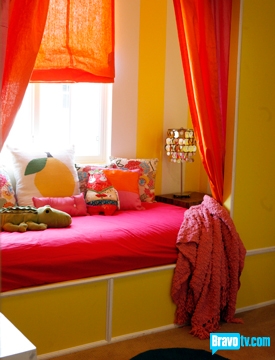 Master bedroom: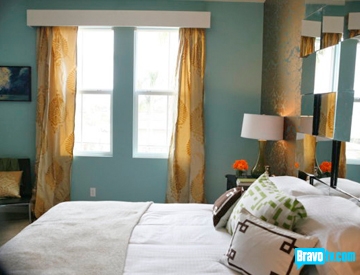 Here's a better view of the interesting mirrored headboard Ondine created in her master bedroom: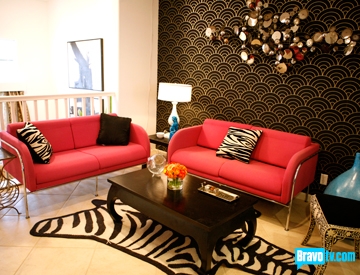 Now on to Nathan's townhouse, starting with the living room: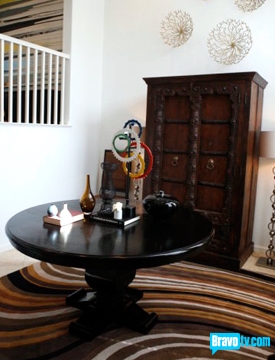 Nathan's dining room, with the paper-plate chandelier he created: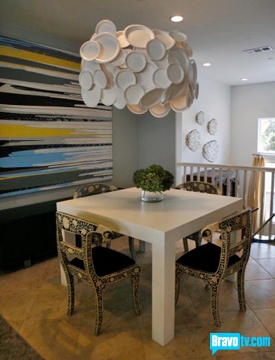 Here's a view of Nathan's chandelier in progress. You can also see the (awful) wallpaper that he hung up the stairs and into the dining room: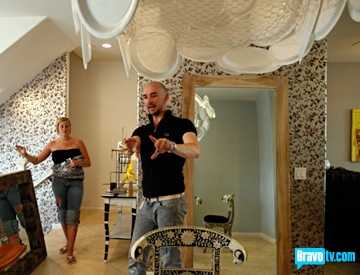 The "sarcophagus" in the family room took up way too much space and left no room for a TV or anything else remotely practical, but Nathan couldn't bring himself to ask the guys to move it back downstairs.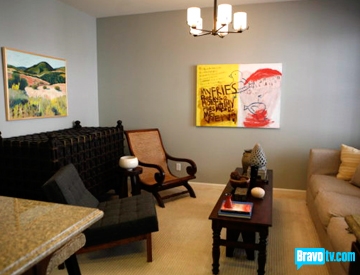 Finally, Preston's perfect and pristine-looking townhouse (here he is putting the final touches on the landing):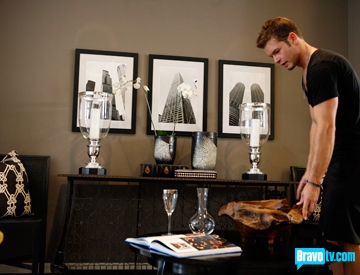 Even though his "hearth room" off the kitchen won the challenge last week, he turned it into a dining room for the final challenge. I'm still not completely sure why. They criticized the dining room for looking like everything came right off the showroom floor (they hate "matchy-matchy"):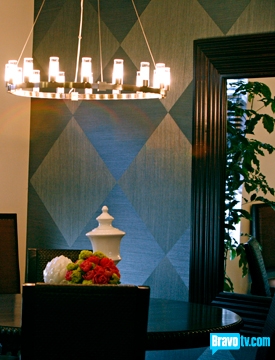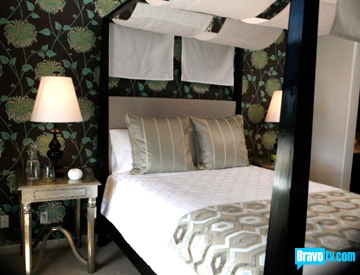 Did you notice how much wallpaper they used in their houses? I liked some of it, but it was all a little too much for me. That's the big trend now, though, so I know I'm probably in the minority here.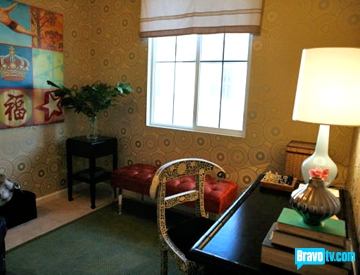 The judges loved the moldings Preston used in this small sitting room: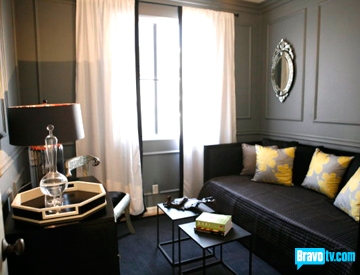 The judges deliberated for a long time. Jonathan Adler reports on his blog that they had a hard time choosing the winner:
My God was it difficult to choose! Our otherwise harmonious judging crew nearly came to blows over who should win. Honestly, I almost came to blows with MYSELF over who should win! I J'ADORED Nathan's house (of course), but I was in love with Ondine's and Preston's creations aussi. Any of the three could have won and I would have been happy.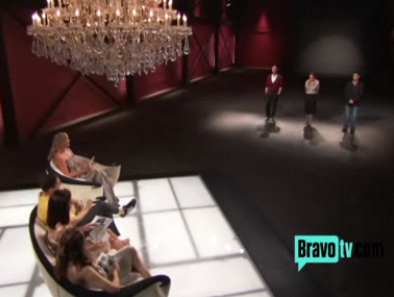 In the end, they agreed that Nathan had the Top Design, despite the sarcophagus, despite the ugly wallpaper, despite the fact that his best room was the entry, which couldn't actually be used for any practical purpose beyond "setting the tone" for the rest of the house.
They really tricked us with the editing–showing us all of the critical things the judges had to say about Nathan's room, and all of the glowing praise they had for the others. I was sure Preston was going to win!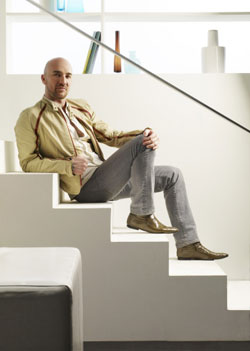 The polls taken by Bravo, Blogging Top Design and here on my own blog last week all showed Preston being the clear front-runner to win this thing.
Nathan's space was very creative and artistic, though. I think the judges rewarded him for taking chances. Congrats, Nathan! And congrats to all of us for sticking with this show to the very end. There were a couple of weeks when I frankly wasn't sure I was going to make it.
How do you think they could improve this show next season? My personal request: hire Jeff Lewis as a permanent judge, Bravo!
What do you think? Did the best contestant win? Or were you rooting for someone else right up until the end? Discuss.

~
(Visited 1 times, 1 visits today)