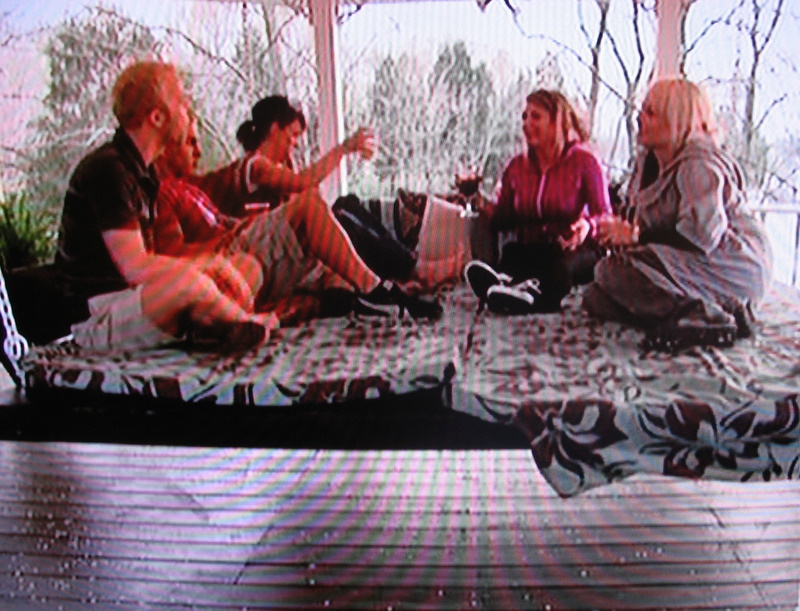 Okay. So lots of you wrote in last week and insisted that you are still watching "Design Star" with me and faithfully reading my weekly recaps. You know what that means, right? I will keep recapping and you have to keep reading.
Tonight's episode was the fourth one of the season and it started out with our wannabe Design Stars sitting around on a giant floaty swing-bed thing on a porch I don't remember seeing before.
Awesome Mike (who, you'll recall, repeatedly tells people, "It's official. I'm awesome!") says that losing D. Paul (aka D. Rock, D. Wayne, etc.) last week was a real shocker. No one expected him to go home instead of Tracee.
"D. Paul leaving was tragic–capital T-ragic," he says.
Even though they all wish Tracee had gone instead, Awesome Mike instructs the gang to be nicer to her from now on, which is a little surprising considering he was one of her biggest haters. (Remember when he referred to her as "Mommy Dearest"?)
But that was all in the past! This is today. Stephanie finds a note in the kitchen that tells them to pack a bag and bring their passport to the airport tomorrow morning. She tells the camera, "This is either DEATH or we're gonna get something GOOD."
Wow, that seems a little extreme. But clearly, this is one girl who has watched her share of reality TV. Things always have the potential for going either way.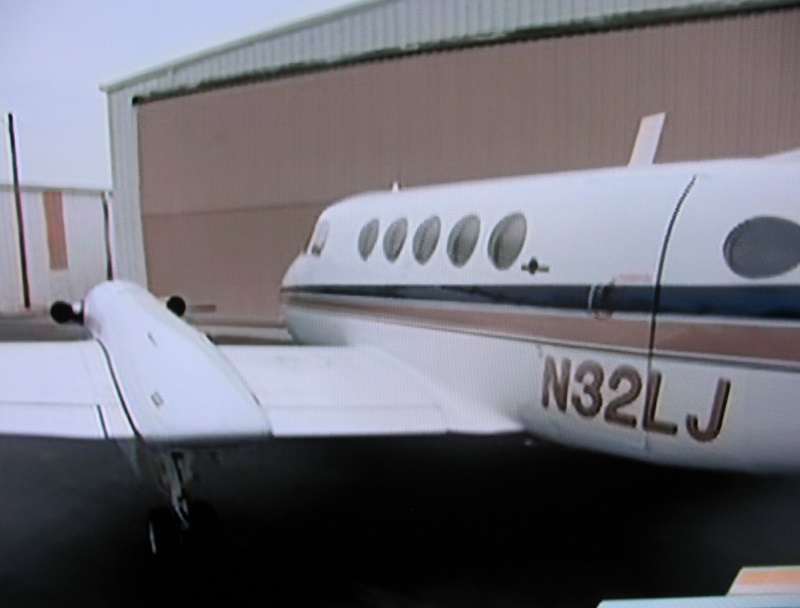 They report to the airport and line up next to a hangar with a private jet sitting on the tarmac. Clive Pearse makes one of his dramatic entrances, this time popping out of the plane.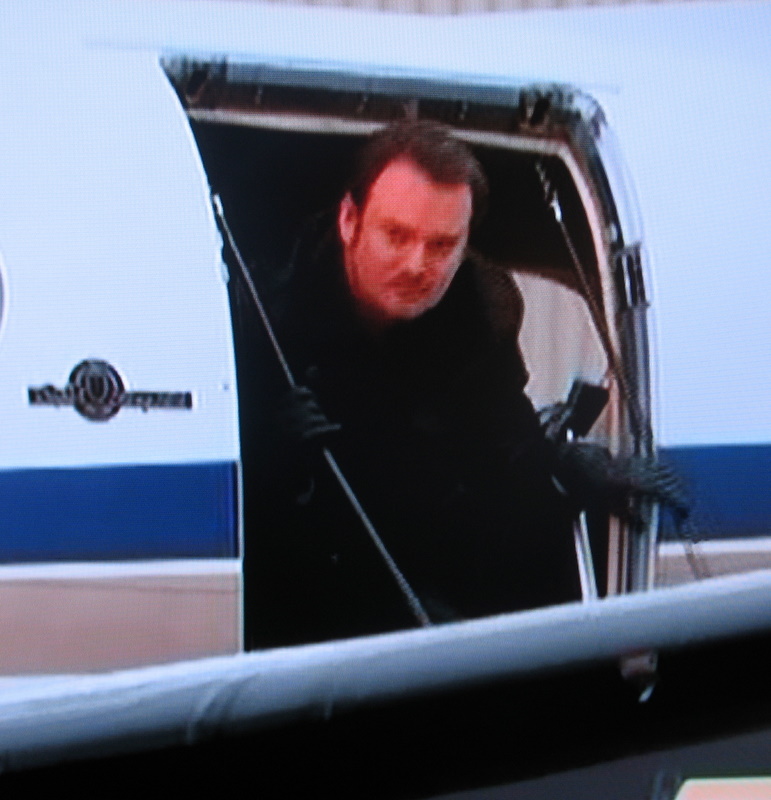 Each contestant chooses a paint can. They lift the lids to reveal the name of a country. Stephanie and Trish get Mexico. Jen and Tracee both get Italy and look a little freaked out that they may have to work together again (you'll remember it didn't go so well the first time around). Mikey V and Matt get Thailand.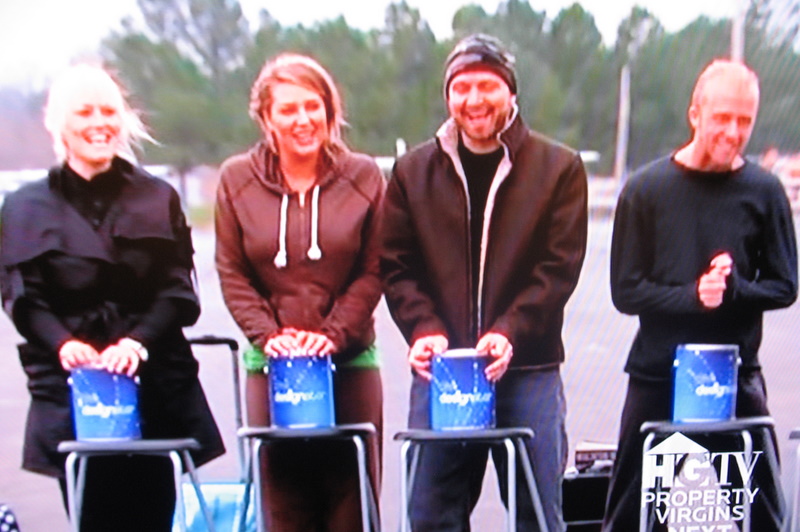 But Awesome Mike's lid is blank. What does this mean? That he gets to pick his destination. He goes for Spain, which he apparently has been to many times.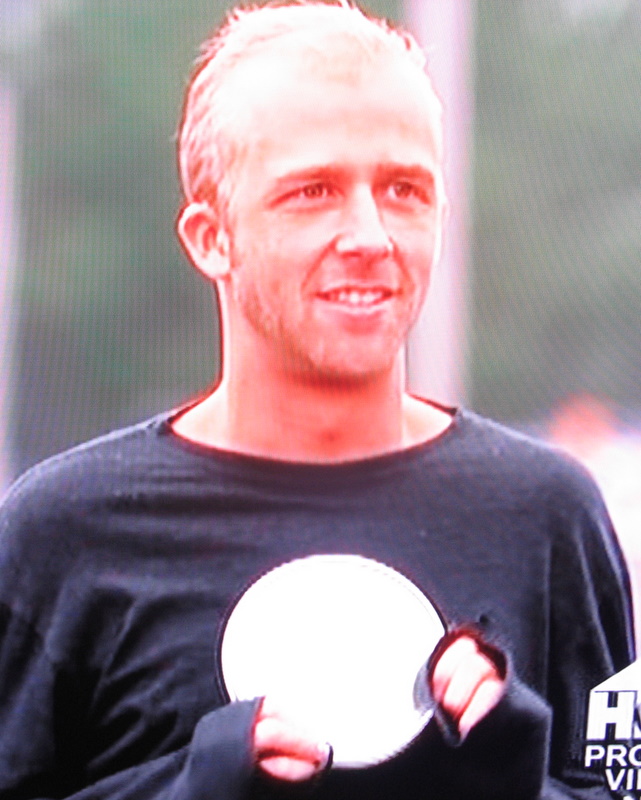 The hangar door opens to reveal…seven empty "rooms" for them to decorate.
Clive admits that he was just kidding again with the whole plane/passport ruse. Ha-ha-ha. They're not going anywhere unless you count Michael's Craft Store.
He explains that they get 12 hours, $500, and 2 gallons of paint to transform their little white cubicles into Mexico, Thailand, Italy, and Spain.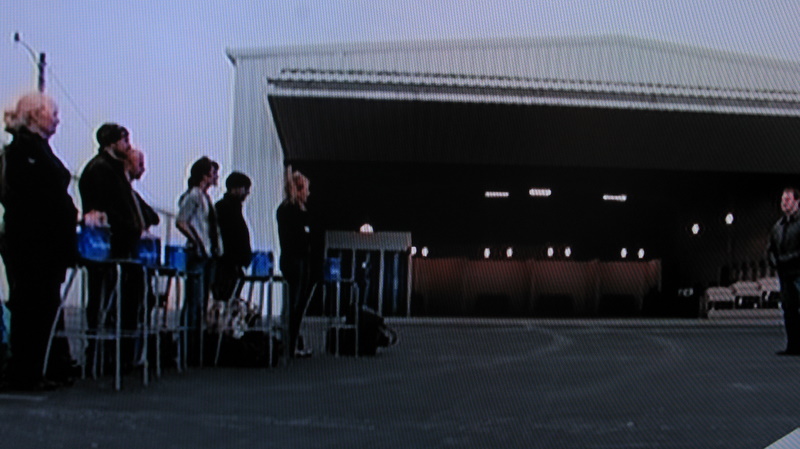 They're clearly disappointed that they're not going anywhere after all, but seem mostly relieved that they don't have to work in teams this time around.
Endorsement alert! They head to Michael's. They have an hour and $500 to shop for everything they need.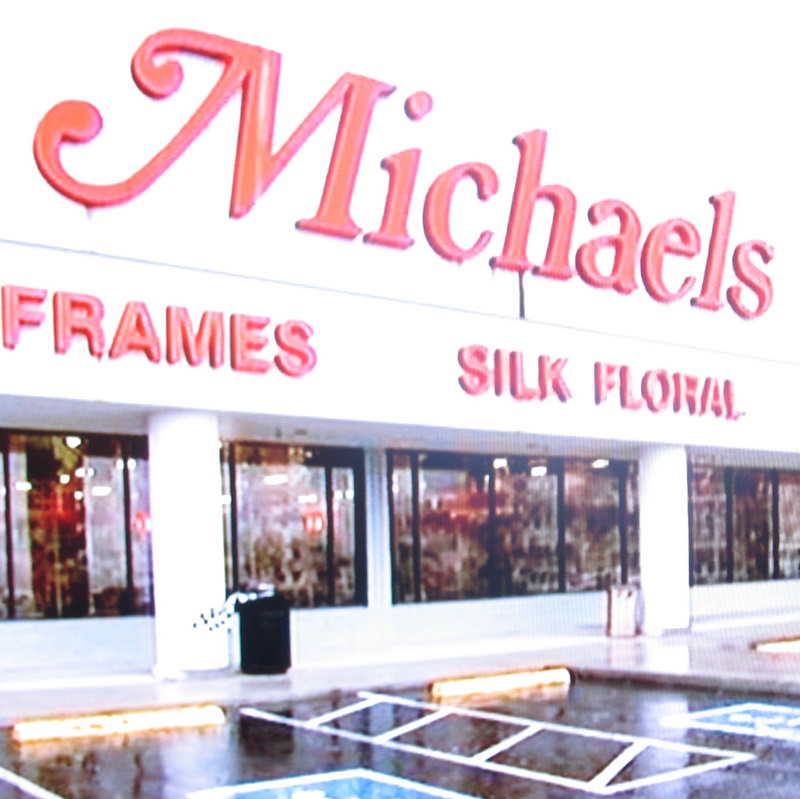 Clive waves the checkered flag–"Go!"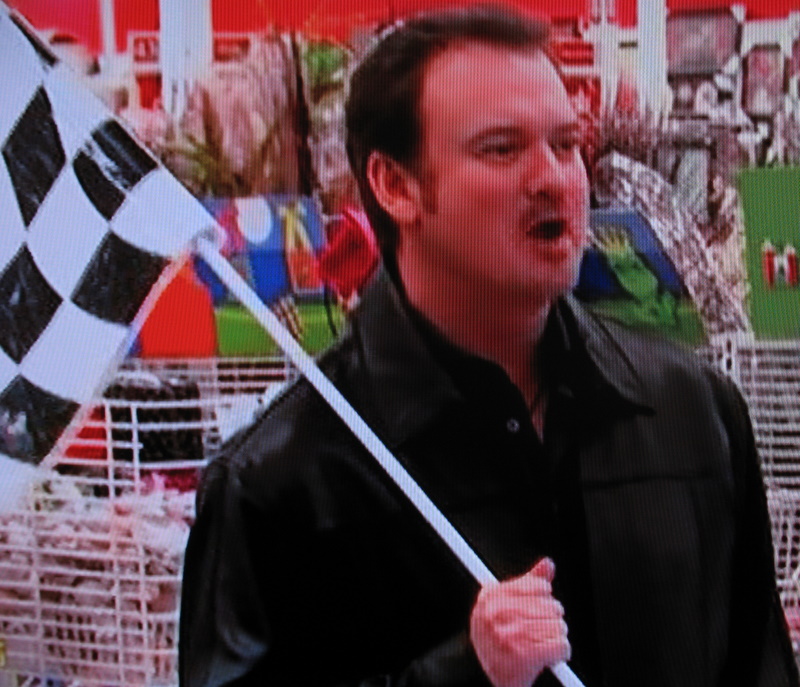 Matt: "Everyone was tearing off like rabbits out of the hutch."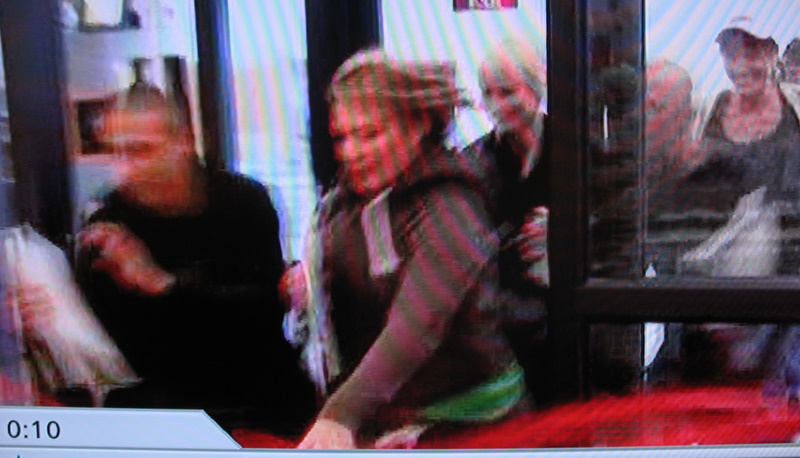 Mikey V heads straight for the tiki torches. I'm feeling a little nervous about that.
Awesome Mike scoops up every big poster frame he can find and explains he's going to take the plexiglass out of them and put them on the floor to create a glass effect. Because, you know, everybody loves glass floors! He tells the camera: "It's gonna look ferosh–or atrosh." My thoughts exactly.
Matt explains that he's going for a super-clean modern Thai look with an interpretation of a Buddhist temple.
Stephanie is doing a beach cabana look and stocks up on lots of "curly wood thingys" (doesn't everyone immediately think "curly wood thingys" when they imagine a cabana?).
Tracee's doing a romantic Italian…gondola? Did I hear her right? She assures us, "My idea is incredible and I think I'm going to win this." Well, okay, then. She's always so confident!
Awesome Mike is feeling cocky, too: "As far as these people know, I'm just this dumb little dingy person and I'm no competition. They're gonna feel real stupid when I come in and kick their butts." Um, yeah. Real stupid.
Tracee is in such a hurry that her cart swipes a shelf or two and things go flying. Someone shouts, "Clean up in Aisle 4!"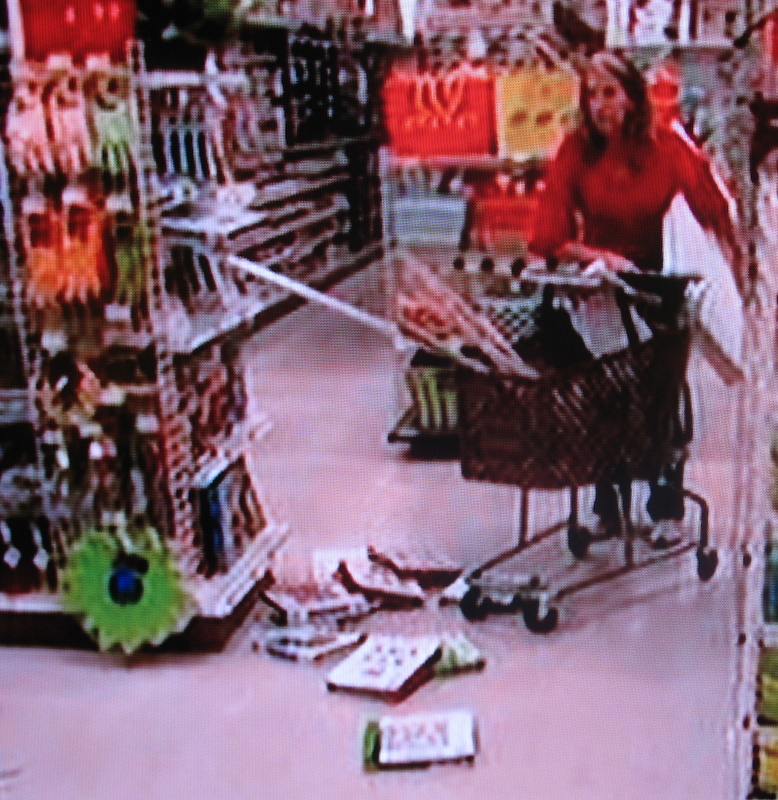 Shopping time is up, but the contestants look pleased with their finds.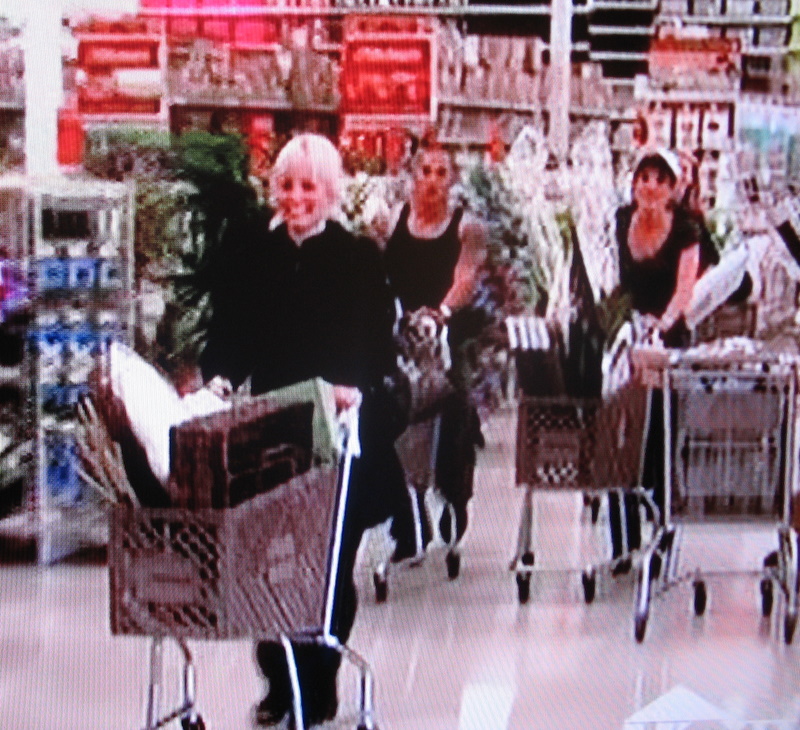 Back to their work areas in the hangar, where it's time to start decorating.
Awesome Mike can't for the life of him figure out how the table saw works. He asks Mikey V for help, who clearly has spent some time behind one before.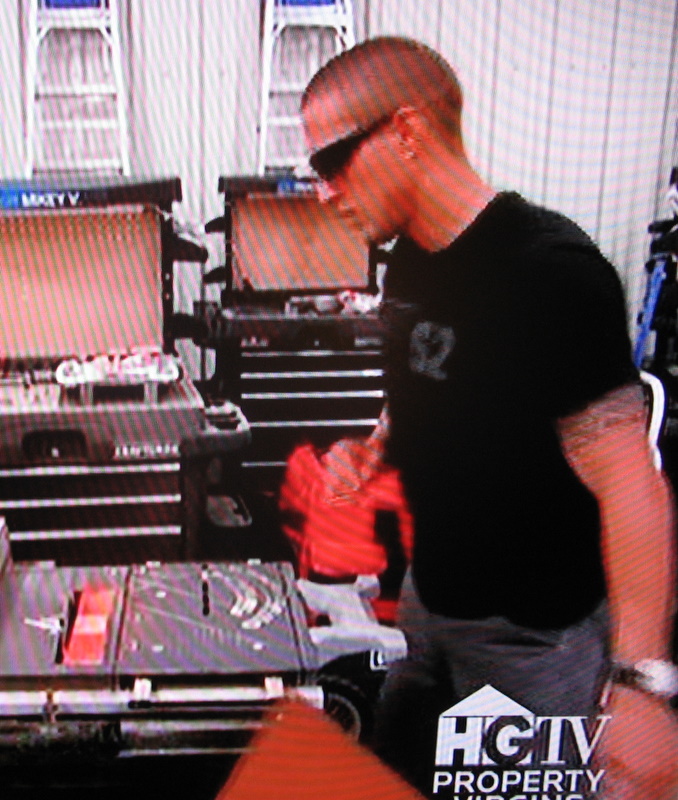 Let's pause to watch Mikey V work the saw, shall we?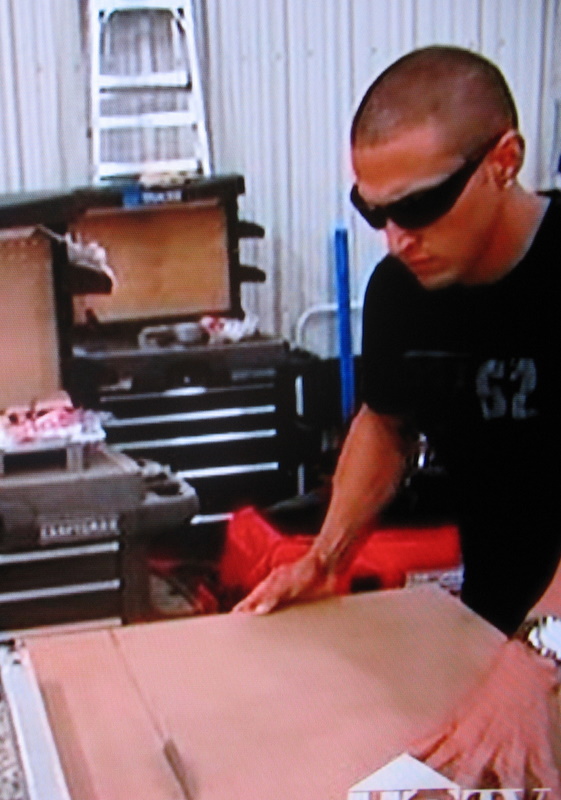 Okay, this might get me in trouble, but I'll admit I'd watch an entire show of Mikey V. working with power tools. (Is that so wrong??)
Tracey is painting a chandelier in her room. Awesome Mike takes the time to stop by her cubicle and rave that he "freakin' loves it!"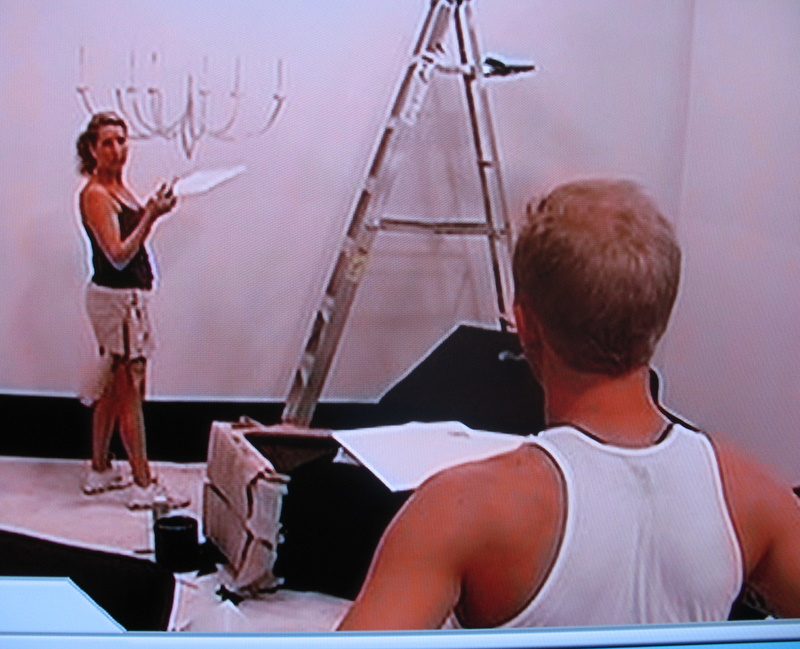 Then he turns to the camera and says, "It's freakin' tragic!" He shakes his head. "Tracee's entire room is looking tragic. Capital T-ragic."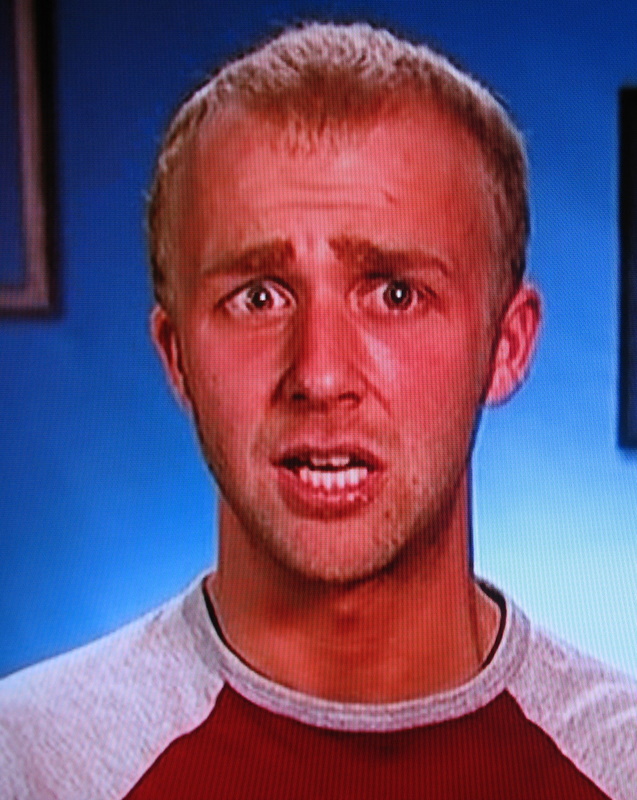 Meanwhile, Matt is planning to take the sofa cushions in his room and rearrange them somehow to resemble…a Thai temple? He's lost me here, but I'll give him the benefit of the doubt. He hasn't failed us yet. And I was skeptical about his black room last week that turned out pretty cool.
He mentions that "Todd from last season broke furniture up for a room. I'm taking it to the next level." They show us a photo of Todd breaking a table over his head: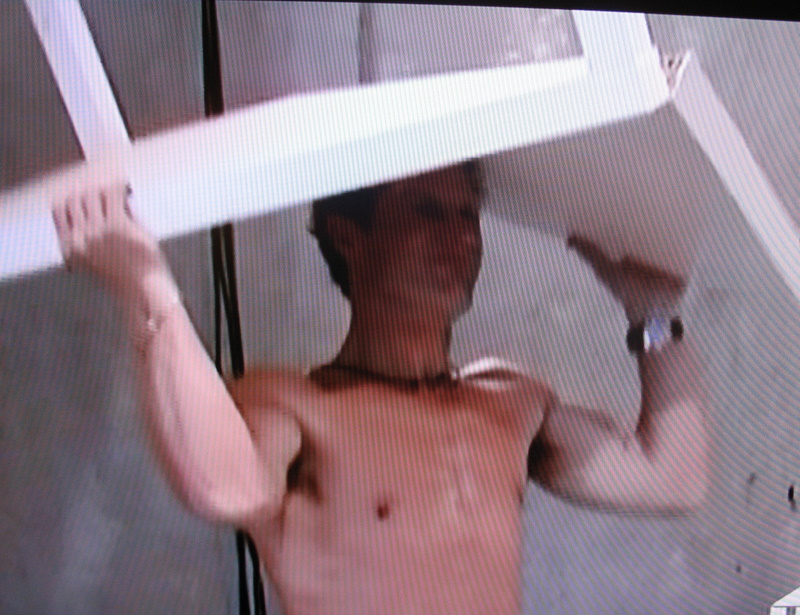 This is how Todd's room turned out last season. It was sort of Typhoon Chic. I admit I didn't really get it then, either, but the judges loved it, as I recall. It was creative, I'll have to hand him that. And Todd was always entertaining to watch.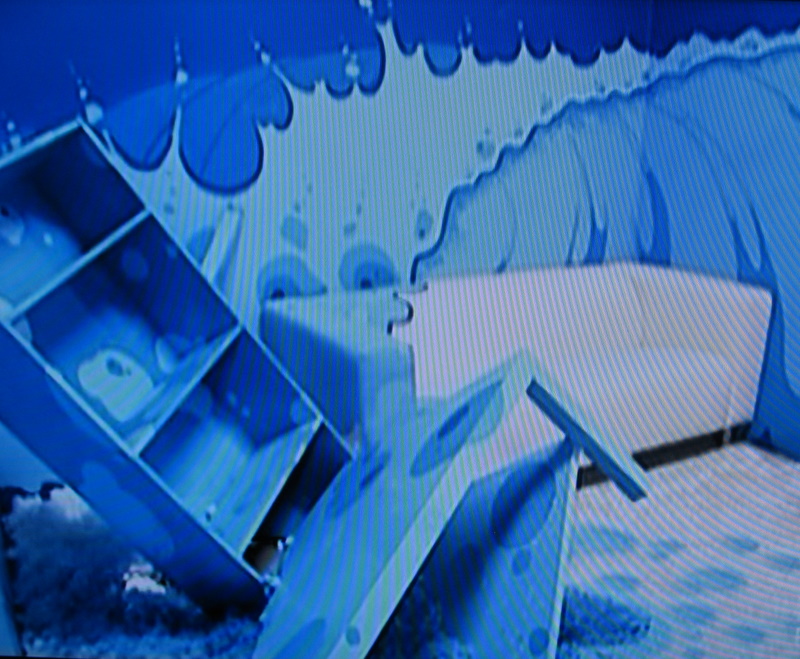 Is it just me, or do these flashbacks from last season just remind us how much better the contestants were then?
Just then, Jen runs past Trish's work station and–CRASH!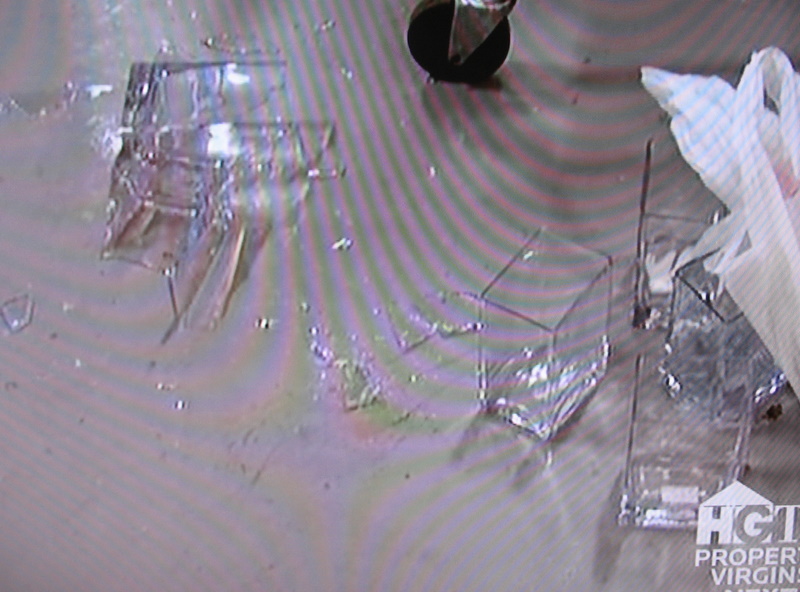 She trips over Trish's glass vases and breaks two of them.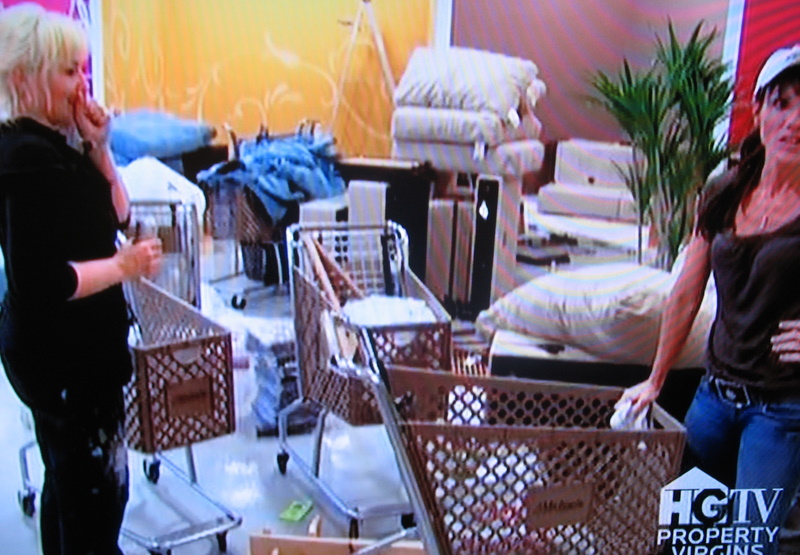 She apologizes profusely and offers candles from her room.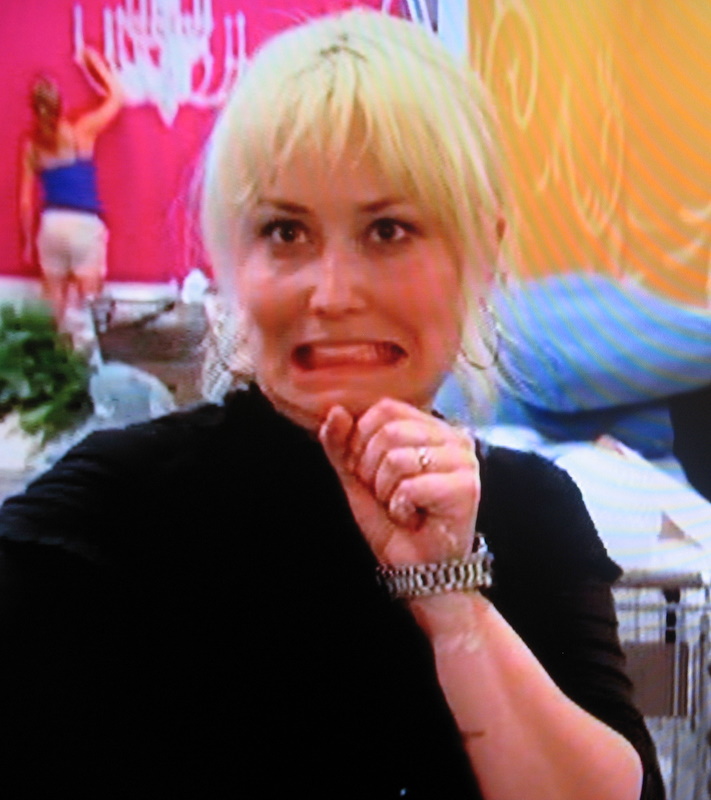 But Trish doesn't want them. She's mad. "Are you asking if I'm angry? Yes, I'm angry." So much for the symmetry of her room!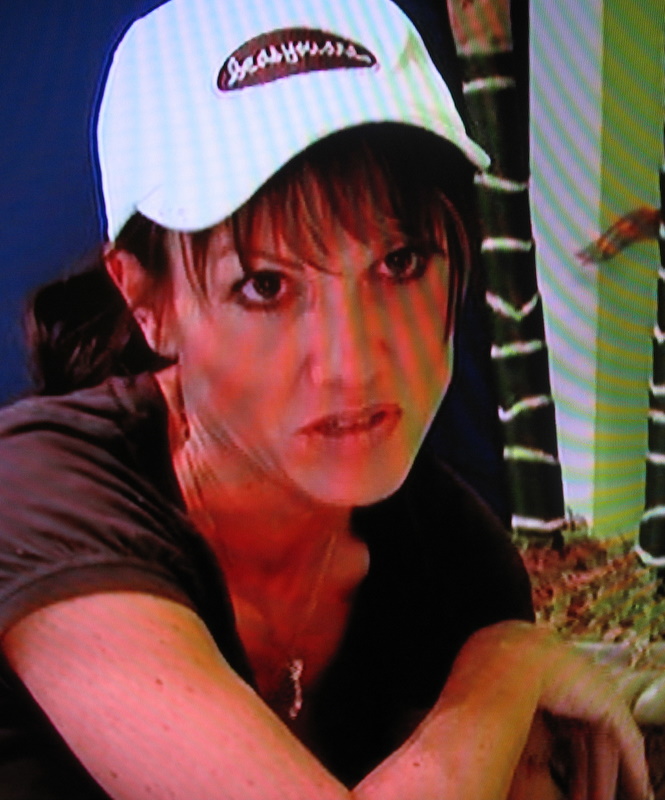 It's kind of pathetic that this is the most drama they can seem to squeeze out of this episode. Is anyone else missing the ghost as much as I am?
Back at Matt's cubicle, he's having serious doubts about his sofa-cushion temple. "How am I gonna make this work?" he asks. "Why did I think this would work? Why did I think that this was gonna happen when it's clearly not?" He thinks it's horrible, and it's hard to disagree with his assessment.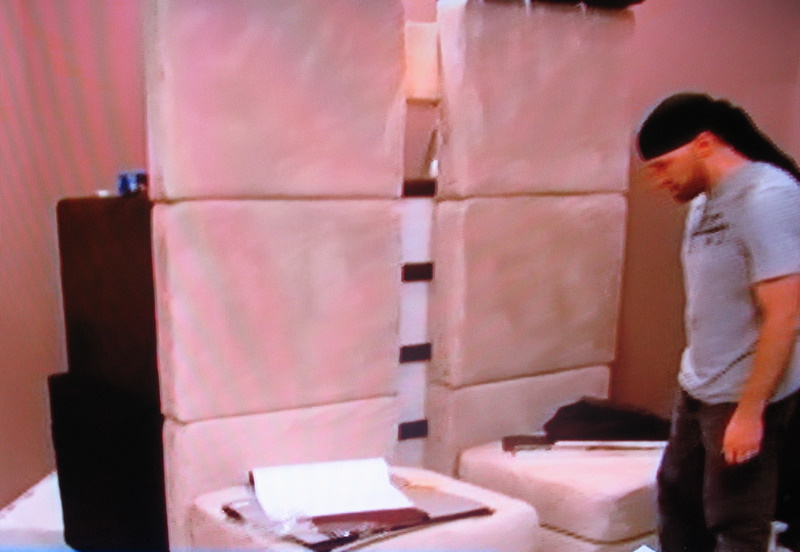 Stephanie, who is always a big busty ball of sunshine, chirps that she likes it! "It's like a spaceship!"
Matt sighs. "Great." He picks up a broom and starts to sweep his space, mumbling that it's "like swabbing the decks on the Titanic."
Awesome Mike, however, is finished early and feeling fine. He tells us, "I'm gonna win! End of story. Period!" And he isn't gonna lie–he's gonna be the next Design Star.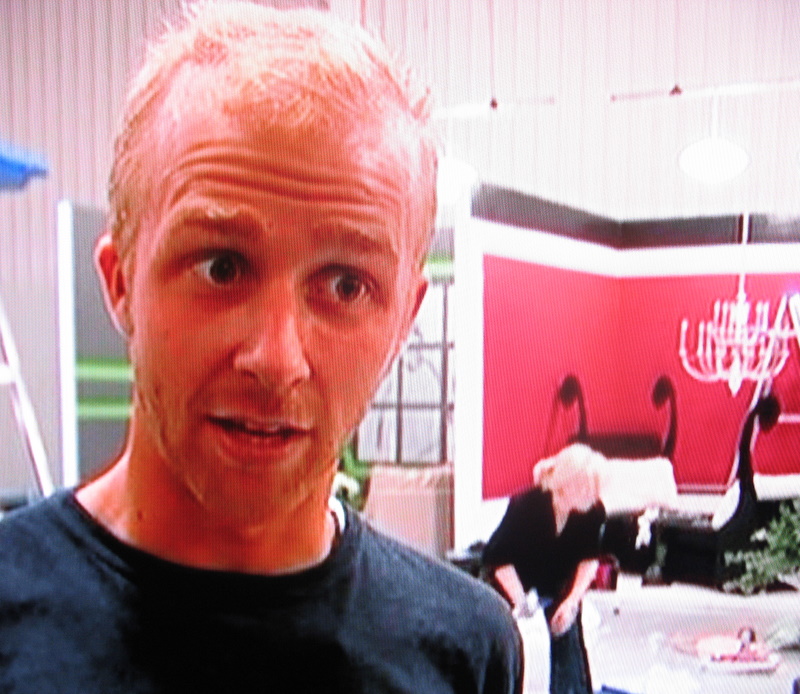 Awesome Mike has time on his hands, so he stops by Tracee's room to tell her, "FYI, love the bed. It's ferosh. I hate you, it's so good." Then, swiveling expertly to face the camera, he stage whispers, "When I see that bed I think of Barbie's Dream House. T-ragic."
Tracee is feeling her room, though. She insists, "If I go home for this one, with that room, then I think it would be a little crazy."
Capital C-razy.
Well, this is fun–"Designed to Sell" host Lisa LaPorta makes an appearance with Angelo Surmelis, the new host of "Rate My Space." They remind us what real Design Stars are like.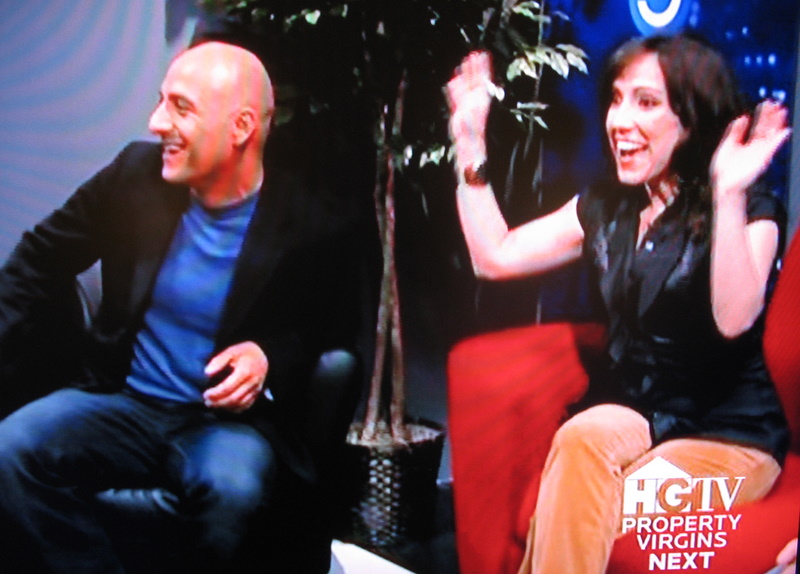 Okay, time for the judging to begin.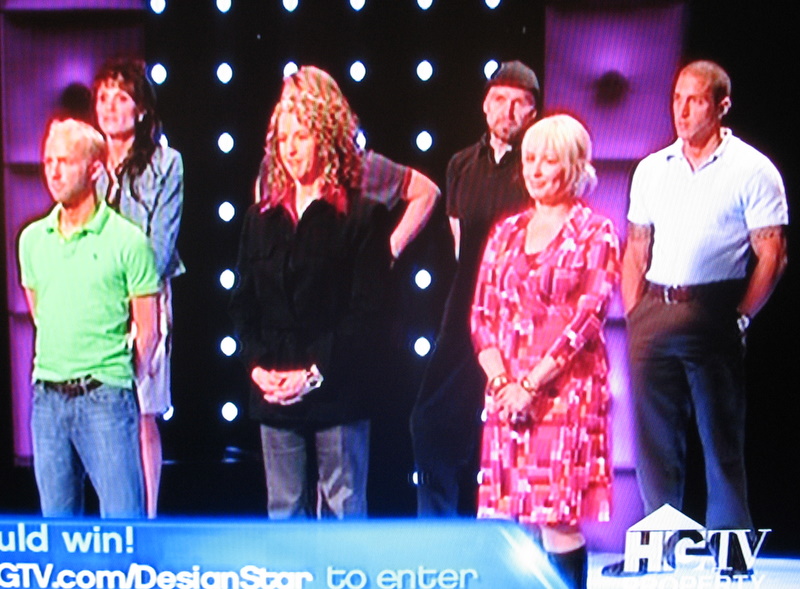 All of the rooms started out as blank white boxes, like this: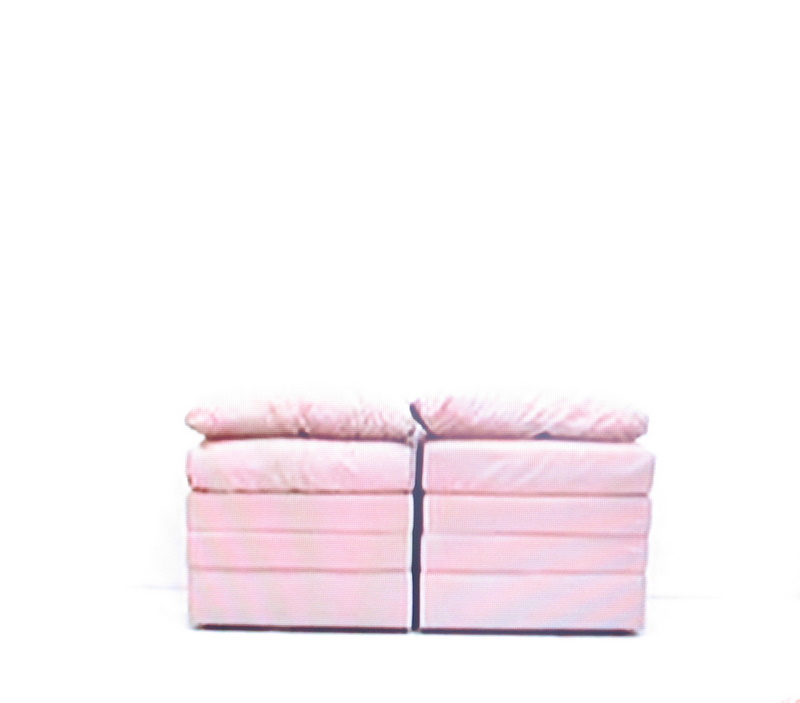 It's sort of like those photos of polar bears in snow storms. You can't even see the room. Jennifer is up first with her room inspired by Italy. Here's how Jennifer's Italian room turned out: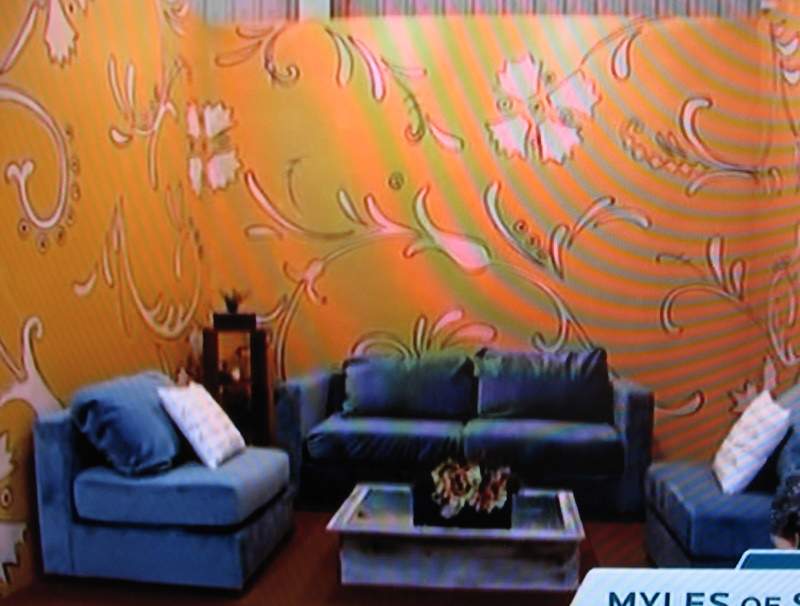 Sorry about all the extra lines from my TV. It's like all that pattern freaked it out.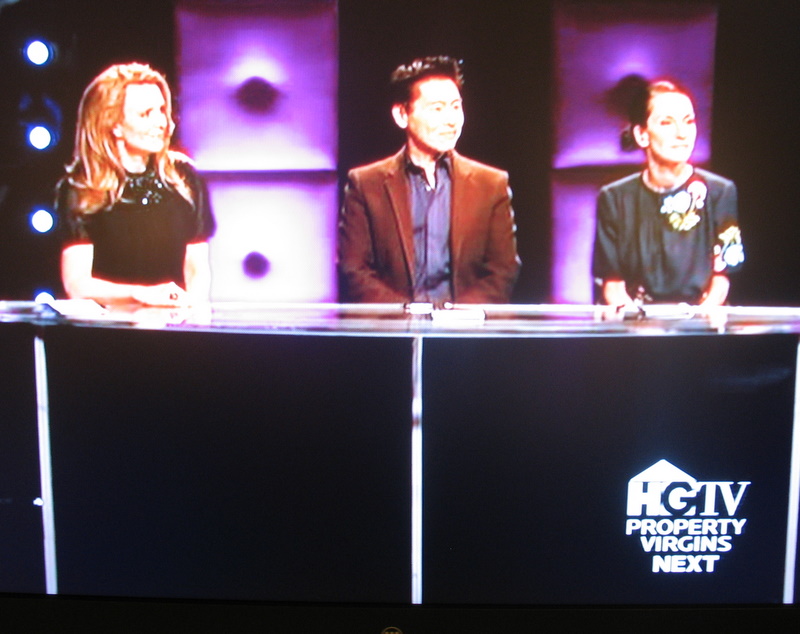 Cynthia Rowley loves the painted walls. Vern says, "It's really, really good." Martha loves it. (Am I the only one surprised that they like it so much?)
Next up: Tracee's version of "old Italy meets new." She was going for drama and romance: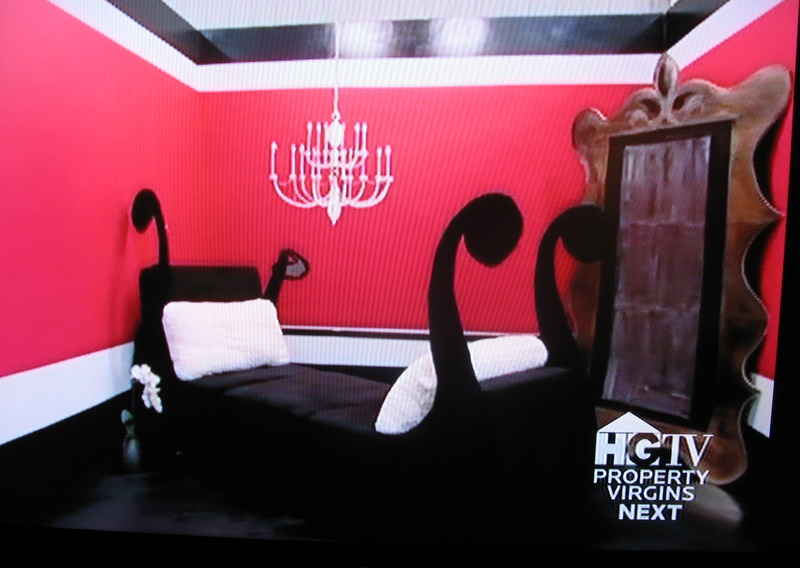 Cynthia dubs it "cartoony, like a theater set." (I concur.)
Vern says, "I hate this room. This is not for me a good room." But Martha…likes it?
(Does it look like part of the headboard was broken and falling over? Why do they not mention that?)
Awesome Mike shows off his "hot 2008 loungey club in Barcelona" next: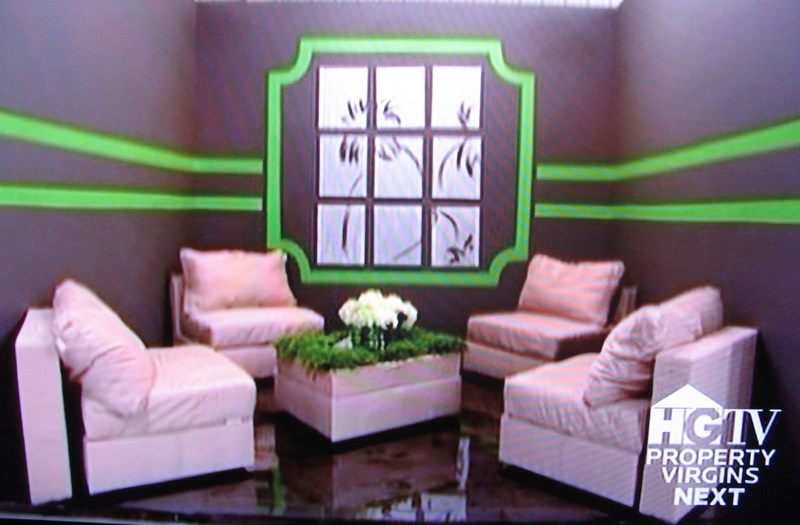 Vern: "I look more Spanish than that room does." Ouch.
Martha couldn't tell what was going on with the floor. When Awesome Mike explains it, they don't look any more pleased with it than before.
Cynthia agrees with Vern that it "just doesn't have the feeling of Spain."
Trish created the look of a "sophisticated and relaxing" hotel in Mexico: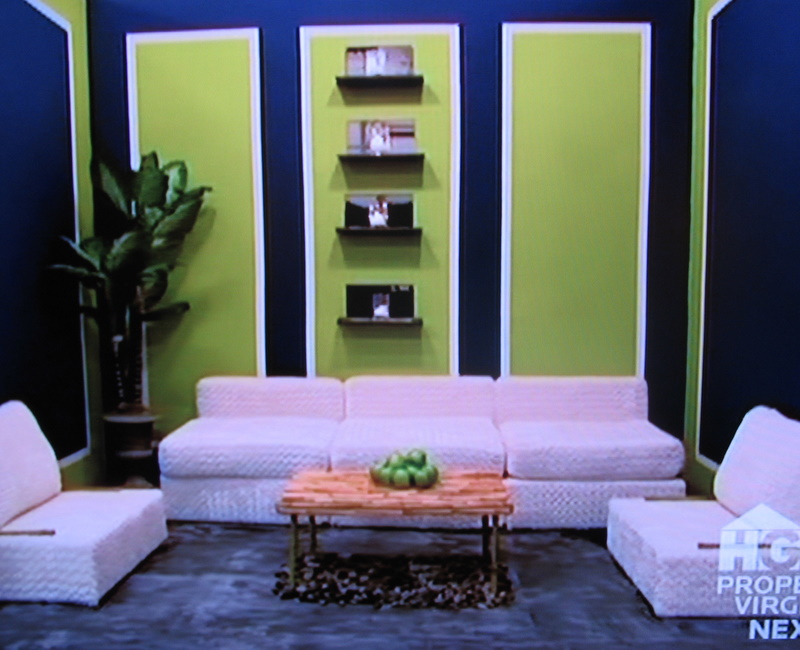 Martha wants to know "Where's the Mexico?"
Vern is pleased that it's less traditional than Trish's earlier work, with clean lines that show him she's versatile.
Cynthia liked the rough, natural floor.
Okay. Stephanie and her poolside cabana in Mexico. Apparently at night: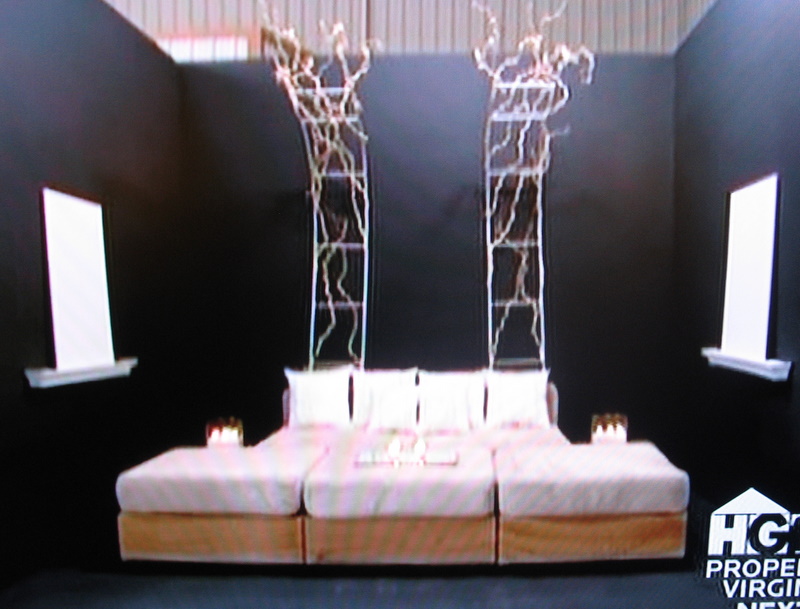 Vern is blown away. I'm starting to realize that all you have to do this season is paint a room black and the judges will fall all over themselves to praise it. How is this a cabana in Mexico? I'm confused. But Vern loves it. He says "It shows remarkable sophistication and remarkable restraint."
Martha says "the lighting is brilliant." And Cynthia praises Stephanie for her ability to create a mood.
Time for Mikey V to show off his "Zen room in Thailand:"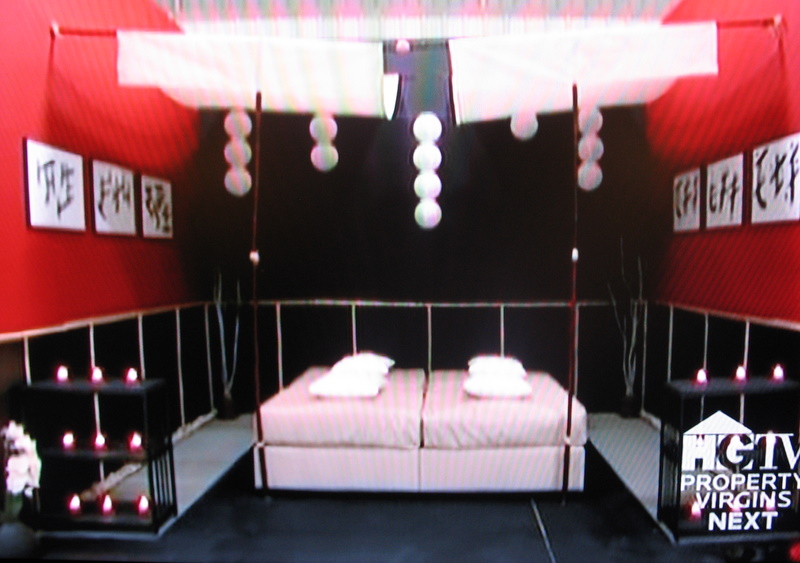 Vern, who is always quick with the quips, says it's "Like Thai takeout." Too literal.
Martha says it hit her over the head with Thailand (and not in a good way). But Cynthia likes the four ottomans pushed together with the pillows on them.
We're up to Matt now, and his interpretation of a Buddhist temple: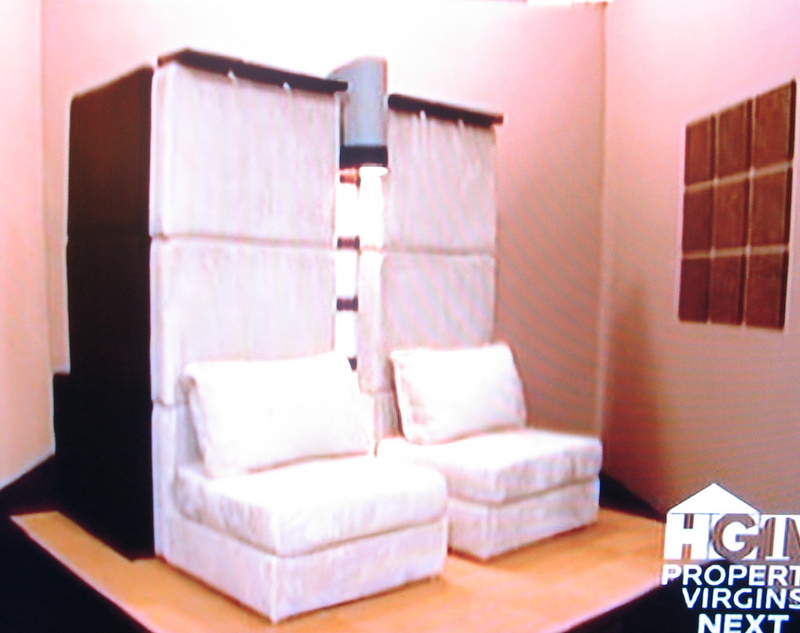 And…we're all left scratching our heads over this one, the judges included. Martha couldn't tell what it was. It reminds Cynthia of the forts children make out of sofa cushions. And Vern calls it "so abstract, it's like Thailand got up and left the room."
They're all sent off to the Green Room while the judges deliberate.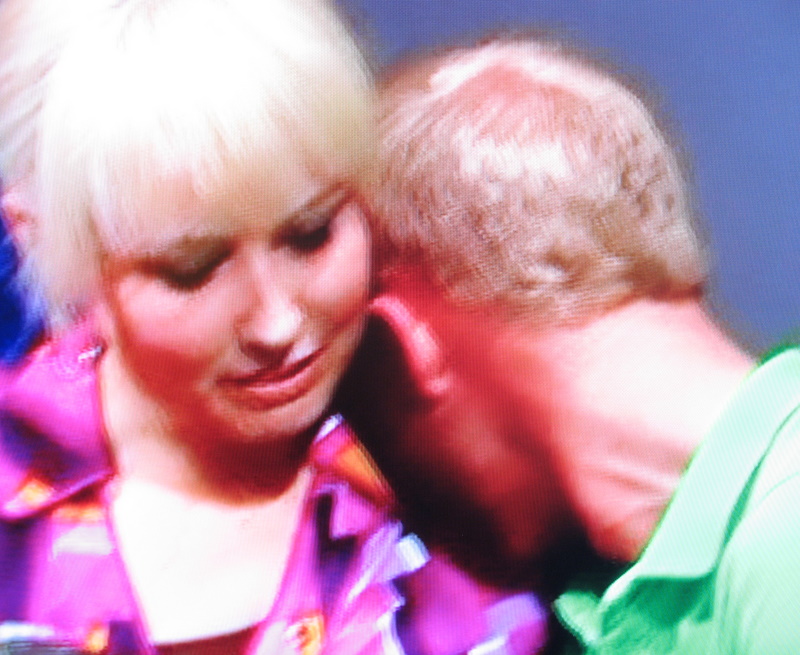 I don't know what it is about the Green Room, but it brings out the weepiness in all of the contestants. Tonight Awesome Mike was crying on Jen's shoulder and saying, "I'm the one goin' home!" Then Tracey cried a little, too.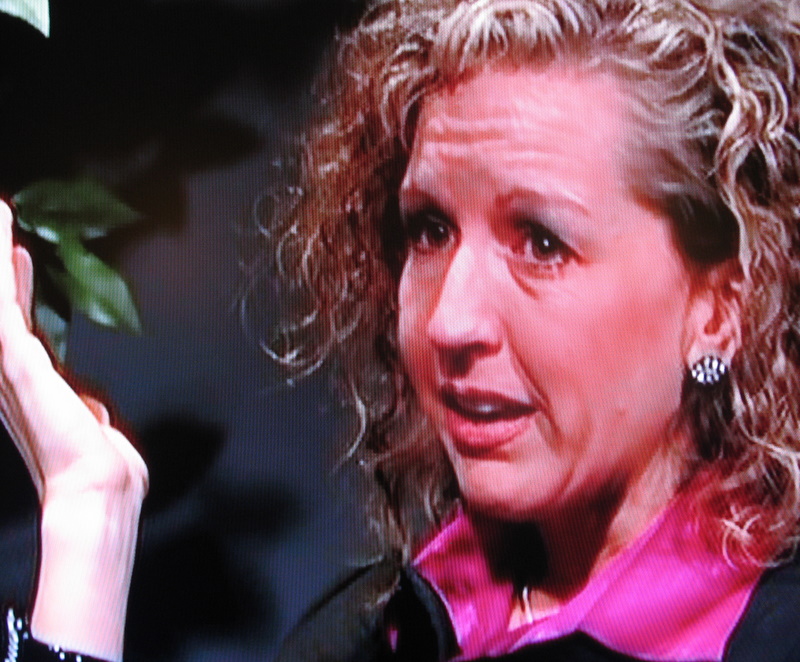 She asked, "I mean, did my room suck or something?" The silence was deafening. I could almost hear the crickets chirping outside.
They file back before the judges, and Martha gives them a good scolding this week (it was Cynthia's job last week) about, bottom line, stepping up their game. Nobody stood out this week, she says. They weren't real impressed with anyone's room.
Jen and Stephanie are deemed the best of the bunch. Mikey V and Trish are declared "good enough" and are therefore safe. Which leaves Matt, Tracee, and Awesome Mike in the bottom three.
Awesome Mike sobs, "I'm so sorry. I'm so sorry!"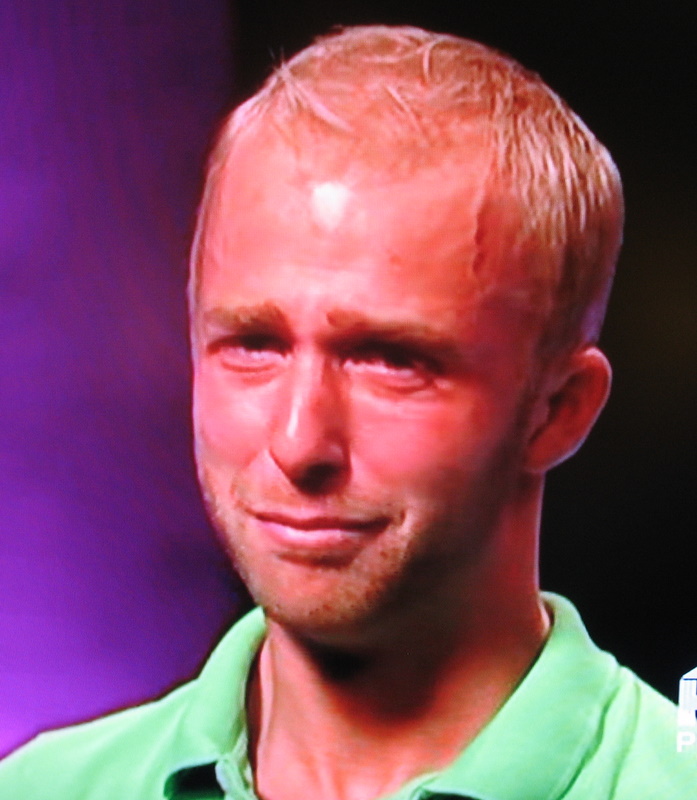 But it's too late. Clive announces, "Michael. Your show has been canceled."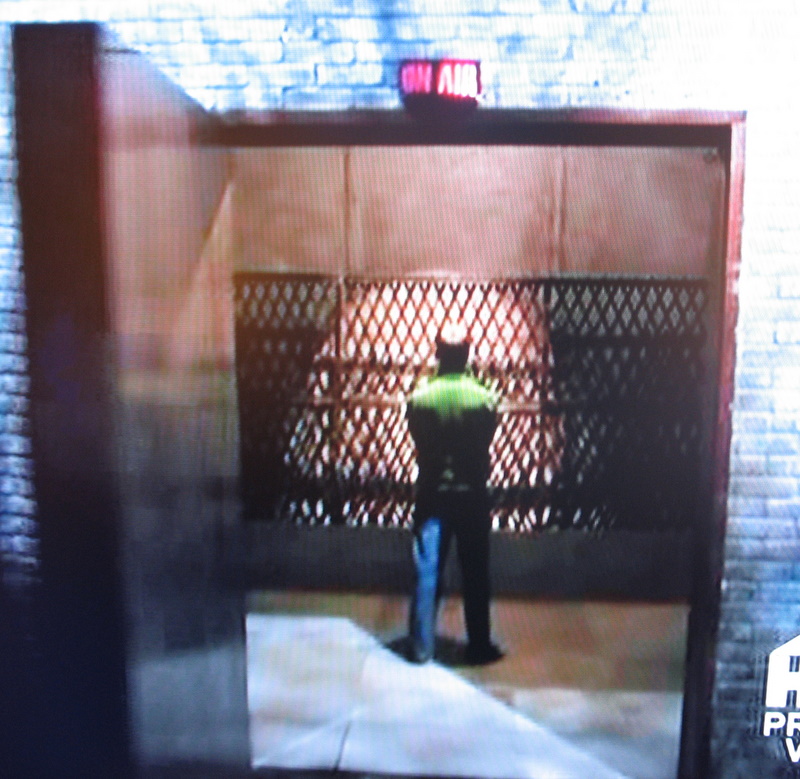 His final words, as he enters the service elevator of doom: "I just didn't want to disappoint my mom. I want my mom right now!"
Oh, boy. I'm sensing some major mother issues there.
So what did you guys think of this episode? Did the right person go home? I was sure this was Tracee's final week. Mostly, I'm wondering who's going to provide the comic relief now that Awesome Mike is gone? I can't help but feel like his departure is tragic, capital T-ragic.
If You're Hooked on Home-Improvement Television:
If You're New Here: Hooked on Houses features decorating inspiration, celebrity house tours, fabulous before and afters, real estate news, fantasy open houses and more fun stuff. I love hearing from my readers, so I hope you'll leave a comment and introduce yourself!
(Visited 1 times, 1 visits today)