I want to be Christie Brinkley when I grow up. Not just because she's so freakin' gorgeous, but because she always looks like she's loving life and having a great time.
And oh, yeah, because she gets to live here, in Bridgehampton's historic Tower Hill estate.
The romantic shingled house was built in 1891 with a 50-foot observation tower and ocean views. She's downsizing now that her kids are grown, so let's take a look inside!

Christie Brinkley's "Tower Hill" Estate
She posted a photo of herself with daughter Sailor outside the house on Instagram:
The caption: "Brinkley Moving Company. We Get the Job Done!"
Christie gave a video tour of the house for People recently.
I grabbed some screenshots from the video tour so we can take a closer look.
The Music Room:
It's now listed for $29.5 million.
The Dining Room:
A lot of the listing photos were small, so I took snapshots from the video tour to get a better look at the rooms.
A photo from the former listing shows the other side of the room:
The Family Room:
A wide shot of the room from 2009:
The Garden Room:
Christie's Pretty Blue Kitchen:
A photo from the last time she listed it:
Christie designed the fireplace with rocks found on the Sag Harbor beach, as she explains in this video.
The listing says the property comes with a four-bedroom guest house with greenhouse conservatory:
The Pool:
The Barn Christie Uses as an Art Studio:
Christie posted this photo of her art studio on Instagram from her People video shoot:
I got a kick out of Christie's character Gayle Gergich on "Parks & Rec." She posted this throwback on IG:
The listing for Tower Hill says:
"On 3 single and separate lots, totaling 20+/- acres, and views spanning to the Atlantic Ocean and Connecticut Shore, resides "Tower Hill," a family compound estate like no other in the Hamptons.

"Dreamed up by local nobility, Dr. John Gardiner in 1891, and restored with meticulous care by a well-known celebrity and her family, the property offers a 4-bedroom, 5-bath main house sitting on a base of 475 tons of local rock, with an astonishing 50′ observation tower.
"All this is enveloped by park-like land, meandering lawns, beautiful old specimen trees, winding walking paths, hills for winter sledding, a surprising private pond, a hidden tennis court, and of course an oversized heated Gunite pool with spa."
Christie posted this photo of the tower on Instagram:
She wrote, "Our home Tower Hill was built by J. Lion Gardiner of The Gardiner Family of Gardiners Island in 1891. The tower was put on the house so they could keep an eye on their island that was granted to them by the then King Edward the VII of England as their own sovereign domain. We use the tower to delight in sunsets, rainbows, meteor showers full moons, storms, and stargazing."
I wouldn't want to give it up! For more information, check the listing and video tour with Enzo Morabito of Douglass Elliman. You can also see Christie talking about the house in a fun People home tour and see how it looked when she listed it in 2009. Read more about it at Variety, Mansion Homes, and the NY Post.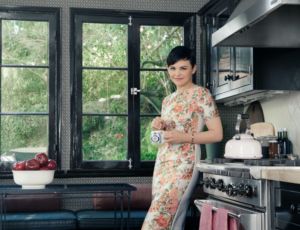 "Once Upon a Time" co-stars and real-life couple Ginnifer Goodwin and Josh Dallas are selling the charming older home she bought almost a decade ago…
Michael J. Fox and Tracy Pollan hired an architect to design their dream home in the Connecticut countryside 20 years ago, and it was featured…