Writer/actress Lena Dunham just bought this little white house in L.A. Not only is it a charmer, but it once belonged to the late actor George Peppard, who starred in movies and TV shows ranging from the classic Audrey Hepburn film Breakfast at Tiffany's to the campy A-Team.
It's a Greek Revival-style cottage that was built in 1919 with porches on three sides and a guest house in back.
Take a look!

Lena Dunham Buys George Peppard's Former Home
When the Spaulding Square property went on the market, the LA Times reported:
Home once owned by George Peppard, the debonair leading man who famously paired with Audrey Hepburn in "Breakfast at Tiffany's," has come on the market in Hollywood at $2.699 million.
Restored and renovated, the 1920s white Greek Revival-influenced house is set on a corner lot and has a wide sitting porch with columns that faces the street. Two other covered porches extend the 2,500 square feet of living space outdoors.
More recently, it was owned by designer Brenda Antin and her husband Mike, who spent a year renovating it. They modernized the kitchen and bathrooms and added the backyard pool. In these photos you can see their vintage and antique finds.
Antin and her home were featured by MyDomaine earlier this year.
She told them she converted this center room into a multipurpose space that can be used as either a dining room or library.
Jeff Kohl of The Agency wrote in the listing:
"This exceptional 2 bedroom + den Greek Revival home features three covered porches, salt water pool, french doors leading to all exteriors. Exceptional light flows throughout the house; wood burning fireplace; Swedish hardwood floors throughout."
Do you watch Lena's show "Girls"?
I featured a very cool Victorian beach house where they filmed one of their episodes here: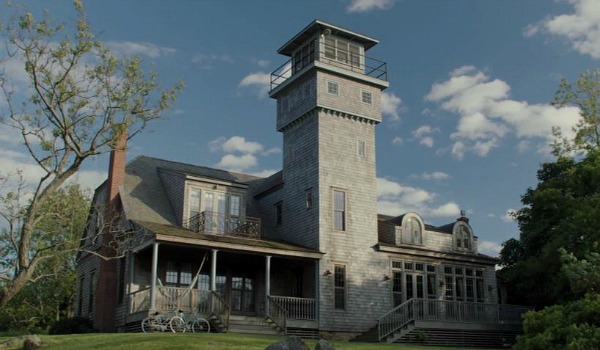 For more photos and information about Lena Dunham's new home in California and its history,
(Visited 165 times, 1 visits today)