Writer/actress Lena Dunham just bought this little white house in L.A., and not only is it a charmer, but it once belonged to the late actor George Peppard. It's a Greek Revival-style cottage that was built in 1919 with porches on three sides and a guest house in back. Take a look!

Lena Dunham Buys George Peppard's Former Home
When the Spaulding Square property went on the market, the LA Times reported:
Home once owned by George Peppard, the debonair leading man who famously paired with Audrey Hepburn in "Breakfast at Tiffany's," has come on the market in Hollywood at $2.699 million.
Restored and renovated, the 1920s white Greek Revival-influenced house is set on a corner lot and has a wide sitting porch with columns that faces the street. Two other covered porches extend the 2,500 square feet of living space outdoors.
More recently, it was owned by designer Brenda Antin and her husband Mike, who spent a year renovating it. They modernized the kitchen and bathrooms and added the backyard pool. In these photos you can see their vintage and antique finds.
Antin and her home were featured by Domaine earlier this year. She told them she converted this center room into a multipurpose space that can be used as either a dining room or library.
This living room looks so cozy, I'm reading to bring a book and curl up in front of the fire right now. I'm sure Lena wouldn't mind if I let myself in… 😉
Jeff Kohl of The Agency wrote in the listing:"This exceptional 2 bedroom + den Greek Revival home features three covered porches, salt water pool, french doors leading to all exteriors. Exceptional light flows throughout the house; wood burning fireplace; Swedish hardwood floors throughout."
The kitchen is one of my favorite rooms in this house.
George Peppard made a name for himself in movies and TV shows ranging from the classic
Speaking of Breakfast at Tiffany's, Holly Golightly's townhouse was on the market recently:
The listing for Lena Dunham's new place said, "There is also a guest house on the property with exceptionally high ceilings — sunlight flows throughout."
The guest house has built-in bookcases, a sleeping loft, and a small kitchen of its own:
Do you watch Lena's show "Girls"?
I featured a very cool Victorian beach house where they filmed one of their episodes here: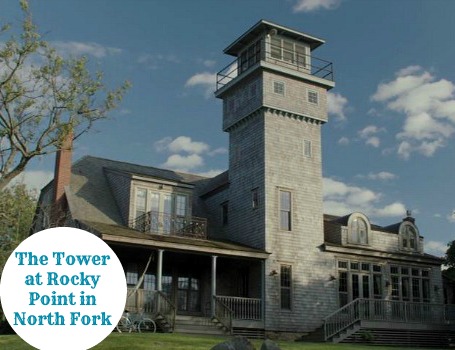 Love all the built-ins the guest house has:
If I had millions to spend, this is the kind of place I'd happily spend them on. For more photos and information about the property and its history: Cote de Texas, Curbed, LA Times, TMZ, and Estately.

P.S. Visit Celebrity Houses to see more, including…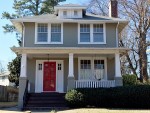 I love hearing about houses that have some interesting history behind them, so I was excited to see this classic 1927 American Foursquare for sale in…
"New Girl" star Zooey Deschanel is selling her 1930s ranch in the Hollywood Hills for $2.195 million, so let's take a look at both it and the new place…