Celebrity super-couple Chris Martin and Gwyneth Paltrow announced their decision to "consciously uncouple" (aka separate) this week. Sad news considering they've been together for over ten years and have two young children. But also surprising since they reportedly purchased this house together in Malibu just days earlier…
I started hearing from readers wanting to know what I thought. Why would they buy a new house in Malibu when they were breaking up? I promise to get the answers to you just as soon as they return my calls. 😉
My guess is that it was purchased for whichever one is planning to move out of their main house in Brentwood.
The Daily Mail speculates: "Perhaps Gwyneth will be the one to keep their Los Angeles home, and the new property in Malibu might be a pad for Chris, where Apple and Moses can travel to see him in just half an hour."
It was designed by the architect John Lautner in the early 1970s and is known as the Garwood Residence. Movie-house fans may recall that Lautner's "Schaffer Residence" was where they filmed A Single Man with Colin Firth:
Renovations have already begun on the Garwood Residence.
When it first went on the market two years ago for $15.9 million, Curbed described it this way: "There are several downright mindblowing John Lautner-designed houses in Malibu. This is not one of them." (Gwyneth and Chris reportedly paid $14.)
The listing said, "Breathtaking grounds offer ocean views, landscaped gardens, a pebble stone pool, tennis court, gym and yoga studio. It is set on Malibu's most coveted beach, Little Dume, which offers a protected backyard anchorage for your yacht."
The yoga studio may have been a selling point for Gwyneth, who also has one behind her Hamptons house.
This Malibu estate sits on an acre with 4 bedrooms, 3 baths, and 3,600 square feet. For more photos and information, check the listing.
They reportedly own 5 properties, including this one. There's the one in the Hamptons that was featured in House & Garden magazine:
I think that kitchen popped up on a million blogs when that issue came out (including mine — you can see more of the Hamptons house here).
But their main residence is the former Veranda show house they bought in 2012 in L.A.:
 They have a mansion in London, too, and rumor has it they may be planning to sell it soon. If you could live in any of them, which one would you choose?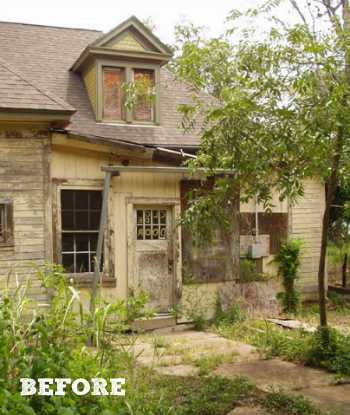 This is the kind of house story I love to hear because it has a happy ending! The Wilkins-Heath House is a Victorian Cottage from…
1. An Updated Craftsman with Original Woodwork in Washington The listing says, "Just steps from Volunteer Park, this 1906 Craftsman offers a careful blend of original…