J ennifer Lopez has reportedly plunked down nearly $10 million for a new house in the Hamptons. The Gambrel-style shingled house is in Water Mill and has over 8,600 square feet. Rumor has it this will be a summer home for her and her twins Emme and Max.
There are 8 bedrooms and 7 baths.
It's a bit of a beige washout, but reports say having the privacy of a 3-acre lot on a cul-de-sac was more important to her than the decorating. I imagine she'll bring a designer in to transform it like she did with her house in California anyway.
For more photos and information about the property: NY Post, Pricey Pads, and the Corcoran listing.
Two years ago Lopez nearly bought another estate nearby on Mecox Bay. It was widely reported as a done deal, but she changed her mind at the last minute. It was $18 million, which makes this one look like a bargain at $9.9: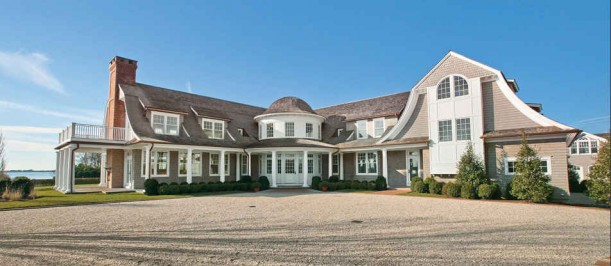 (See pics–the Hamptons house she almost bought.)
She purchased a house in California when she took the American Idol gig a couple years ago that was featured in Veranda. I loved the pale blue kitchen cabinets. You can see photos here:
Reality star and tattoo artist Kat Von D may be best known for her TLC series LA Ink and for dating Jesse James after Sandra…
This house for sale in the Colorado mountains sits on 10 acres in "the privacy and scenic splendor of Lake Creek Valley, surrounded by a…