Well, that didn't last long. Remember how I told you that Tori Spelling and Dean McDermott sold their big house in Encino and moved their family of 4 into a 3-bedroom house in Malibu last fall, a month before giving birth to baby #3?
Last we saw them on their reality show Home Sweet Hollywood, they were happily settling in.
Since then, they were surprised with a 4th pregnancy and realized they would need more space. So now the cozy green house in Point Dume is back on the market and they're moving on. Again.
They bought the house in September for $2.4 million, made about $100,000 worth of upgrades to the house, and have now listed it for $2.675 million.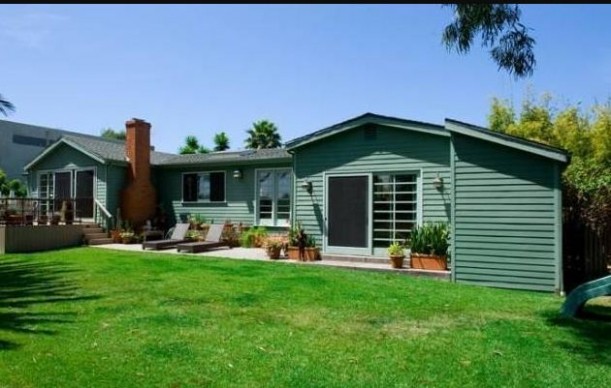 Some improvements they made to the house in the short amount of time they lived there: new appliances, a chicken coop in the backyard, and the installation of 100-year old reclaimed oak wood flooring from France.
As you can see in these photos, it looks like the family has already moved out. The question is, where did they move to? If anyone knows, fill us in! (She hasn't been answering my calls…)
The house sits on 1.8 acres in the Point Dume area of Malibu. It has 3 bedrooms, 2.5 baths, and 2,300 square feet. Would have loved to have seen how it looked when their furniture was still in it.
In this photo, you can see how they created a room for both their son Liam and daughter Stella–by splitting the decor down the middle! (If you watch their show, you'll remember how unhappy Liam was when he was told he'd be sharing with his sister.)
Wonder if the hens come with the chicken coop?
Go to the Wall Street Journal and the listing by Madison Hildebrand for more photos and information. Photos by John Hildebrand. 
(Visited 53 times, 3 visits today)