Robert and Cortney Novogratz, who juggle decorating jobs in New York City while raising their 7 kids, host an entertaining show on HGTV that just wrapped up its first season called Home by Novogratz. Their unconventional style may not be for everyone, but it's fun to watch them work, and the results are always kind of unexpected and interesting.
One of their most famous projects is their own townhouse. Here's what it looked like when they bought it:
It was amazing to watch them create a home out of this space on their Bravo TV reality show 9 by Design last year (I was disappointed when it wasn't renewed for a second season–they chose to do the HGTV series instead). Here's how it looks today:
Their townhouse is on the market for $17.45 million. A lot of the scenes on Home by Novogratz were filmed in this living room, so you may recognize this white piano and the very cool glass garage door that opens to the terrace: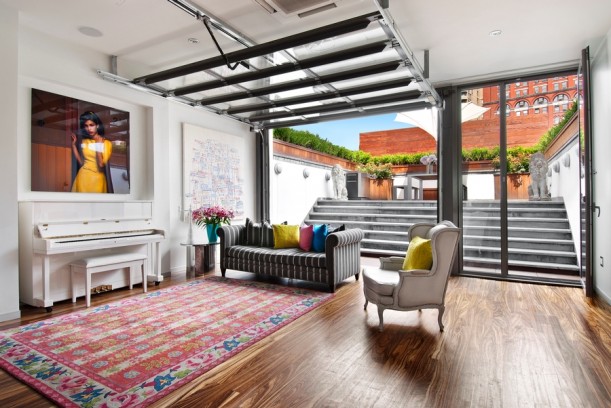 On the show they now have a new rug in the living room that they designed for their own collection. It has the word "FAMILY" written across it in giant black letters. Here's Cortney showing it off:
It comes in a colorful version, too. They used it in a makeover on their show on HGTV (the apartment's living room before is on the left and the after is on the right, just in case you couldn't guess!):
Back to their townhouse that's for sale–here's their bedroom with that huge "Belu" desk by Zaha Hadid that had to be lifted through the window of the room with a crane (which makes me wonder if it stays for the next owner!):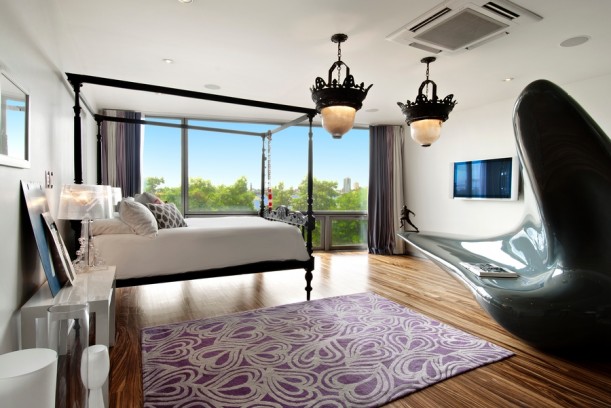 They seem to approach decorating from more of an artist's point of view than a traditional designer's. We frequently see them starting a project by shopping for funky artwork and commissioning one-of-a-kind pieces for their clients.
We see the kitchen in almost every episode of the show, where Rob and Cortney work on their projects while their kids sit at the table with them, doing their homework: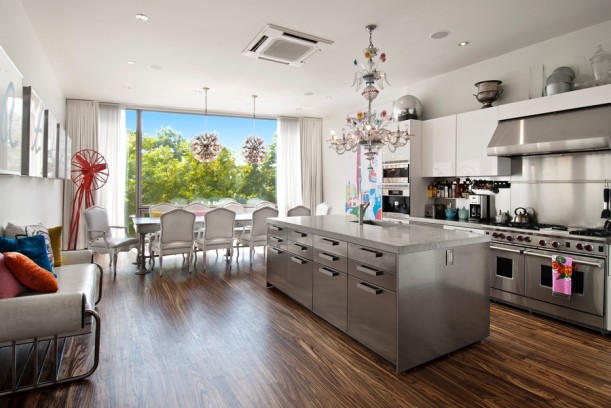 The townhouse has 5 floors and over 7,000 square feet. It comes with a 2-car garage and its own indoor basketball court that converts into a private screening room. But one of the best selling points about the house may be the amazing river and city views: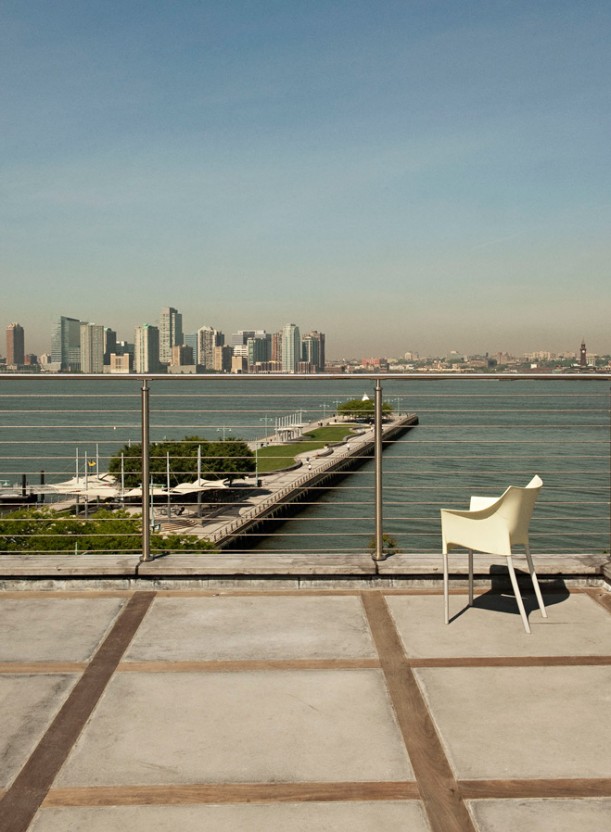 For more photos and information, check the listing at Town Residential Real Estate. You can see photos of their work on HGTV.com and their website The Novogratz.

P.S. Get more HGTV Scoop, including…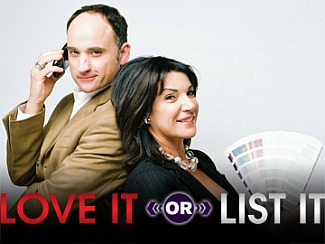 Is HGTV's Love It or List It Fake?
It's not every day that you come across a listing that describes a property as "surreal, retro-industrial, and steampunk," so I was eager to get…
If you watch HGTV, then you've probably noticed that they've been trying to freshen up their image and attract younger viewers with new shows like…