Did you catch "The Real Housewives of Beverly Hills" this week, when the ladies were invited to Camille Grammer's vacation home in Colorado? The drama can be a bit much on that show sometimes, but it's fun to see the houses they live in.
Camille divorced husband Kelsey Grammer earlier this year, and part of the settlement involved selling the 8,500 square-foot house in the mountains near Beaver Creek. Of course, Nosy Nelly that I am, I was curious to find out if it was still on the market, so I did a little digging…
First of all, I found out that the house was featured in Architectural Digest back in June 2004, when Kelsey was finishing up his 11-year run on the popular sitcom Frasier.
Here's the front of the house as it appeared in AD that year:

Back in March, the Real Estalker reported that the Grammers put it on the market for $7.9 million.
The listing is now marked as "inactive" on most real estate sites, but I'm not sure if it sold or was just taken off the market (if anyone has the scoop, fill us in!). I found some photos and information about it on Joni Taylor's real estate site that still has it posted.
*9/22/11 UPDATE: Trulia is reporting today that the house was simply taken off the market and given to a different agent, Joni Taylor (the agent I linked to above), and that it is still for sale.
In this screenshot from the season premiere, the Real Housewives were arriving back at Camille's house after a day on the slopes:
Here are some photos of the house from the listing and the AD story:
The kitchen and hearth room, where a lot of the action on the show took place:
It looks a little colorless and blah in these photos. I liked it better on TV!
The house has 6 bedrooms and 7.5 bathrooms.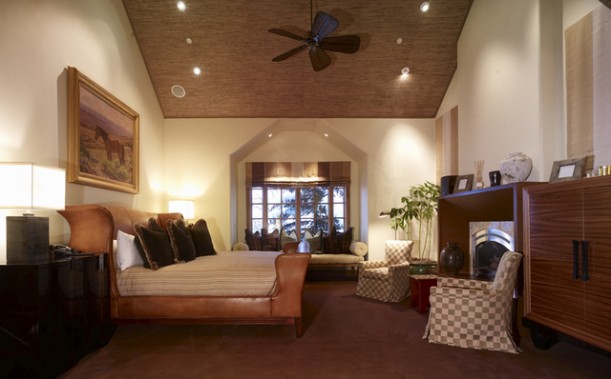 This spiral staircase leads to the finished lower level where the guest rooms are:
On the show, Camille talked about how she helped design the house, and how they spent Thanksgivings there as a family.
Do you watch any of the "Real Housewives" on Bravo? Do you have a favorite house shown on the series? I'm eager to get a better look at Kyle's new place that we saw her move into on the season premiere.
You can read more about Camille's house and see the rest of the photos at Architectural Digest (photography by David O. Marlow) and in the real estate listing.
In More "Real Housewives" Real Estate News:
(Visited 64 times, 1 visits today)