Actress Winona Ryder is selling her 1930s Spanish Villa in L.A. for $3.95 million, and I was pleasantly surprised to see what a vintage vibe it has, right down to the original pink tile in the bathroom. Take a look…
The curved windows are one of the major selling points for me in this house:
The kitchen is surprisingly small and unpretentious for a movie star's:
In the movie Black Swan, 39-year old Winona Ryder plays an aging ballet dancer who finds herself getting pushed aside for a new rising star, played by Natalie Portman. In my mind, Ryder should still be 25, so it's odd to see her playing the role of an "aging" anything.
The mural around the upstairs landing is attention-grabbing, but I'm in love with the window, the old light fixture, and that railing that looks original to the house:
There are 4 bedrooms and 4 baths:
Another great window–and this one has a window seat, too! I'd spend all of my time right there: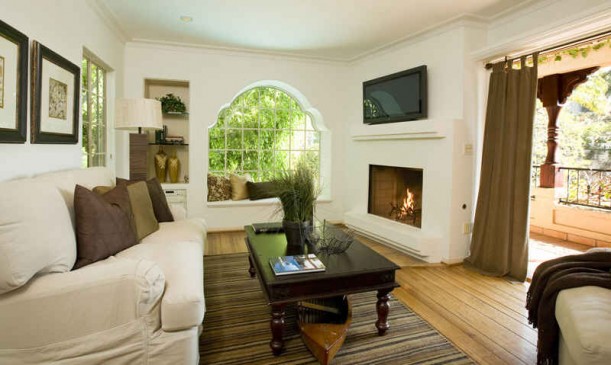 This Art Deco bathroom looks original with the pink and blue tile. I think it's kind of refreshing that she didn't demolish it and replace everything with more modern fixtures. I have a feeling the next owner might, though. Would you?
Like it? For more photos and info, check Real Estalker.
P.S. Visit Celebrity Houses to see more, including…
Charlie Sheen's House in Los Feliz
(Visited 157 times, 2 visits today)