Larry Hagman only played a ruthless oil baron on TV. In real life he's a passionate proponent of alternative energy sources. He and his wife Maj live in the largest solar-powered residence in the U.S. When they were trying to decide what to name their home, which sits on 43 acres in Ojai, California, Maj said, "Let's call it heaven, because this is the closest you're ever going to get."
They fell in love with the area and decided to build there in the early '90s because they were friends with actress Mary Crosby,who had a home there. You may recall that Crosby played Kristin Shepard, Sue Ellen's scheming sister who famously shot J.R. during the third season of "Dallas."
Now the couple is downsizing and selling Heaven for $9.3 million. According to the listing:
The house the Hagmans built is a grand Mediterranean-style residence sited atop Ojai's picturesque Sulphur Mountain Road with commanding views of the ocean, Channel Islands, mountains, and surrounding Ventura Valley.
Encompassing approximately 18,000 square feet, with nine bedrooms, 13 full and two half bathrooms, Heaven features richly appointed open living spaces with large spans of sliding glass walls that offer unobstructed vistas of the surrounding landscape.
With views like this from the bedroom, I wouldn't mind waking up each morning!
See the yellow patio awning and furniture? Does it remind you of anything? I immediately thought of the terrace where the Ewings ate their breakfasts together on "Dallas," with its yellow and white-striped awning and yellow chairs:
Here's a People cover from 1980 when "Dallas" was must-see TV. J.R. wore a black hat better than anyone!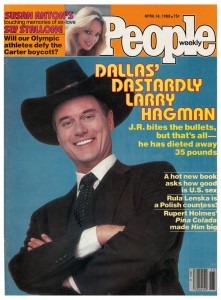 The listing is offered by Village Properties Realtors, an affiliate of Christies Great Estates. To learn more about Larry Hagman, visit his website, which welcomes you with a "Hello, Darlin'–Come on in!"
Any "Dallas" fans out there? How about "I Dream of Jeannie"? I'll admit I had a massive crush on Major Nelson when I was a girl watching "Jeannie" reruns every day after school… 🙂
P.S. Visit Celebrity Houses to see more!
(Visited 21 times, 1 visits today)