"Fashion is not something that exists in dresses only. Fashion is in the sky, in the street, fashion has to do with ideas, the way we live, what is happening." ~ Coco Chanel

Coco Chanel lived at the Ritz in Paris but worked and entertained within walking distance at Rue Cambon. There are four floors: the Chanel store is at street level, haute couture dressing rooms are on the second floor, her apartment is on the third, and her workshop is on the fourth. The rooftop of the building is said to have some of the best views of Paris.
This is the famous faceted mirrored spiral staircase that Chanel designed. It connected all four levels of her apartment and made it possible for her to stand in one spot and see what was happening on every floor.
In the photo below you can see the Chinese screens that she split and used as wallpaper. They feature her favorite flower, the Camellia, which she often used in her designs.
Chanel lived here until her death in 1971, and everything has been frozen in time. She didn't actually sleep here, though–there is no bedroom in the flat. Instead, she kept a private suite at the Ritz across the street.
Here are the dressing rooms on the floor below her apartment:
Some Chanel Trivia:
Whenever she went to her apartment on Rue Cambon, there were orders to spray Chanel No. 5 around the stairway so her signature scent would greet her.

She decorated the sitting room with a suede beige sofa in a time when both suede and beige upholstery were unheard of. She was selective about who could actually sit on it.

After a fortune-teller told her that 5 was her lucky number, she named her perfume Chanel No. 5, and it made her millions.

When she died at 87, they found only three complete outfits in the closet of her Paris apartment.
The birdcage in her sitting room was the inspiration behind the 1992 Chanel commercial with Vanessa Paradis.
I found these photos on NotCot, Blographic, and Cool Hunting. Photo of Coco Chanel photographed by Man Ray in 1935. You can read more about Chanel and see more photos of her flat at NPR.com.

P.S. Visit Celebrity Houses to see more, including…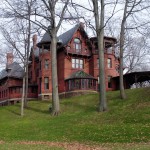 Did you know... 1) Mark Twain was born in Florida, Missouri, in 1835. Missouri was a slave state at the time, which influenced his work…
Reese Witherspoon has a new $6.9 million country house in Ojai, California. According to the MLS listing, it's a Wallace Neff architectural masterpiece that includes…