Ever wonder where the presidential hopefuls live? I did! So I found it interesting to read about them in Newsweek. Starting with the top row of pictures above, left to right, you'll find the houses of the following candidates:
1. John Edwards just moved to this sprawling Chapel Hill, North Carolina property (pictured upper left). It's a $6-million, 102-acre estate with an indoor recreation area that includes a pool and squash court.

2. John McCain, whose wife Cindy is heir to the Hensley beer fortune, bought two condo units for $4.6 million in this new luxury tower in Phoenix (pictured upper right). They combined the units into a single 7,000-square-foot apartment. Among the amenities provided: a zero-edge rooftop pool, an in-house spa, and 24-hour concierge service.

3. Hillary Clinton owns this $1.7 million Dutch Colonial in Chappaqua, NY (pictured lower left). It was built in 1889 and has 5 bedrooms and 4 baths at the end of a cul-de-sac. The Clintons also own a $2.85 million home in D.C.

4. Barack Obama and his wife Michelle, who is an administrator at University of Chicago Hospitals, paid $1.65 million for this Georgian-revival home in Kenwood, a landmark district on Chicago's South Side (pictured lower center). Oprah, one of Obama's supporters and a fellow Chicogoan, lives on the ritzier North Side.

5. Mitt Romney owns several homes, including this $10-million lakeside retreat in rural New Hampshire overlooking Lake Winnipesaukee (pictured lower right). He also owns a ski lodge near Park City, Utah, and a residence in Belmont, Massachusetts, a Boston suburb.

Okay, now forget about whether you like the candidates themselves and the parties they represent. Which house (or estate) do you like best? Vote in our poll below for the one you'd most like to live in. It's time to bring this country together. . .with real estate.
UPDATE: the poll is closed. Here are the results:
Which presidential candidate's house would you most like to vote for?
John Edwards' 102-acre estate in Chapel Hill
20%
John McCain's luxury condo on Phoenix
12%
Hillary Clinton's Dutch Colonial in Chappaqua
8%
Barack Obama's Georgian-Revival in Chicago
12%
Mitt Romney's lakeside retreat in New Hampshire
48%
To read more about the candidates' homes, go to Newsweek online. Photo credits: Don Carrington, 2211camelback.com, AP.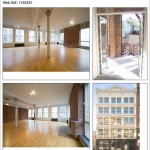 When I heard that Heath Ledger died on January 22, I was shocked like everyone else. I logged onto a few gossip sites to get…