Burleigh Cottage was first built in 1826 as a schoolhouse for a small river village in New Hope, Pennsylvania. Now it's a charming 2-bedroom cottage decorated with blue and white throughout. Take a look…
When I saw the listing for this house, it stopped me in my tracks.
I've been in a very blue-and-white kind mood lately (remember my son's bedroom makeover?), so I was excited to see an entire cottage decorated with it.
The listing says, "Soaring ceilings with open beams, whitewashed and natural exposed stone walls, deep sill windows and wood flooring figure prominently in the main living space."
That door to the left side of the kitchen in the photo above leads to a blue and white sunroom that is a more recent addition and leads to a pool in the back:
The interiors were decorated by the husband-wife design team of Bennett and Judie Weinstock, who were named in Architectural Digest's Top 100 in 2002:
That issue of AD featured a tour of their apartment in Philadelphia. Judie Weinstock said they wanted to create "a manor house in the sky." This is their kitchen with Wm Ohs cabinetry and a La Cornue range:
They say it was inspired by an English country house they visited. You can see the rest of their apartment at AD (photos by Billy Cunningham). It was also featured in Philadelphia Style if you want to learn more about them and their home.
Back to Burleigh Cottage…
The blue and white theme even carries outside to this little shed with the charming blue shutters:
They're asking $649,000. For more photos and information, check the listing. (Update: it sold and is now listed to rent.)
How was your weekend? I can't believe it's almost May already! My daughter Lily has a Summer Countdown where she's been marking the days until school is out, and this morning it says "3 Weeks + 5 Days." It'll be here before we know it! 🙂

P.S. Visit my Cottages page to see more, including…
A Former Schoolhouse-Turned Cottage in Beaufort
This lovely home in California was inspired by traditional New England farmhouses, and it comes with an adorable guest cottage to boot. The listing notes that…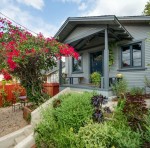 When a photo of this little blue bungalow popped up in my Instagram feed, I had to learn more about it. It's on the market in Los…