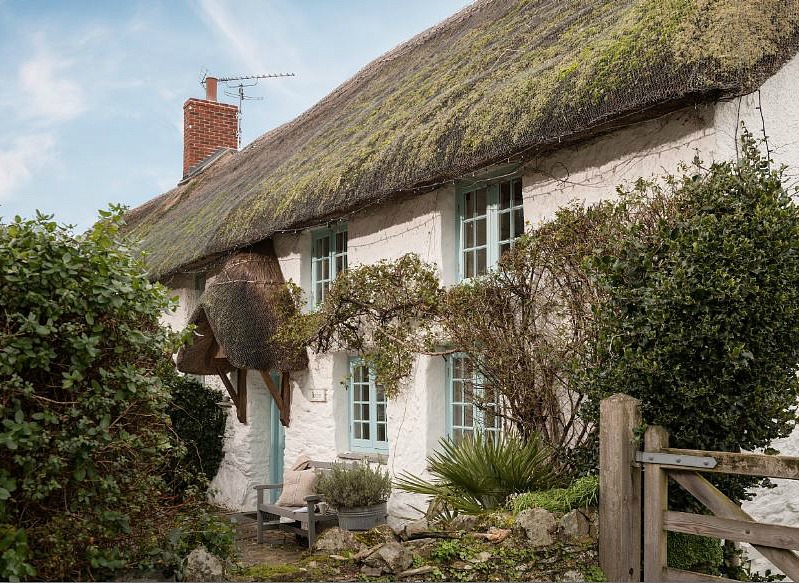 I love a good English cottage. This one, a holiday rental called Under the Rose Cottage in Cornwall's Crantock Village, is what Chocolate Box dreams are made of.
If you looked up the word "cottage" in the dictionary, I wouldn't be surprised if you found a picture of this one there with its thatched roof and pale blue door and windows.
Rachel, who owns the cozy house, says: "We bought the cottage when I was eight months pregnant with our twin boys and they've spent every summer in Crantock since they were born eleven years ago. Memories of high chairs in the kitchen breakfast nook and bathing in the paddling pool make Under the Rose a very special place for us."

Under the Rose Cottage in Cornwall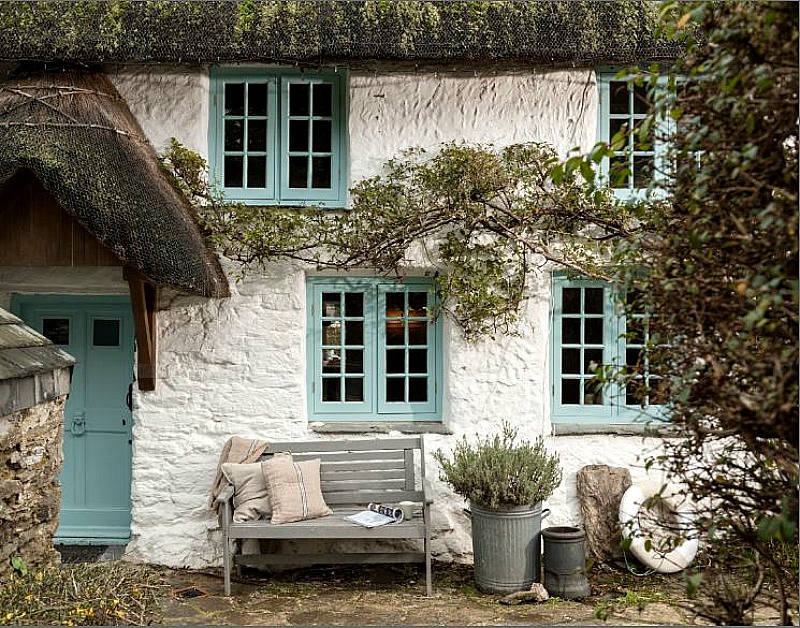 The Unique Home Stays listing says:
Swathed in folklore, this enchanting 17th century cottage is as rich in fable as it is in flair. Purportedly once buried by a sandstorm which lasted three days and three nights, today Under the Rose stands in all its chocolate-box glory, with its peculiar gable ends and Persian-style thatched domes taking prime position in the heart of Crantock village. A chic beachside hideaway chock-full of charm and curios.
If walls could talk, you'd be up sipping wine until the wee hours listening to all the tales of Under the Rose. Stories span from monks and dragon battles to sandstorms and smugglers; whose getaway tunnels still lay beneath the cottage to this day.
Families yearning for a cool self-catering retreat, where the best of north Cornwall's coast and country combine, need look no further than here. Romp through colourful riots of corn marigolds and poppy fields to play on the local beaches of Crantock, Porth Joke and Fistral by day, then collapse by the crackling fire come nightfall."
This higgledy-piggledy seaside home comprises four bedrooms on the first floor; one king, one double and two singles.
Each sleeping space crows a chalky coastal palette, decked with crumpled linens, curious trinkets and interesting bedtime reads.
Outside, rosemary and apple trees fill the cottage garden with a paradisal scent. Throw open the French doors in summer and spin between the hot tub and kitchen table laid with cucumber sandwiches and homemade lemonade.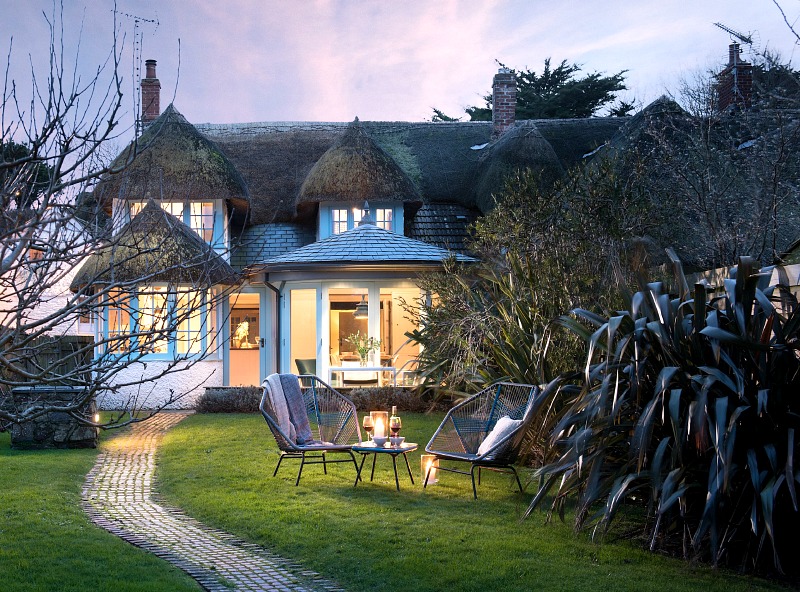 Ever wondered where the term "chocolate box cottage" came from? According to David Burr:
The phrase 'chocolate box cottage' derives from the picturesque scenes printed on boxes of Cadbury's chocolates throughout the 1950s and 60s. During this period, the confectionery company included scenes from the 'model village' of Bourneville on their packaging.
Built in the late Victorian period by George Cadbury, Bourneville's high-quality houses were constructed to house the workers at Cadbury's nearby factory and other families from the back streets of Birmingham. Letting the homes for a low rent, Cadbury's socially responsible aim was to house people on lower incomes.
When these scenic images started appearing on Cadbury's packaging, the term chocolate box cottage was coined.
Thanks to Unique Home Stays for telling me about this one.

Check the listing to learn how to rent it on your next holiday in Cornwall.

Visit my Cottages page to see more faves I've featured!