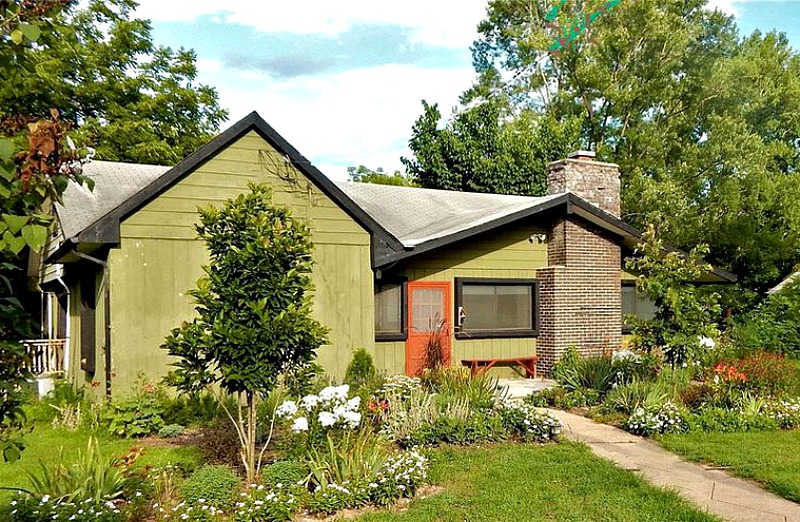 A few years ago a reader named Connie wrote me about her farm in Missouri: "I own one of the few goose farms in the country and rent out the original homestead as a B&B. Gosherd Valley Cottage sits in an unspoiled beautiful area of rolling hills and family-owned working farms."
After inheriting the cottage from her mother, Connie fixed it up and turned it into a cozy, colorful little retreat.
Now she's selling Gosherd Valley Cottage and moving to Wisconsin. Take a look!

Gosherd Valley Cottage in Missouri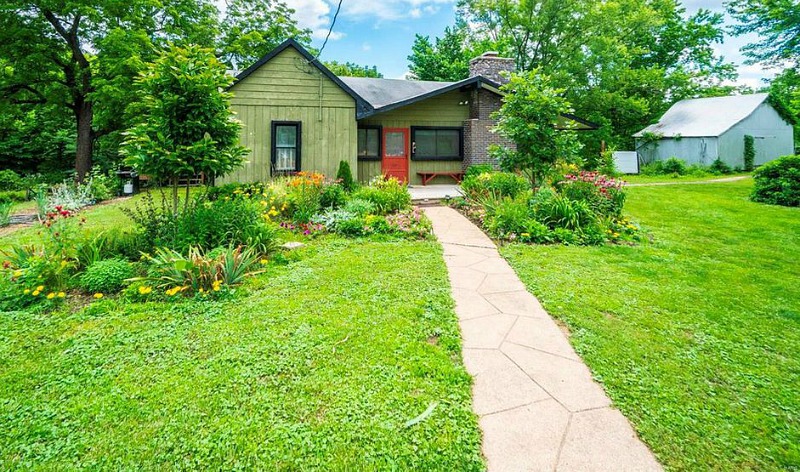 The term "gosherd" is a term used for someone who takes care of geese.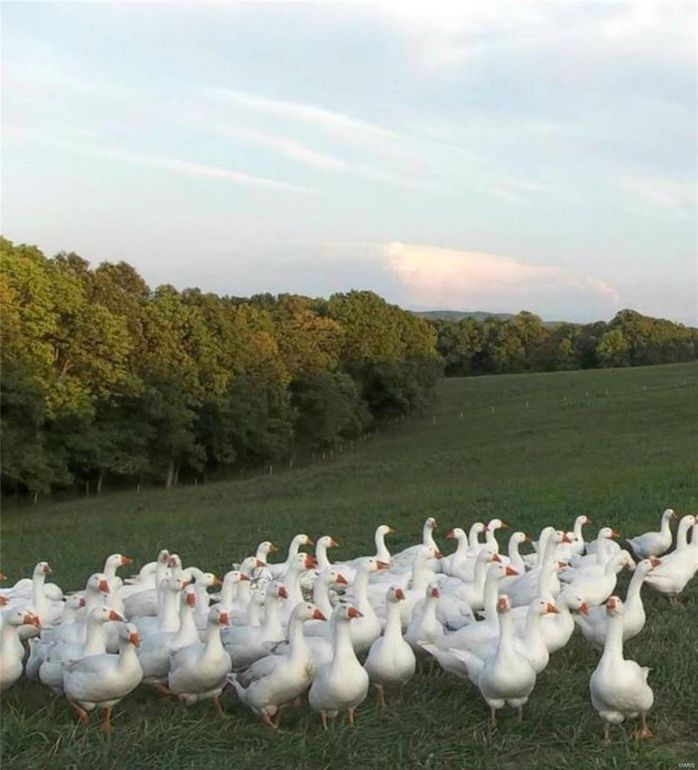 Connie's mother Patty was the one who bought the 80-acre property outside Morrison, Missouri. She thought it was a "special, magical place."
When she became ill, Connie moved from Chicago to care for her until she died.
Connie remained on the farm and decided to try raising geese to help pay the taxes on it. Not only had she discovered a good "niche market" for farming, but she enjoyed taking care of them.
Under her care, the flock grew into the hundreds.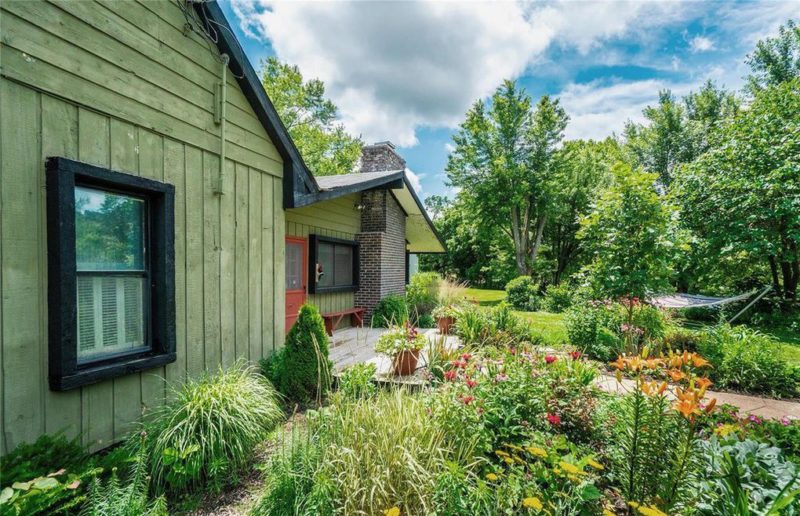 The rooms were white when she moved in, but Connie brought color and character into the cottage.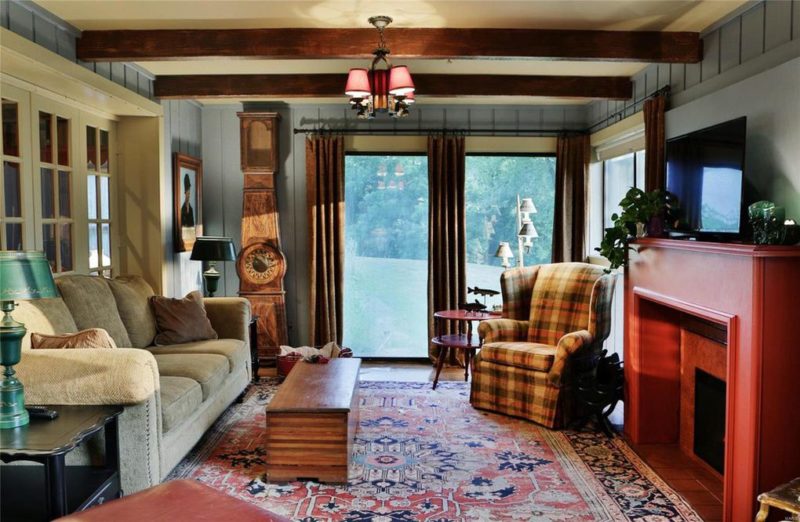 She says wanted to turn the cottage into a self-catering B&B, but it needed a lot of work first:
"Originally, there was a small log home that was used as a hunting cottage. Over the years it had had things added to it sporadically, but there was no plumbing or well, and the electricity was iffy. Mom improved it somewhat, but it was still incredibly rustic, although she did add the utilities."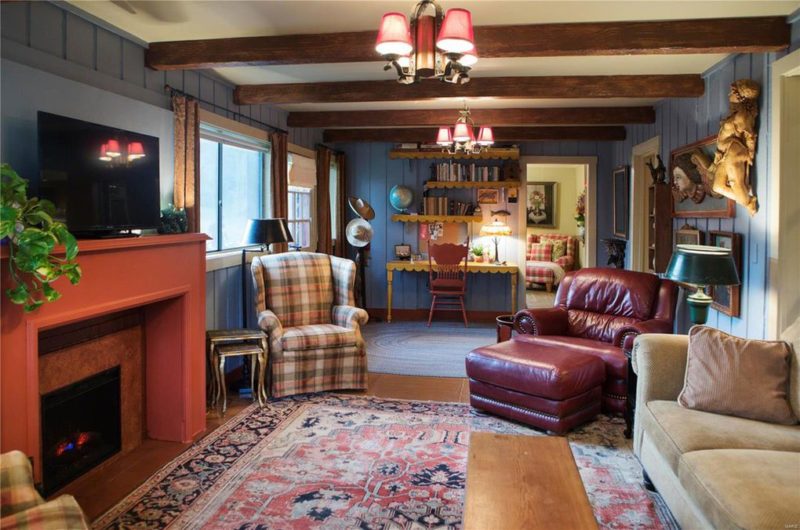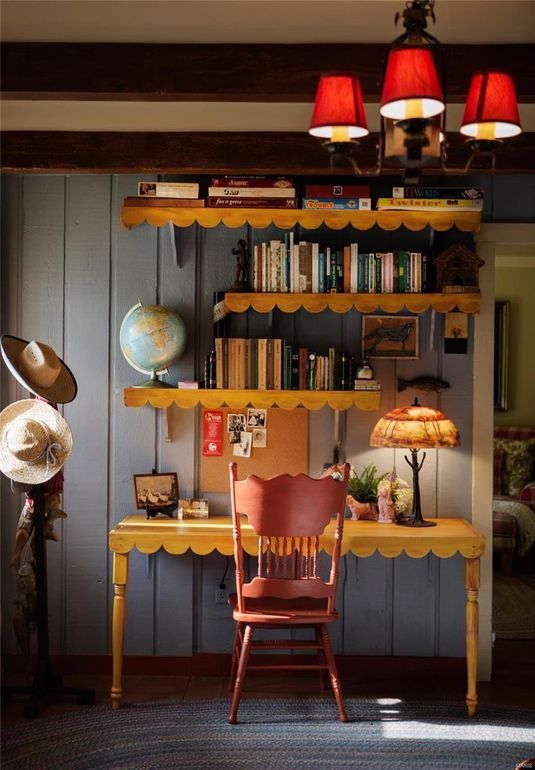 The Cottage Kitchen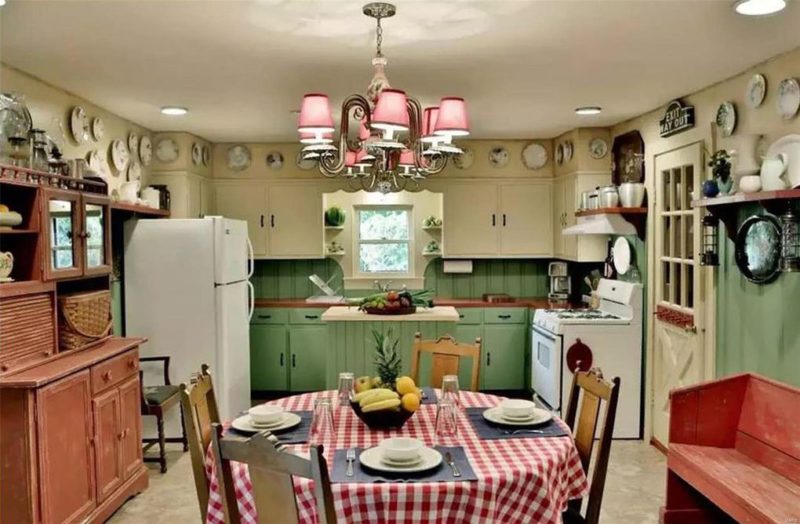 The kitchen needed some of the most work in the house.
Here's how it looked when Connie was remodeling it and the cabinets were still white: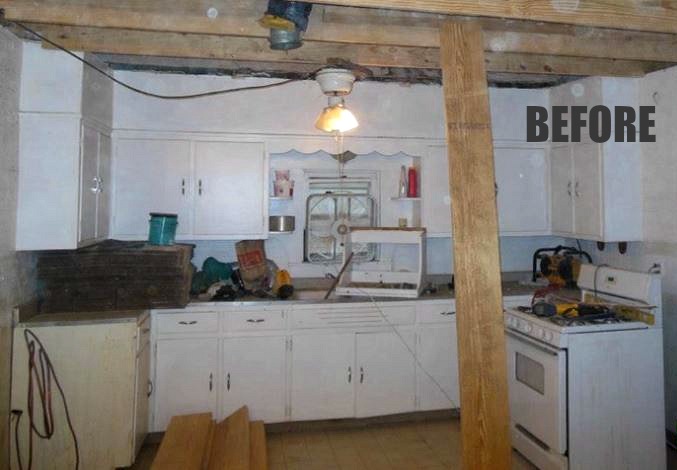 She gave it green cabinets and barn-red accents: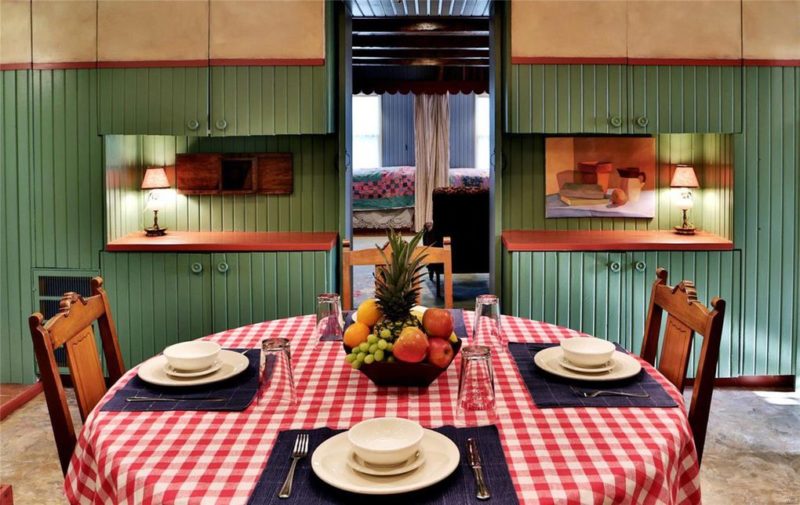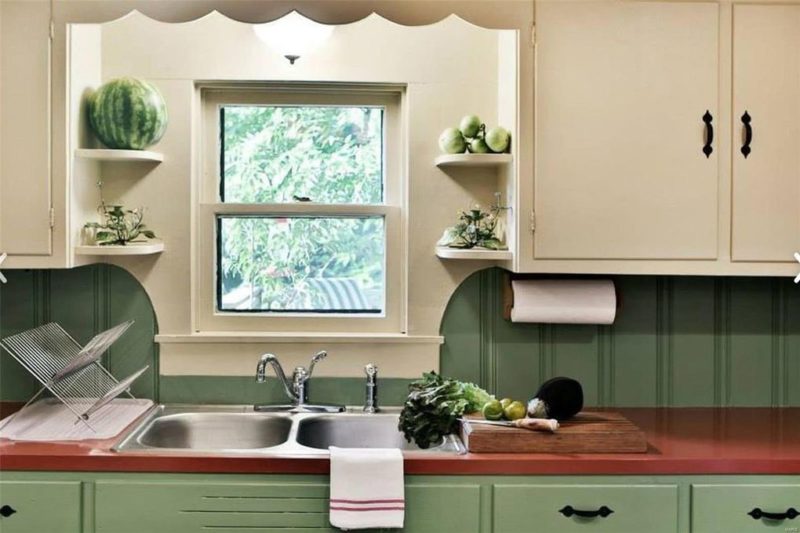 She wanted it to look like something out of a Carl Larsson painting, and it does!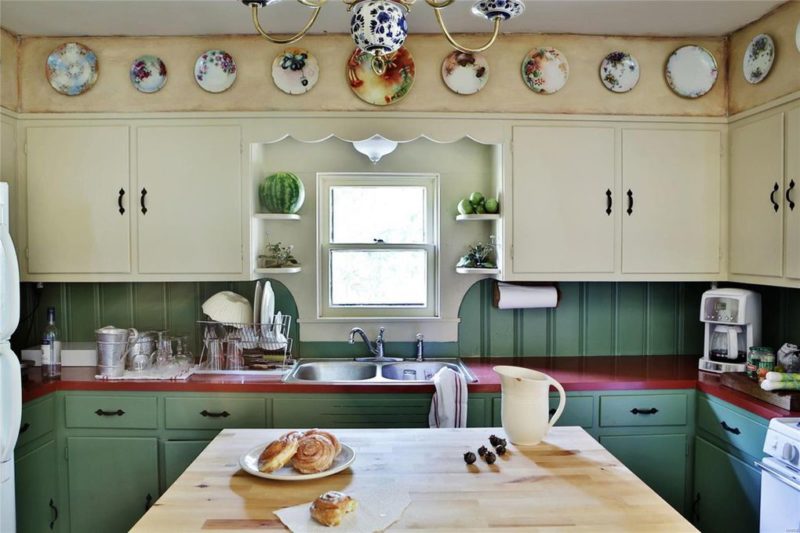 The cottage has 3 bedrooms + 1 bath.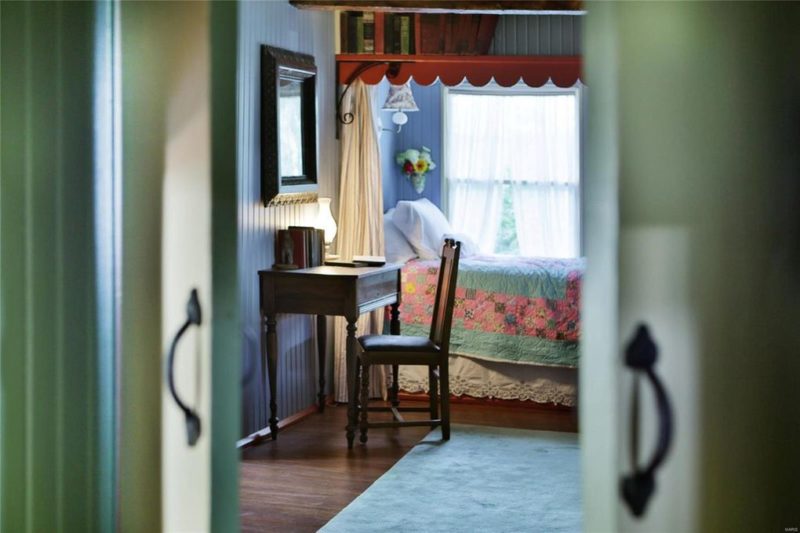 Connie added these snug built-beds along the wall, flanked by curtains: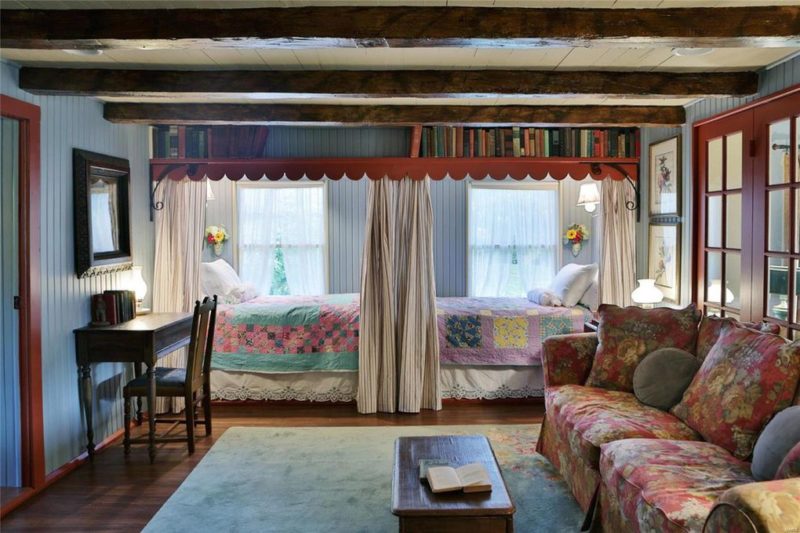 Belle, a rescue dog, was the first Great Pyrenees Connie trained to help on the farm.
Connie says, "The dogs are bred to be guardians, to live with farm animals and protect them. They work in tandem; one stays with the animal, and the others go chase off the predators."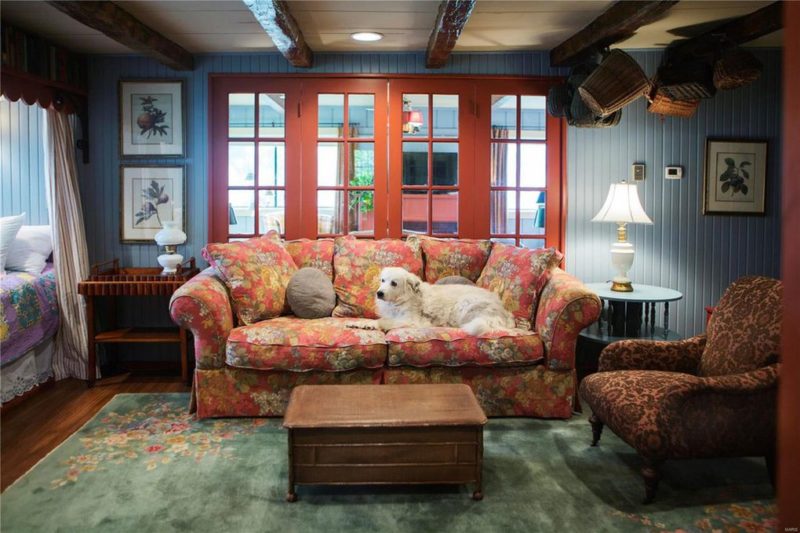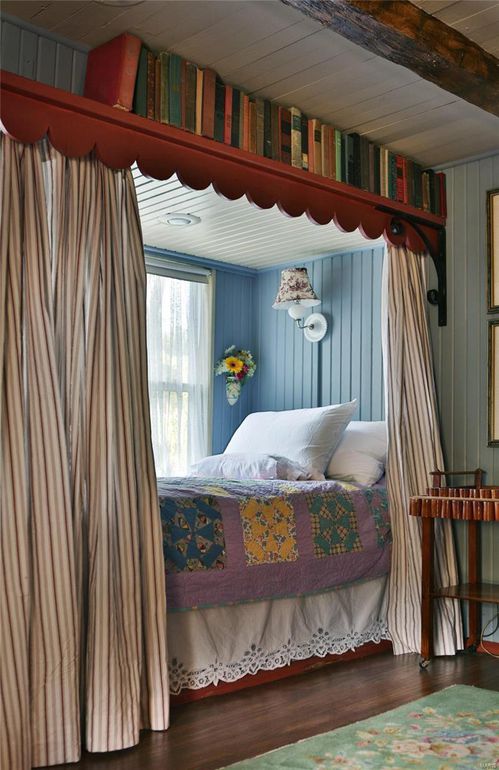 Connie says, "It is supposed to feel like going home to Gramma's farm. Whether or not you actually ever had that yourself!"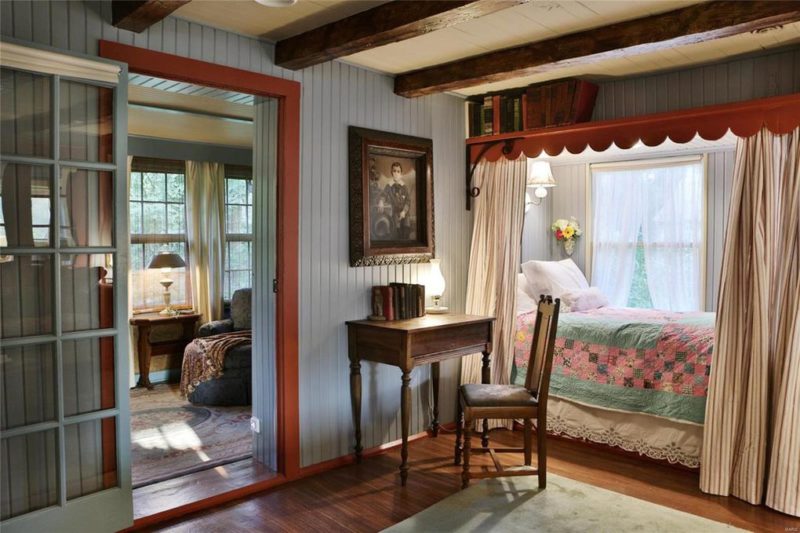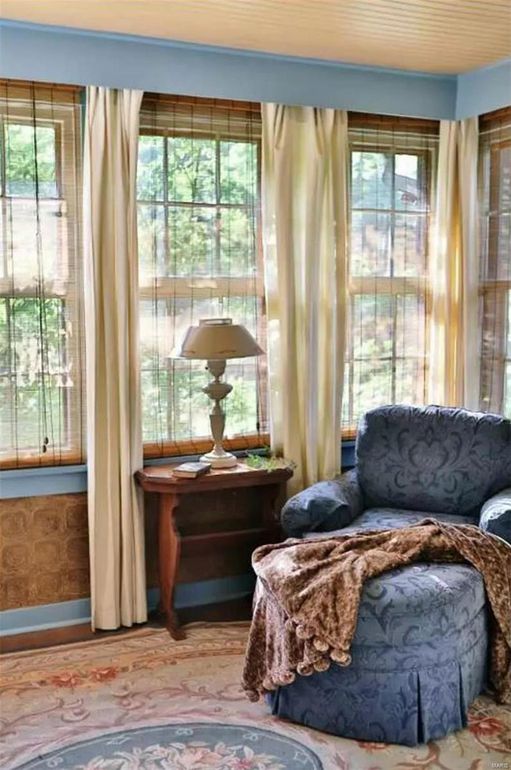 The entire cottage was decorated on a budget with finds from Craigslist, eBay, and auctions.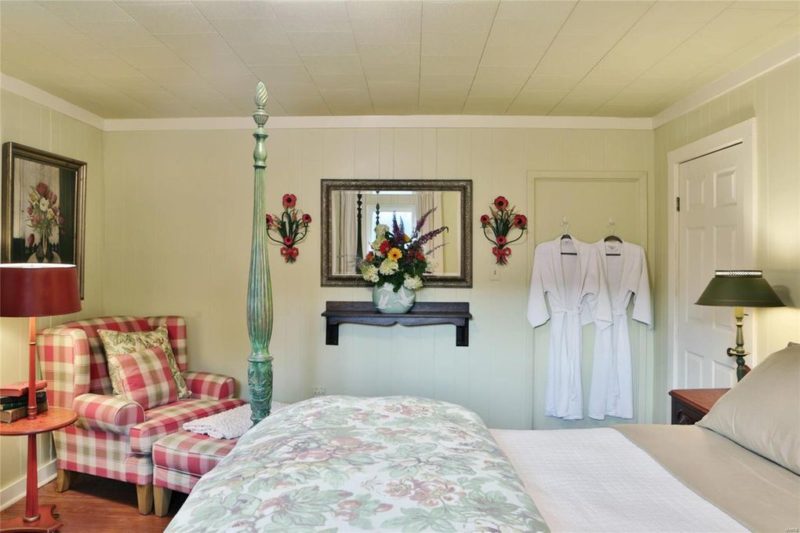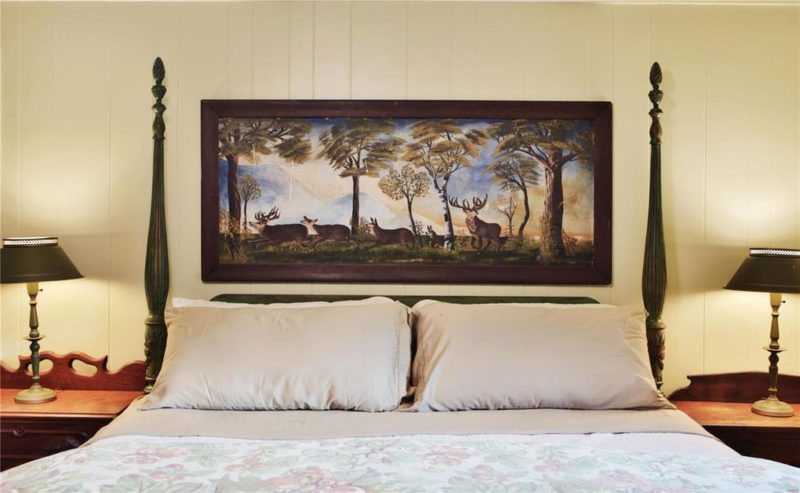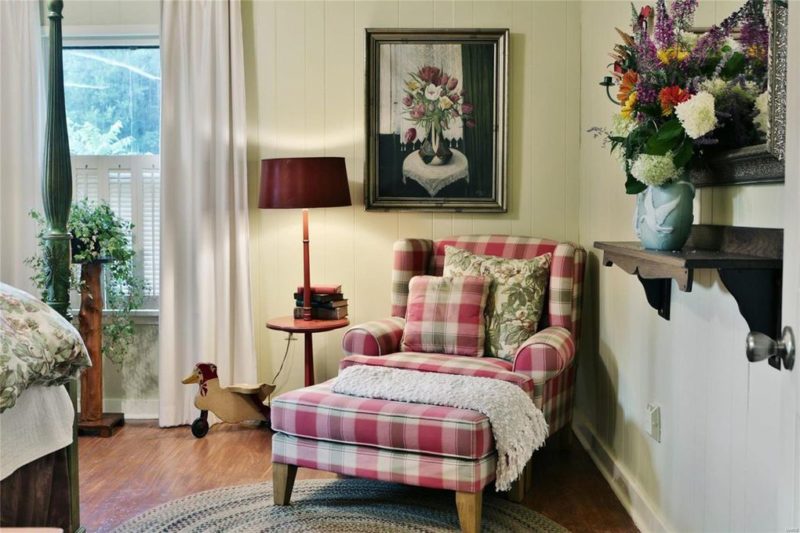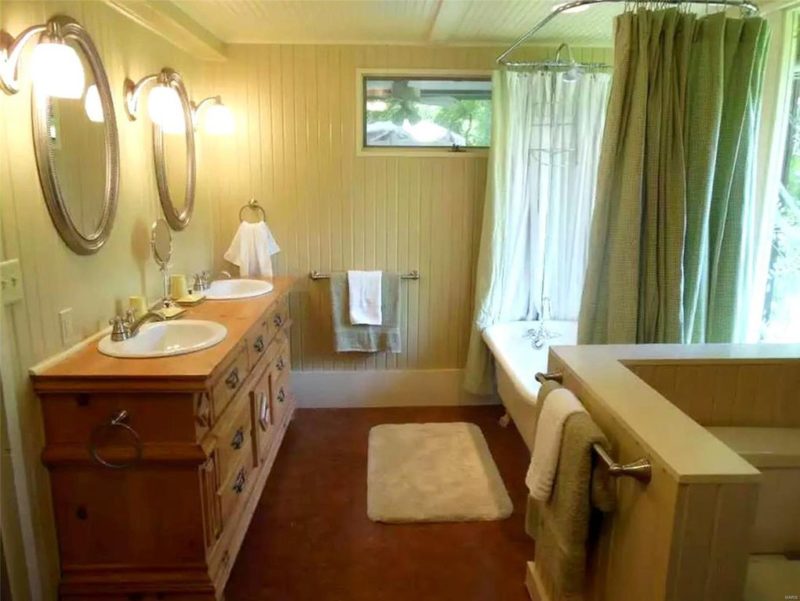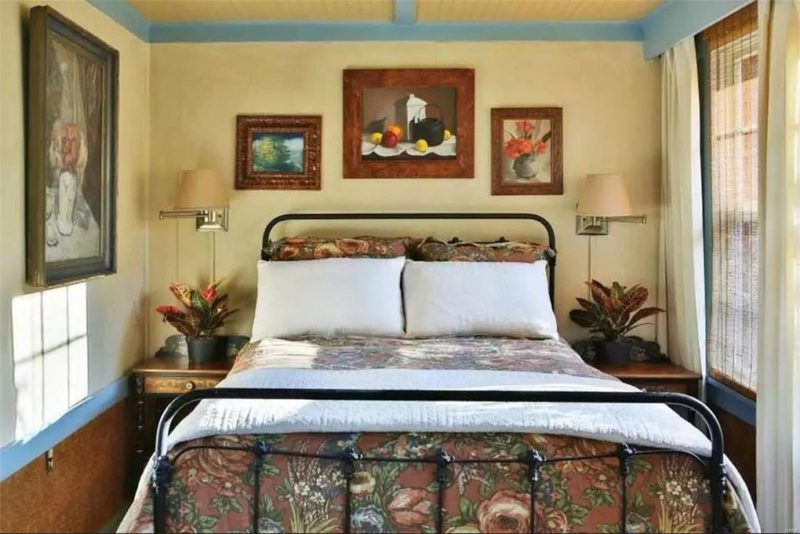 The Screened Porch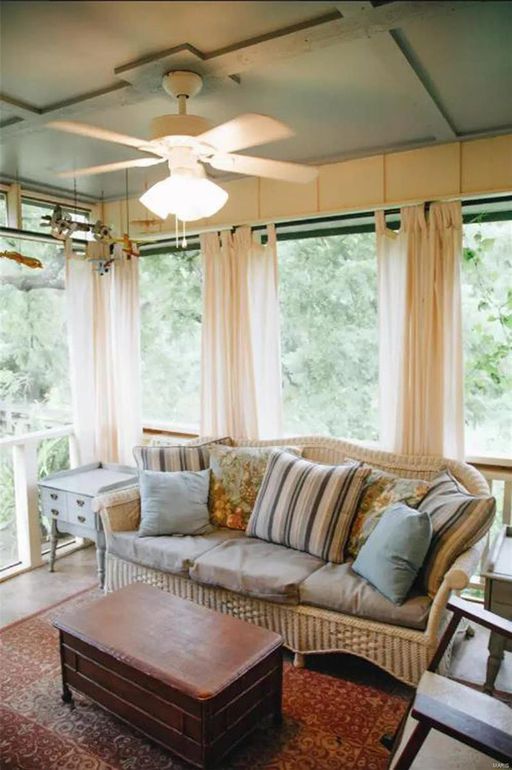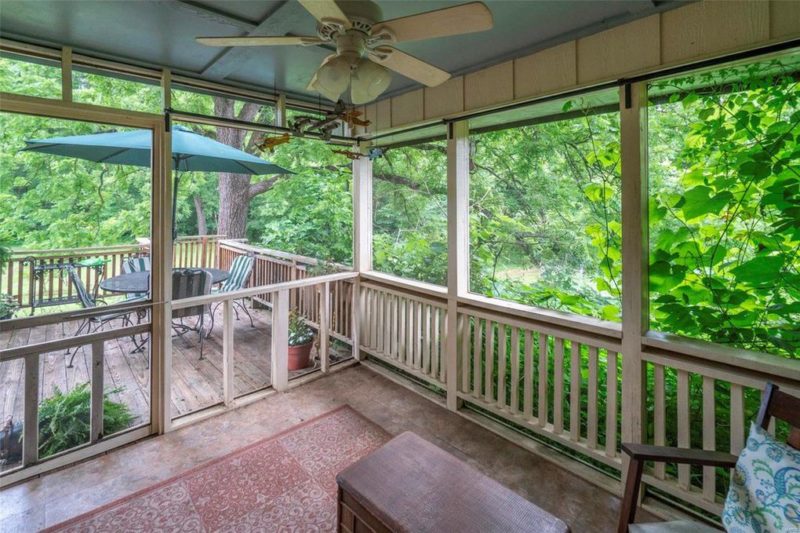 The listing says:
"Gosherd Valley Cottage, tucked away very privately on 80 acres of gorgeous, rolling green hills and meadows, approximately 15 miles west of Hermann.
"Has been used until very recently as a B&B Guest Cottage and the land is being used to raise grass-fed geese!
"Additional living areas have been built in the big two story wooden barn divided into 3 areas, one apartment, former artist's studio, and workshop. Other ancillary outbuildings used for geese and other farm ventures."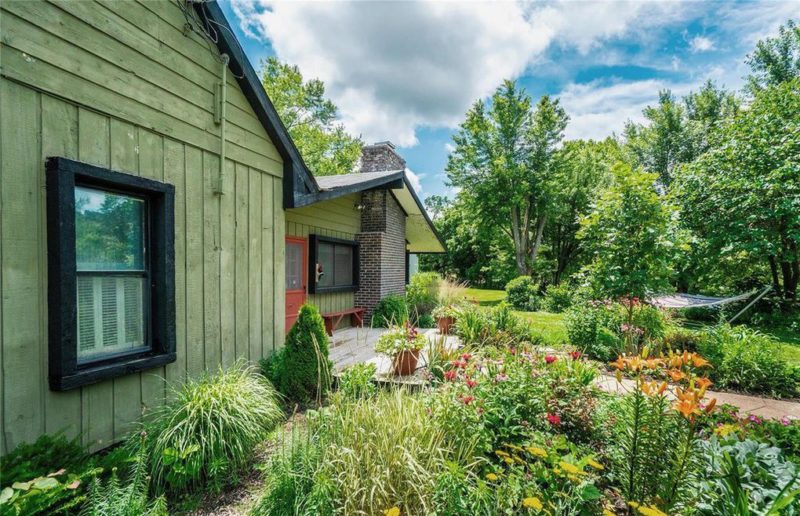 "On-site primitive camping is also available. Lake with dock. Fencing is mostly high-tensile woven wire for pasturing geese or can be used for other livestock.
"The main guest cottage was built in 1880 and is part log. It has been restored and renovated to accommodate guests very comfortably.
"This is a gorgeous, private farm to spend weekends at or live a full-time sustainable life in the Western foothills of Germanic Hermann."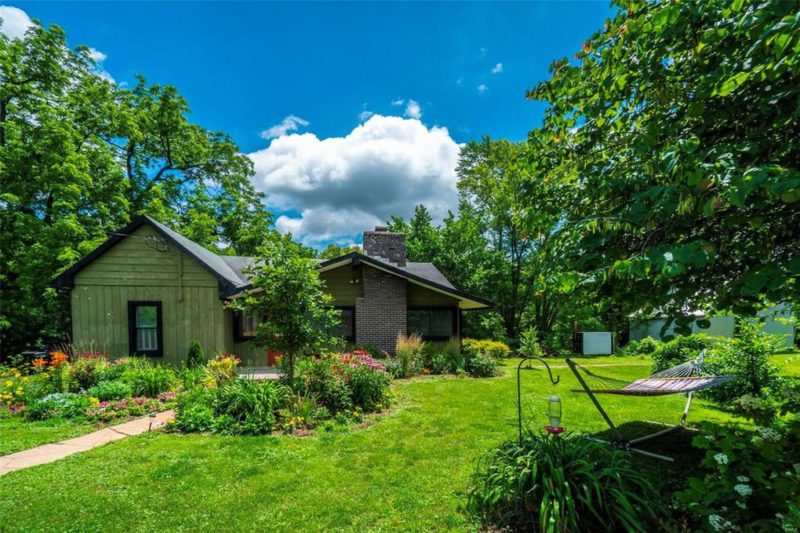 Gosherd Valley Cottage sits on 80 acres in Missouri.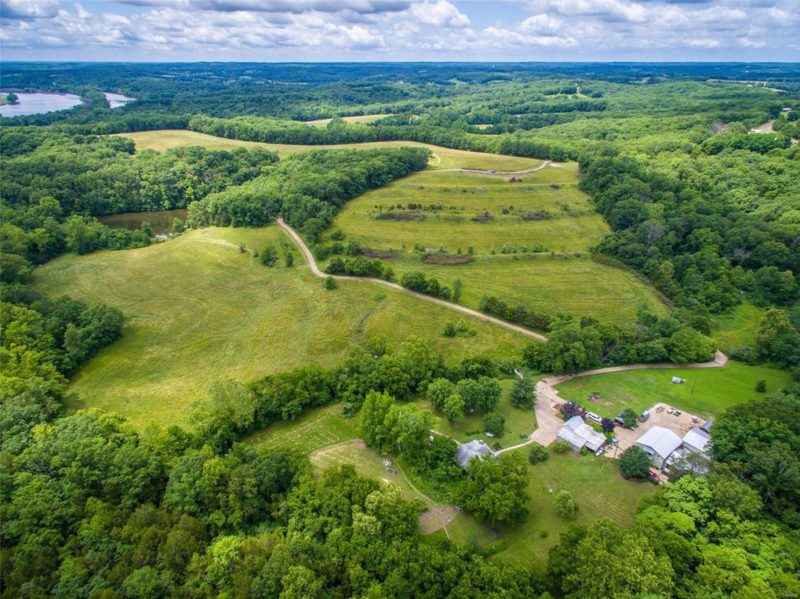 Thanks to Connie for sharing her cottage with us. If you're a homeowner or real estate agent with a house you think my readers would like to see, Contact Me!
For more information about Gosherd Valley Cottage, check the the listing

held by Roberta Rollins of Berkshire Hathaway HomeServices.

You can also read the story on Houzz and watch a video about the property.

Photography by Carmen Troesser, Tony Carosella, and Connie Cunningham.