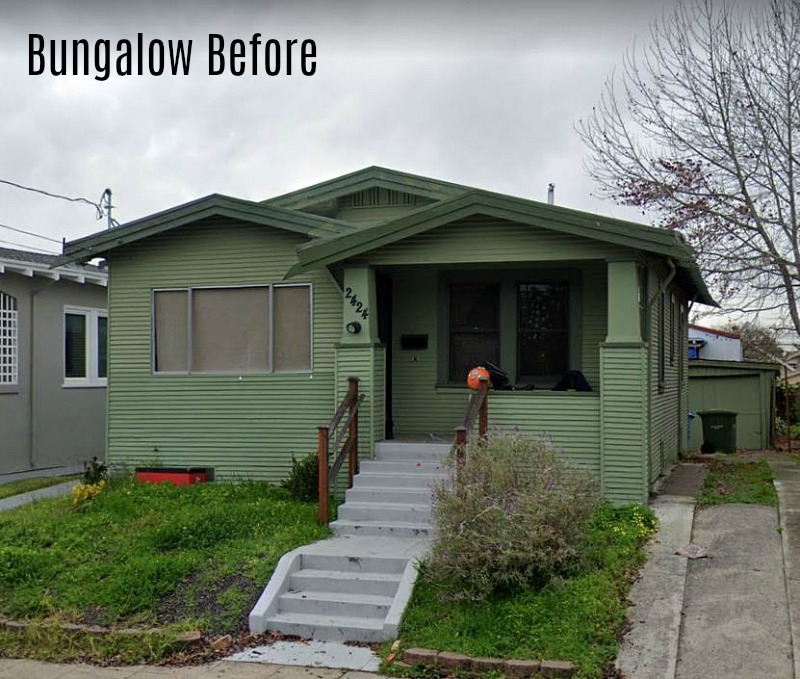 You guys are always asking me to feature more small houses here on the blog, and this one caught my eye today. It's a two-bedroom bungalow that got some fresh new curb appeal with paint and landscaping.
It sits in the Poet's Corner neighborhood of Berkeley, California, and I thought it was pretty cute to begin with. You can see from the photo above that it had potential.
The cozy, 1,000-square-foot home was built in 1924 but is now looking young for its age, thanks to updates inside and out. It's on the market, and listing agent Elic Suazo describes the light-filled bungalow as "delightfully sunny."
Take a look!

A Two-Bedroom Bungalow in Berkeley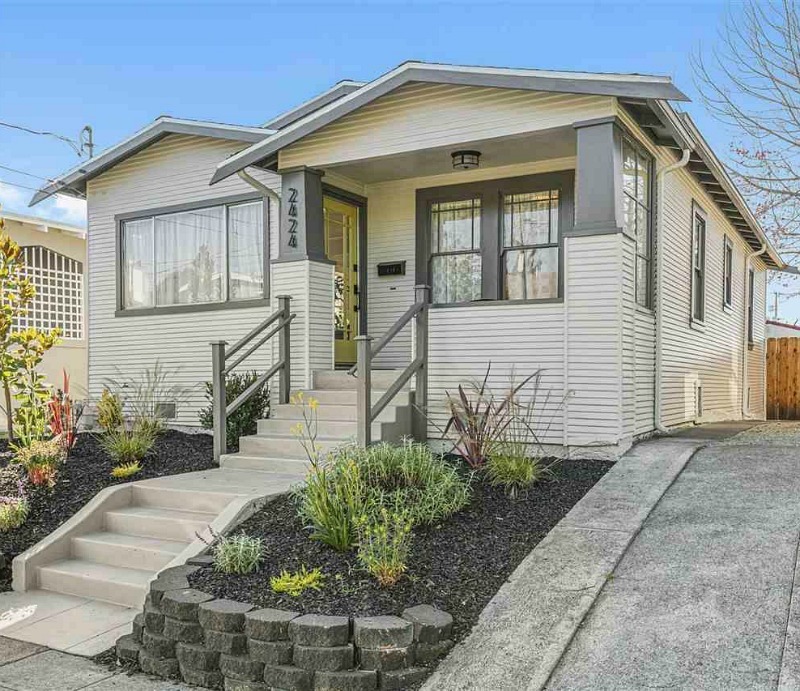 The bungalow now has contrasting gray trim on the exterior that makes the details stand out more.
It also got fresh new landscaping, and a front door that's a happy, modern yellow.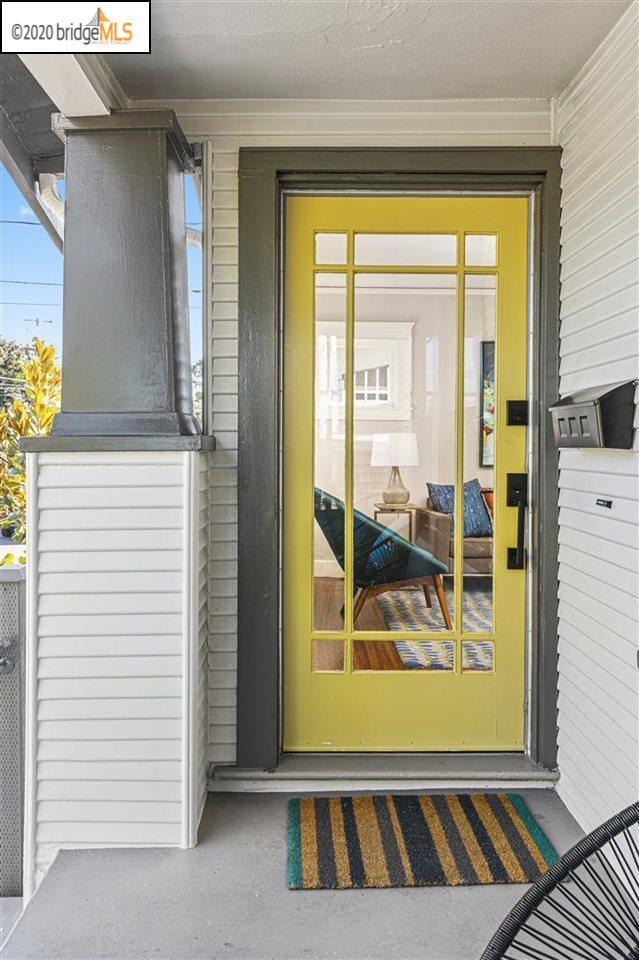 The Front Porch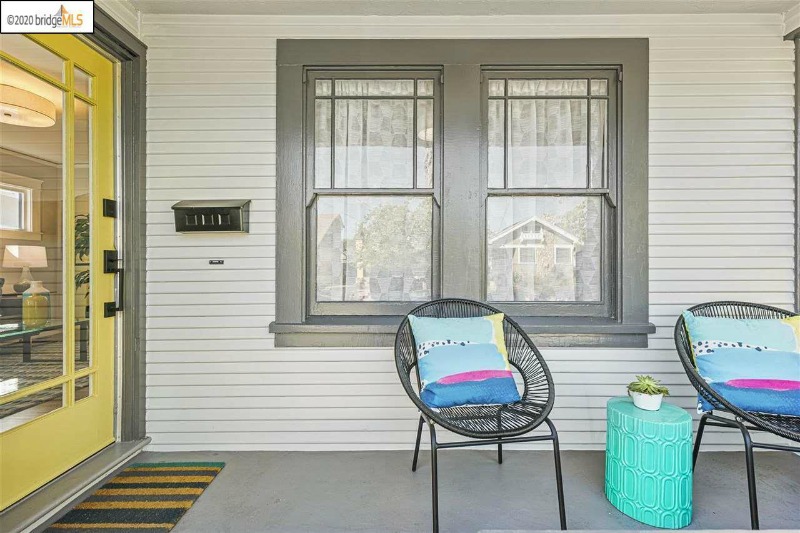 The windows and the front door have similar trim around the glass and appear to be original to the house.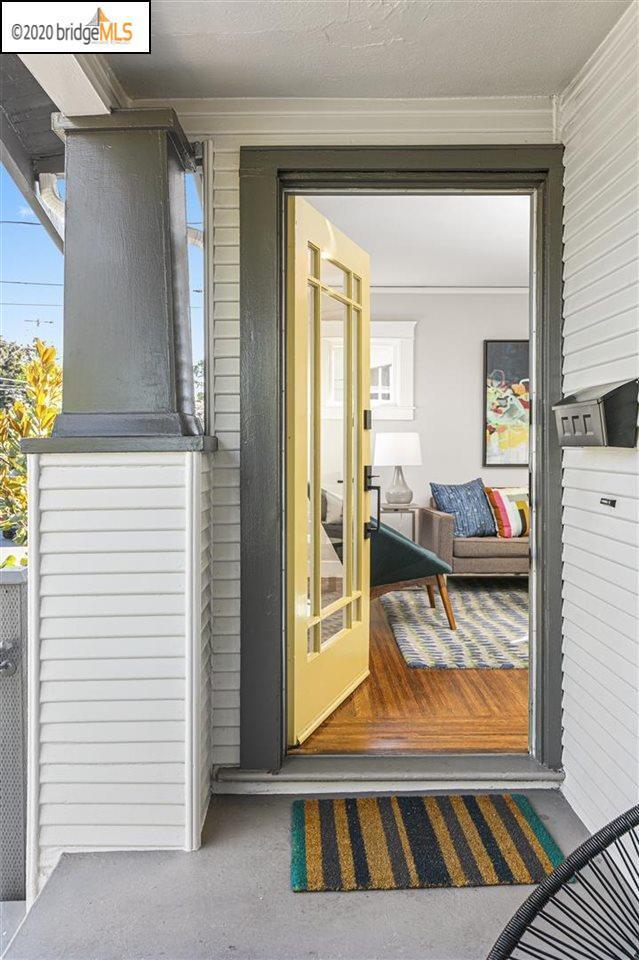 The rooms are mostly neutral but were decorated with accents of teal and other bright colors.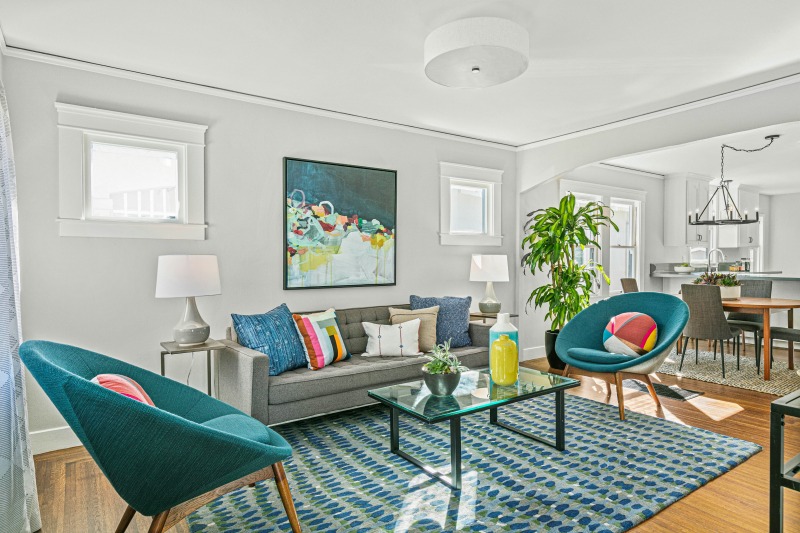 Despite the modern vibe, the bungalow maintains some of its old-house character with
wood floors, chunky window trim, and the arched opening between the living and dining spaces.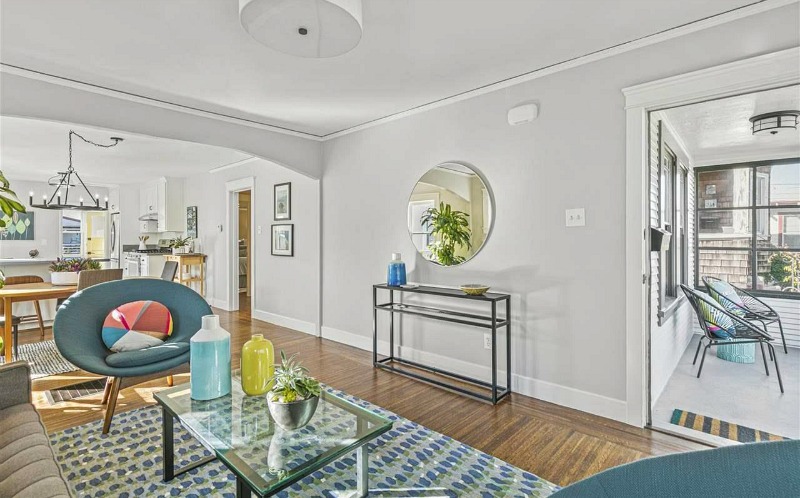 The Dining Room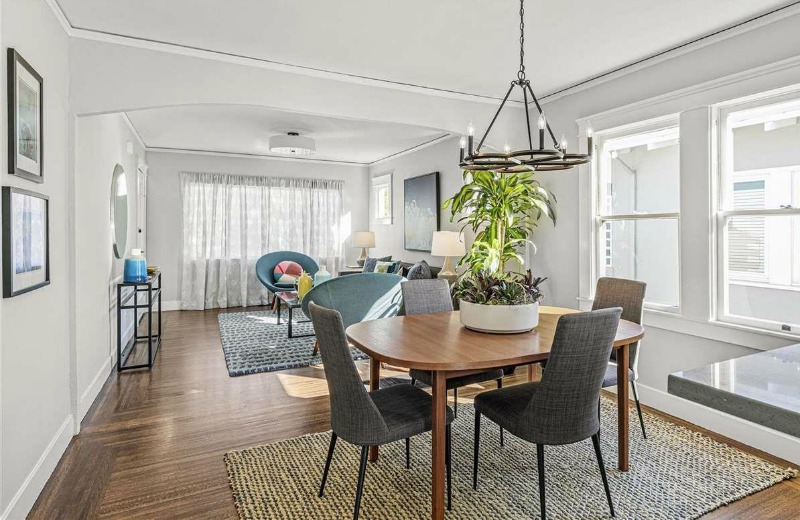 The listing for the bungalow says:
Enjoy easy living in this delightfully sunny bungalow in Berkeley's Poet's Corner district. Offering an inviting, open layout that allows conversation, friends, and food to flow effortlessly from kitchen to dining to living.
The kitchen is at the center of life in this home. And it's made even better with fresh updates which include new counters, flooring, and brand new kitchen appliances (2020).
Retreat to the cozy comforts of its sunny backyard oasis. Or start your mornings meditating on the joys of life while enjoying a warm cup of tea on its intimate, covered porch. After all, you're here in Berkeley!
Close to cafés, bakeries, restaurants and Berkeley Bowl supermarkets, San Francisco bound Transbay Express buses, North Berkeley BART and bike lanes that encircle this transit-sensible neighborhood.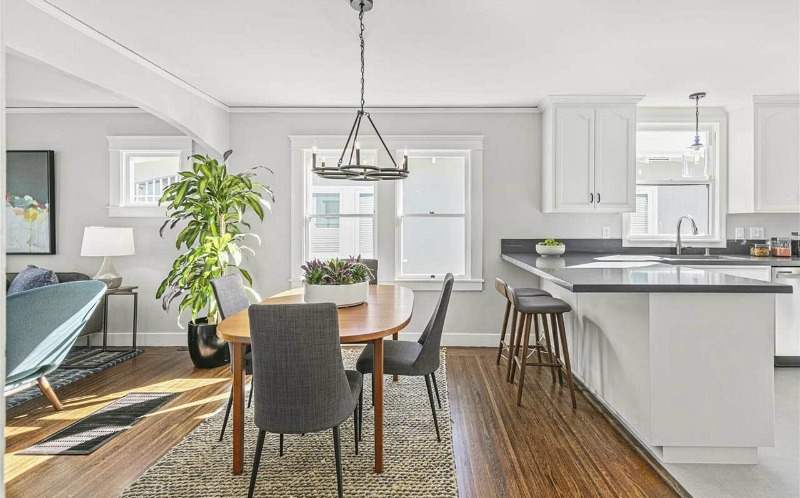 The Eat-In Kitchen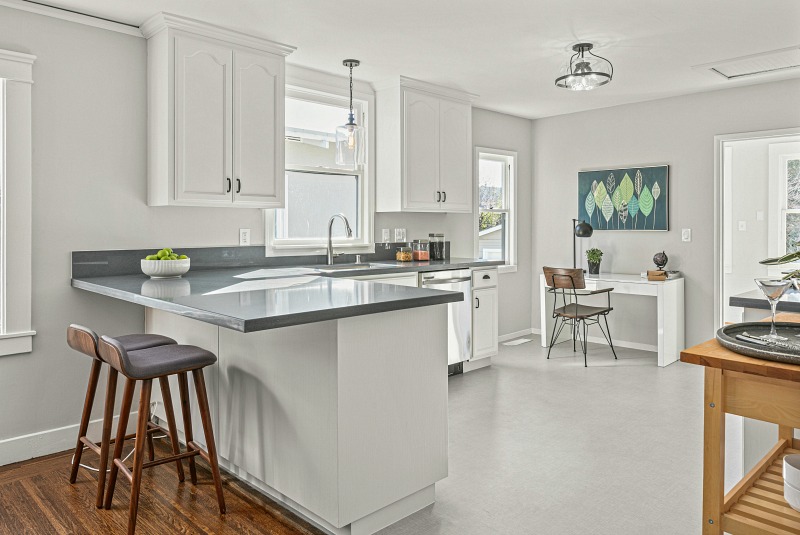 They painted the kitchen cabinets white to brighten things up even more.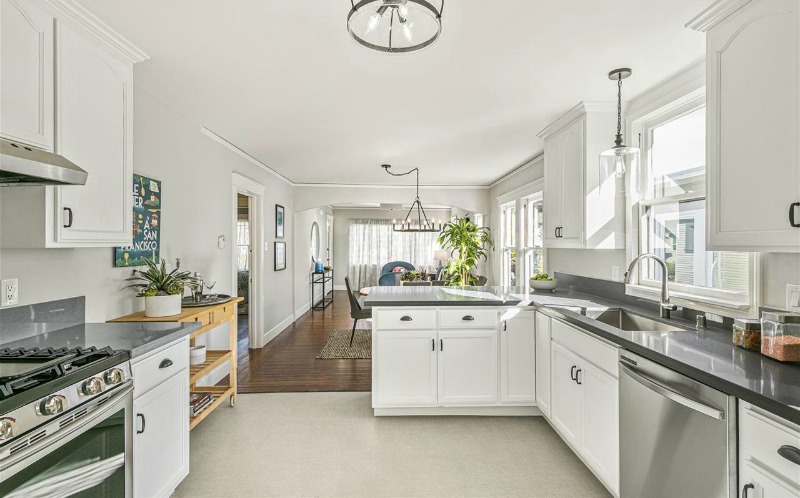 The bungalow has 2 bedrooms + 1 bath.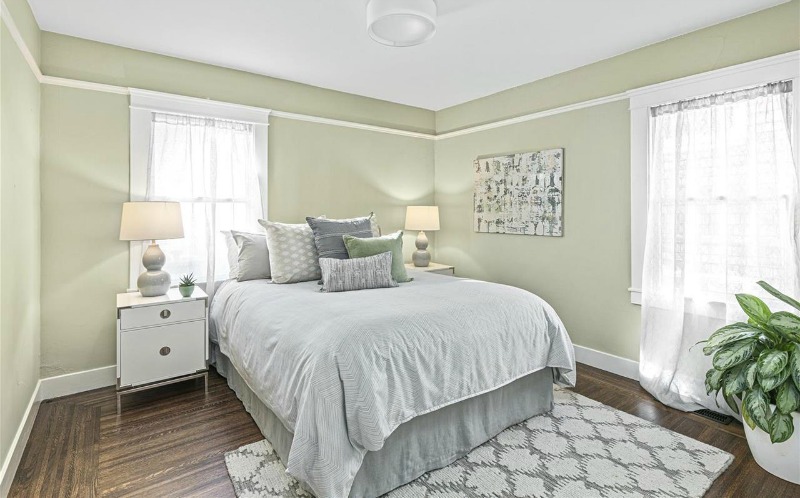 The Back of the Bungalow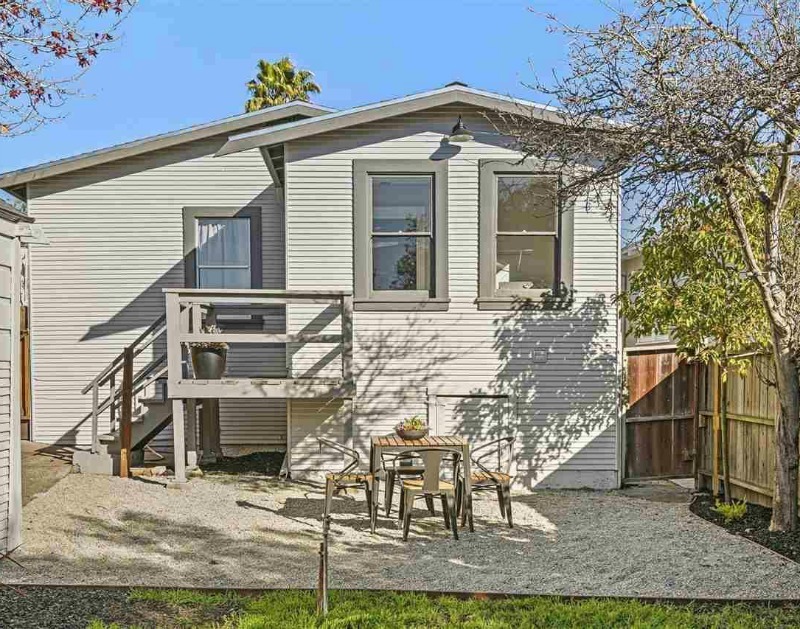 The backyard is small but private and has a detached garage.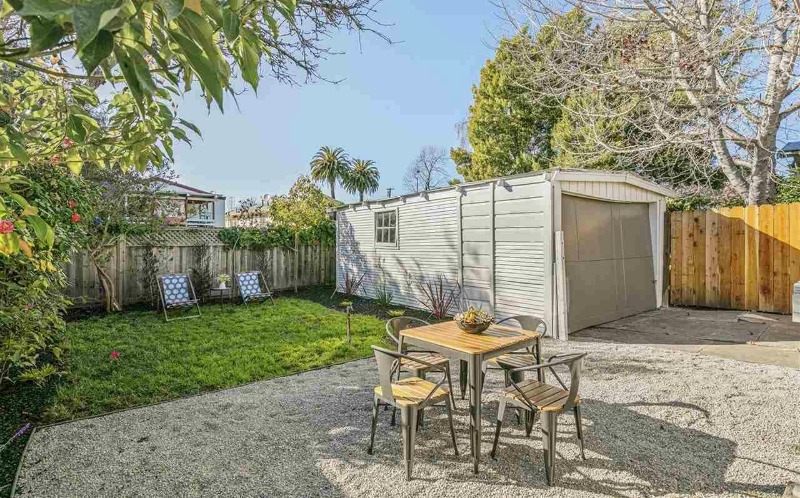 The agent lists these facts and features of the bungalow:
3,500 sq. ft. lot
New Roof (2019)
Fresh exterior paint and interior paint including kitchen cabinets
Brand new kitchen appliances (2020)
New light fixtures (2020)
Spacious laundry room
WalkScore® 84 "Very Walkable"
BikeScore® 98 "Biker's Paradise"
Walkable neighborhoods like this are becoming increasingly important and sought-after for home buyers. I know one of the selling features when we bought our house was knowing we could walk to the park, the library, and the school nearby.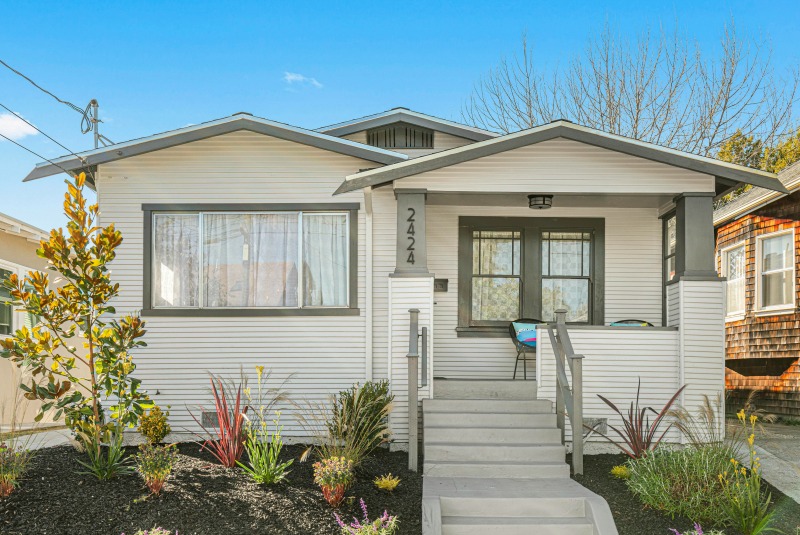 People send me listings for high-end, over-the-top mansions every day of the week, but I often prefer smaller houses like this one. I think I could live very happily in a bungalow.
Thanks to Deeana for telling me about it!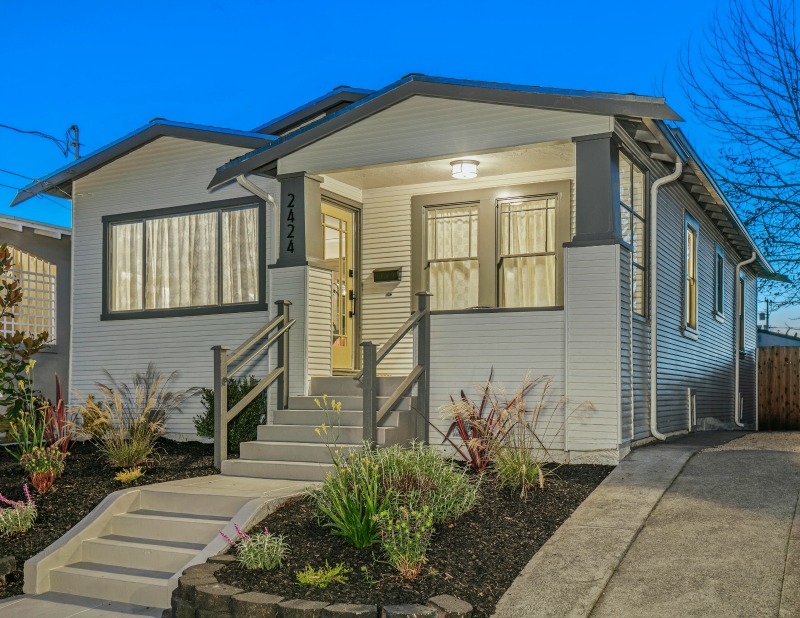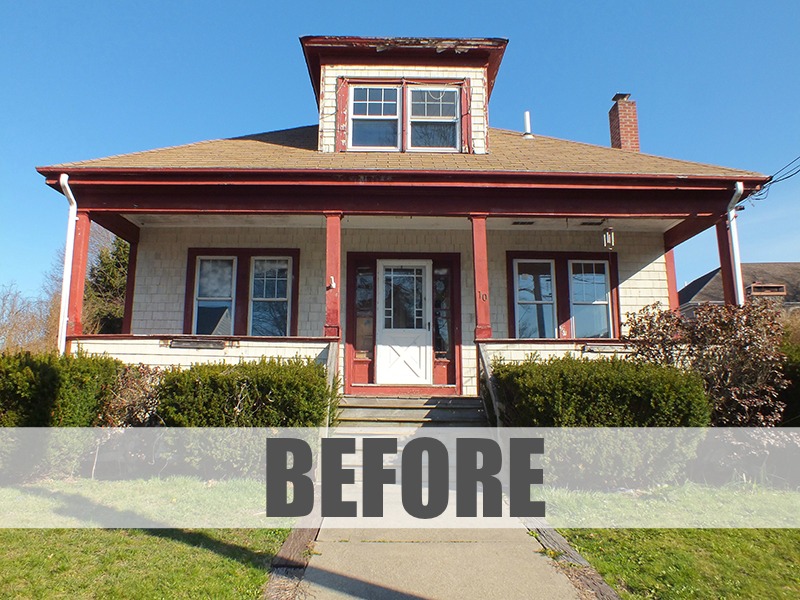 If you have a listing you think my readers would like, send it to me. To get an idea of the kinds of houses we like around here, check out my Real Estate page to see others I've featured that have been popular.
For more information about the bungalow at 2424 Edwards Street,

check the Red Oak Listing held by Elic Suazo. Photo credit: Christian Klugmann.

Hooked on Small Houses? Click here to see more!