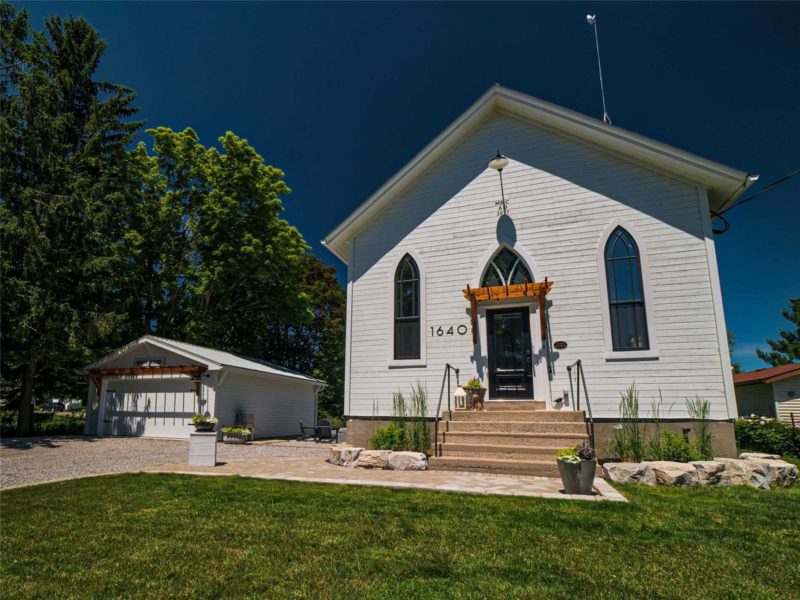 Chris Kauffman, who you may know from her long-time DIY blog, spent the last few years fixing up this wonderful old converted church with white clapboard siding outside Toronto.
I enjoyed following along with the church's transformation on Instagram. She surprised a lot of us when she announced that she's selling it and moving on:
"Our special house is on the market. We have over the last three years put all our efforts into making sure this home is perfect. So if you are looking for a unique truly one of a kind home here's your chance. We are sad to go but our work here is done. On to fix up the next one."
Take a look!

Chris Kauffman's Converted Church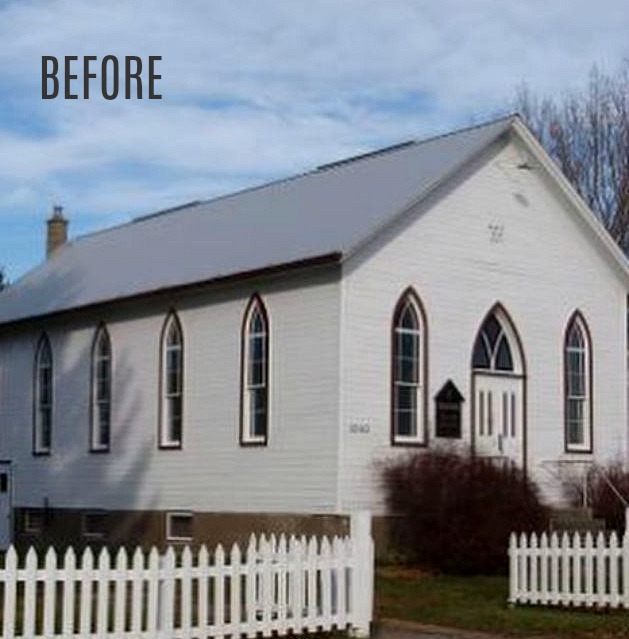 Enfield Church had already been converted into a house before Chris bought it,
but it had never been lived in and needed a lot of work. Here it is today: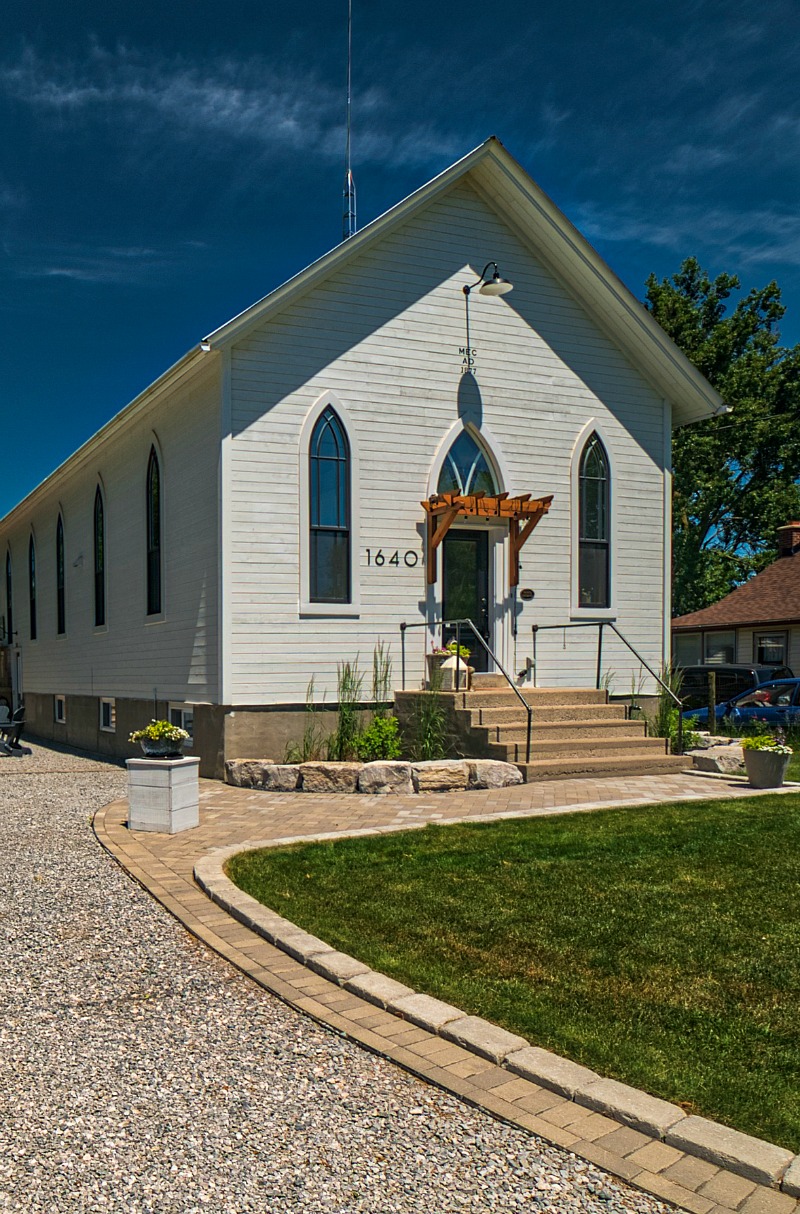 Chris writes:
Welcome to White Wood, our 1877 converted white clapboard church house in farm country, our very own farmhouse. Well, I call it a farmhouse, we are surrounded by farms, so it is easy to embrace the farmhouse style.
I am Chris, a long-time blogger, formerly called Just Beachy and now White Wood with Chris Kauffman.
I now also build custom furniture for my small business called White Wood Studio and host workshops here at White Wood Studio in Durham region.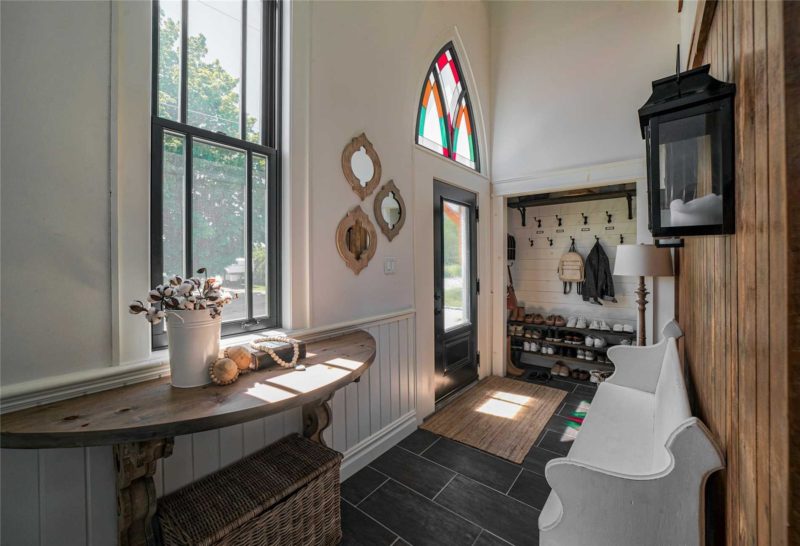 She added plenty of mudroom-like storage to the entry hall.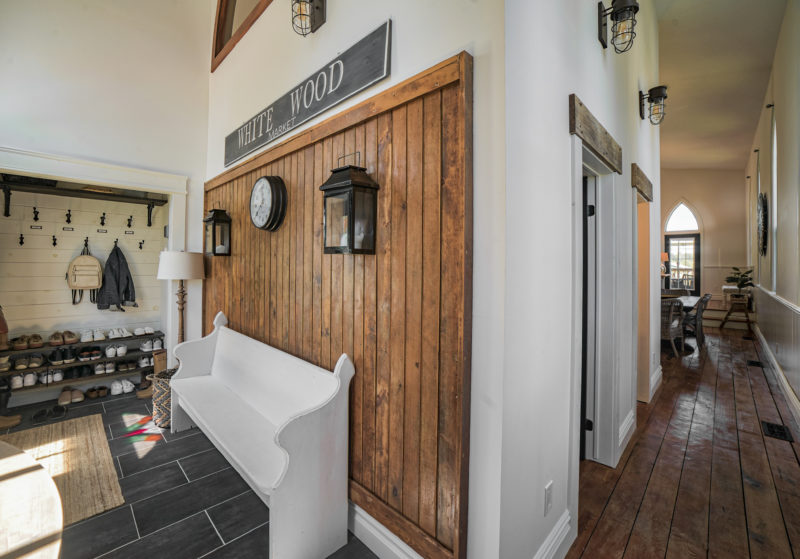 She says, "I always wanted a country home and when we were looking to downsize I happened upon this place while browsing the Realtor.ca site.
"The church was already converted from a church to a home so the bulk of the work had been done or so we thought….let's just say there was a lot more work to be done then expected other than design work to bring it up to proper living conditions."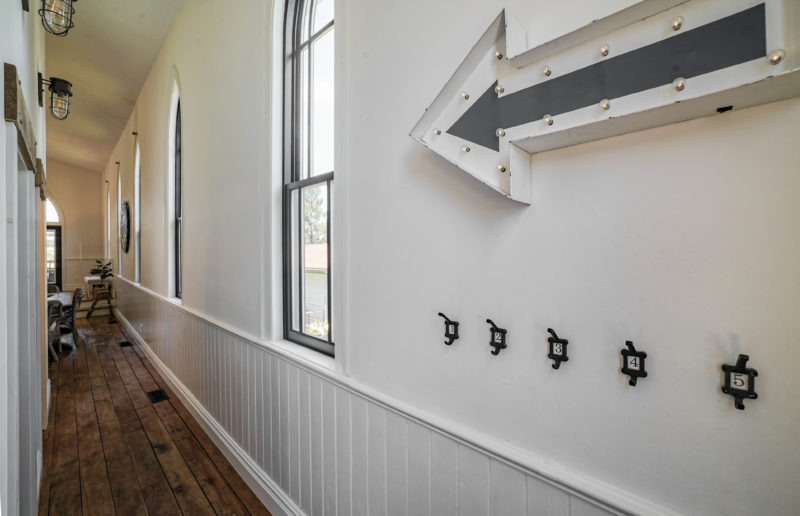 "We are the first family to live in this home.
"For approximately 48 years it was used much like a gathering spot for this rural community we now live in, it was used for two summer services a year a craft sale to cover costs, and everyone gathered in the church basement to eat and sing carols on Christmas day.
"How charming is that?"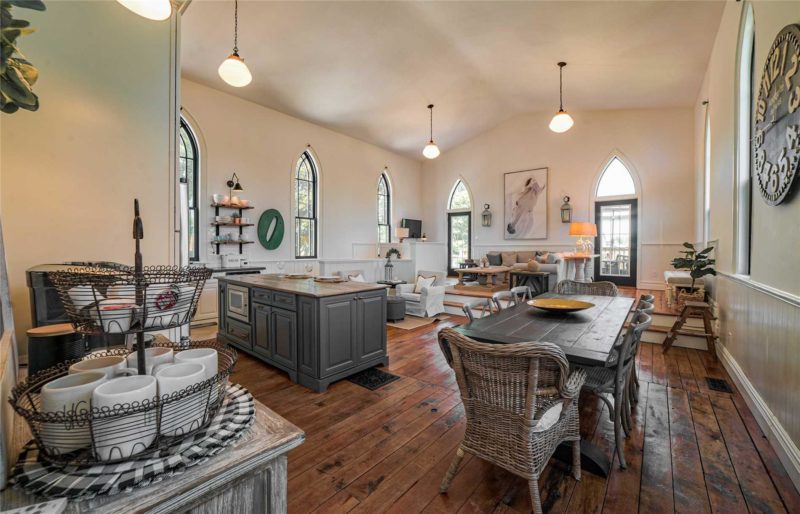 The listing says:
Enfield Church (c.1877) restored and transformed into a beautiful 1+2 bedroom home with over $120k in upgrades! Custom steel front door with seeded glass, custom mudroom-style storage and built-in console table in the renovated entry. 16-foot cathedral ceilings, original pine floors and stained glass on main.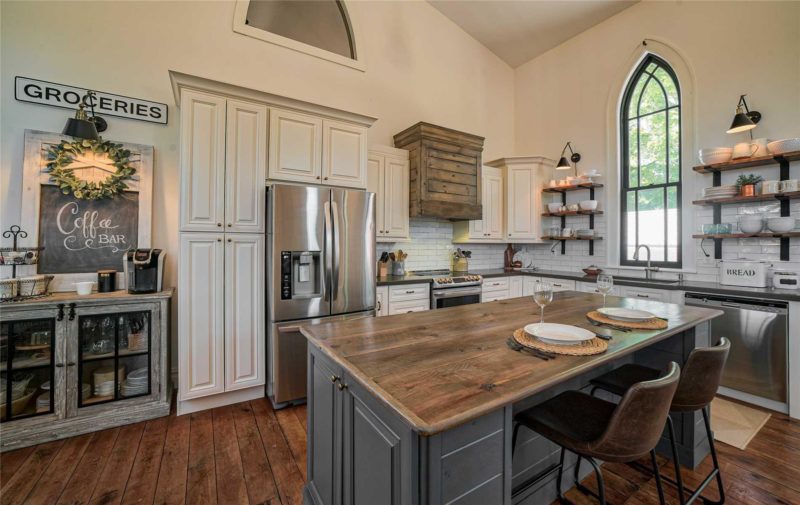 "Remodelled eat-in kitchen with designer details, custom range hood, quartz counters, island with reclaimed wood counter and shiplap details, stainless steel appliances, custom drawer organizers, garbage pull-out, spice pull-out, soft-close doors and drawers."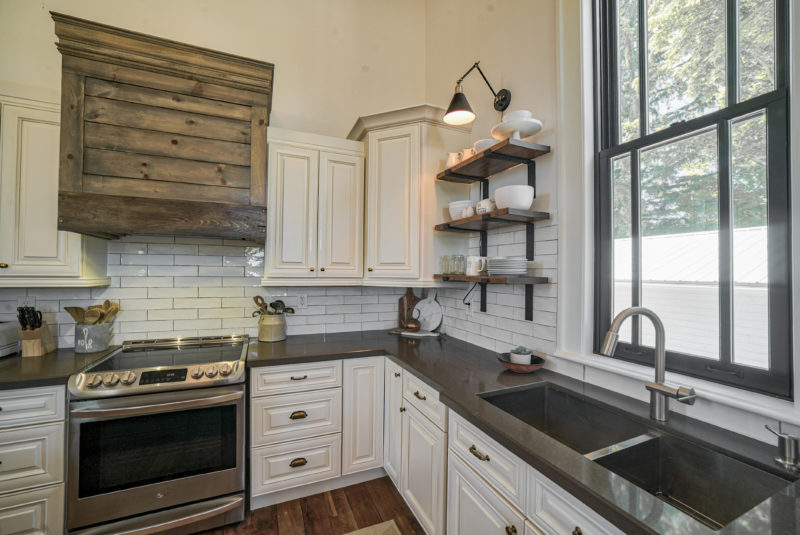 Long-time readers may remember when I featured another kitchen of hers she remodeled: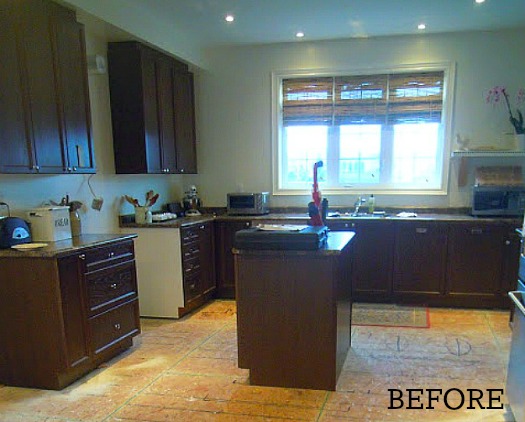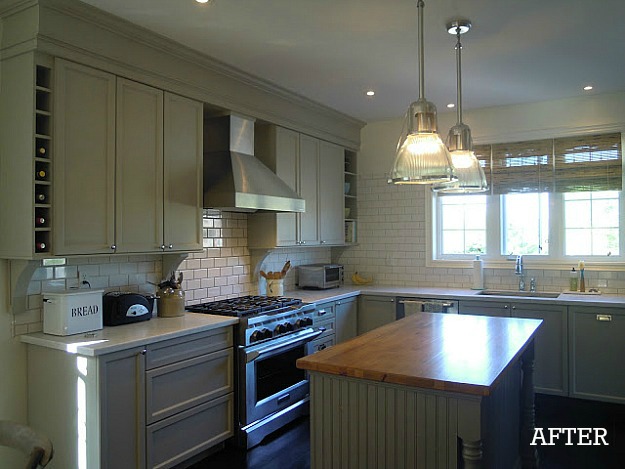 You can see more of that remodel that she gave her "builder-grade kitchen" in 2013 here.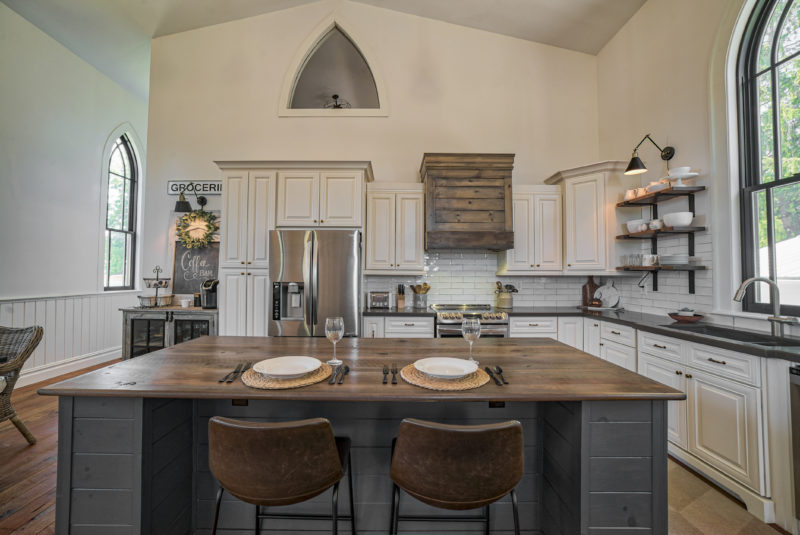 On her blog she wrote:
"Our home is basically one great room upstairs as well as our bedroom and loft between the front door and back of the house…with 15-16 foot ceilings…so there is a lot of volume in this space but I do not want to clutter it up with too much."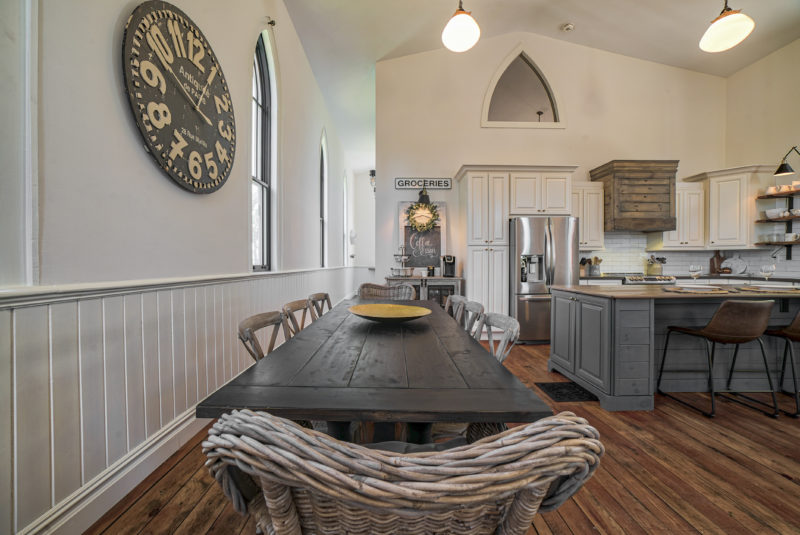 "We recently switched out the 140-year old stained glass windows for new wood custom thermal windows, all approved by the heritage committee, so they should be good for the next 140 years or more.
"We went for a simplified version of what was here and opted for the black to really accentuate the beautiful shape of the windows.
"This one change has made the biggest visual change in our new home, and they open….not one opened before."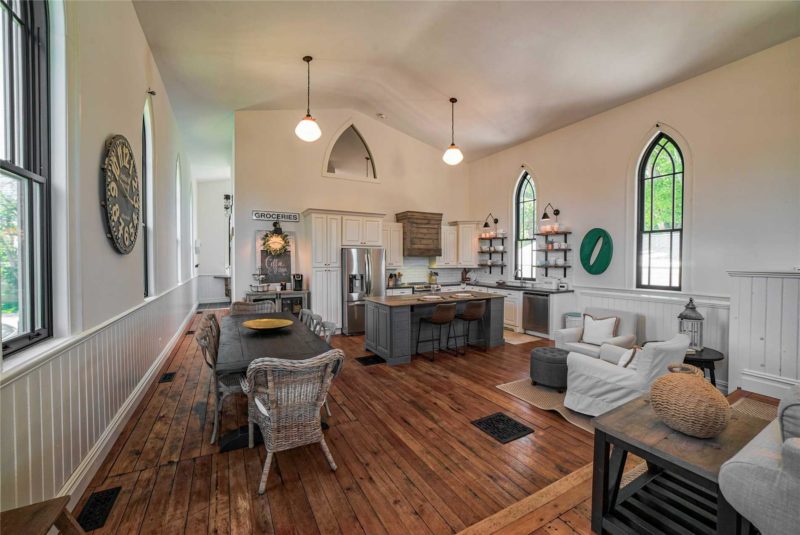 Chris says, "We love the antique original pine floors. They have so much character."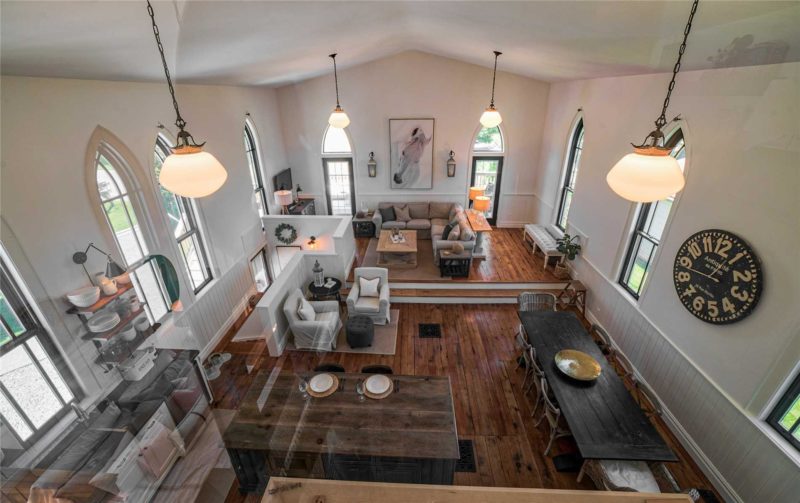 "Setting up an old church as a home has it challenges. It was a big debate as to where to place the living room furniture.
"I think it worked out in the end, the TV is tucked off to the side to the left of the left door it is not the focal point of the room.
"We used the Ikea Ektorp sofa in beige and it provides enough seating for day to day."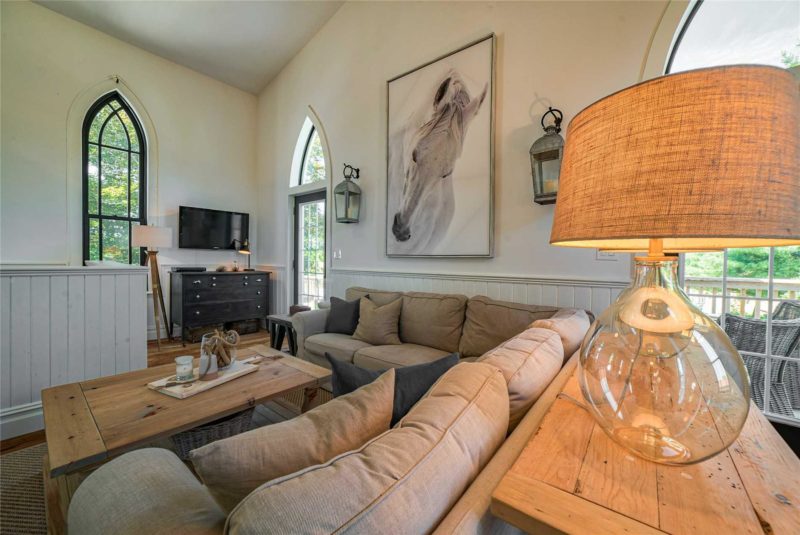 The Master Bedroom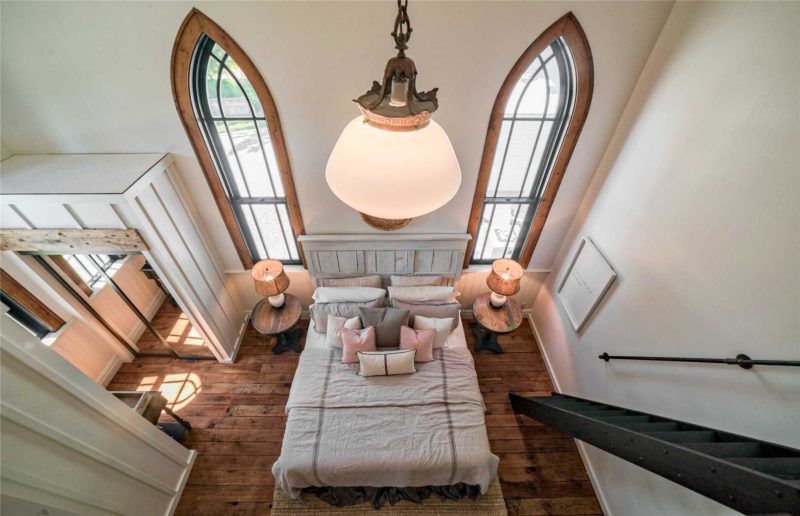 "Master with stairs to the loft which overlooks both front entry and open concept main floor."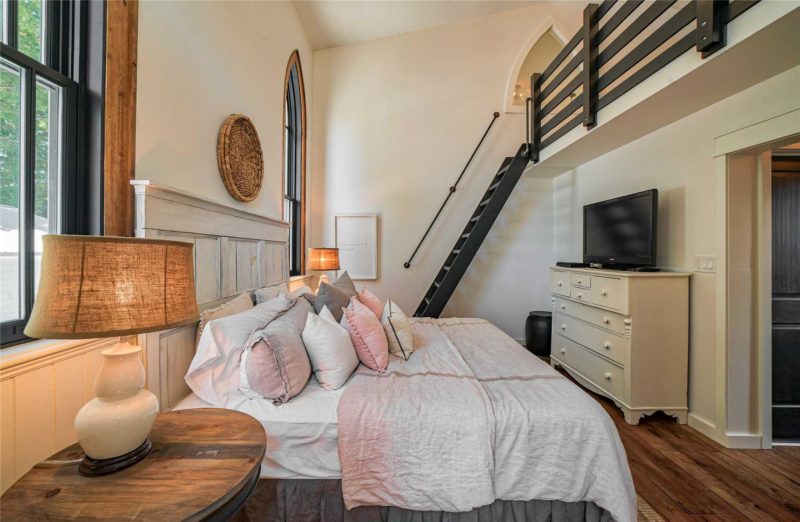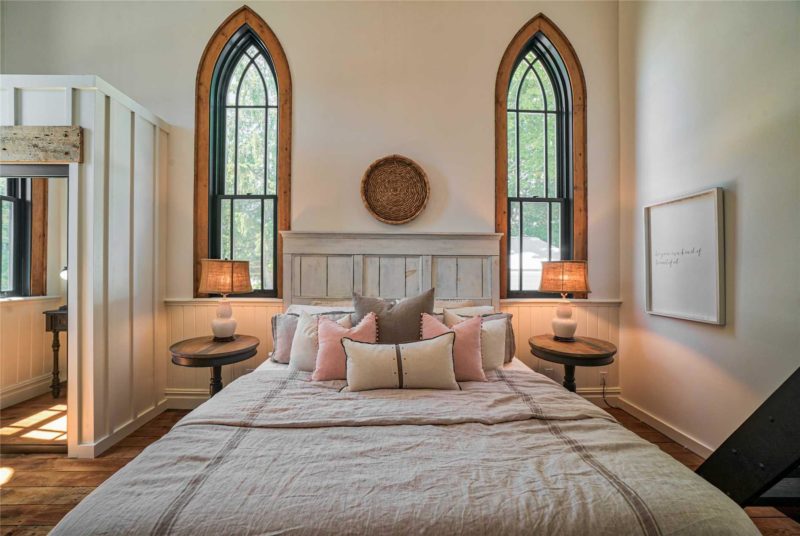 "Finished basement has a rough-in for kitchen, 2 bedrooms and renovated laundry room/wet bar."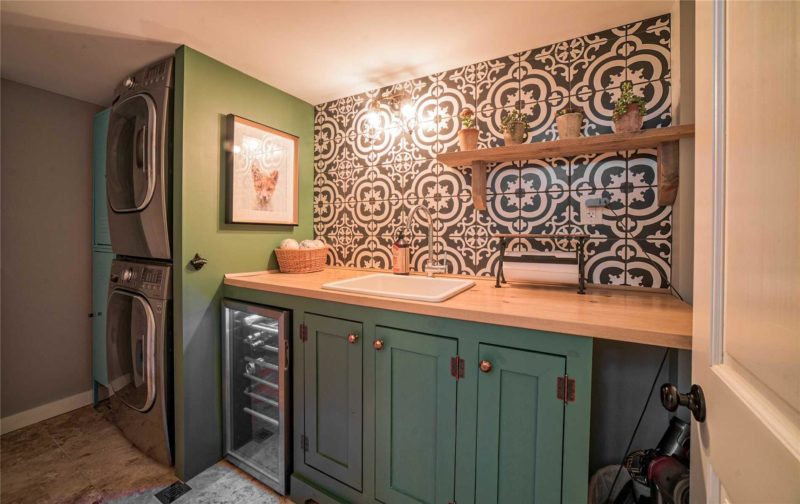 "Our back deck faces farmland and the view is stunning."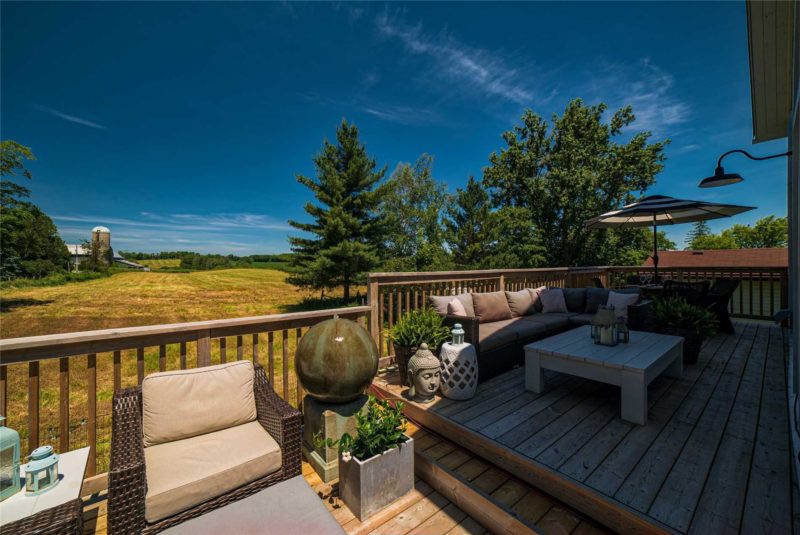 Chris writes, "We fixed it up over the last three years getting it in tip top shape. This church house is the last remaining and best example of a classic 1800's frame church that still remains. It is built to last, especially after the extensive renovations over the last 4-5 years when it was converted.
"Almost everything is new, but all the character remains. New wiring, new well, new bathrooms, new appliances, new windows, geothermal, protected land behind to preserve the views."
The White Wood Workshop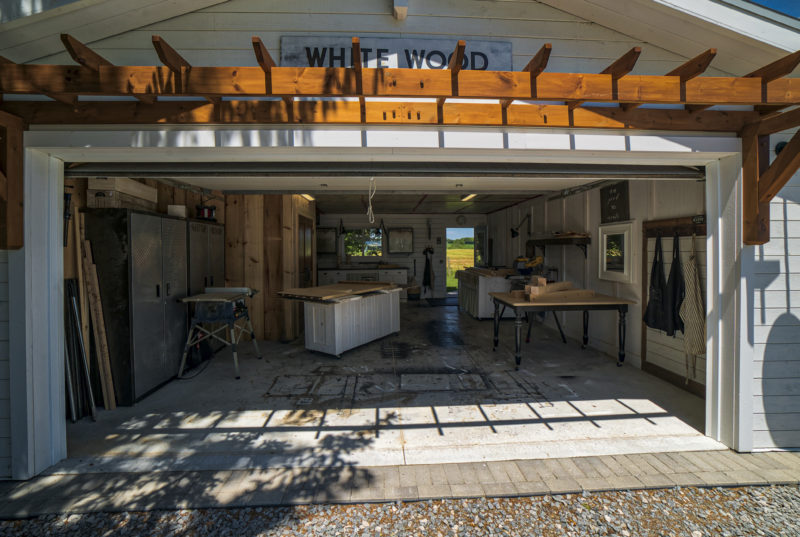 The listing says, "Detached, insulated 2-car garage with
built-in cabinetry and closet can also be used as a workshop."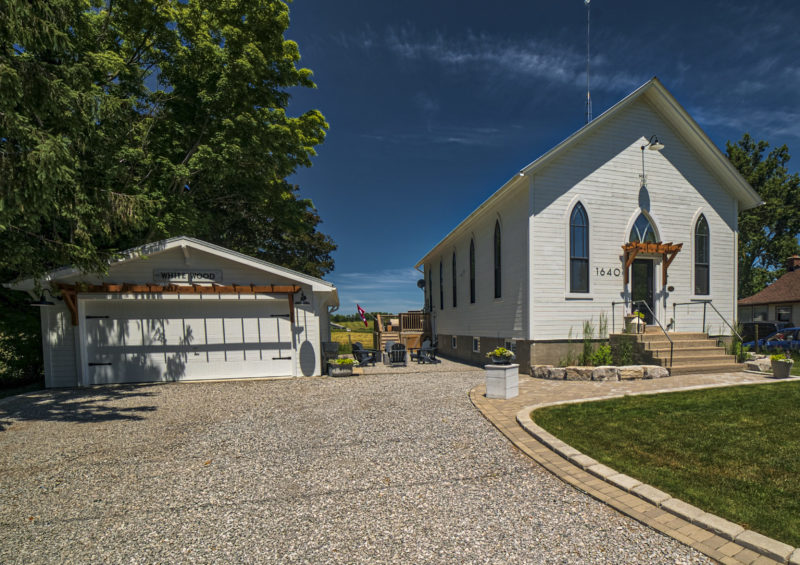 Chris writes, "I'm a huge fan of a separate garage. I've had two now, and as an avid DIYer it's really amazing to have a space I can keep all my toys ready to tackle my next project. The trees shade it just perfectly. On the hottest days it's cool and comfortable."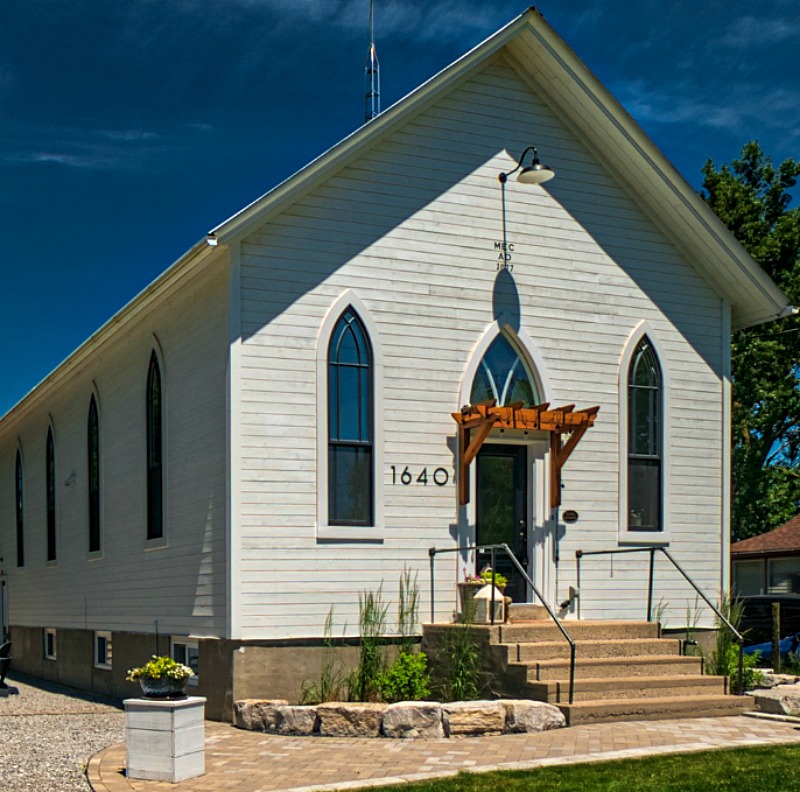 Thanks to Chris for sharing her home with us today. If you're a real estate agent or homeowner with a house you think my readers would like to see, Contact Me!
For more photos and information about this property in Ontario,

Photo credit: Brandon J. Zambonelli