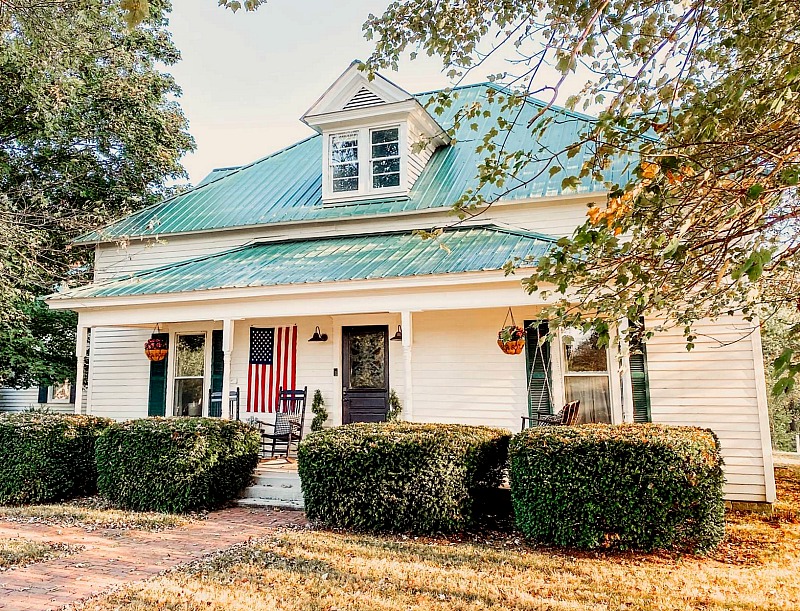 Welcome to Cedar Winds Farmhouse, an American Foursquare-style home built in 1898 in Columbia, Tennessee. When Angela announced on Instagram that she's selling it, I asked if I could share it with you.
It was constructed by hand by the Cooper family on land once owned by President James K. Polk's grandfather.
The trees that were cleared for the home were used to build the farmhouse, which includes handmade tongue and groove bead-board and plank wood floors.
Take a look!

Cedar Winds Farmhouse in Tennessee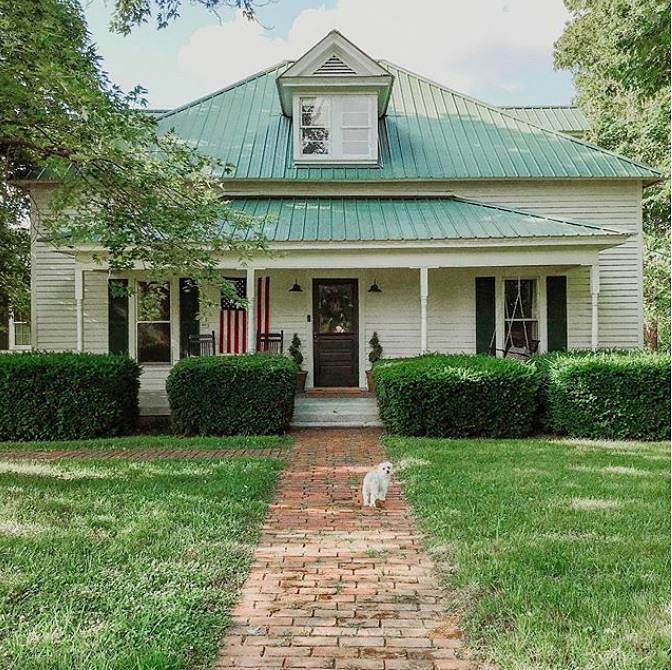 The Front Porch
The front door was white before they painted it as you can see here.
They also updated the exterior lights after moving in.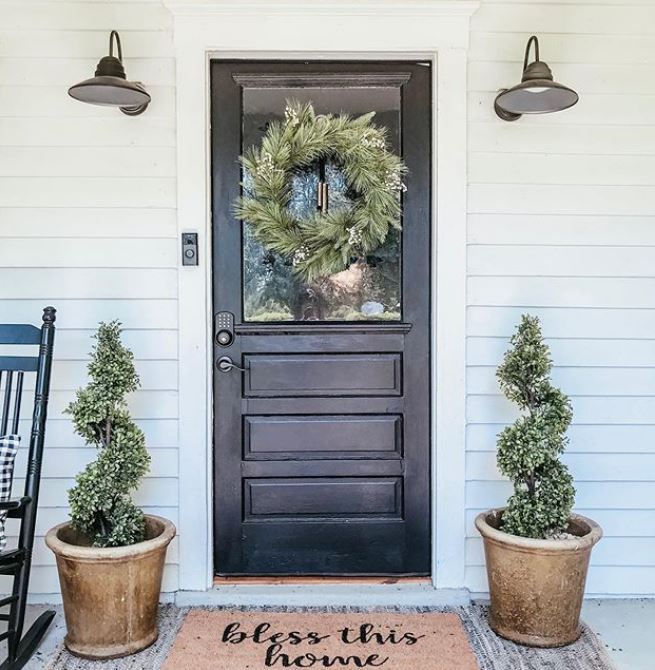 The Entry Hall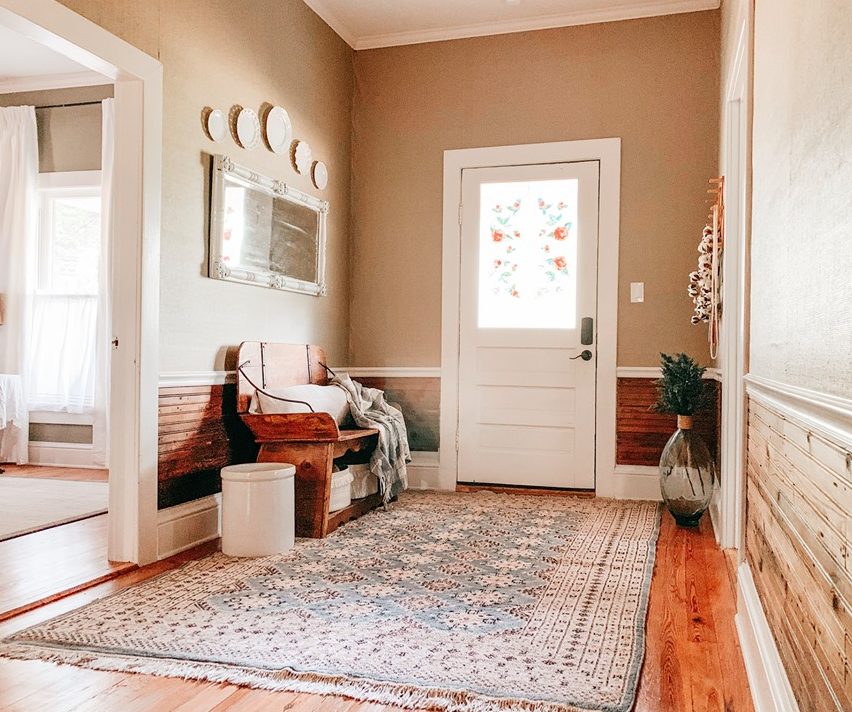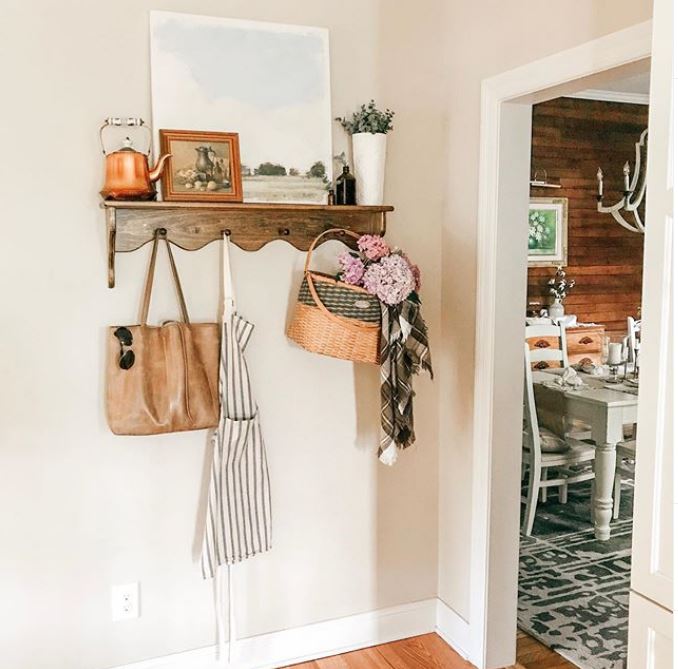 The Dining Room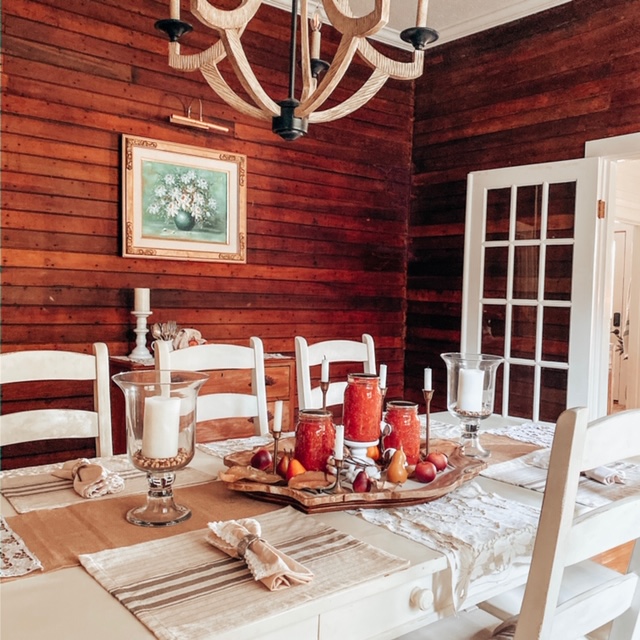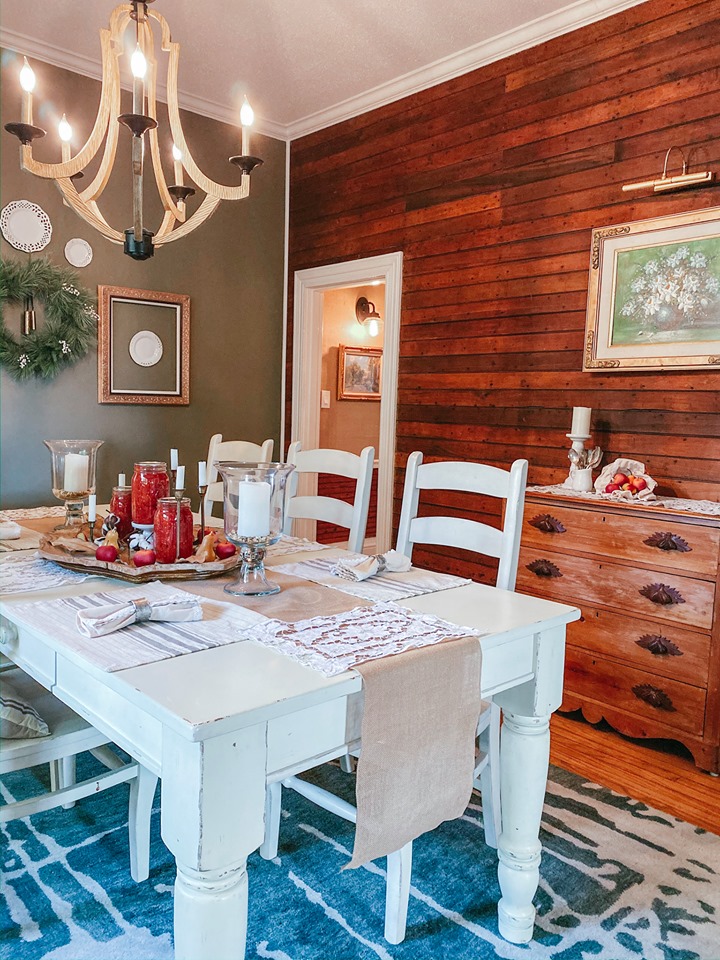 The farmhouse has 4 bedrooms, 2.5 baths, and 2,999 square feet.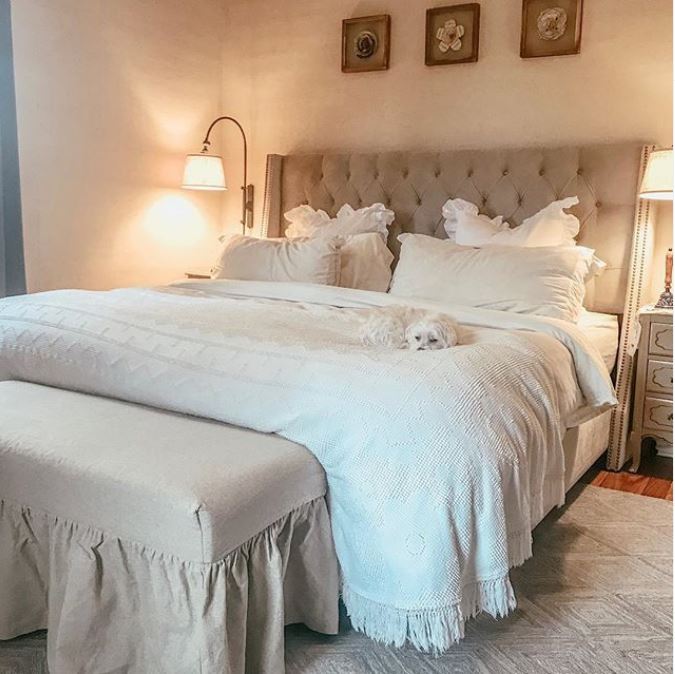 Angela says, "While we respect and admire the original details and historic craftsmanship, Cedar Winds Farmhouse is equipped with ALL the modern luxuries and has been restored with care. After all, an outhouse just was not in the cards for us!"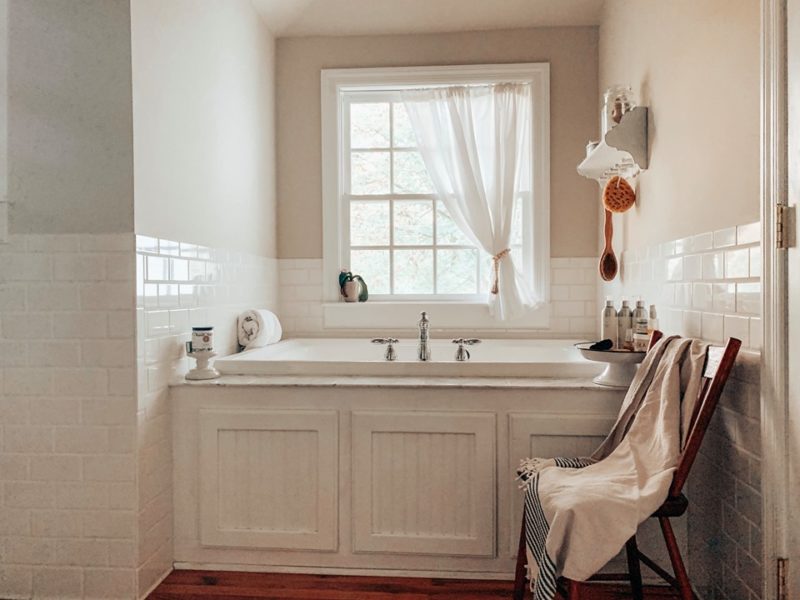 The family room is a newer addition to the farmhouse and features
tongue and groove bead board on the ceiling to match the original spaces: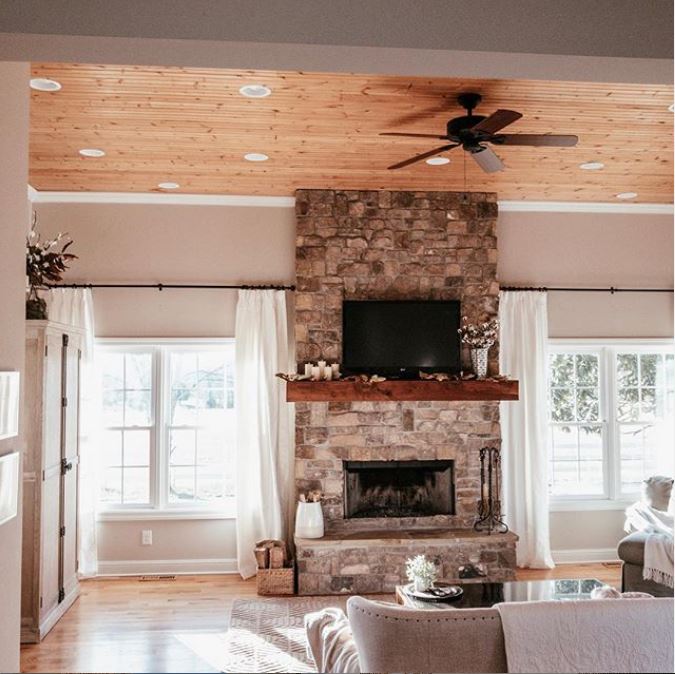 The Kitchen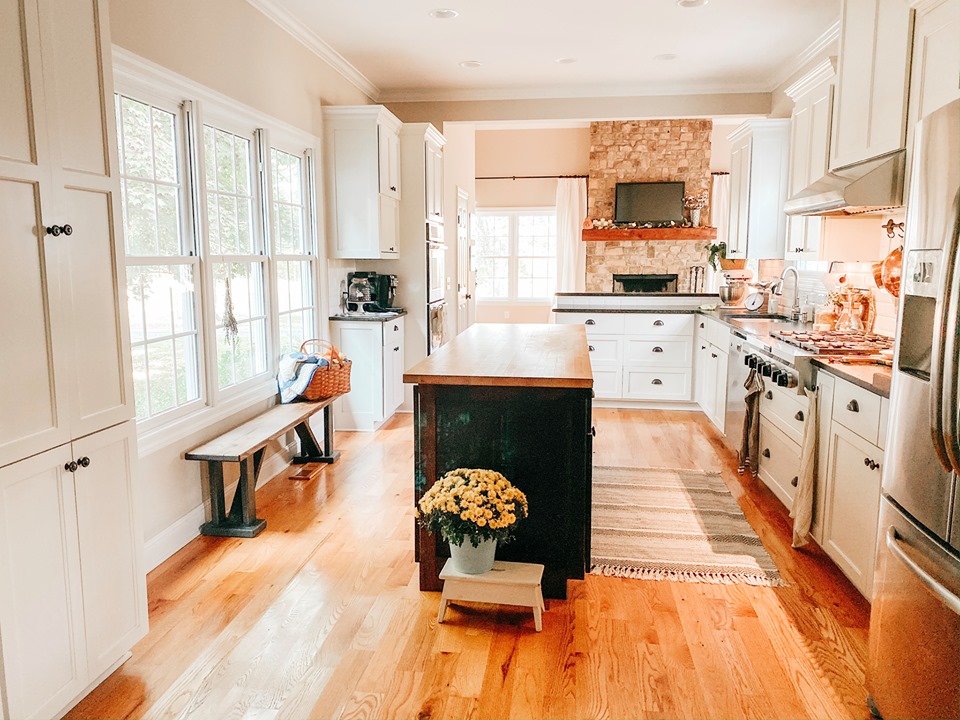 Angela writes, "Every effort to create a happy, healthy, and historically respectful home was taken including exposing wall papered bead-board, expanding the kitchen and living space, and installing water treatment and sprinkler systems."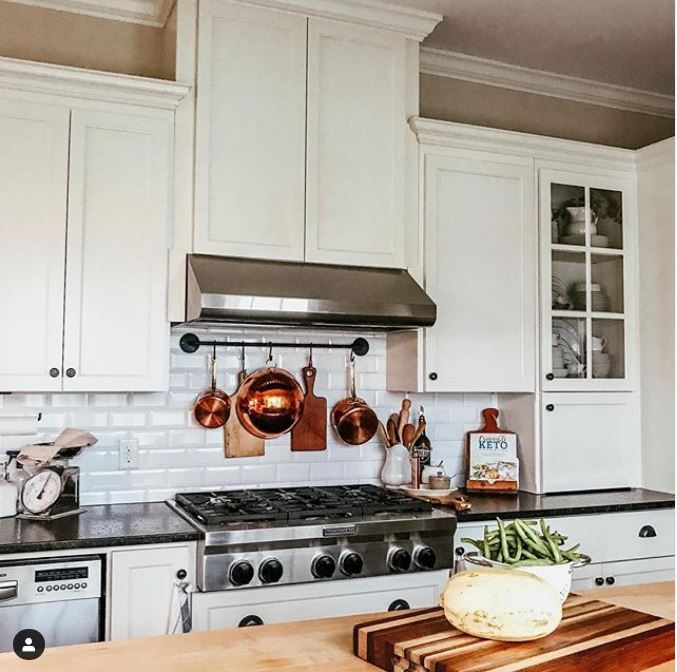 The kitchen has a 6-burner gas stove and double ovens.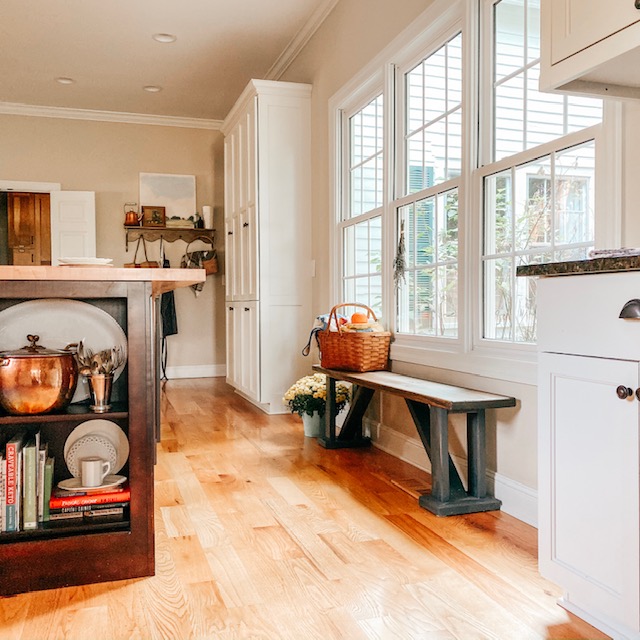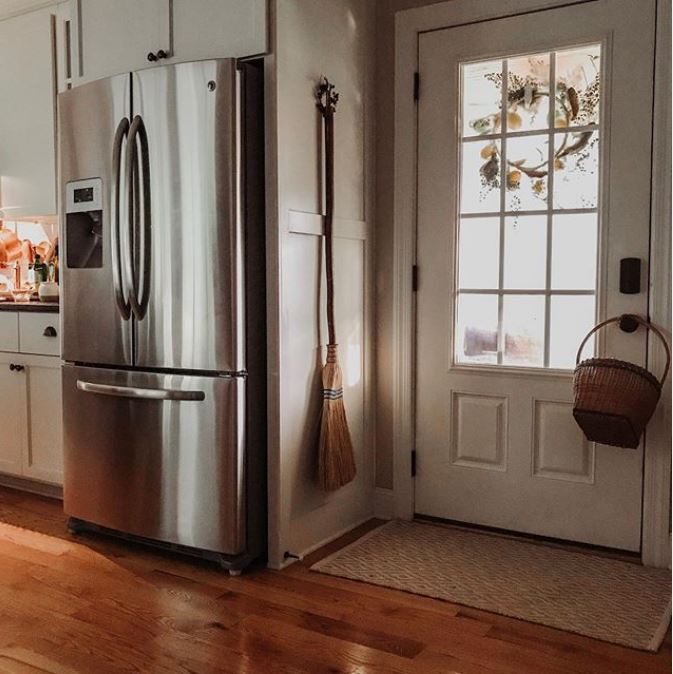 The Screened Porch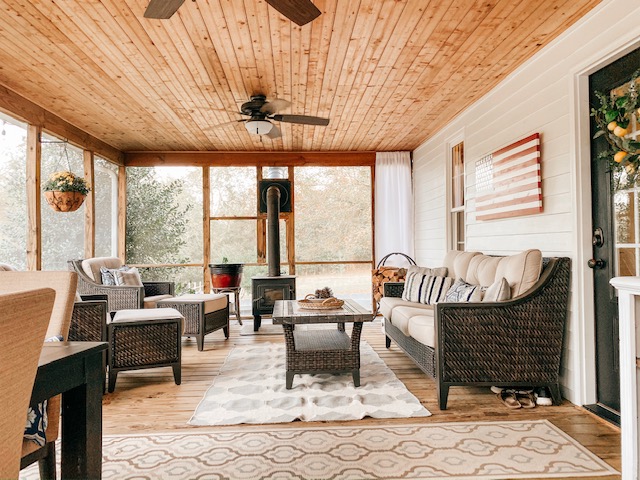 There's a wood stove for chilly nights on the porch.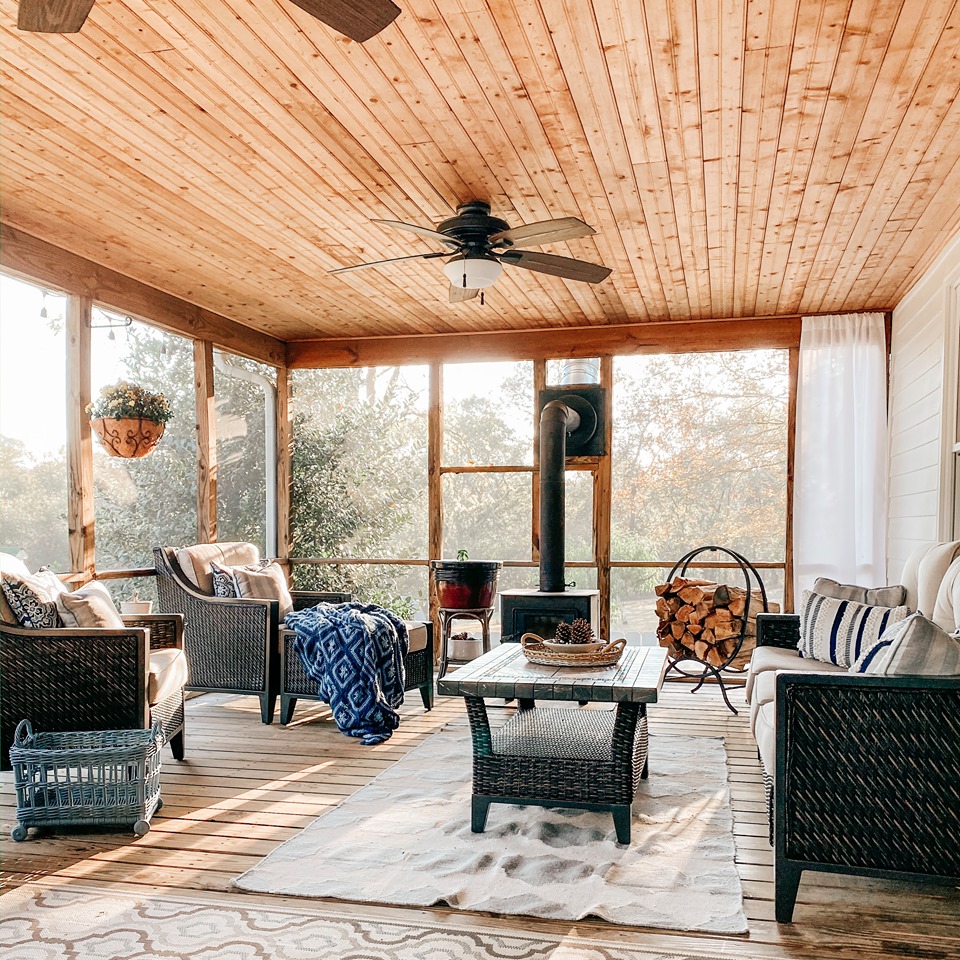 The house may be in a country setting, but it's "only 18 minutes from Cool Springs (Franklin)."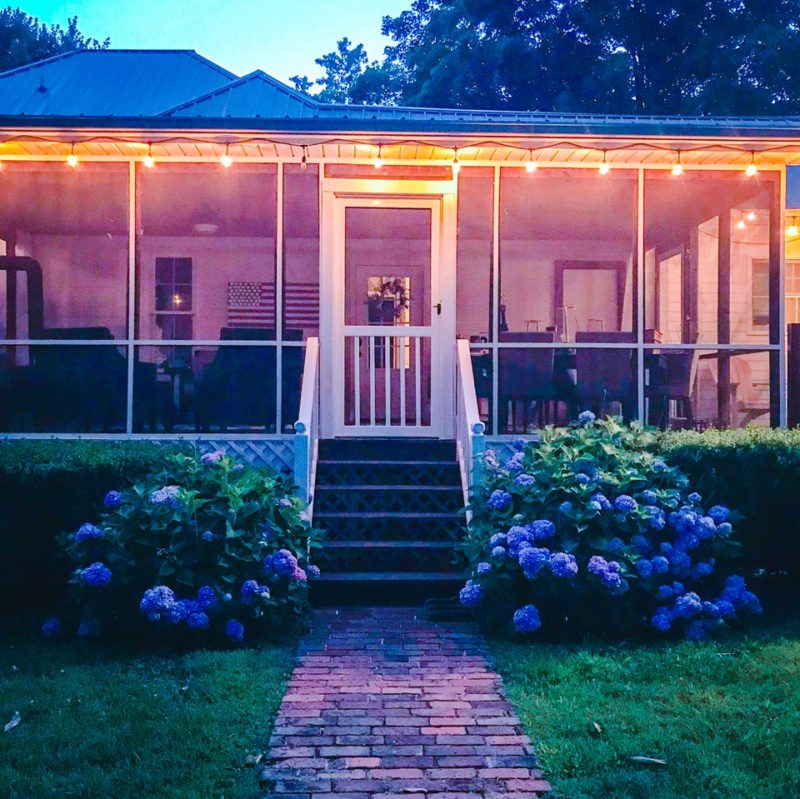 The Deck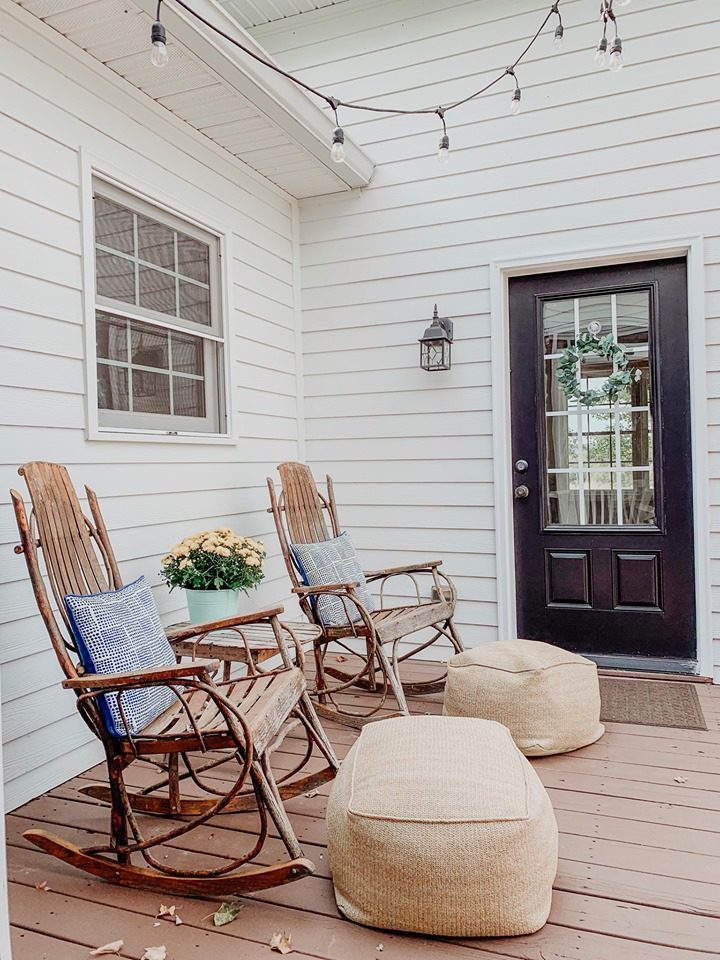 The property also comes with a barn, garden, and pasture: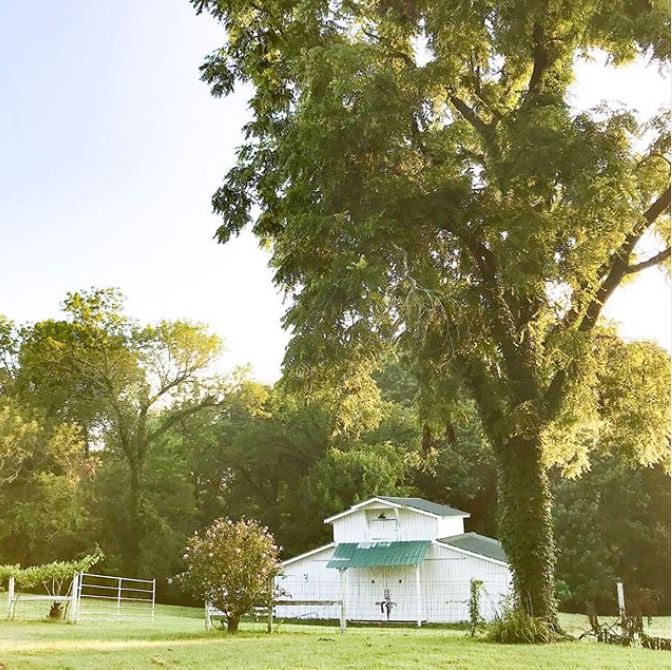 Cotton and peaches were grown on the farm's land during the Civil War.
Angela says, "We've planted peach trees and a garden to continue the tradition."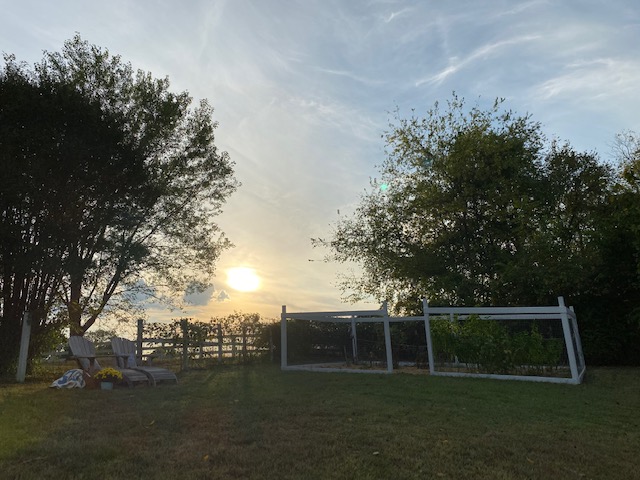 The farmhouse sits on about 2.5 acres:
"Bring your horses, goats, or just your family pets to graze in the pasture, and make s'mores and memories around the fire pit. If nature is not your thing, we've got a place for you to relax in the screened porch by the wood stove while you curl up with your loved ones."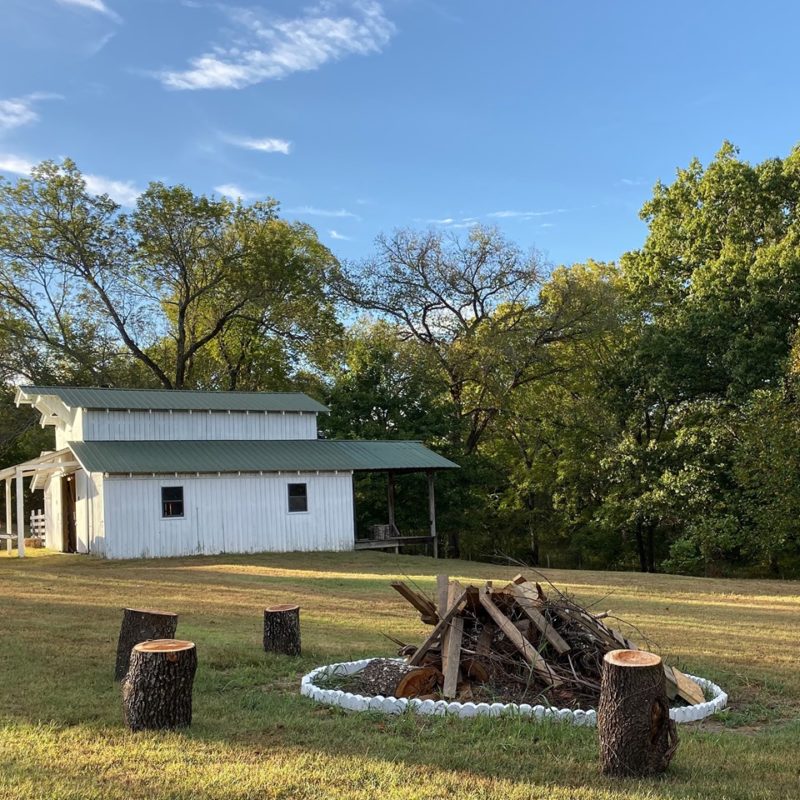 "The foundation has been reconstructed, vapor barrier installed, and an entire septic system have been replaced in the last 2 years to ensure the highest quality home where you will be proud to host your friends."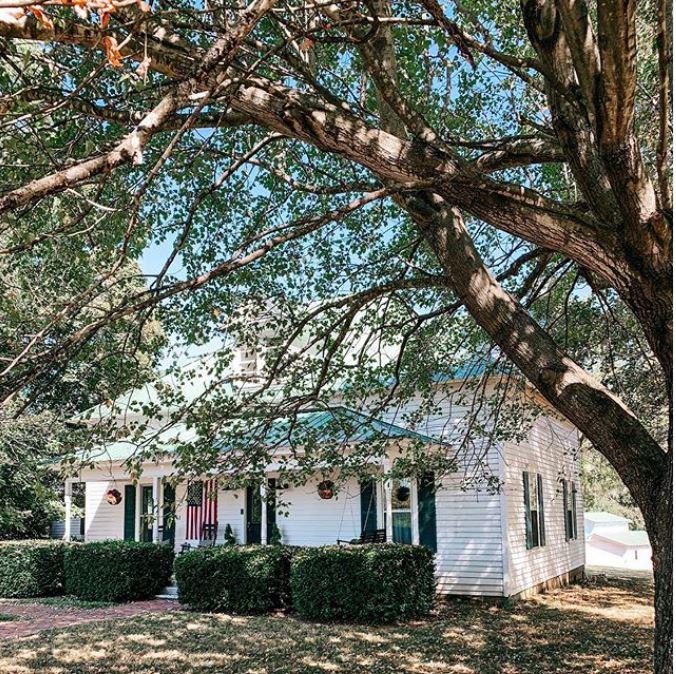 "There have truly been no maintenance or improvements left undone. Including plumbing, electrical, and other not so exciting improvements."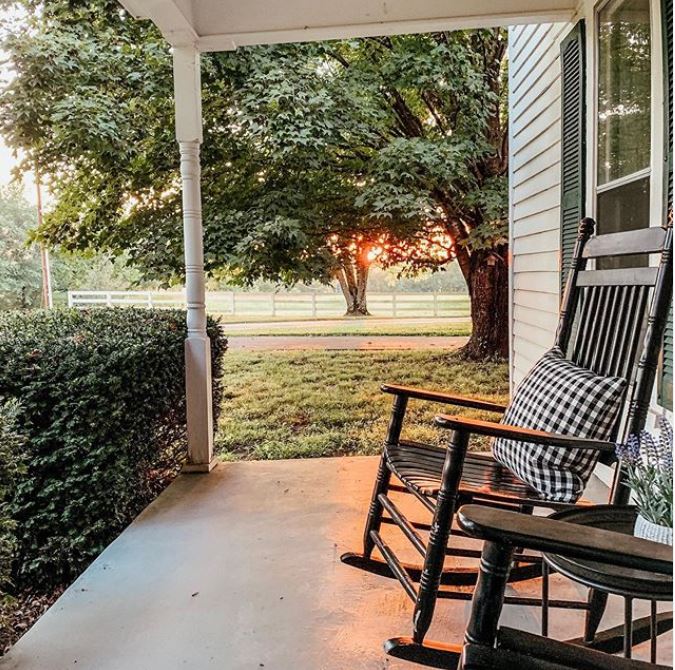 Thanks to Angela for letting me share her farmhouse with you.
It's For Sale by Owner and all photos are hers. They're asking $629,900. They're holding an Open House on Saturday, October 5th, by appointment. Let her know if you're interested in taking the tour.
She says they're selling the farmhouse now with "hopes that a new family will carry on her stories and fill her rooms with more laughs and unforgettable memories."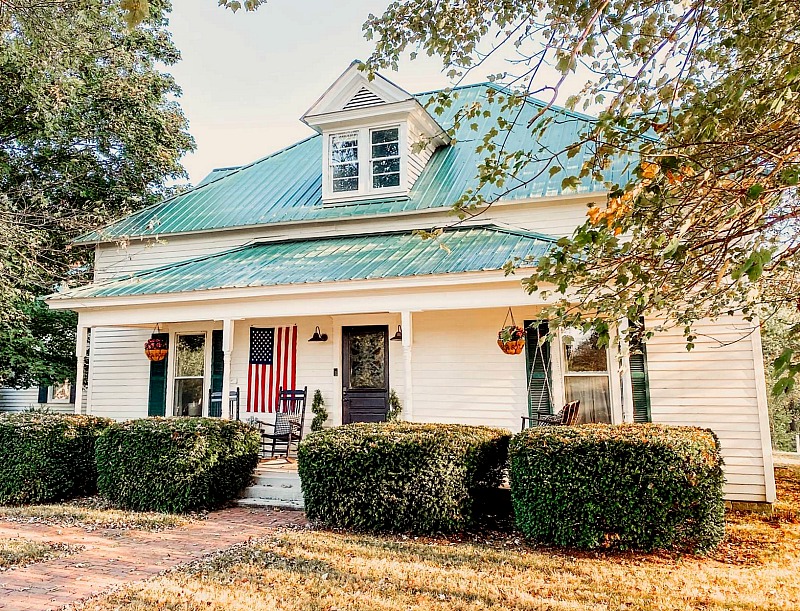 If you're a homeowner or real estate agent with a house you think my readers would like to see, contact me!
For more photos and information about 1470 Frye Road:

You can also see how it looked in a former listing at Estately.