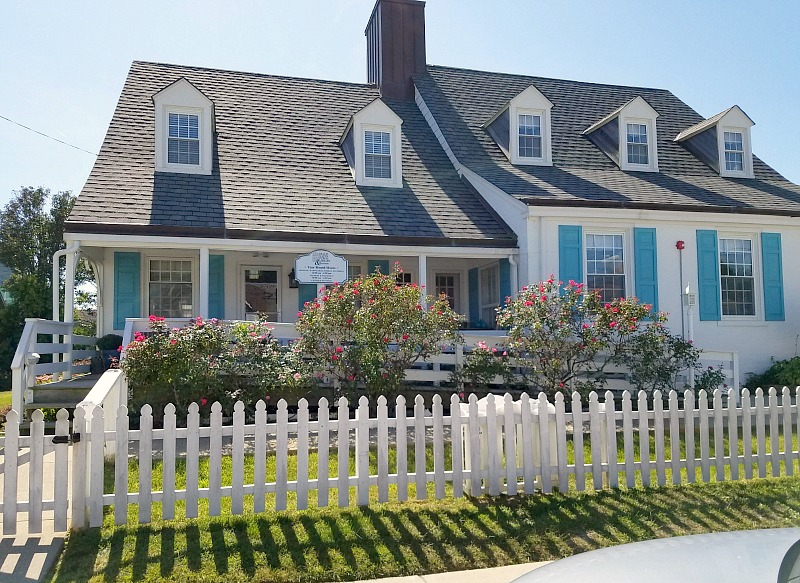 If you're like me and you're hooked on both cottages and books, then you'll love this house as much as I do.
I just had a chance to visit Long Beach Island in New Jersey. My family had never been there before and got a little lost searching for the bed and breakfast we were staying at.
As we were looking for it, we spotted this charming cottage with turquoise shutters behind a white picket fence. So of course I immediately pulled over to get a better look at it and snap this pic.
That's when I saw the sign. It wasn't a private home — it was the Beach Haven Public Library. What's more, it was open at the time, so we were able to go inside.
Want to see?
Note: There are Amazon affiliate links in this post that may earn me commission.

The Beach Haven Public Library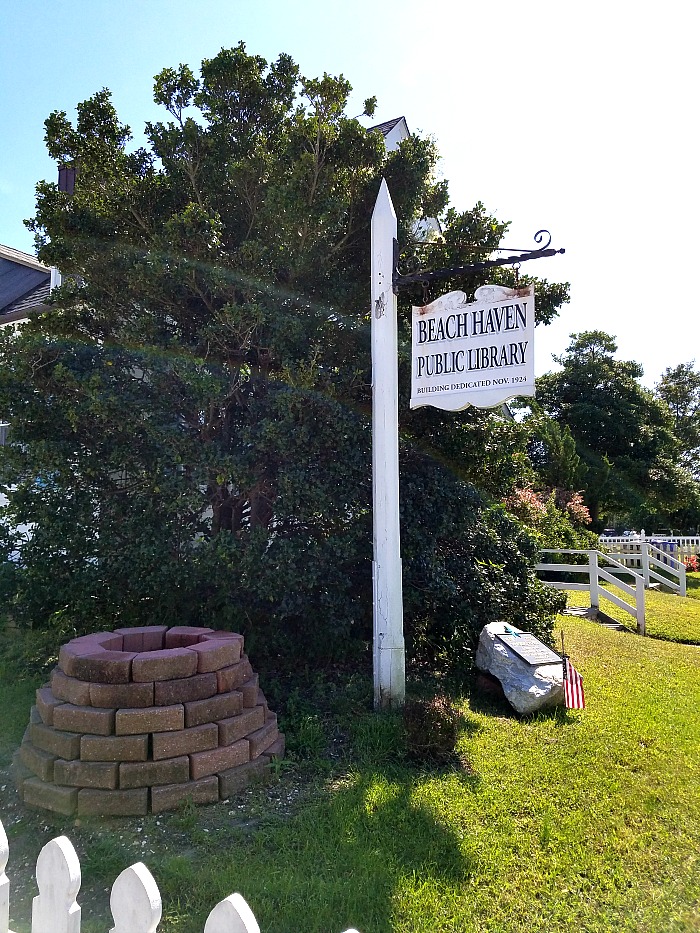 The cottage library is on a corner lot, and this is the other entrance (below):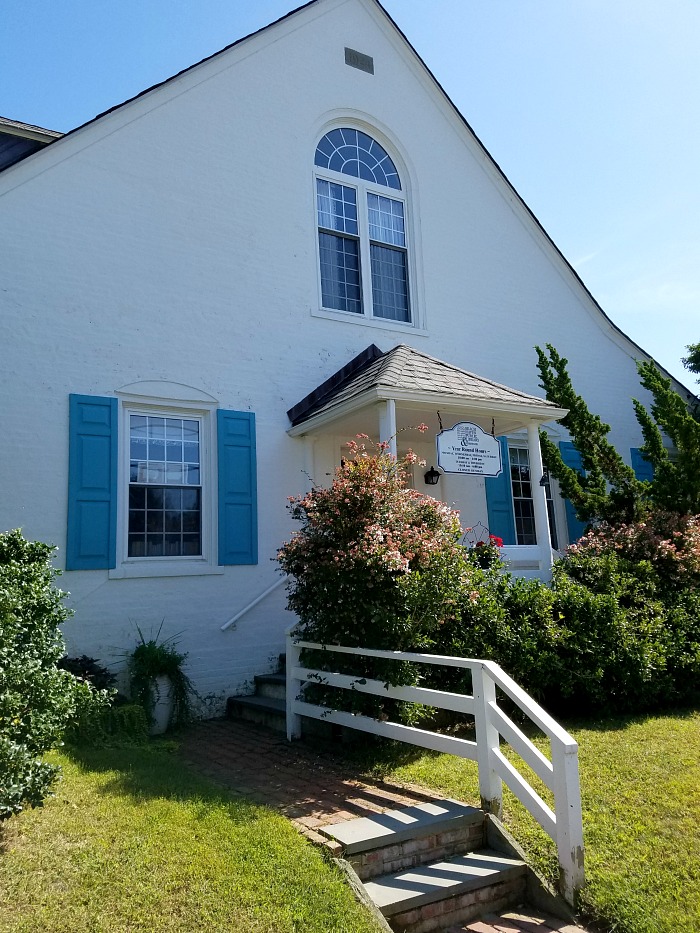 Inside the Beach Haven Public Library: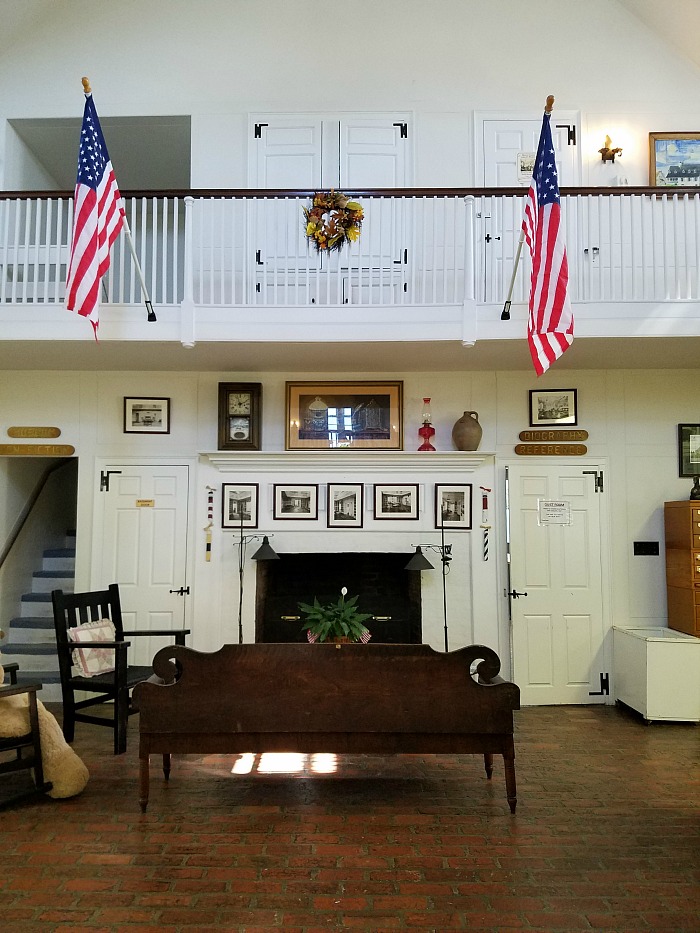 I was surprised when I walked in and saw the two-story space.
I hadn't expected that!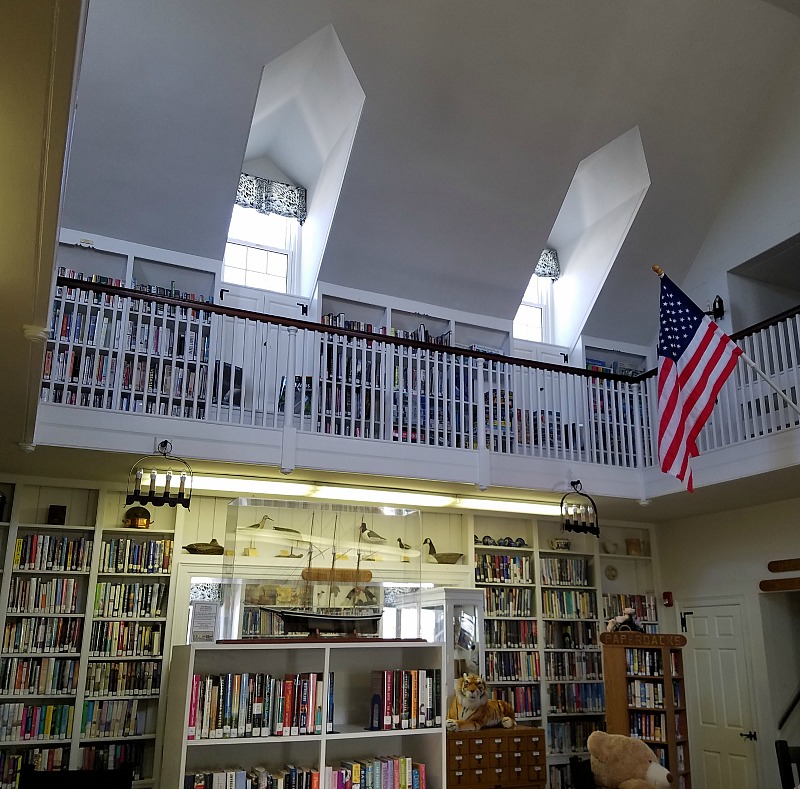 I assumed it was originally built as a private home and was later turned into the local library.
I learned it was actually built to house books from the beginning.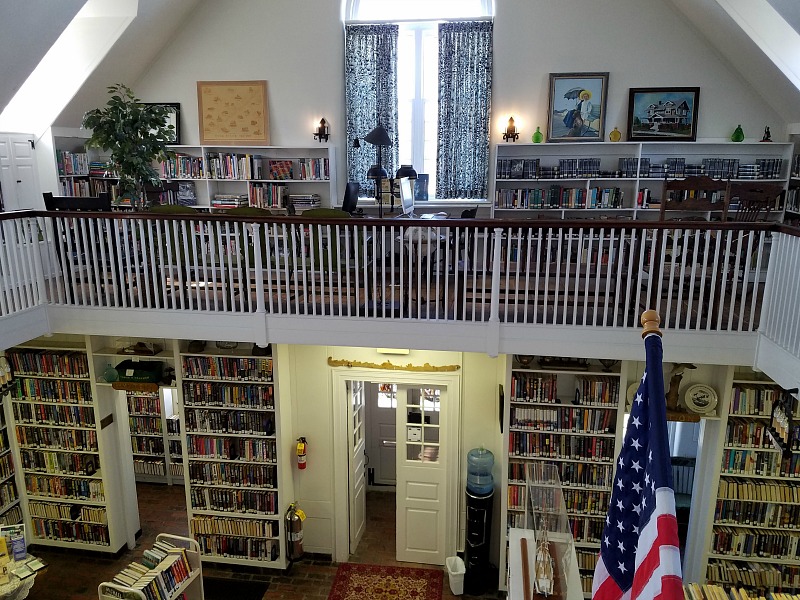 The land and building were donated by the Pharo family, the founding residents of Beach Haven.
The library was built in 1924, and the interior remains mostly the same today.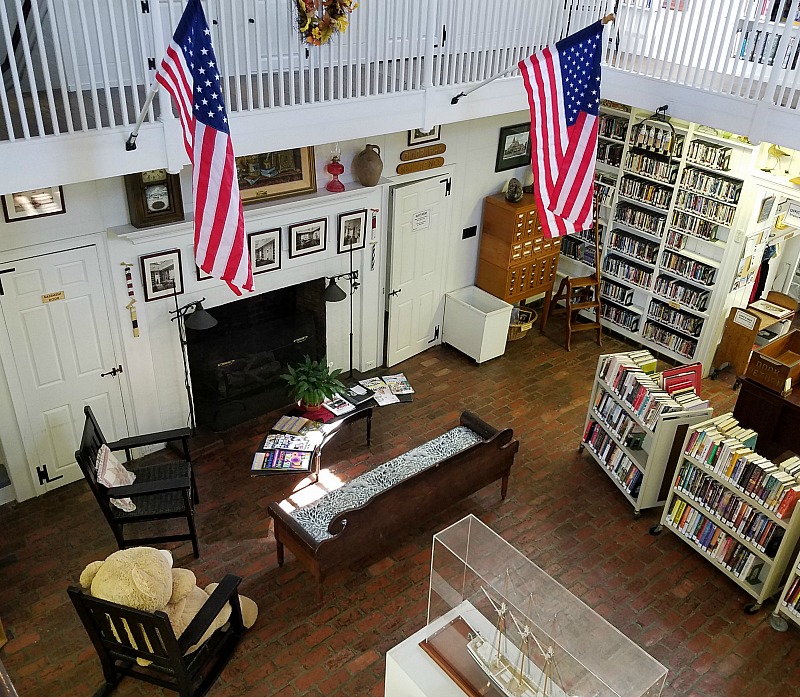 There's a Beach Haven Museum on the second floor:
"Our museum is unique because the entire area was constructed by mortise and tenons. When stepping down into the well furnished little museum, one observes the high, beamed ceilings and a lovely stone fireplace. It is filled with old hotel registers, deeds, diaries, photographs and other relics of Beach Haven's century and more of history."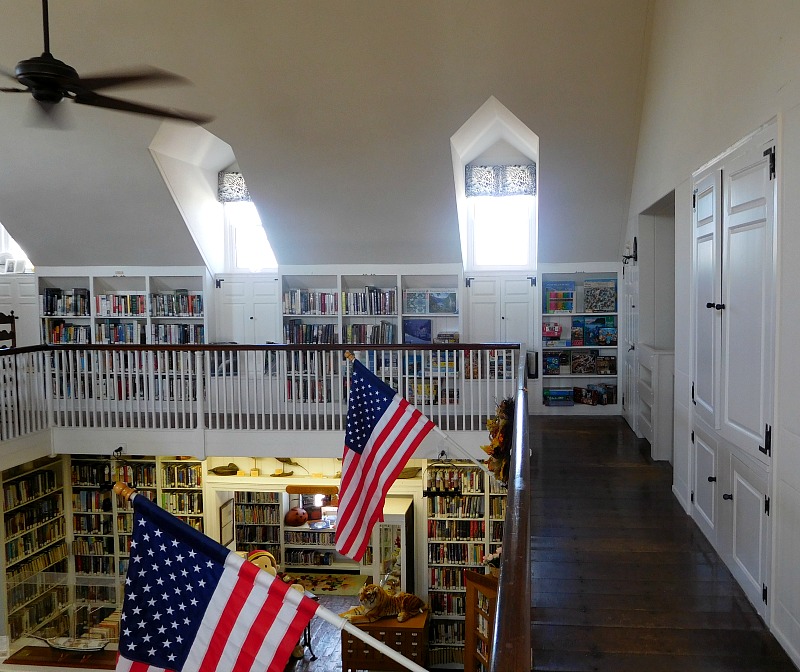 According to the book Eighteen Miles of History on Long Beach Island by John Bailey Lloyd (Amazon affiliate link), residents began working on plans to have a local library as early as the 1880s. Books were kept in a private home for a while and then in a local church.
In 1923 Elizabeth Pharo offered to pay for a new library to be built on a corner lot she owned at Third and Beach. She hired the architect R. Brognard Okie to design it.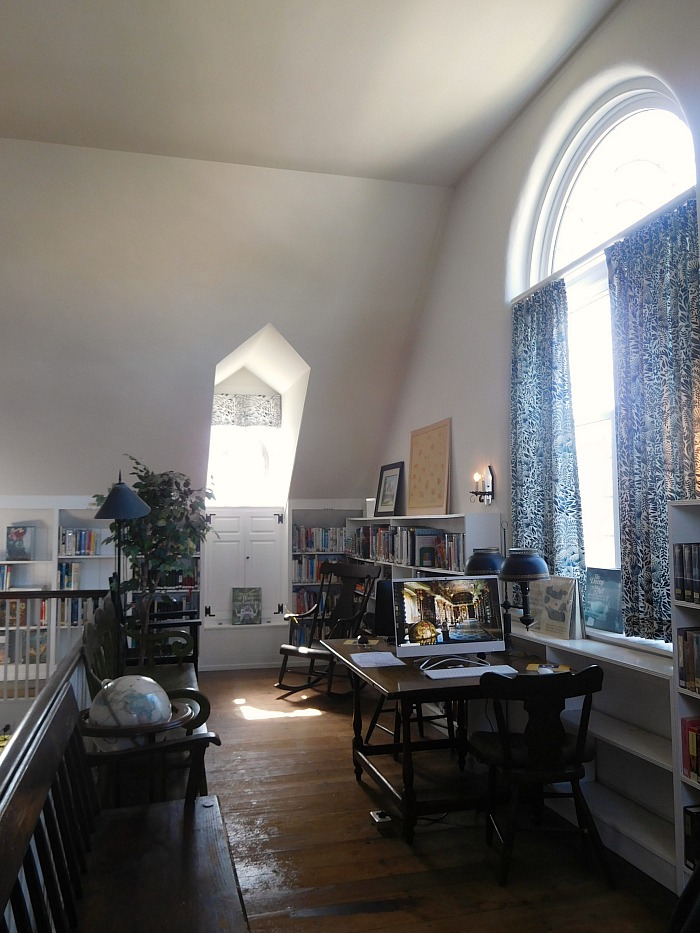 Okie modeled the exterior of the library on a traditional Pennsylvania farmhouse with Colonial Revival design.
Inside he gave it three working fireplaces, a vaulted ceiling, and an interior balcony encircling the first floor.
The exterior shutters were originally painted a pale green.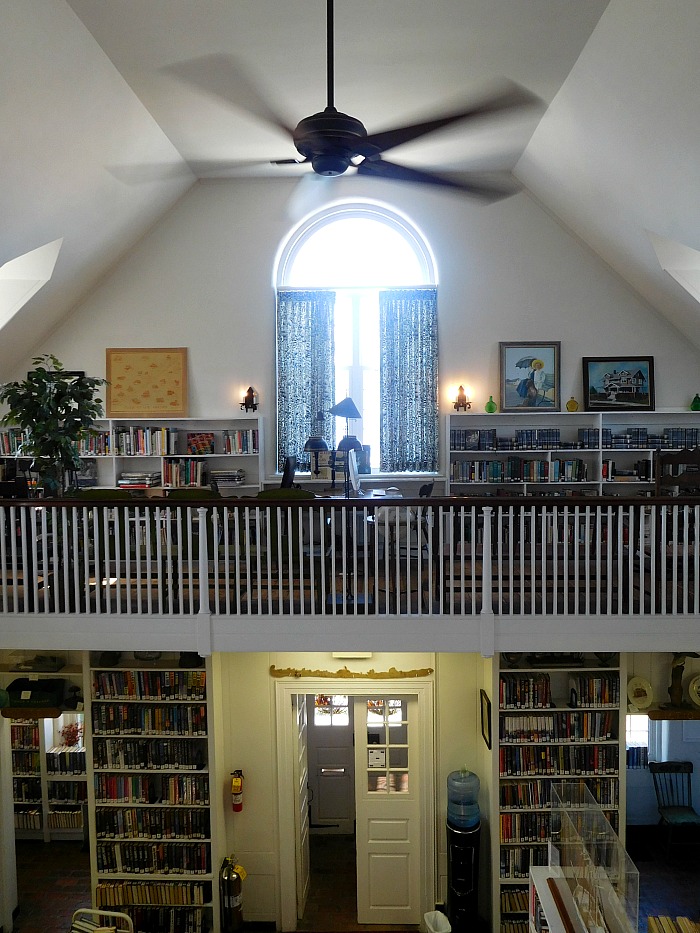 According to the book, "The balcony flooring is of oak as are all of the spindles in the railing. The walls upstairs are also lined with books."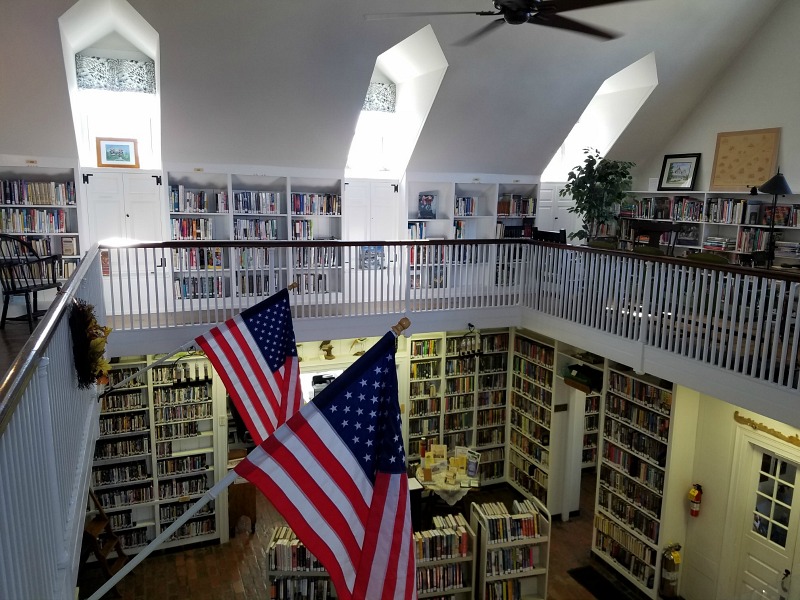 "One great window on the west side rises ten feet to the ceiling. The rest are all set into dormers.
"On the east wall behind the upstairs balcony there is a door where one may step down into a well furnished little museum with high, beamed ceilings and a huge, stone fireplace."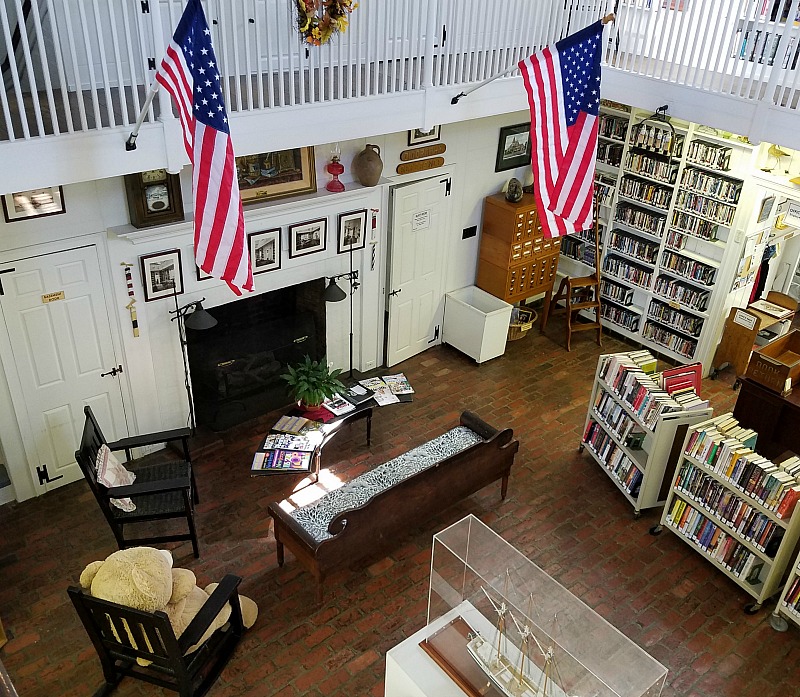 There are two big, Colonial-style fireplaces on the first floor.
One is in the main room (above) and the other is in the Meeting Room.
Originally, the Meeting Room was called the Men's Reading Room (below):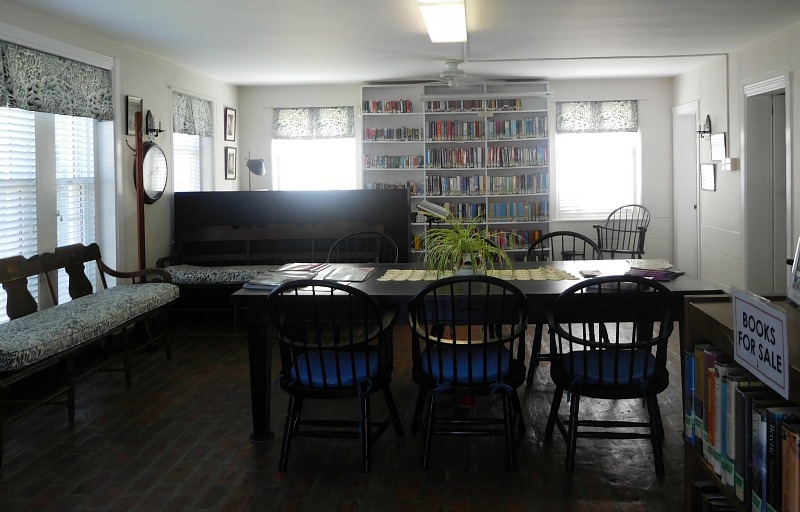 The women had their own reading room in what is now the Children's Section of the library.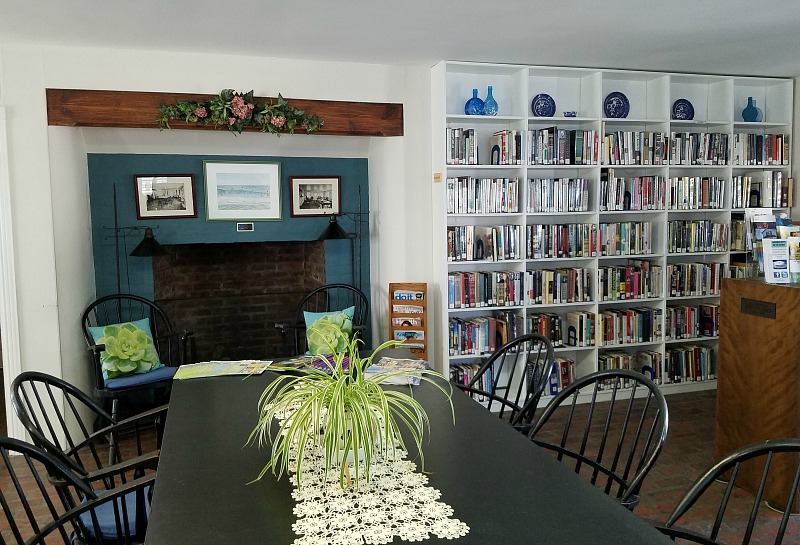 The Beach Haven Public Library remains the only independent library in Ocean County today.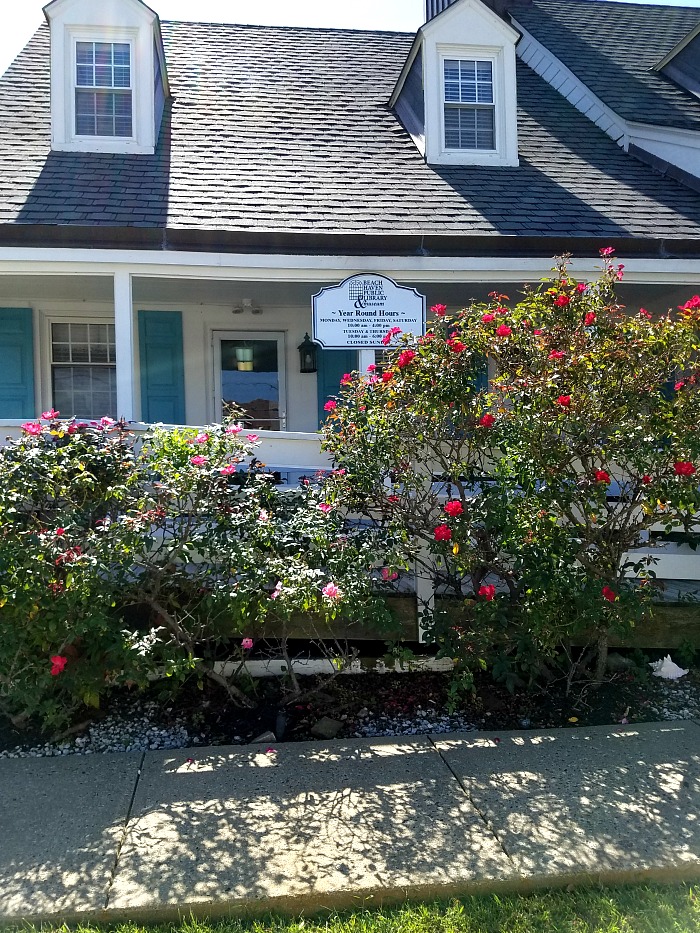 In Beach Haven there are wide bike lanes everywhere and they're well used.
When I saw people riding bicycles to the library with baskets on the fronts of them filled with books, I knew this was my kind of town!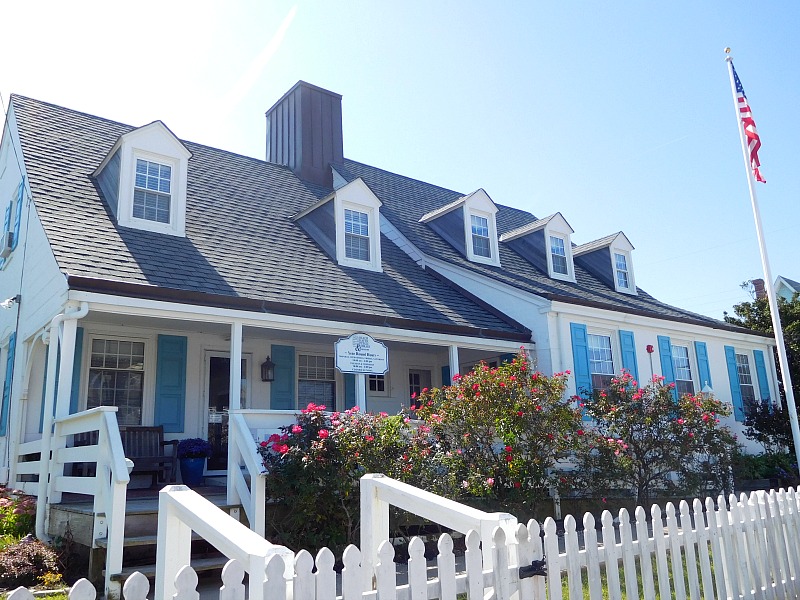 While I'm at it, let me show you the fabulous B&B we stayed at while we were there.

The Williams Cottage Inn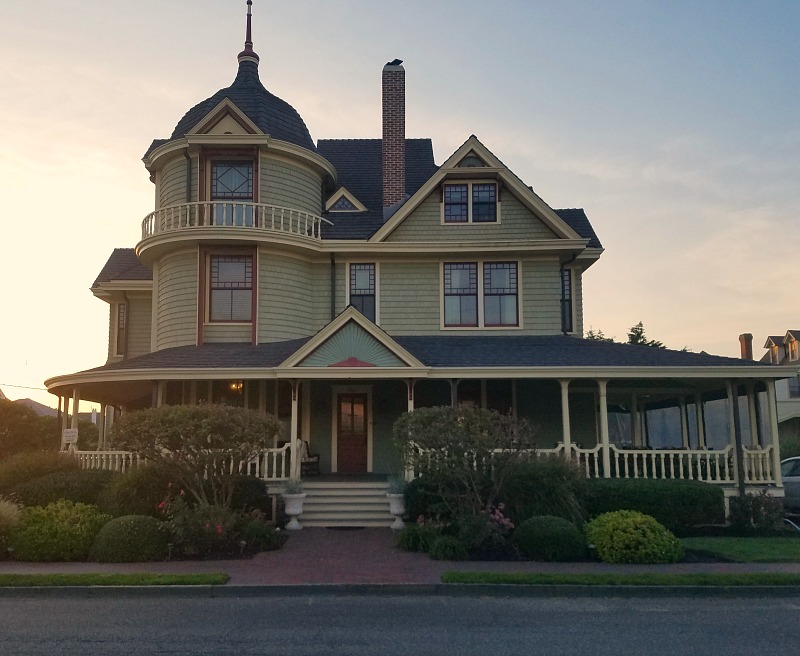 We were on Long Beach Island for my son Jacob's wedding.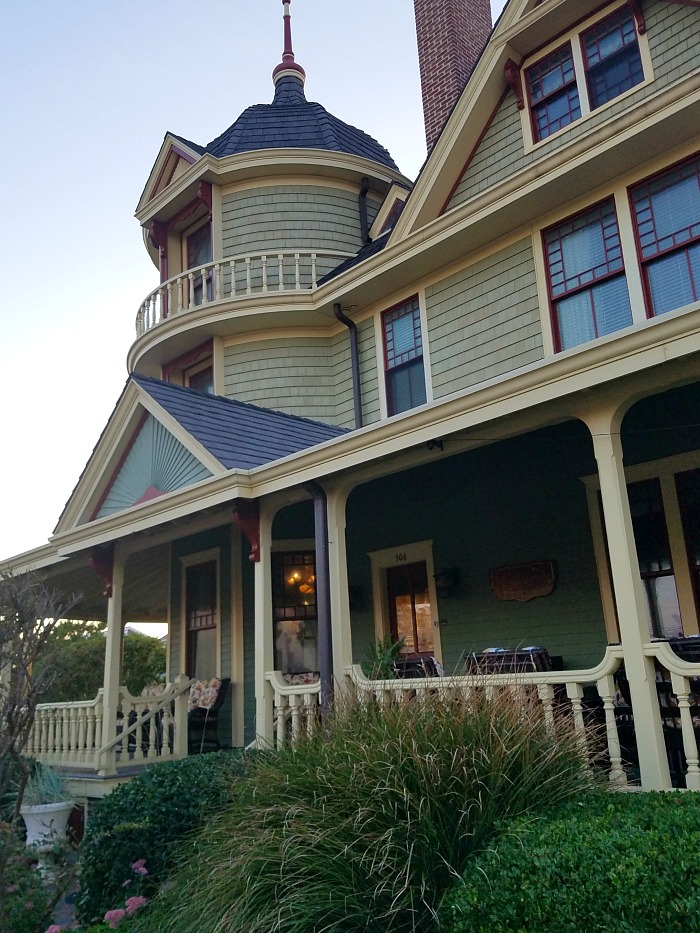 The bride's family and ours stayed here at the Williams Cottage Inn, a meticulously restored Victorian just steps from the beach.
We had breakfast on the (huge) wraparound porch every morning, and it was heaven.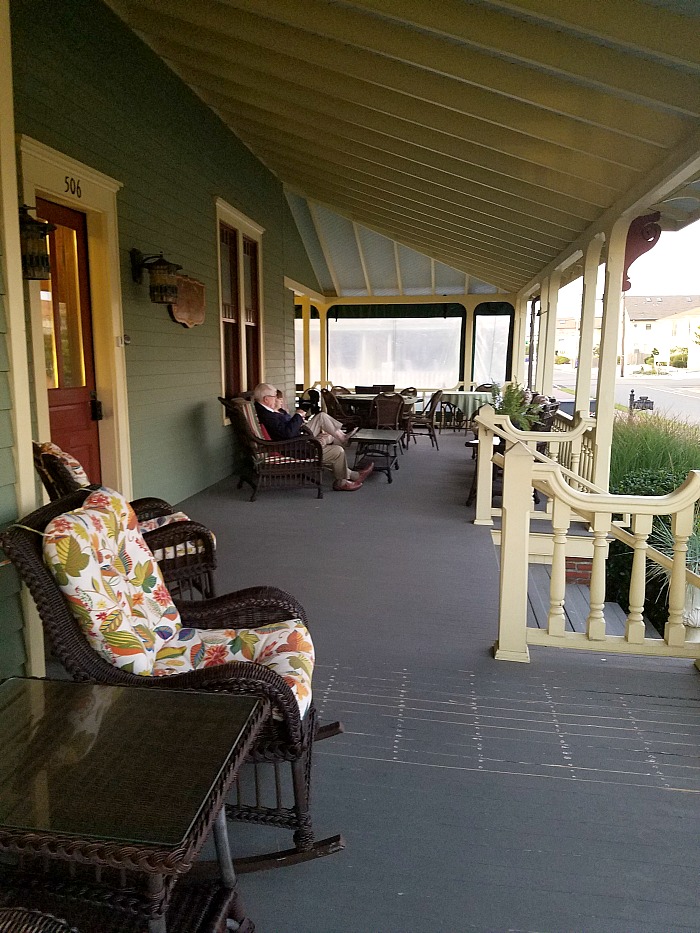 According to the Williams Cottage Inn website:
The circa-1886 Queen Anne-style Victorian home is a meticulously restored historic residence featuring a grand entry foyer, formal dining room, comfortable library/parlor, wrap-around porch and eight richly appointed guests rooms each with a truly unique decor.
At Williams Cottage Inn the guest rooms are finished like a work of art with opulent furnishings and elegant bathrooms.
Located in the charming seaside town of Beach Haven, at the south end of New Jersey's famed Long Beach Island, Williams Cottage Inn is the best of both worlds for those seeking the simplicity of life by the sea while living in grand style.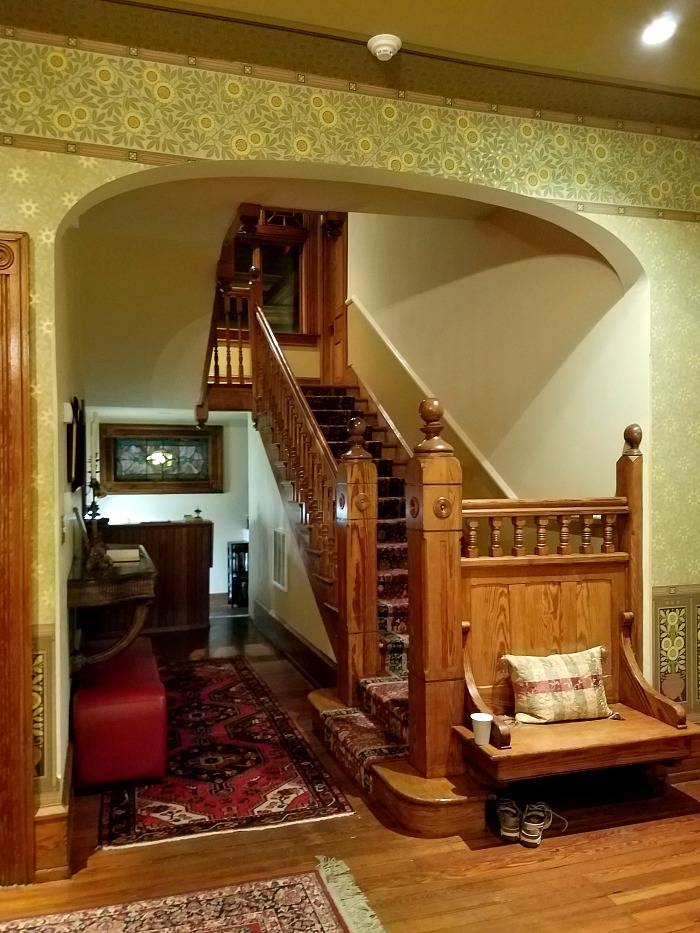 The house was built in 1886 for Dr. Edward H. Williams.
About a decade ago, Williams Cottage Inn was slated to be demolished. Two new houses were going to be built in its place.
As their website explains, "Thankfully, because of the vision and dedication of five family members, this wonderful 19th-century beach home has been restored to its original grandeur and glory."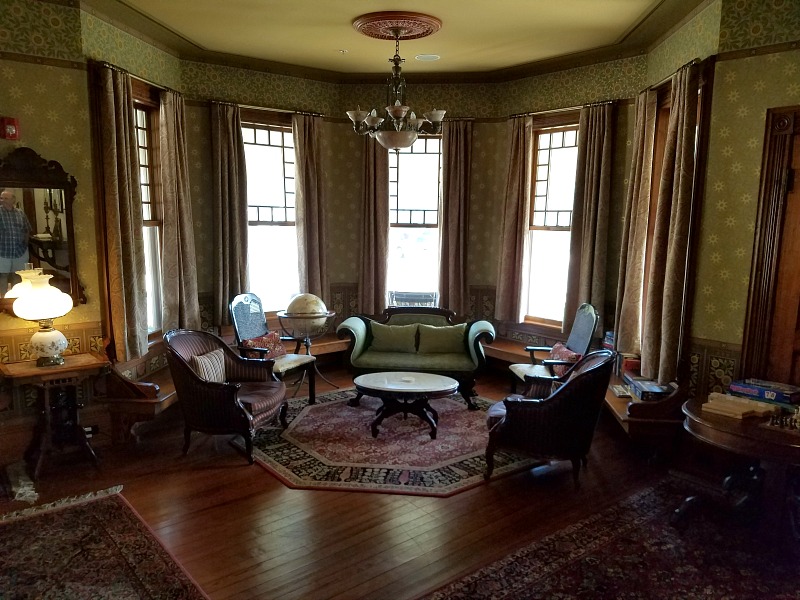 "The Blahut family took their renovation project seriously, determined to maintain the integrity and history of the home, while offering modern conveniences for its future guests."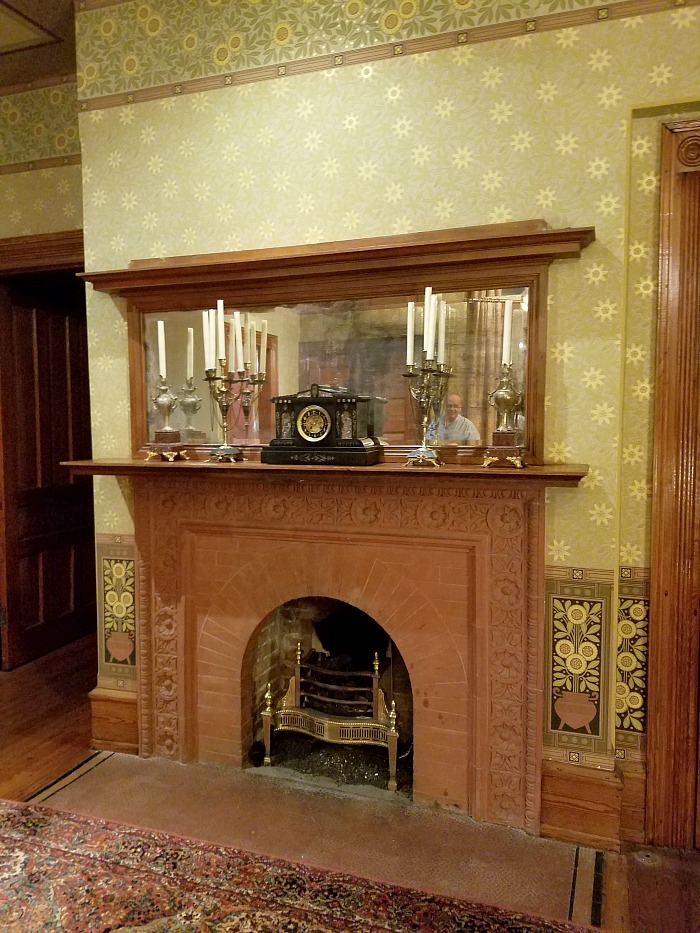 "Well-designed guest bedrooms and common spaces. Opulent, indulgent bathrooms. Throughout, inside and out, Williams Cottage Inn was transformed into a magnificent Bed & Breakfast Inn. An Inn that welcomes guests to comfort and luxury – all only 50 yards from the beach!"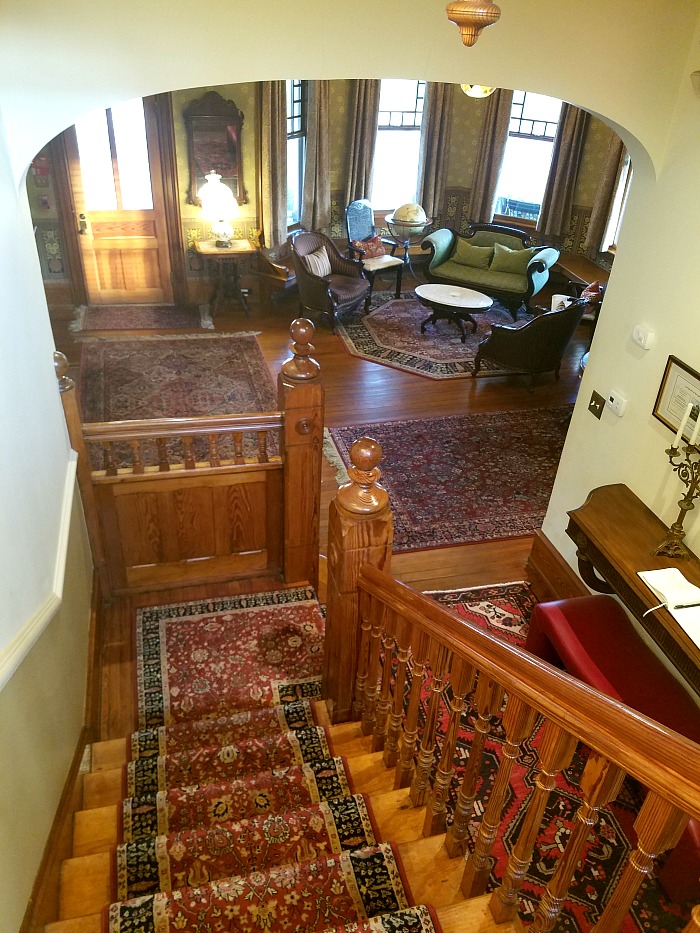 One of my favorite spots had to be this cozy room at the top of the house that our daughter Lily stayed in.
It not only had its own fireplace, but a view of the ocean: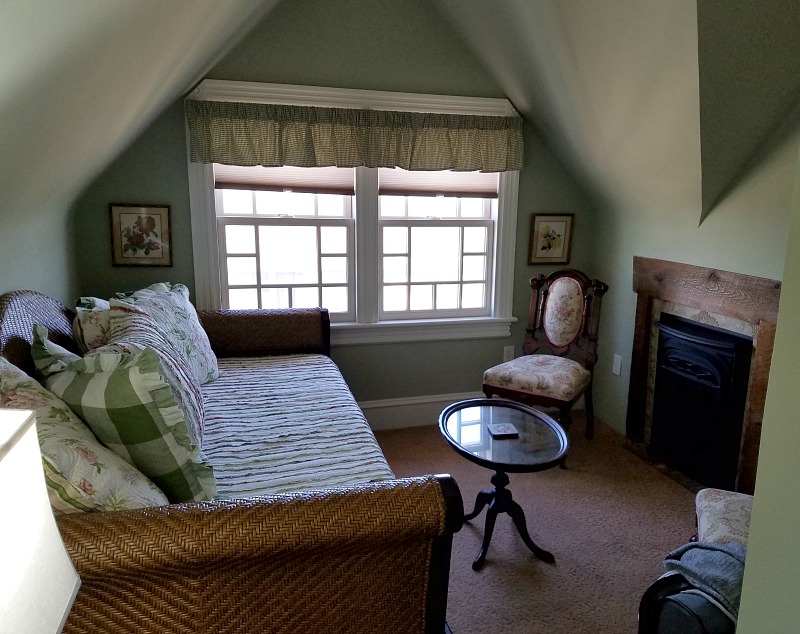 Another "Onion Dome Queen Anne" was built next-door to this one: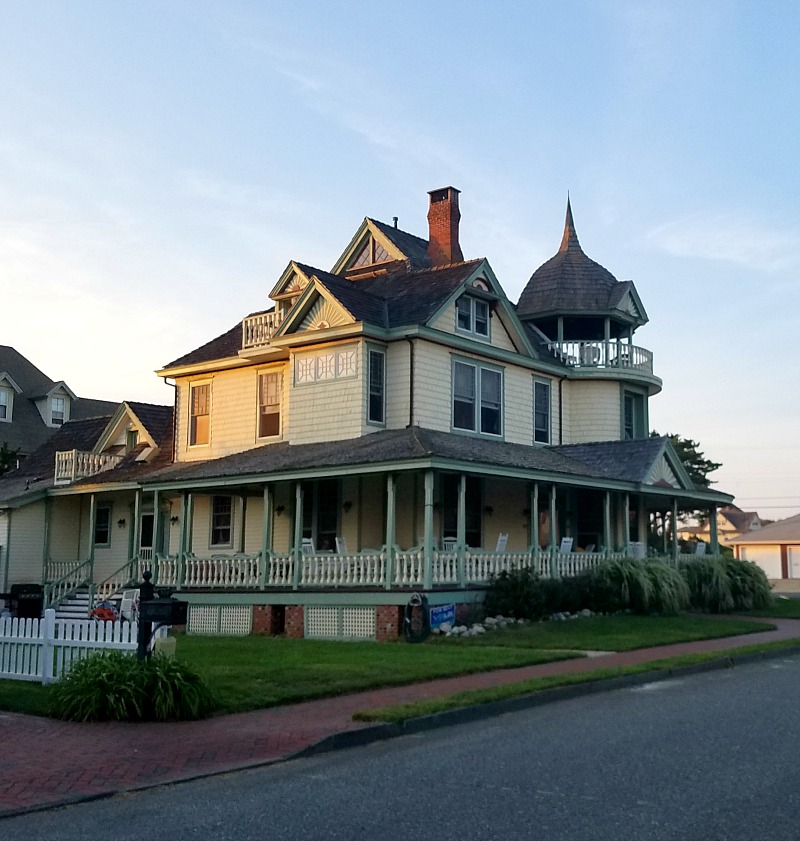 The Williams Cottage is listed in both the state and national historic registers.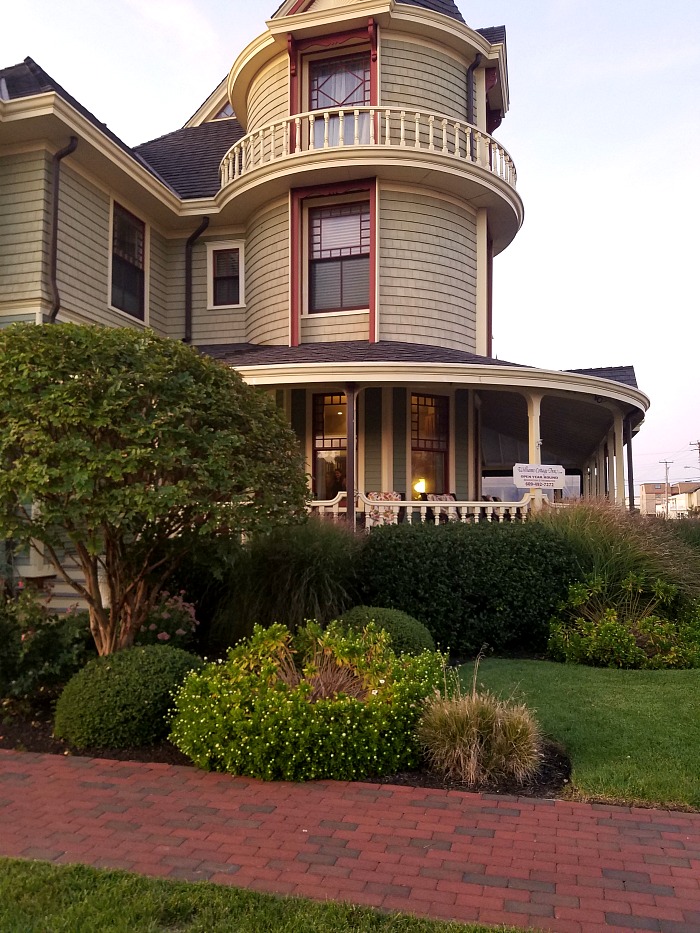 Here's an old black and white photo I found of it on Pinterest (credit: Glenn Koch):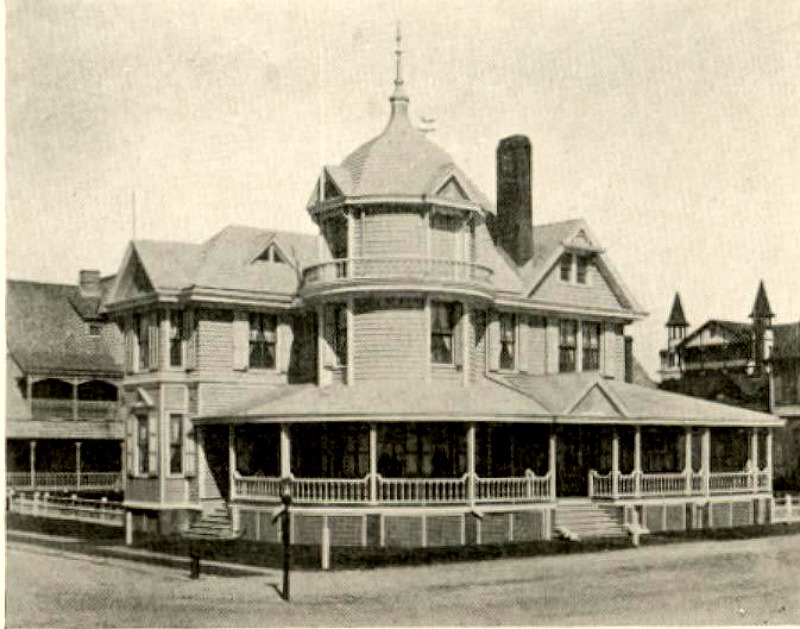 All I can say is bless the people who worked to save this house from demolition.
They don't build them like this any more.
Who wouldn't want to spend time at the intersection of Ocean Street and Atlantic Avenue?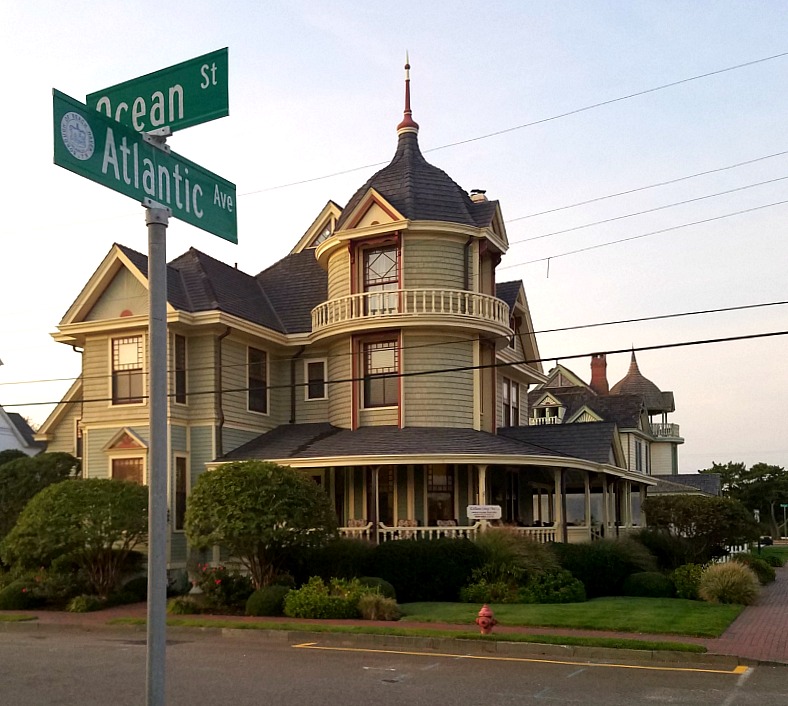 The Victorians considered these houses "summer cottages."
Our definition of a cottage has changed a bit since then!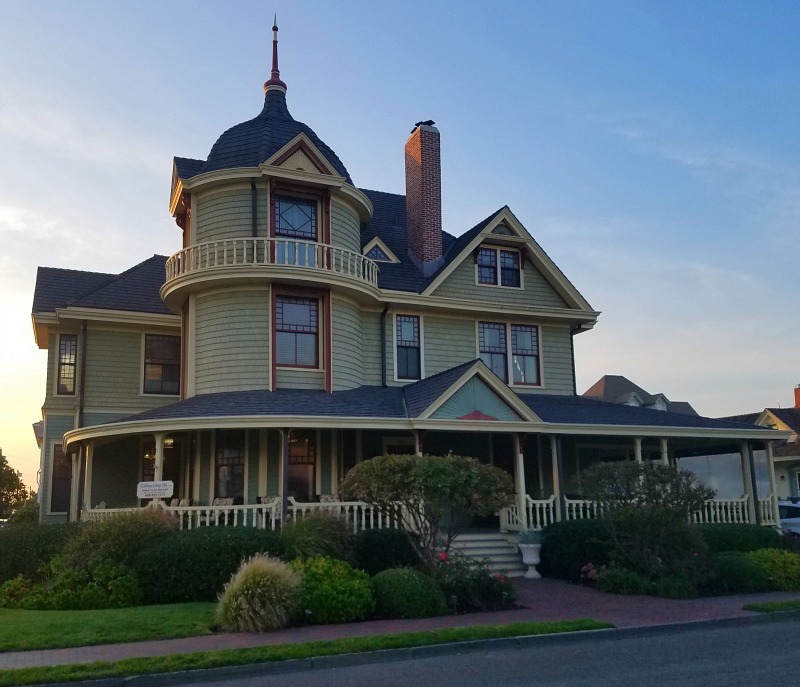 For more information: the Beach Haven Public Library website and the Williams Cottage Inn.

If you have a house you think my readers would like, Contact Me!