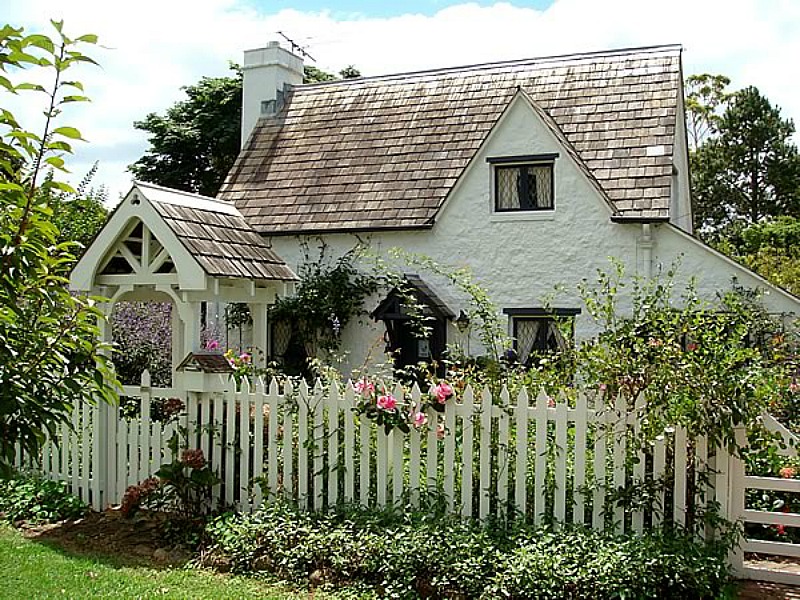 I first featured Fig Tree Cottage nearly 10 years ago when its owner Alison wrote me about her charming little home. The minute I saw the photos of the cottage's steeply pitched roof, diamond-pane windows, and white picket fence, I was smitten.
At first glance I assumed it was an old English cottage. So I was surprised to learn it was actually built in 1988 in Queensland, Australia. The builder spent time in the U.K. learning how to construct a traditional Cotswold-style cottage so he could recreate the look of one. I'd say he pulled it off!
Alison just contacted me again to let me know she's made the tough decision to sell Fig Tree Cottage. Keep scrolling to take the tour.

Fig Tree Cottage in Queensland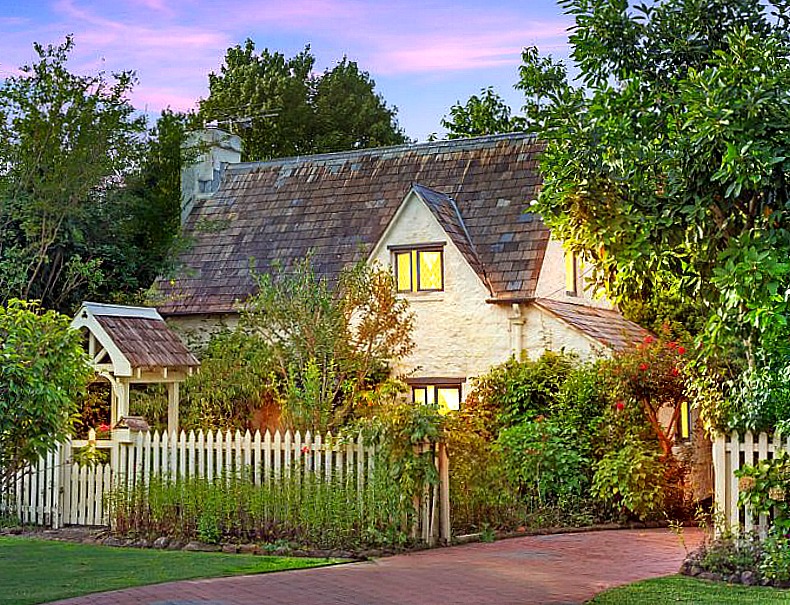 The Hutton & Hutton real estate listing says "Your Fairy Tale Starts Here (Prince Charming Not Included)."
The white picket fence is, though!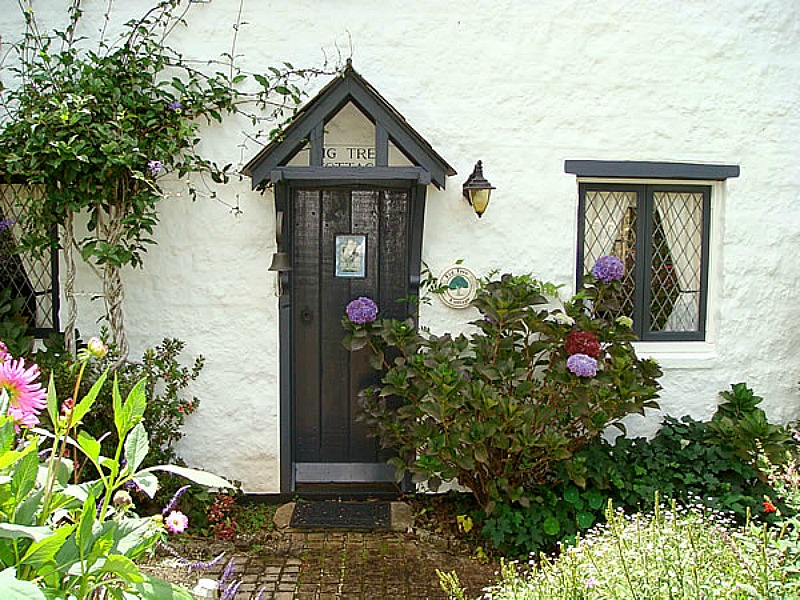 The listing description for 

4 Wongawallan Road on Tamborine Mountain

says:
Picture this. It's a rainy Sunday afternoon in late May. You can see a light drizzle coming down amongst the orange, autumn leaves of the picturesque garden. You're curled up on the couch in front of the warm brick fireplace. The exposed timber beams and stunning rustic feel of your cottage make the room feel especially cosy. You've got a book in hand, however, an afternoon nap is not totally out of the question.
You can stop picturing it now because the opportunity to buy this home is no longer a dream. It's very real and nestled away in the Tamborine Mountain behind a quaint white picket fence."
Your weekends are sorted, as this two-bedroom, two-bathroom cottage is only a 5-minute stroll south to the Gallery Walk and a 5-minute walk east to the scenic Mt Tamborine Rainforest Walk.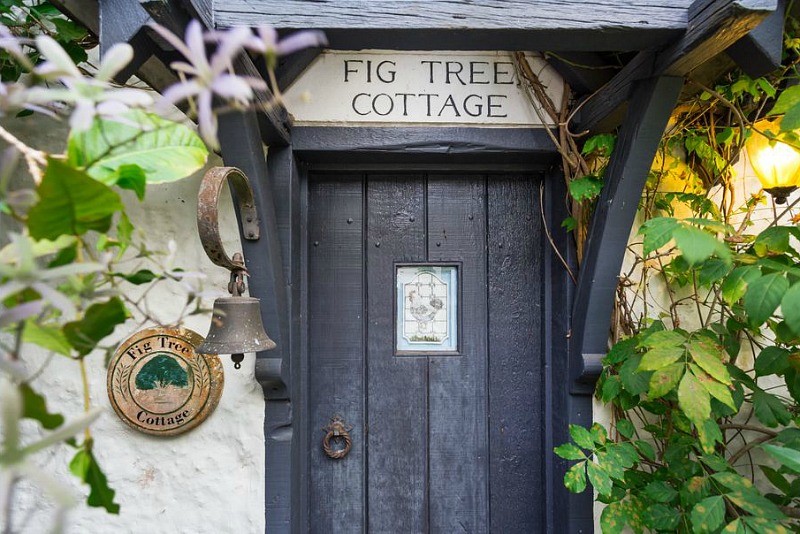 Listing agent Ivana Reich says, "It's such an iconic house in Tamborine Mountain,
everyone seems to know this particular home."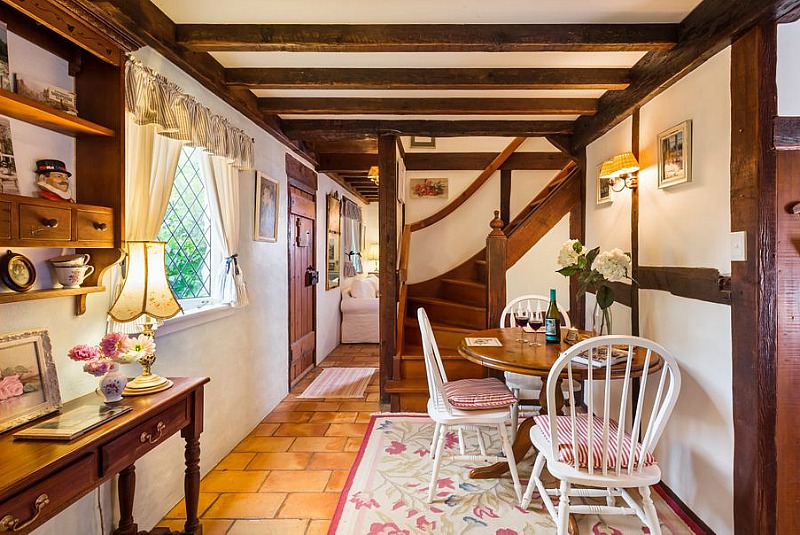 Anyone else imagining themselves having a Holiday moment here? 🙂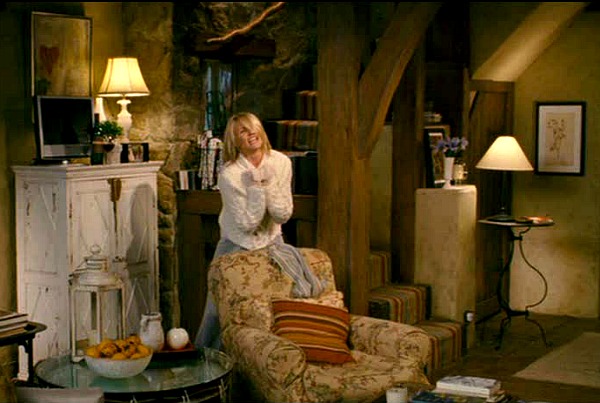 An article on Realestate.com about the cottage says:
A romantic and magical feel is achieved through the two-bedroom property's delightful country gardens, exposed timber beams, combustion wood fireplace, dormer windows and cosy interiors.
All this is set behind a picture perfect white picket fence.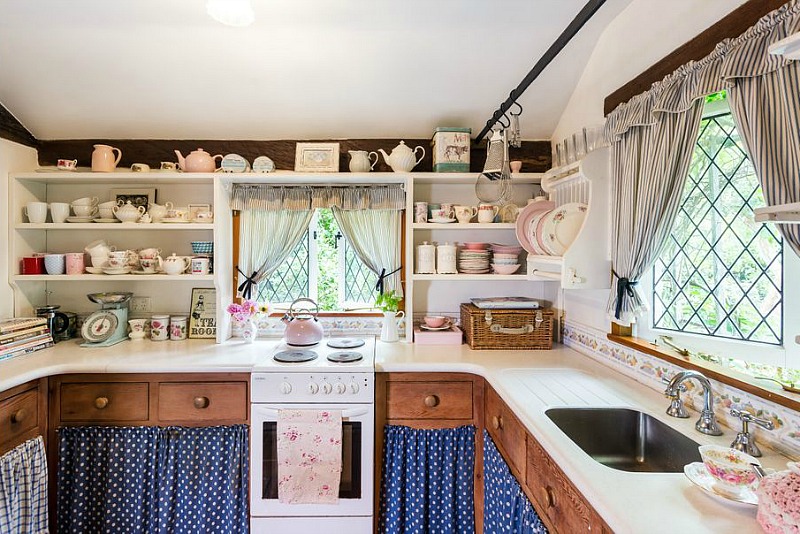 "The owner has lived her fairytale dream at the cottage for almost 10 years," said listing agent Ivana Reich.
"She has loved it because everyone is friendly and it's a close-knit community,
which reminded her of the English village she grew up in."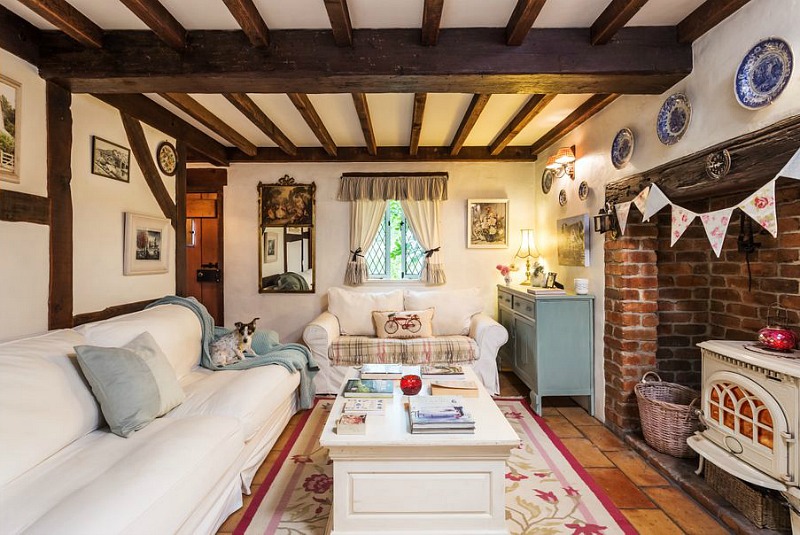 Fig Tree Cottage has 2 bedrooms and 2 baths.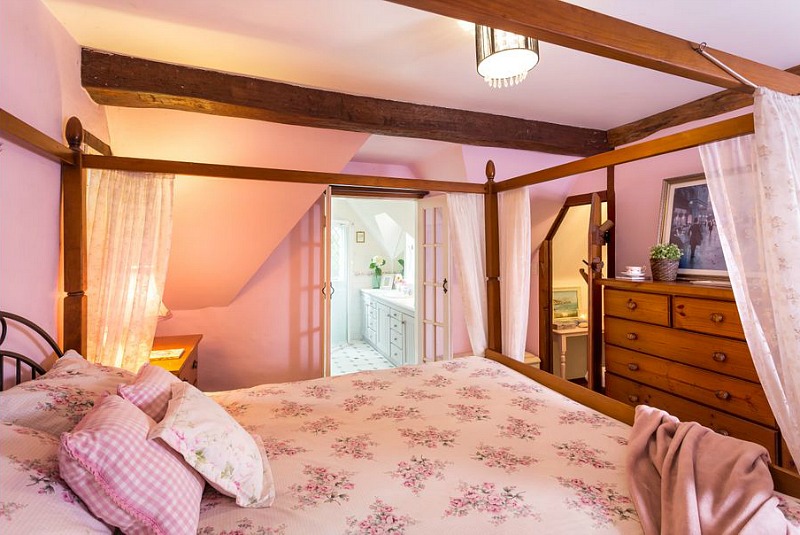 The agent says the property would make the perfect Airbnb.
Alison has been renting it out herself, and you can imagine how popular it is with visitors.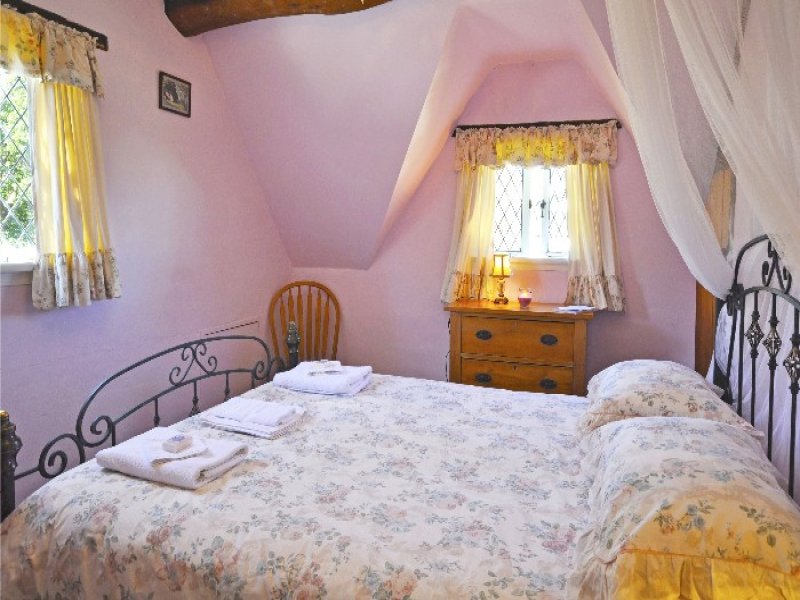 This exquisitely captivating Cotswold Cottage was lovingly hand-crafted to replicate all the most enthralling features of Old World living. Quaint little doorways, heavy timber beams and dreamy upstairs dormer windows combine with the timber stairway and huge old brick fireplace to create an enveloping sense of cosiness and warmth. Polished timber floors on the upper level and quarry tiles on the ground level are perfect with the English cottage decor.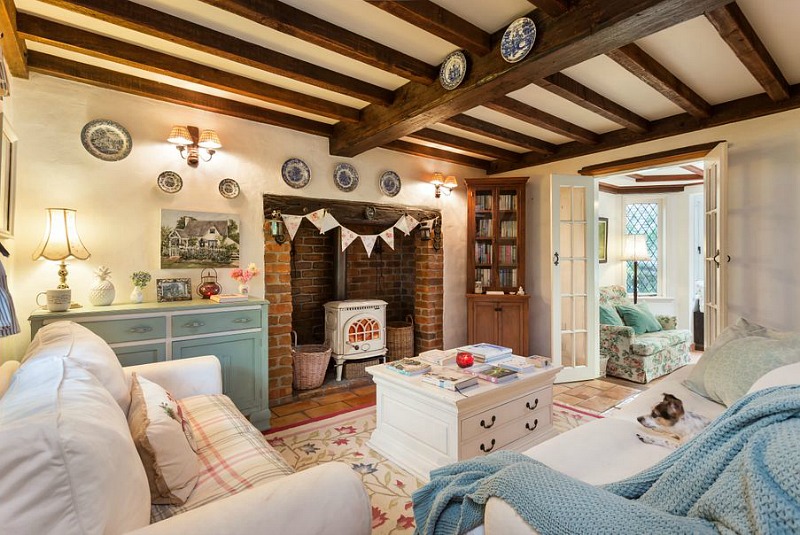 Fig Tree Cottage was recently featured on the local news in Queensland: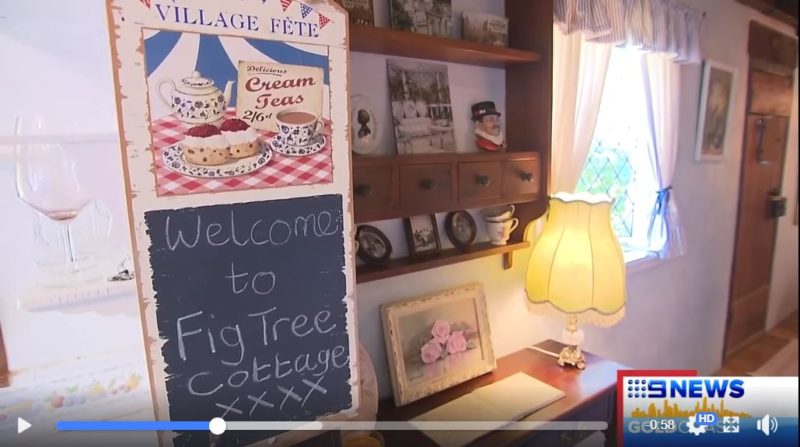 In this screenshot from the cottage tour, you can see
Alison being interviewed about her unique home (on the right):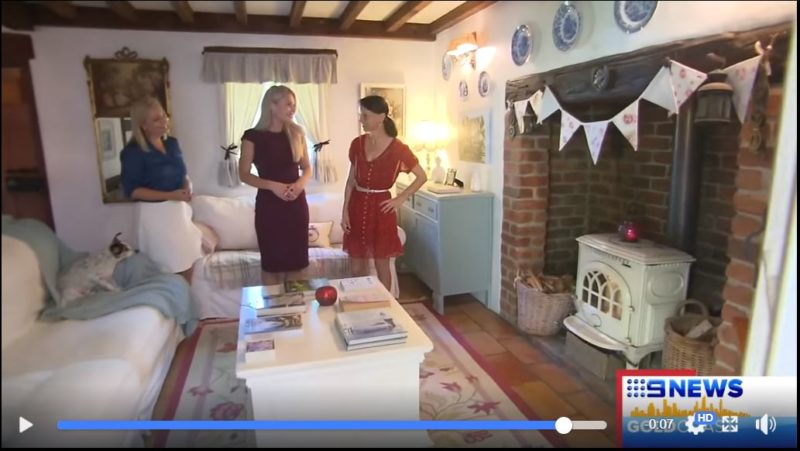 Even her dog got some screen time! 🙂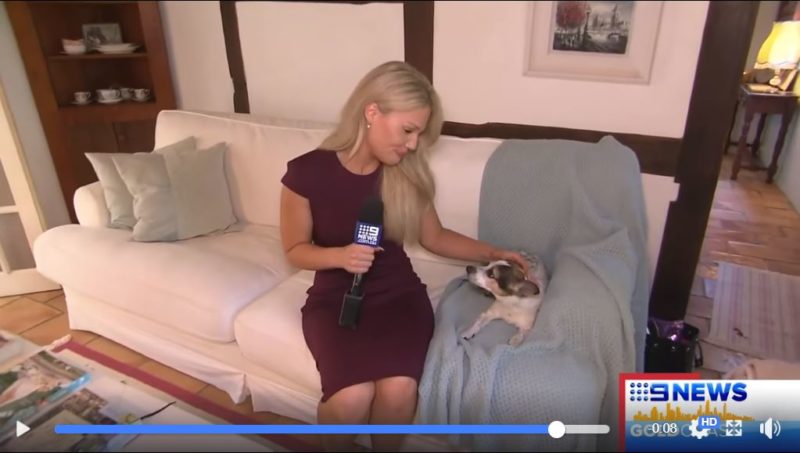 Alison said, "I would love to live here forever but it's time for a new chapter in my life. I love the four different seasons
here, watching the changes in nature and the in the garden — the climate is perfect."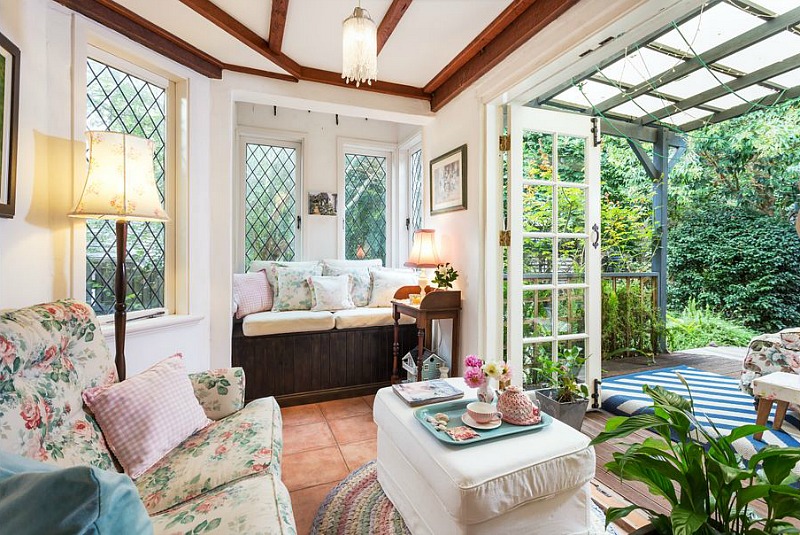 "The cottage is close to tourist destinations like Cedar Creek Falls,
Gallery Walk, and the scenic Mt Tamborine Rainforest walk."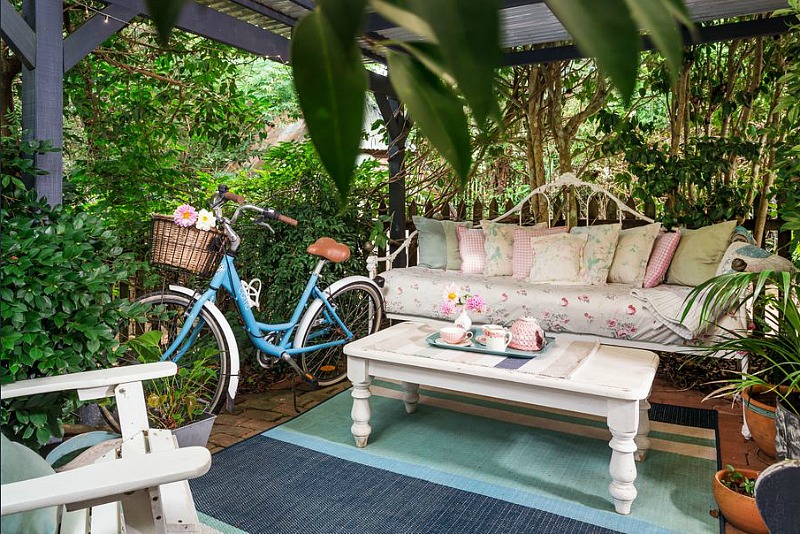 The name Tamborine Mountain is of Aboriginal origin and has nothing to do with the tambourine musical instrument, just in case you're wondering (I was!).
"The spelling also appears on early records as Tchambreem and even Goombireen, which means 'wild lime' and refers to the finger lime trees growing on the mountain."
Inside the little garden shed on the property: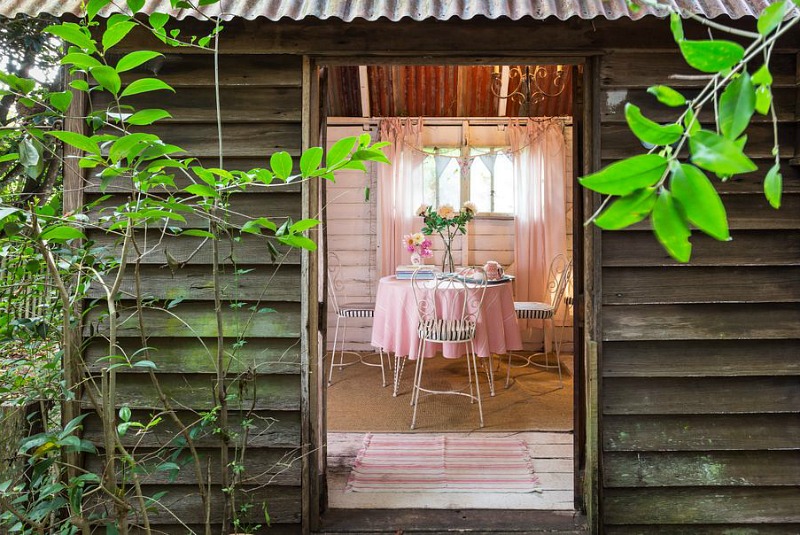 The Fig Tree Cottage Floor Plans: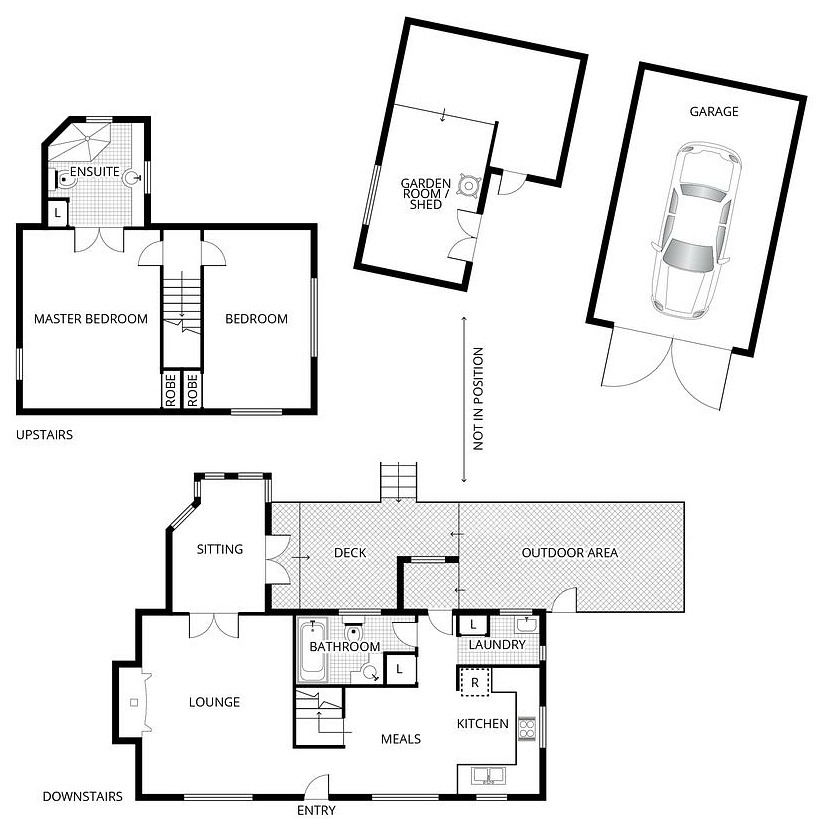 I love these photos Alison sent me a few years ago of the front door
when the hydrangeas were full and in bloom: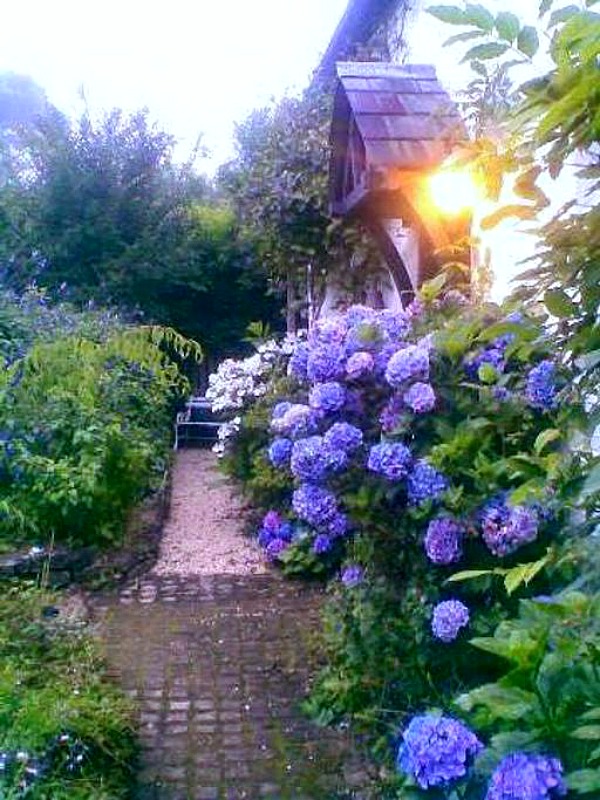 Gorgeous!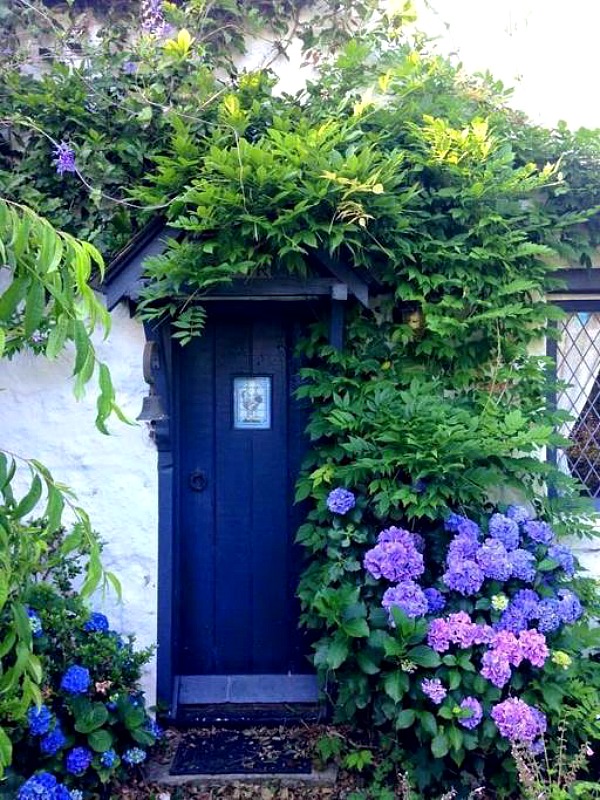 The listing says: You'll love…
+ Combustion wood fire for the chilly winter months
+ Country garden with native birds as frequent visitors
+ Picture-perfect dormer windows
+ Art studio/afternoon tea haven
+ Stunning exposed timber beams
+ Cosy traditional kitchen
+ Spacious storage shed, separate garage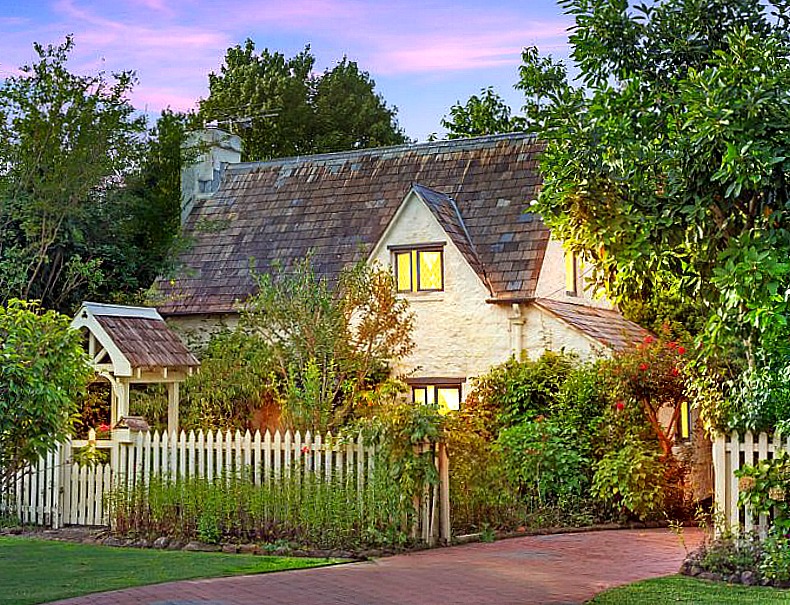 Sounds pretty dreamy to me!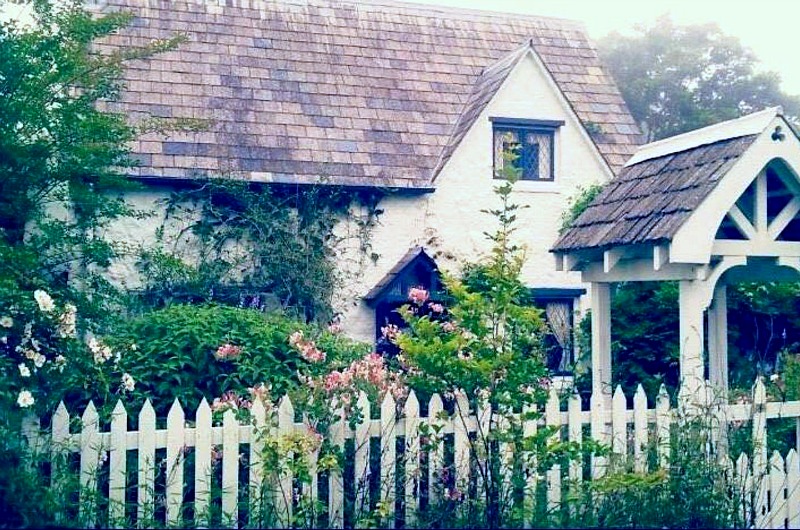 Alison wrote that she knows it's time for a new chapter in her life, but it's still going to be difficult to part with her storybook cottage: "I adore the cottage as you know, and it will be bittersweet, but I'm excited to share the dream with the new lovely person."
For more information, check the Hutton & Hutton listing held by agent Ivana Reich.