When I first visited England as a teenager, I was awestruck by the thatched-roof cottages. I had never seen anything like them outside of storybooks and Disney movies, so I couldn't stop snapping pictures of them with my camera…
I still get excited when I see old houses like this "Idyllic Grade-II listed cottage set in an old-world village in the Cotswolds." There's even a thatched-roof wishing well in the back:
The listing for this holiday rental says, "Sugar and spice and all things nice, that´s what Pollyanna is made of! Traditional Victoriana fuses with classic country-cottage style interiors, and flourishes of whimsical charm."
I love the name of the cottage. Pollyanna was one of my favorite movies as a girl. I can still remember watching it for the first time in the 2nd grade from the floor of our school's gymnasium. While all my friends talked and played around me, I was riveted to the big screen.
Another favorite of mine when I was growing up was The Secret Garden. I dreamed of having an English garden filled with bright pink foxglove flowers and hollyhocks someday.
The listing says, "With two luxury king-size double bedrooms and a pretty twin room sitting beneath the eaves, Pollyanna is equally as perfect for families as it is for couples looking for a romantic break away."
"The master double with en suite shower room sits on the ground floor in the thatched annexe, whilst the golden-themed double and the quaint twin room (with views over the shared courtyard) are on the first floor, and sitting alongside the family bathroom."
"After a day's exploration of the surrounding Cotswolds countryside, return ruddy-cheeked before laying your head upon cloudburst pillows and sinking into a blissful uninterrupted sleep."
The cottage kitchen has a Belfast sink on one side…
…and an AGA on the other.
The homeowner Kirsten describes the house as "romantic, quaint and oh so peaceful. One of our favourite places to sit is under the blossom tree sipping chilled wine and watching the children play — perfect long summer evenings! Pollyanna is an idyllic chocolate box cottage which we hope you'll enjoy as much as we do…"
For little visitors, there's an adorable little pink and green playhouse in the yard:
If you're lucky enough to take a vacation in the U.K. (or to live there!) and want to stay at the cottage, check Unique Home Stays for all the photos and rental information.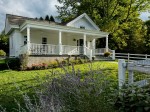 This little house lives larger than it looks. Architect James Crisp tells me he designed it as a full-time residence for a client who was…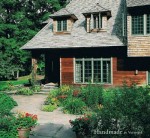 Shortly after I got married, my mother-in-law gave me a gift subscription to Better Homes and Gardens, and she's been renewing it for me every…