Last week was busy and fun with Thanksgiving gatherings and Christmas decorating and a birthday party for my husband Dave. It was kind of a whirlwind of visitors and cooking and shopping. Anyone else feel like you're kind of behind on everything now, though, and could really use a nap? Ha. Maybe that's why the sight of this charming stone cottage known as Jack Sparrow Barn appeals to me so much right now…
I'd love a little getaway to a cozy little spot near the water for a few days. Just leave my long to-do list behind.
I'm amazed by all the bloggers who have transformed their houses into Christmas wonderlands and are posting the photos already. How do they do it?
Come to think of it, maybe it's because they're not spending their time daydreaming about cottages in Cornwall like I am… 😉
A lazy breakfast in bed sounds nice right now. Seeing that magazine reminds me I have a stack of them I haven't gotten around to reading yet. Maybe I'll skip the Thanksgiving-themed issues and move straight to the Christmas ones at this point!
I guess I should stop rambling and tell you about the cottage, huh?
It's a holiday rental and the listing for it says: "With a cheeky spirit and a handsome façade, Jack Sparrow Barn is the perfect romantic bolthole for couples looking for a luxury self-catering Cornish cottage close to the sea."
I love the write-up they gave the house. They made every detail sound appealing. For instance, instead of saying the laundry is in an out building, they said, "A washing machine and tumble dryer are cunningly tucked away in the beach hut in the garden."
"This beautifully converted barn in the quiet hamlet of Tregona close to Porthcothan Bay on Cornwall's north coast is equidistant between Padstow and Mawgan Porth meaning there's a wealth of activities to look forward to nearby."
The cottage kitchen is small but charming. Note how they set the faucet to the side to fit the farm sink:
"Romantic luxury boltholes don't come any cosier than the delightful Jack Sparrow Barn. The rustic characterful up-cycled interiors, oak wall panelling and clever use of raw materials will provide inspiration for design aficionados, with the use of old railway sleepers being a particularly quirky feature."
"The spacious enclosed garden wraps around Jack Sparrow Barn and boasts extensive views across the rolling countryside towards the sea. Trevose Head lighthouse can be spotted glinting in the distance on a clear day. Guests will truly enjoy the peace and tranquillity of the traditional Cornish hamlet where this self-catering barn is situated, with some of North Cornwall's finest beaches just a short drive away."
It's too far away for me to escape to for a getaway, but I know I have lots of readers in the U.K. who might. For more photos and information about staying here, visit Unique Home Stays.
P.S. If you're hooked on Cottages, check out the page I have devoted to some of my favorites. Right now the most popular one on my blog is Iris's stone cottage from The Holiday: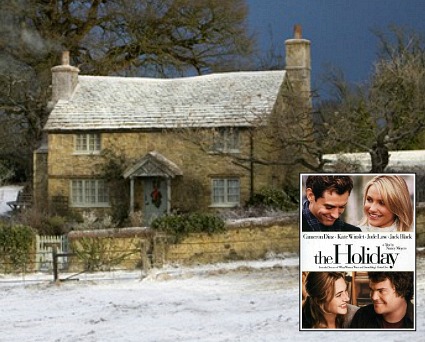 (Visited 98 times, 4 visits today)