Welcome to Northcott Beach House, a place where I wouldn't mind spending Spring Break. My kids are on theirs all week, but you'd never know it to see all the snow outside our windows! Wish we could have snagged a holiday rental like this, with its "enviable cliff-top position" in North Cornwall and "uninterrupted coastal and ocean views."
The house is listed on the Unique Home Stays website, which describes it as a "characterful beach house that exudes a simple rustic charm, reminiscent of childhood beach holidays of times past."
It sleeps up to 17 (+ 1 dog, so I could take Maizie along).
The listing says, "Fresh pastel clad walls, stripped wooden flooring and a welcoming beach chic feel resonates throughout this charming abode. The kitsch artwork and folksy flavour adds real charm to this idyllic beach house."
Does anyone else wish they were on vacation this week? Or maybe you are (I'll try not to hate you for it). Instead of traveling with my family over Spring Break, I've spent the last week sick and in bed. Bleh. Miserable. So today I'm daydreaming about what it would have been like to take a fun trip with the kids instead…
I'm loving these painted beds:
A cozy breakfast nook:
Any Doc Martin fans out there? Martin Clune's popular show about a "socially challenged doctor" was set in Cornwall, and Fern Cottage served as his surgery (office):
It's a holiday rental now, too. You can see what the real interiors of Fern Cottage look like here.
This shot of the Northcott Beach House perched at the top of the cliff reminds me of Rie's farmhouse that I showed you recently (but hers was in North Carolina, a long way from Cornwall!).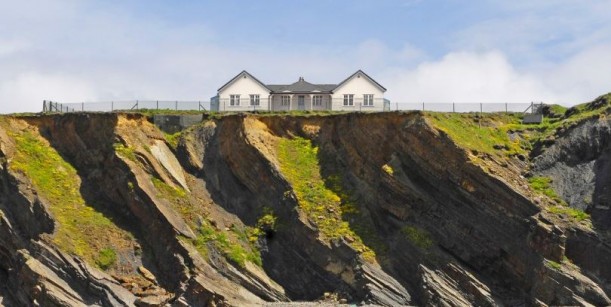 The picturesque village of Clovelly in Devon is nearby. I'd love to visit it someday. It has been privately owned by the same family since 1738: "The cobbled, traffic-free, high street of this world-famous fishing village in North Devon, built into a cleft in a 400′ high cliff, tumbles its way down past whitewashed cottages festooned with flowers to the tiny, ancient working port."
Visit Unique Home Stays for more photos and information about renting Northcott Beach House for your next vacation (and maybe consider taking me with you!).
(Visited 5 times, 1 visits today)