If you like Mary Engelbreit's colorful, playful style, then you'll love the house featured in the Orange County Register. When decorating her home, Kathy Curtis says she was inspired by both her love of "Toys R Us colors," as she calls them, and her growing Mary Engelbreit collections.
ME fans will recognize quite a few of the items in her home, from the rug to the artwork. Kathy says she used apple green in every room to pull everything together.
The kitchen features a handpainted rug on the floor, a cozy windowseat, and an apple-green island with matching pot rack. Even though it may not be my personal style, I think she did a good job incorporating the look she loves into her home without going overboard, or making it look like an Engelbreit gift shop.
You can read the article and see the gallery of photos here (photos by Ana P. Gutierrez). Do you follow Mary's Engelblog? I was sad when her magazine folded. The rooms she featured always looked bright and happy, like a breath of fresh air.
I just took the Stylefinder quiz over at My Design Guide (my blog's newest sponsor). It was fun! You simply click on the photos that…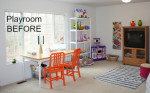 This is how my kids' playroom looked when we moved in. Very "builder white" and boring. We finally got around to decorating the playroom this…