I've always been fascinated by the Brontë sisters and their novels, so I was excited to learn about Ponden Hall and its connection to them. Charlotte, Emily, and Anne lived near this grand home, and it's said to have been the inspiration for the houses in both Emily's Wuthering Heights and Anne's The Tenant of Wildfell Hall. 
When current owners Julie Akhurst and Steve Brown bought Ponden Hall 21 years ago, it was in bad shape. They renovated it and turned it into a B&B that draws literary fans to West Yorkshire from around the world.
Now they've put the 17th-century house on the market, so let's take a look!
Note: There are Amazon affiliate links in this post that may earn me commission but won't affect the prices.

Ponden Hall in West Yorkshire
Ponden Hall inspired the houses in two famous novels,
Wuthering Heights by Emily Brontë (Amazon affiliate links):

The sisters published their novels under male pseudonyms, based on their initials:
Charlotte wrote as Currer Bell, Emily was Ellis Bell, and Anne was Acton Bell.
Ponden Hall has 5,000 square feet and sits on 4 acres overlooking Ponden Reservoir. The main house was built in 1634 but parts of the property date back to 1541.
Ponden Hall was known to have "The Finest Library in the West Riding." It was frequently used by the Brontë sisters, as well as their brother Branwell and father Patrick.
The listing says a hallway with a stained-glass window dating back to 1801
provides access to the main rooms of the house.
"The formal living/dining room is truly magnificent with beamed ceilings, stone-flagged flooring, mullioned
windows, a fireplace with wood-burning stove, and a large inbuilt wooden cupboard dating back to 1801."
"The Peat Loft" was a separate building on the property that was built in 1680.
It was connected to the main house in a major remodel completed in 1801.
"As you approach the house a large stone plaque above the front door details the evolution of the house up to the major
conversion of 1801, the very year that Emily Brontë's iconic Wuthering Heights begins."
The Earnshaw Room, as the B&B calls it, has a tiny window inside a box bed, just like the one
from the famous Wuthering Heights scene with Cathy's ghost :
As the narrator named Lockwood reports in the novel:
"I muttered, knocking my knuckles through the glass, and stretching an arm out to seize the importunate branch;
instead of which, my fingers closed on the fingers of a little, ice-cold hand!"
Illustration of Lockwood's encounter with Cathy's ghost by Fritz Eichenberg.
The listing explains:
It is recorded that a box bed was built and bolted into the wall around this window, where it remained until the late 1940s.
It is also adjacent to a mullioned window on the south-facing gable, believed to be the one Emily Bronte sketched when just 10 years old, in which a menacing character smashes a fist through the central glass panel." The homeowners had the box bed replicated as closely as possible for the room.
The listing tells this story of the Brontë siblings' stay in the Peat Loft:
The Peat Loft is believed to have been the place in which Anne, Emily and Branwell Brontë took shelter in 1824, during the great Crow Hill Bog Burst (a cataclysmic mudslide caused by a thunderstorm after days of rain), when they had been walking on the moor with their servant Sarah Garrs.
Patrick Brontë ran from the parsonage to Ponden to rescue them, believing them to have been caught in an earthquake, and preached a sermon, later published, about his children's miraculous rescue.
Homeowner Julie Akhurst says, "It's incredible to think Emily would have sat here reading. We have a catalogue of the books that were here then and they probably influenced her. There were Gothic novels and books on necromancy and dark magic.
"It's a magical place in an incredible location. You can feel the presence of history in this house, yet it's also very warm and welcoming."
The Brontë Parsonage Museum where Charlotte, Emily, and Anne lived is located nearby in the village of Haworth.
Ponden Hall was listed by Trip Advisor as one of the Top 10 most spectacular B&B's to visit in Europe. "I've loved meeting people from all over the world, including a few famous people too. Almost everyone stays here because of the Brontë connection," Julie says.
Interested in running a B&B catered to 
Brontë fans? 

Ponden Hall is on the market for £1.25m ($1.62m).
I recently read Charlotte Brontë: A Fiery Heart by Claire Harmon and recommend it to anyone who wants to learn more about the Brontë sisters. Their lives were short and filled with more tragedy than most of us can imagine.
The Tenant of Wildfell Hall, about a woman who takes her young son and flees her abusive husband, was considered "the most shocking" of the Brontë novels when it was published in 1848. It made Charlotte so uncomfortable that she refused to let them re-print the novel for a decade after Anne's death.
I've always found Wuthering Heights to be a little too disturbing to enjoy it much. I just watched the 2009 movie version starring Tom Hardy and found it as unpleasant as I remembered it, ha.
Jane Eyre is my favorite Brontë novel. I read it again every few years and it never disappoints. I've also watched the miniseries with Toby Stephens and Ruth Wilson more times than I can count! 🙂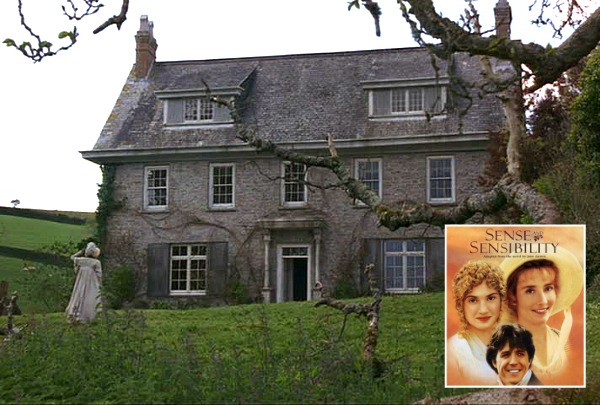 There are Amazon affiliate links in this post — thanks!
(Visited 28 times, 1 visits today)