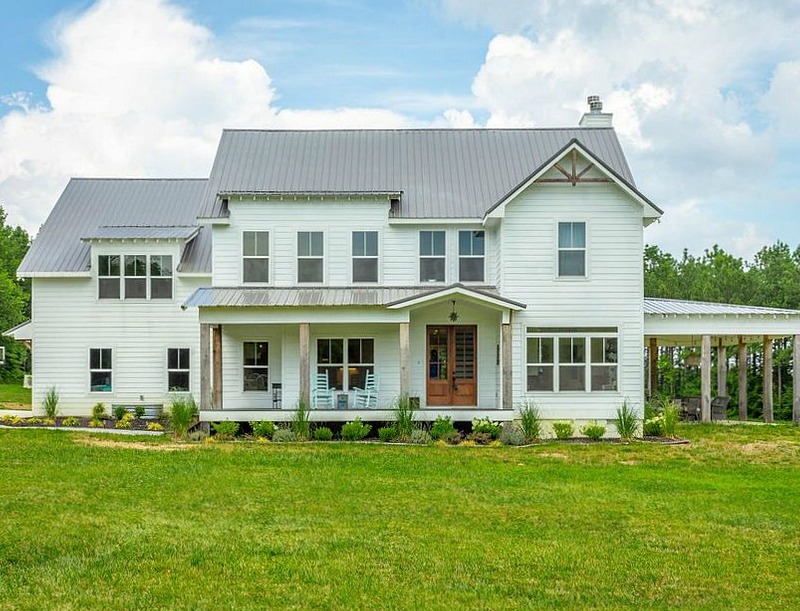 If you love the style of the new Modern Farmhouses being built today, then Tennessee is the place you want to be. I swear I see more beautiful versions of them on the market in that state's real estate listings than any other, and today's is no exception.
This one belongs to a reader who tells me that she and her husband "love doing houses together and have been doing so since before Pinterest! This was our actual first custom build and we had a blast."
She adds that their goal in designing the house was to keep things "really simple and clean."
They're now selling their farmhouse, which sits on Signal Mountain with over 12 private acres. Take a look!

A Modern Farmhouse For Sale in Tennessee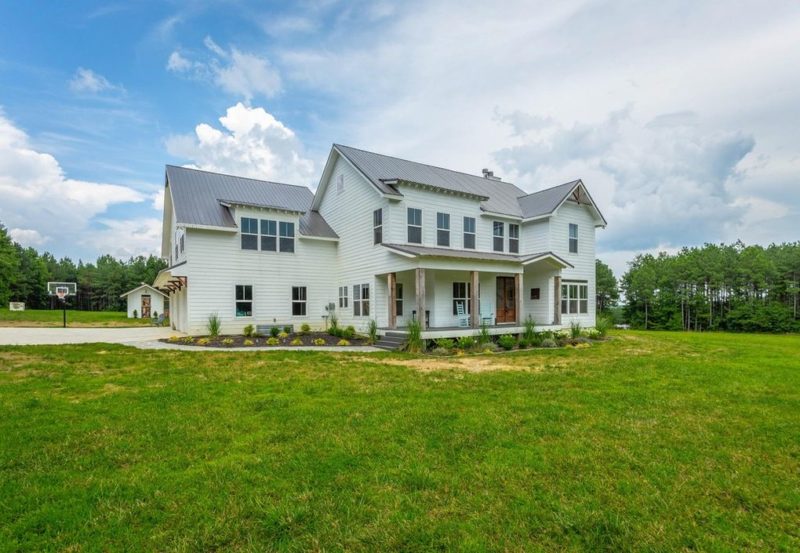 It doesn't get much more private and secluded than this.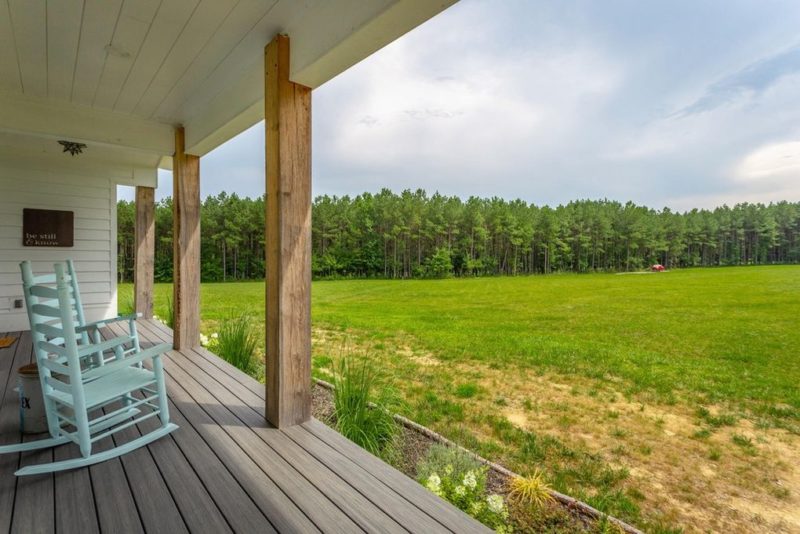 The Living Room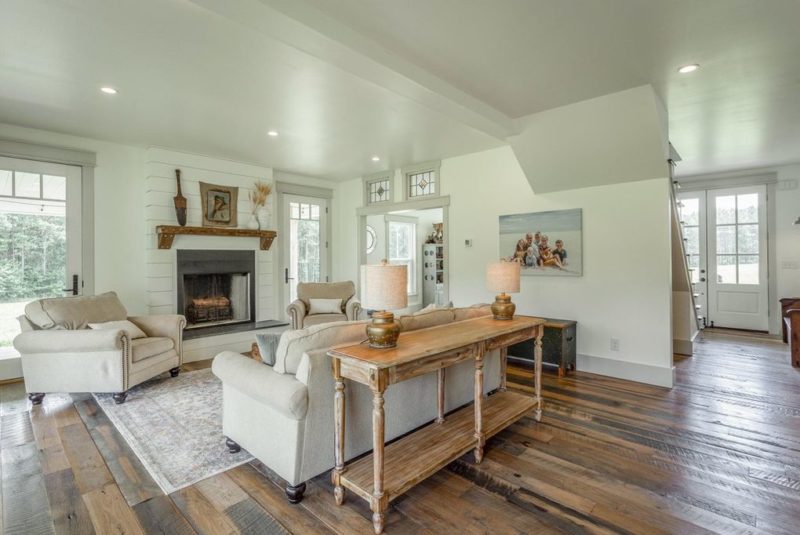 The listing says:
Luxurious farmhouse style home nestled atop Signal Mountain and situated on over 12 secluded acres surrounded by mature trees and woods.
This home was custom built in 2018 and boasts tons of upgrades and unique features including barn style hardwood floors from Old World Timber in Kentucky, a soapstone sink and luxury lighting throughout.
As you walk in the front door you will notice the custom wood staircase and shiplap, beautiful hardwood floors, and antique stained glass windows above the entryway.
In the living room you will find a double-sided wood burning fireplace surrounded by doors that access the patio and outdoor fireplace – the perfect spot for relaxing and entertaining.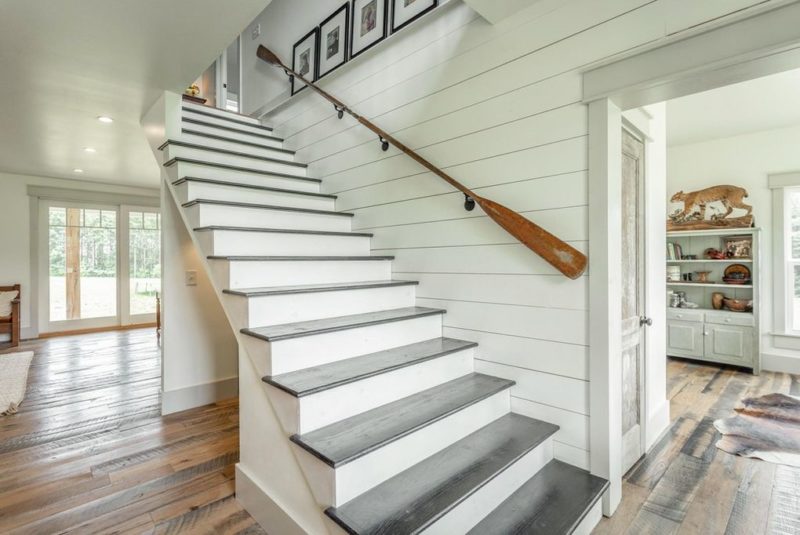 Signal Mountain is a suburb of Chattanooga in Tennessee.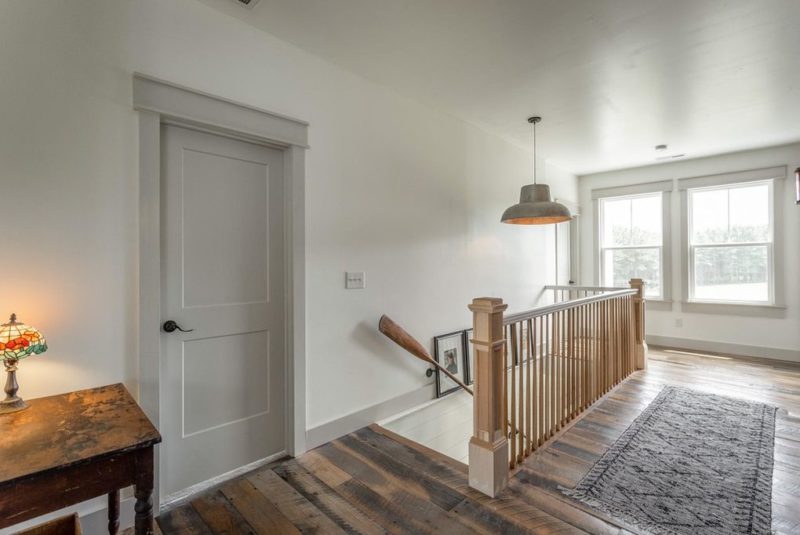 The farmhouse has 5 bedrooms + 4 baths and 4,870 square feet.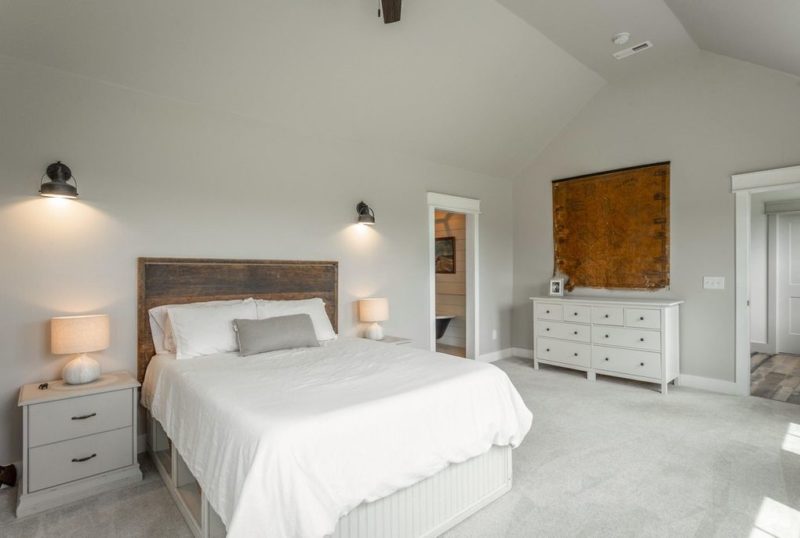 "The master bathroom has a huge walk-in shower with tiled accent wall, a double vanity, and antique clawfoot tub."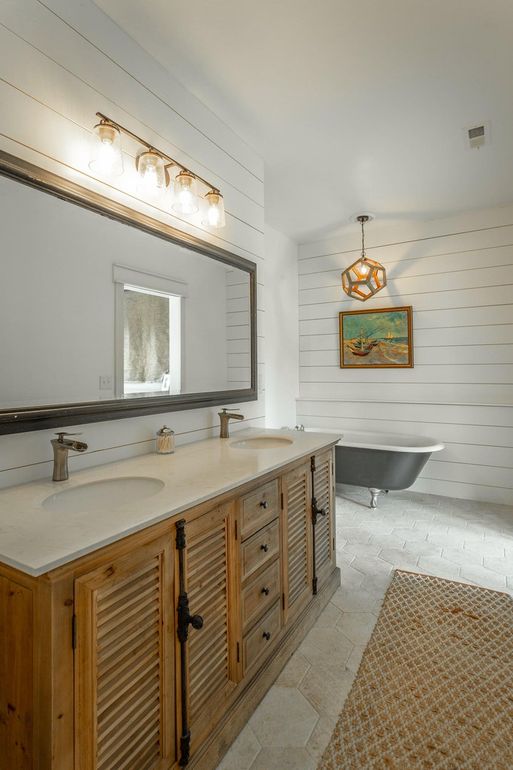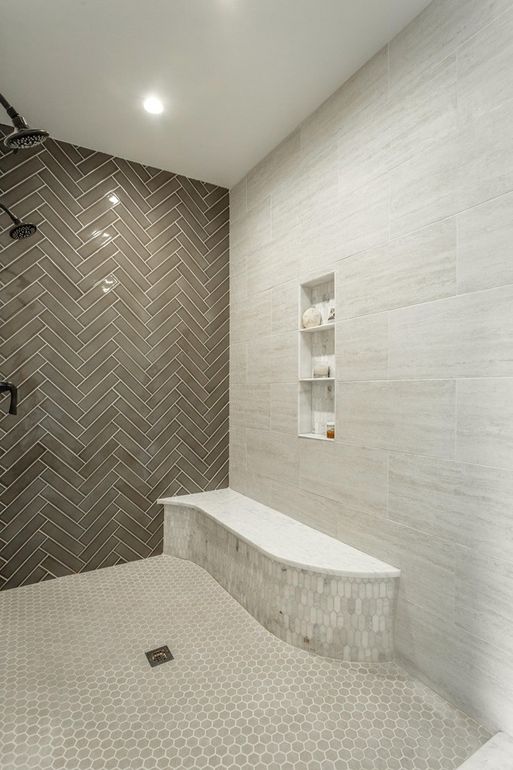 Imagine waking up to this view outside that row of windows: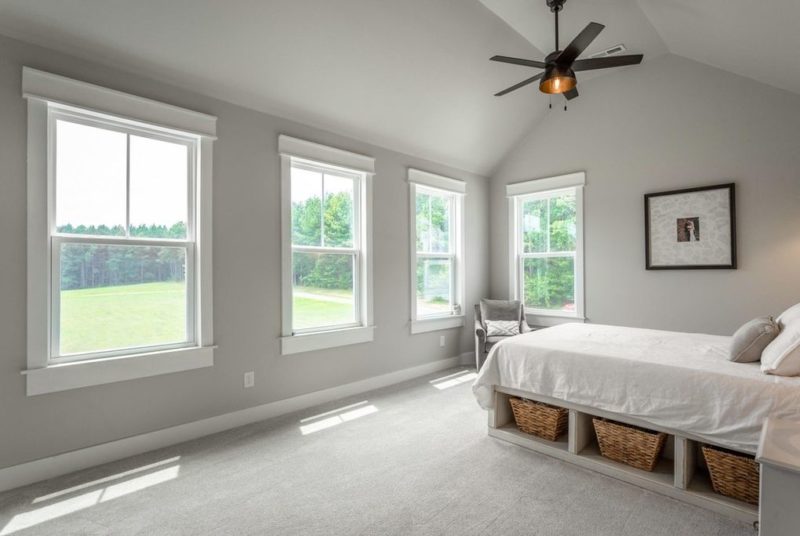 "All three additional bedrooms have tons of space and access to an upstairs carpeted play area/bonus room."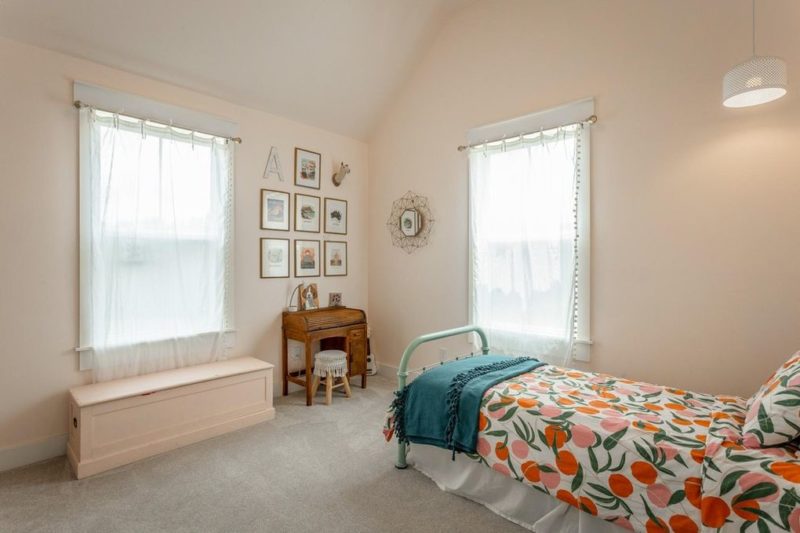 The ladder in the bedroom leads to a secret play loft (how fun is that?):
This would make a great hideout for the kids (or Mom):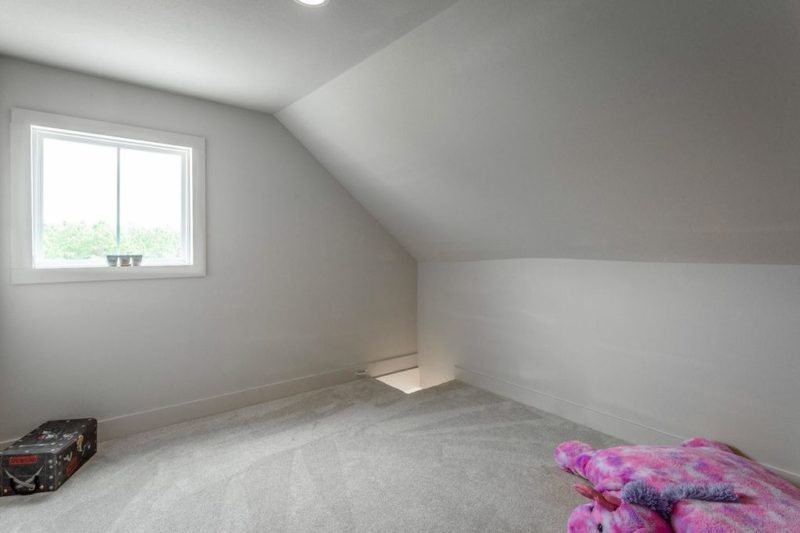 The homeowner says, "In building the house, we incorporated old things, new things, wood things and metal things! The floors are repurposed fencing from Old Kentucky race horse farms. We always create elements that encourage our kids to play — hence the wench and ladders to the play loft!"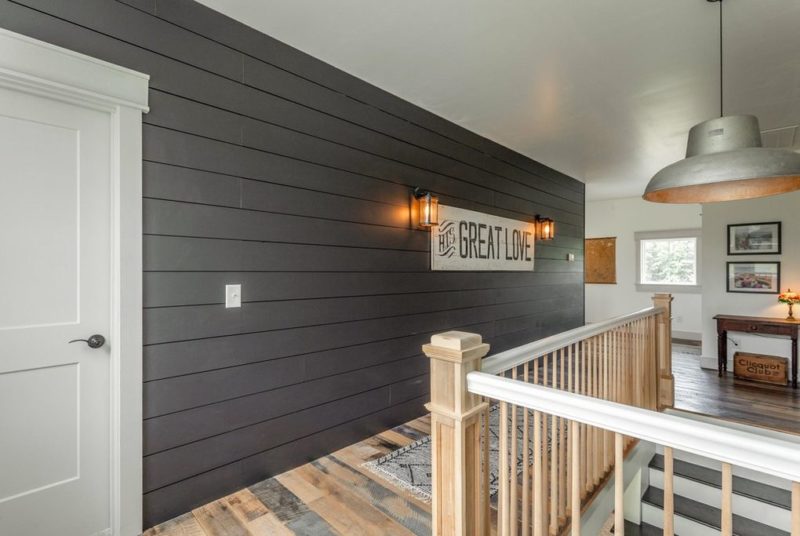 The Large Bonus Room with Vaulted Ceilings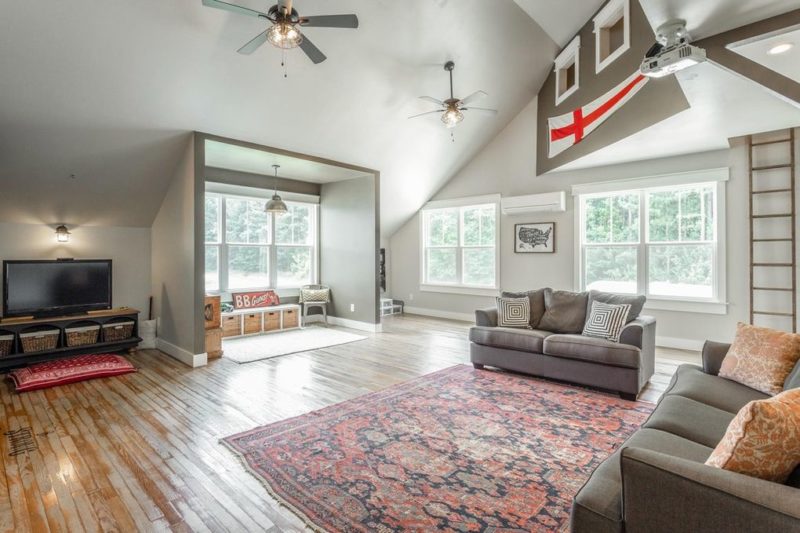 The bonus room has access to another fun play space for the kids above: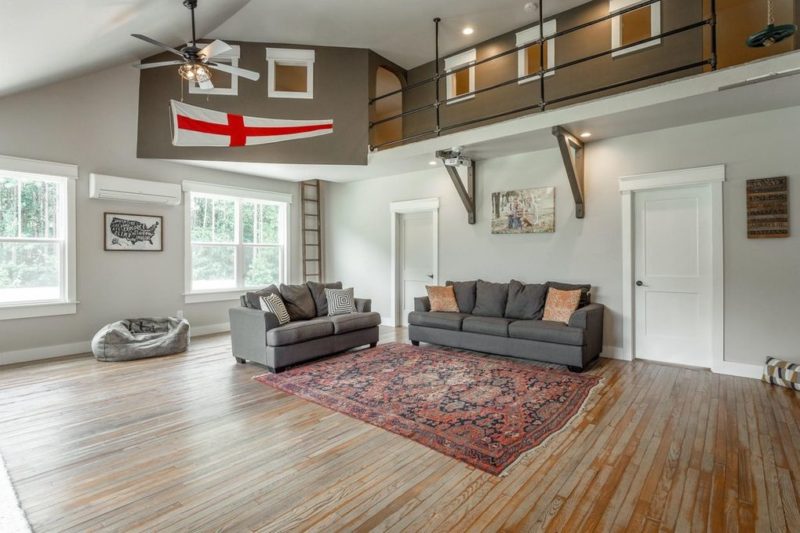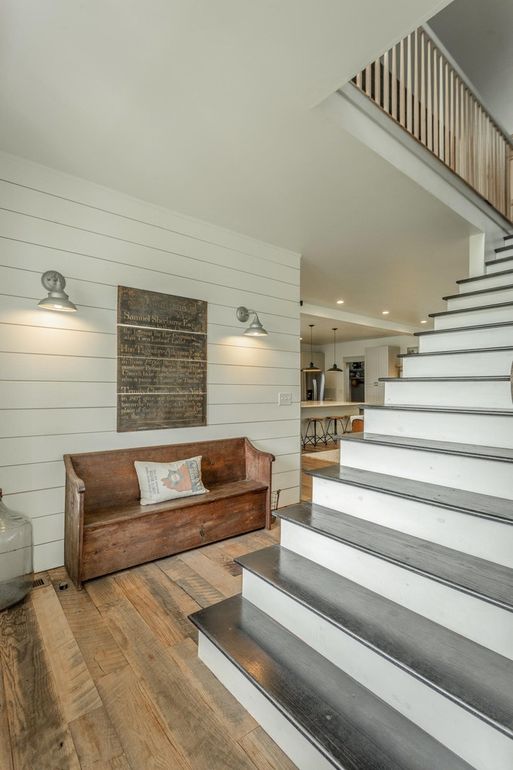 We all know it's not a Modern Farmhouse without shiplap: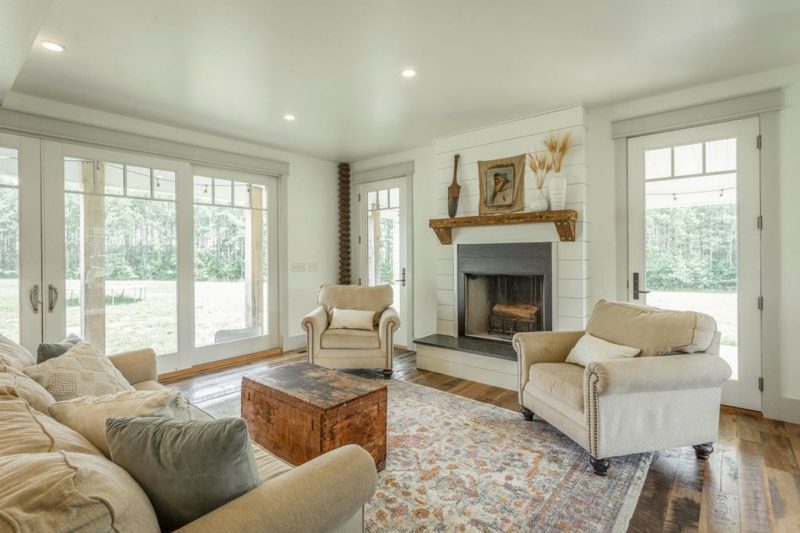 And you've gotta have barn doors, right? Here ya go: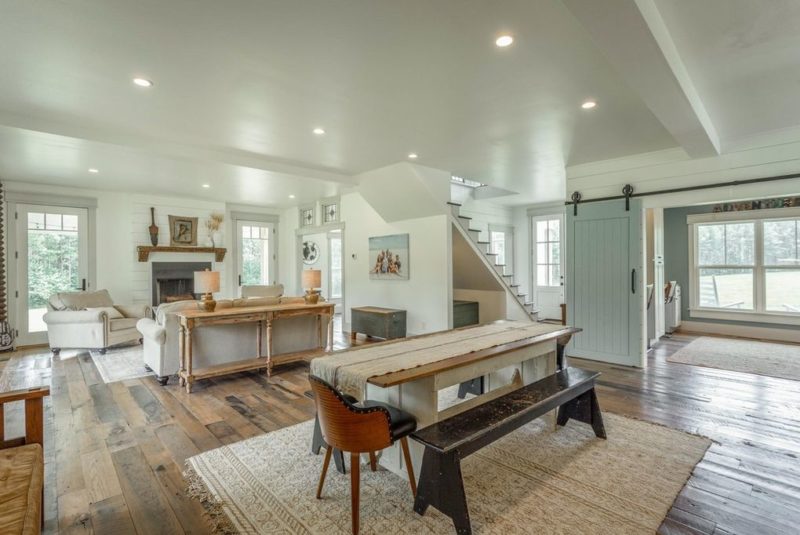 I'm also loving the stained-glass windows above the open doorway below: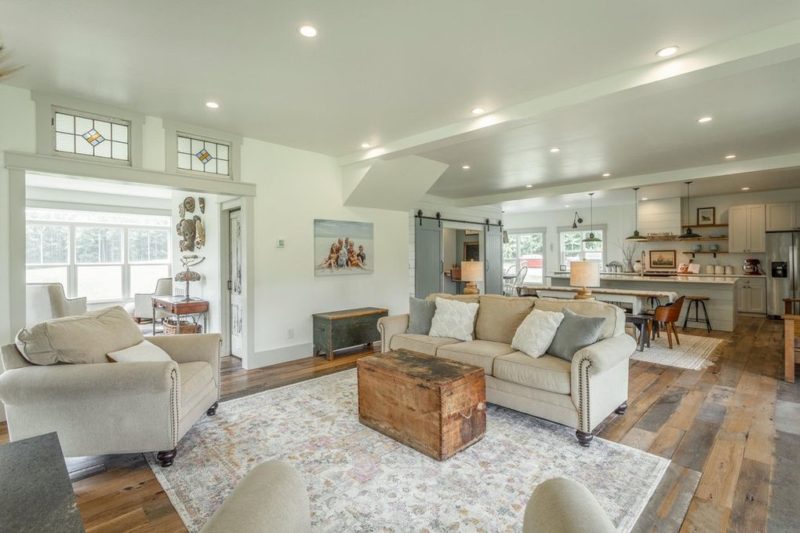 The Modern Farmhouse Kitchen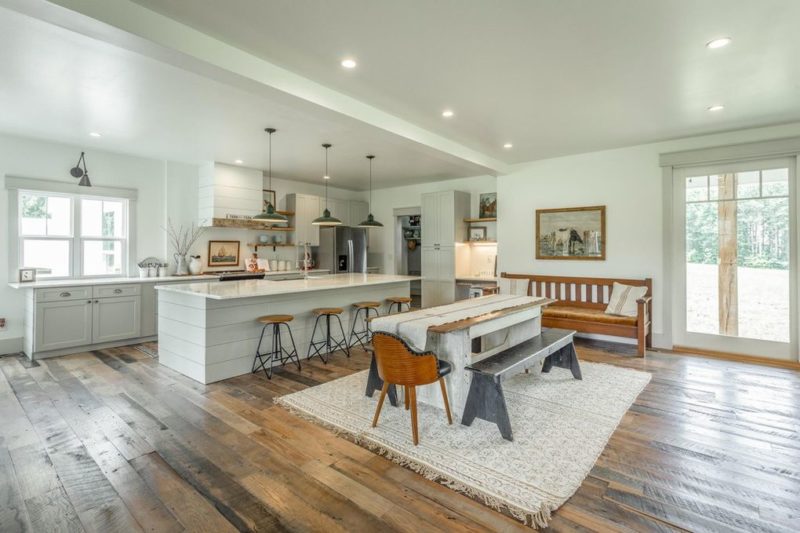 The listing says:
There are large windows and french doors throughout on the main level, letting in plenty of natural light. This home boasts a cook's dream kitchen with a soapstone sink, granite countertops, custom cabinets and a large eat-up island.
Just off of the kitchen is a homeschool area which accommodates 4 desks, plenty of storage, and could also be used as a home office. Upstairs you will find a luxurious master suite which has vaulted ceilings, large windows and custom lighting.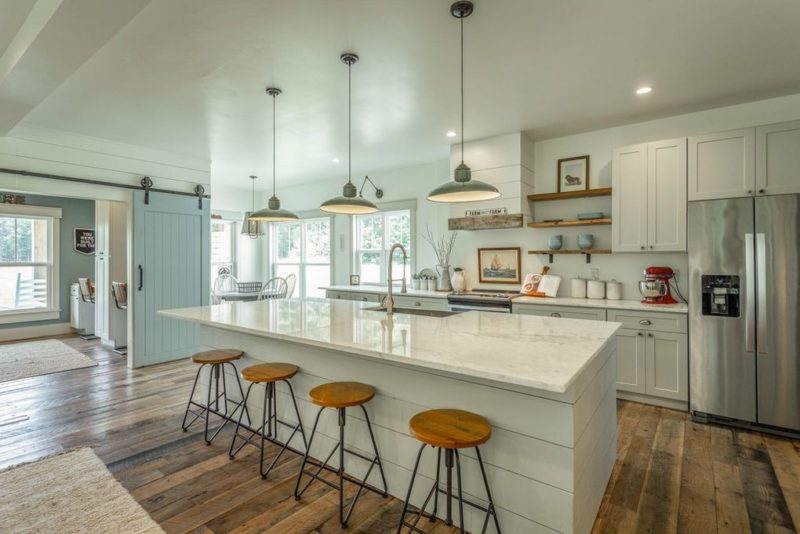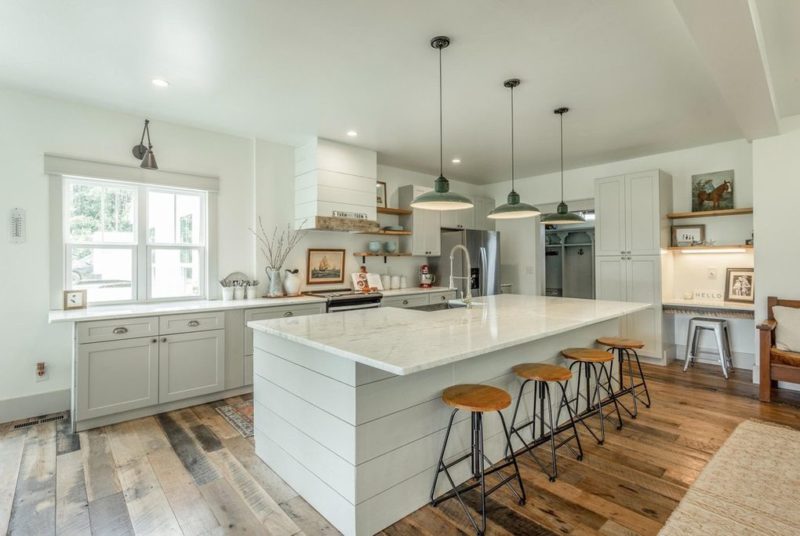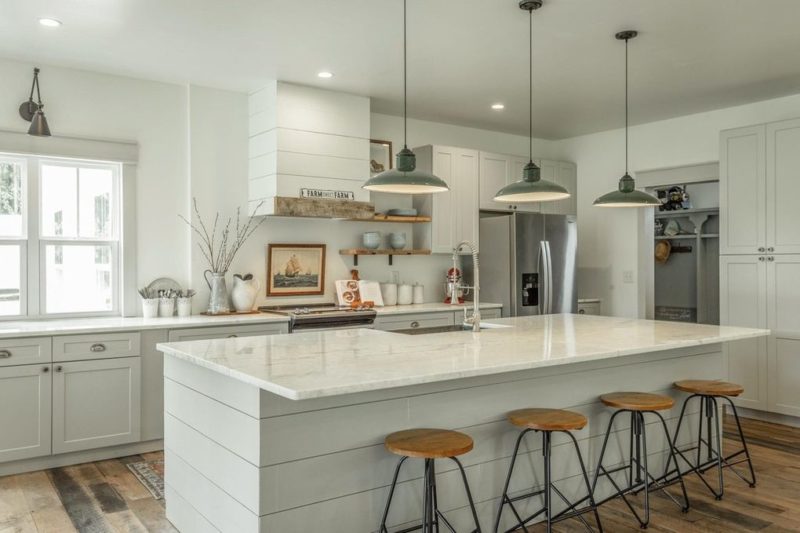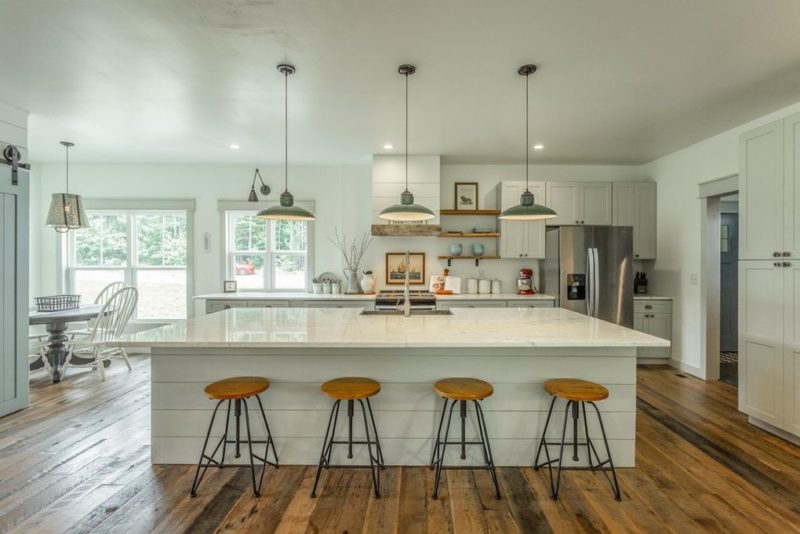 The Corner Kitchen Nook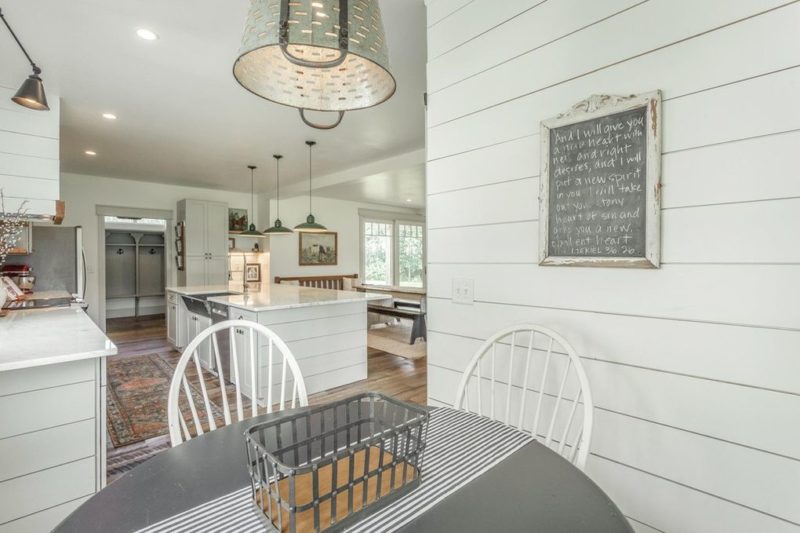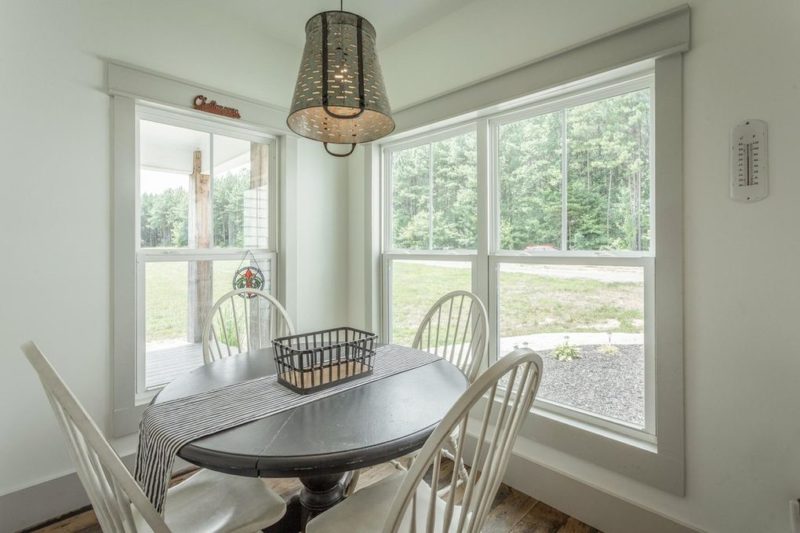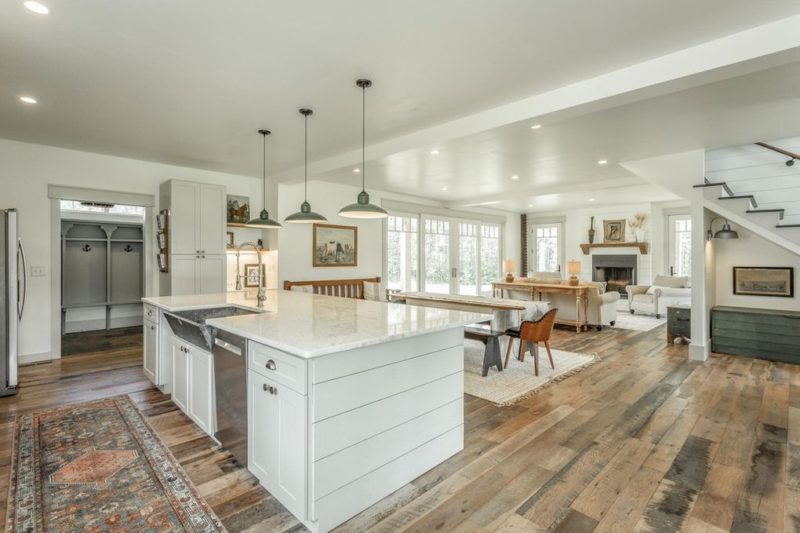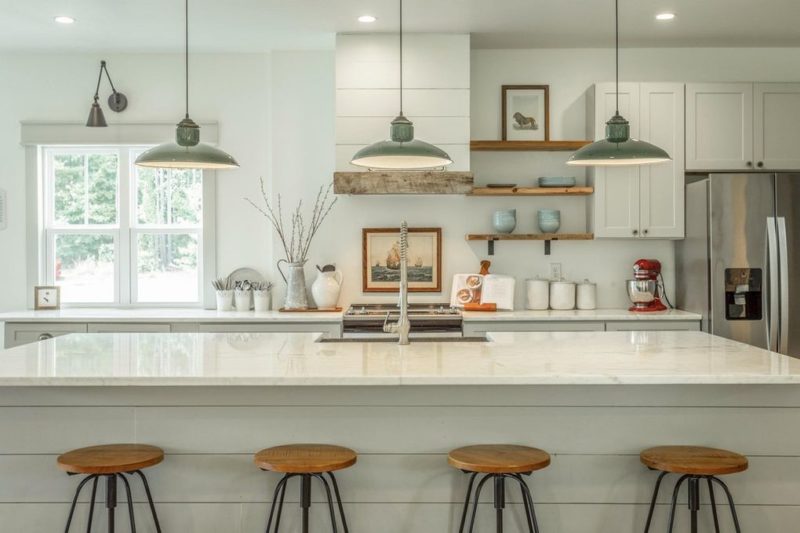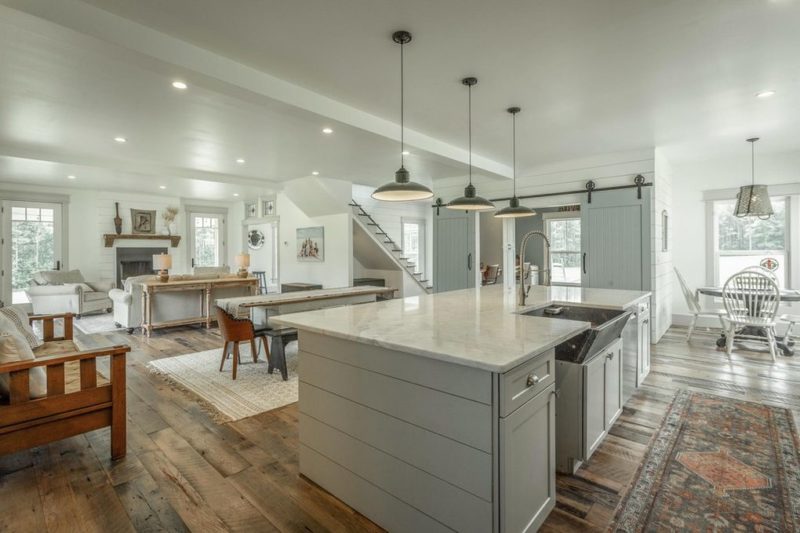 We could all use a "Homeschool Room" like this these days: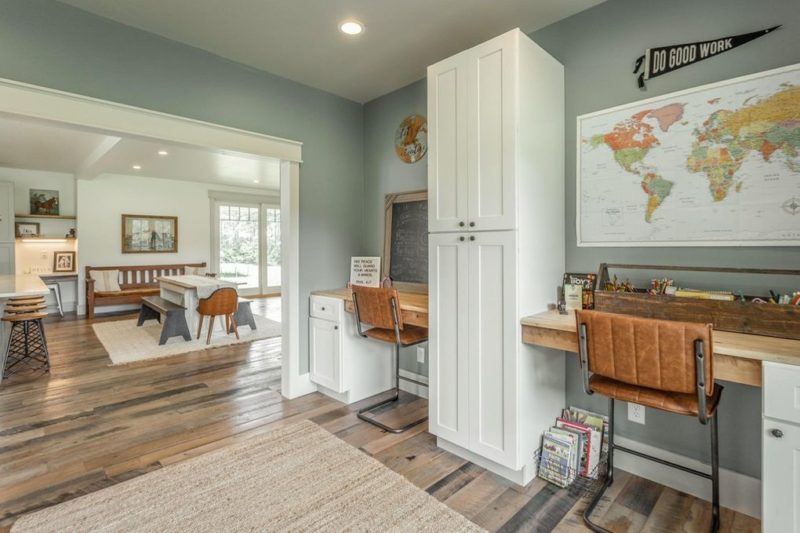 This would be perfect for kids who aren't heading back to school this fall.
We certainly could've used one earlier this year!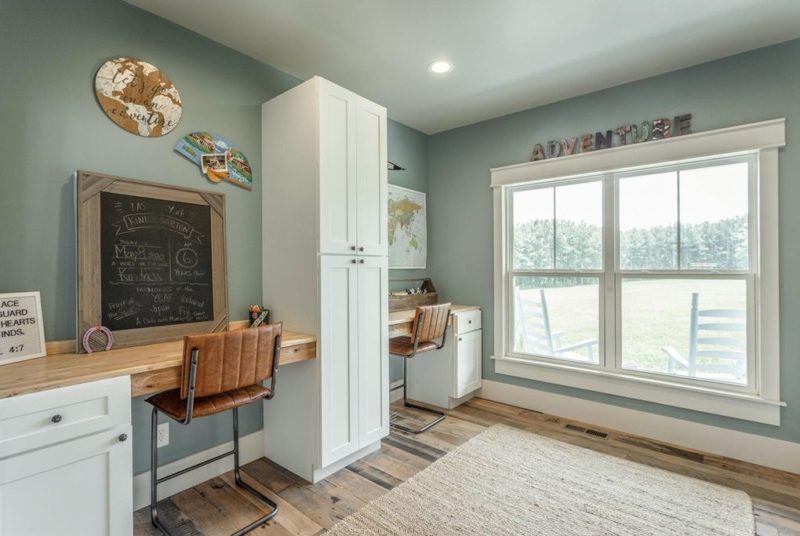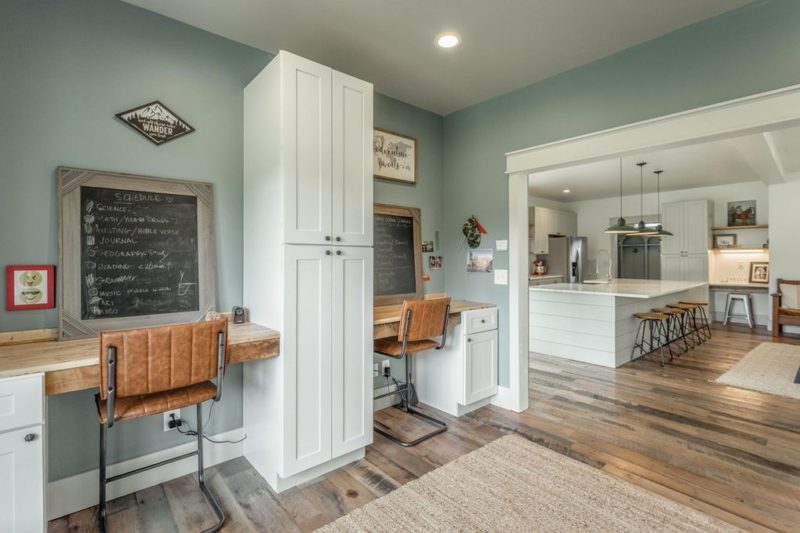 The Mudroom: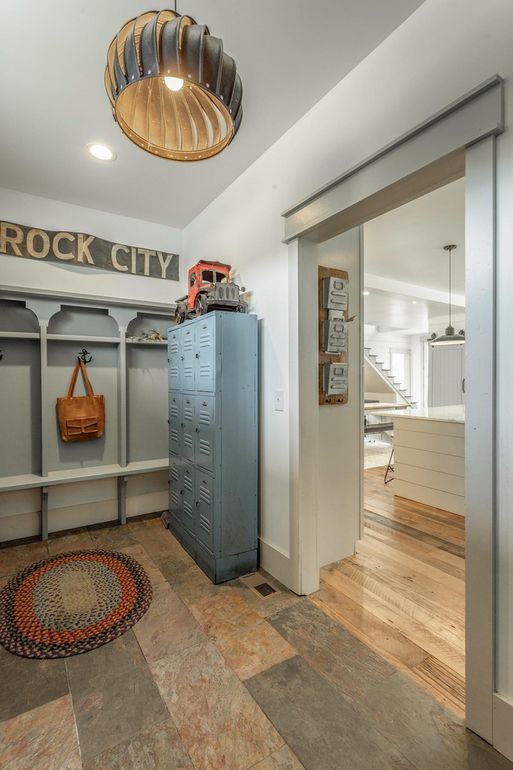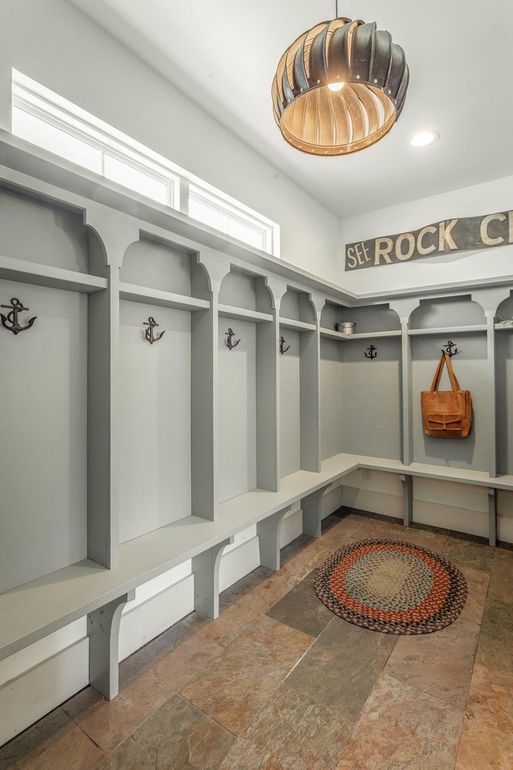 A Large Covered Patio has a Stone Fireplace: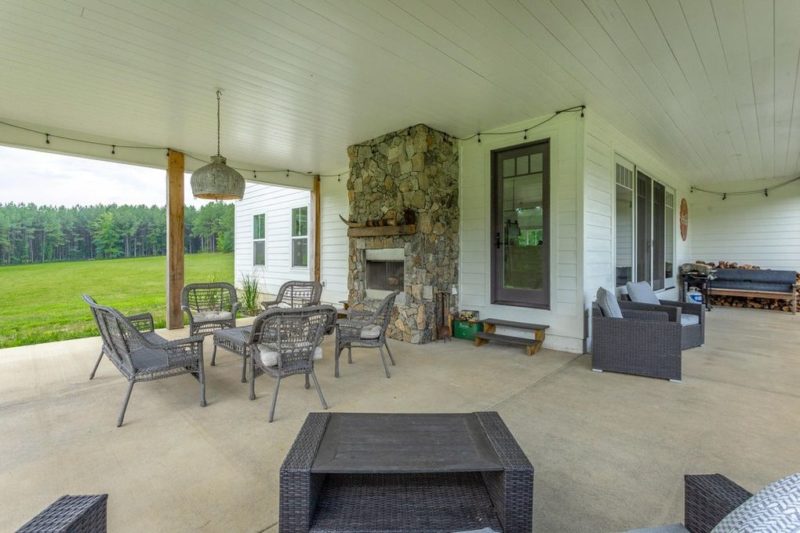 I didn't know much about Signal Mountain and found this interesting:
Signal Mountain's history dates back years before settlement of the mountain itself. Centuries prior to the Civil War, Native Americans used a location on the mountain known as Signal Point to send fire and smoke signals across the Tennessee Valley.
Later, the Union Army used Signal Point as a communications station during the Civil War. At the outbreak of the war, only a few families lived on the mountain. However, when various health epidemics struck Chattanooga in 1873 and 1878, several wealthy families relocated to the mountain where they could find clear air and pure water.
In 2013 Signal Mountain made Bloomberg Businessweek's list of the best places to raise a family.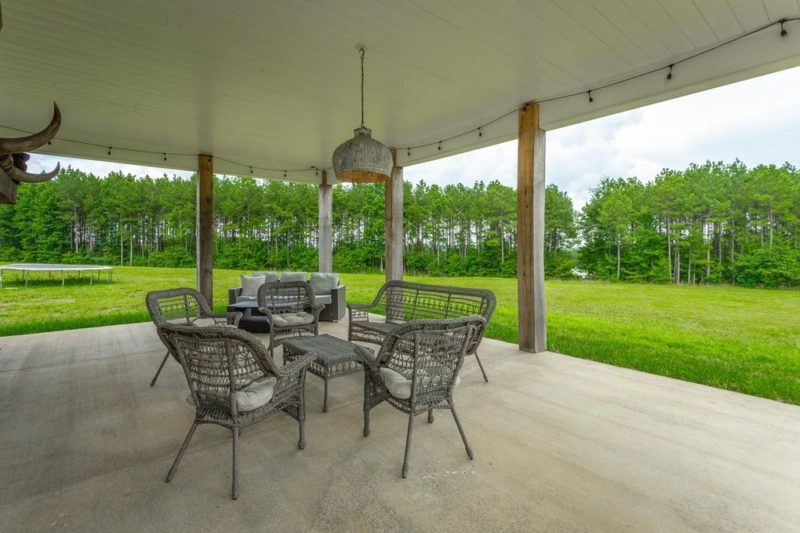 "Just outside the home is a garden area, chicken coop, and a large flat area for playing or riding four-wheelers."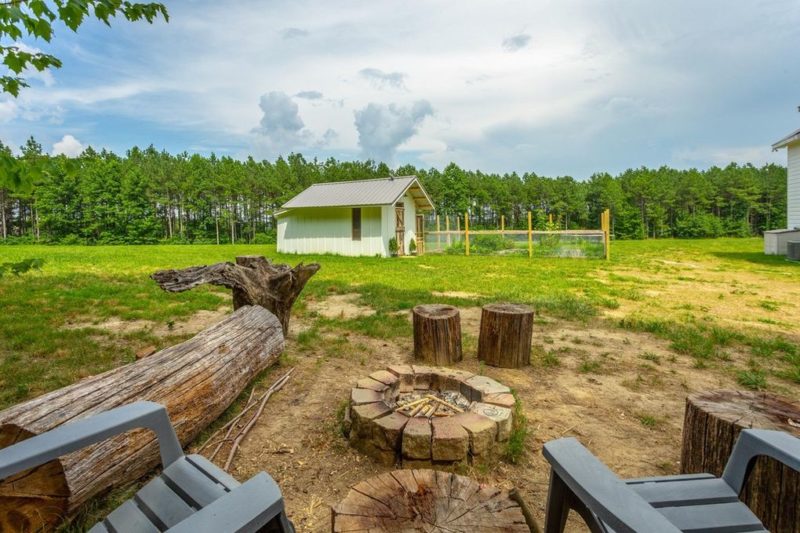 The Chicken Coop and Garden: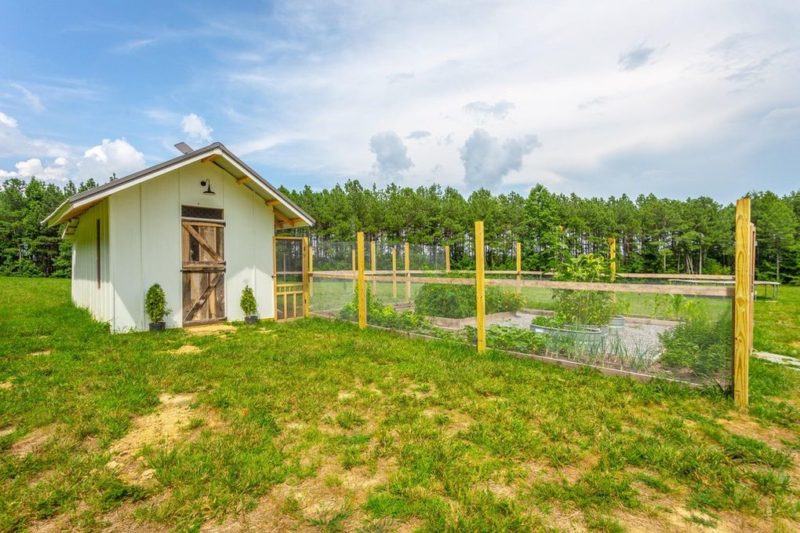 What would you do with all this space if you had it?
These days when so many of us are staying home (and maybe going a little stir-crazy, naming no names), it sounds like an amazing luxury to have a property this large, especially if you have kids or animals.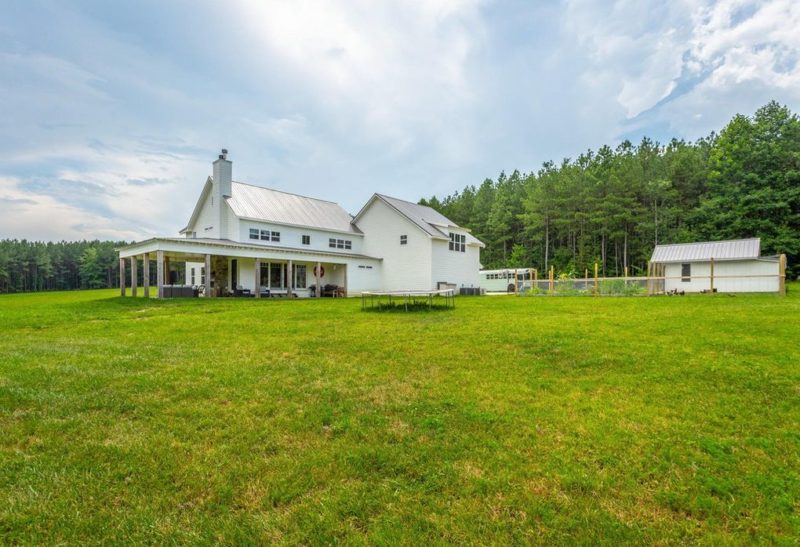 An aerial view of the property:
Of all the types of houses I've featured over the 12+ years I've been blogging, some of the most popular have been modern farmhouses like this one, which mix traditional design with more modern style.
The other most-searched for are these. Bet you're not surprised! 🙂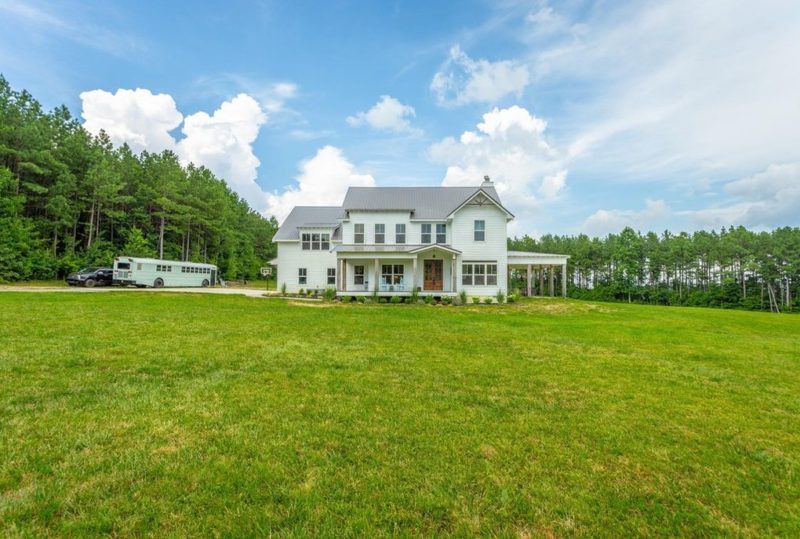 Thanks to the homeowner for telling me about it! It must be hard to let this one go.
If you have a house you think my readers would like to see, let me know!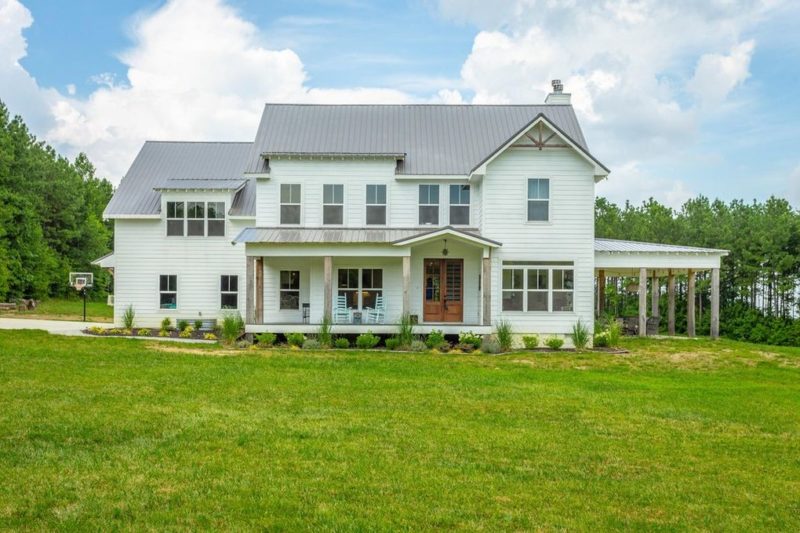 Want it? For more photos and information, check the Keller Williams listing.