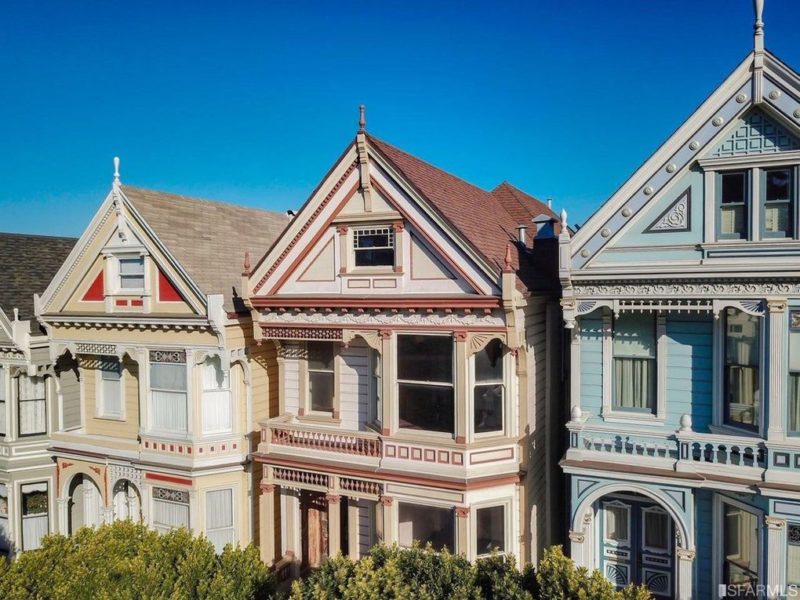 San Francisco's iconic Seven Sisters on Postcard Row must be some of the most-photographed houses in the U.S. And some of the most beautiful. It's been years since any of the famous Painted Ladies has been for sale, so I was excited to hear one of the Victorians in the middle, at 714 Steiner, just came on the market.
Unfortunately, it needs a lot of work. But it hasn't lost all of its original charm and details, and the house is just waiting for the right person to come along and restore it. (Fingers crossed that restore will be the key word here!)
Take a look at the listing photos and see what you think you'd do to fix up this lovely old Victorian.

A Painted Lady For Sale on Postcard Row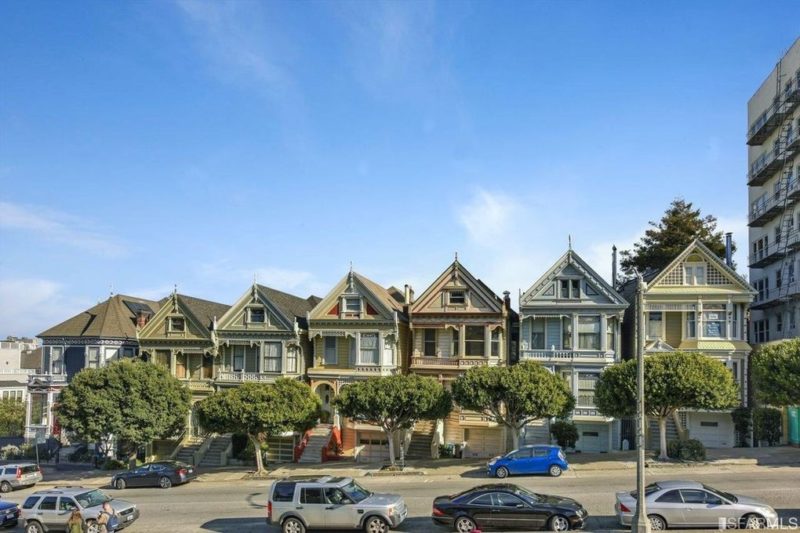 The property is represented by Jeremy Rushton, an independent affiliated sales associate with Coldwell Banker Residential Brokerage in California.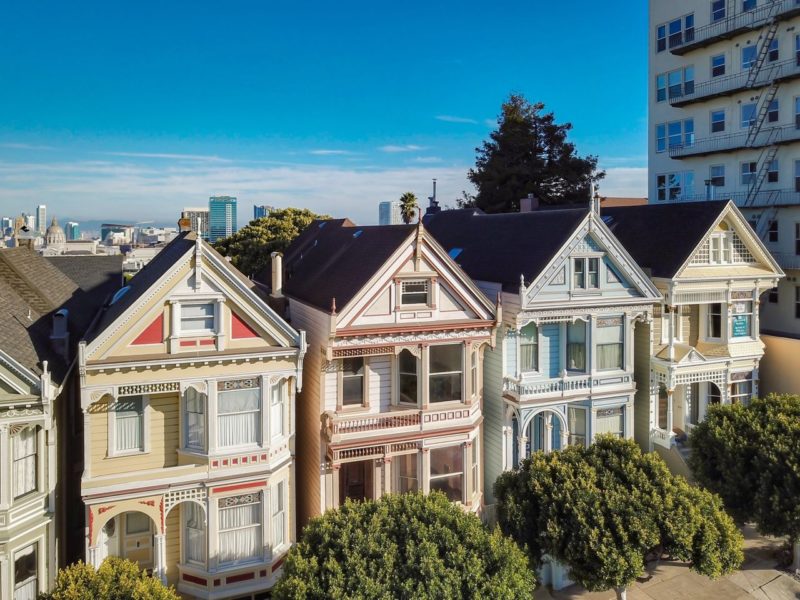 The listing says, "This is one of the Seven Sisters on Postcard Row, making this a truly rare opportunity. Don't miss your chance to restore a very special home on what is arguably the most recognized residential block on Earth."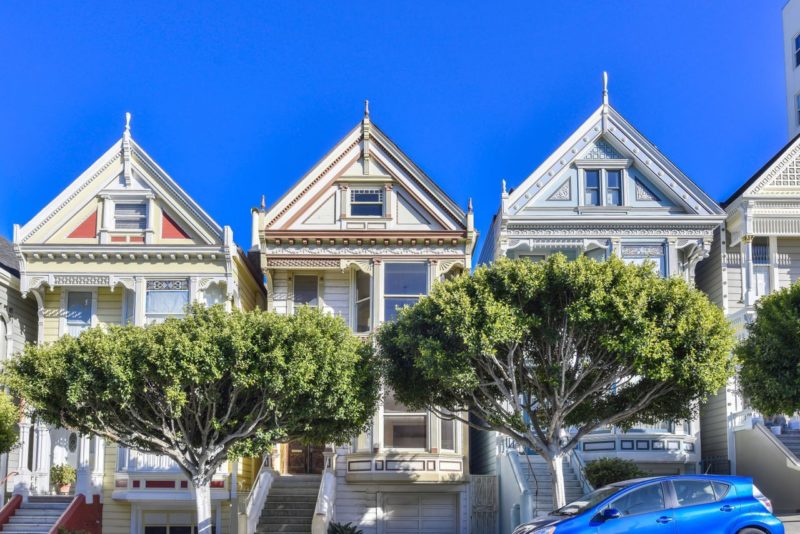 "Nothing says San Francisco like the 700 block of Steiner!"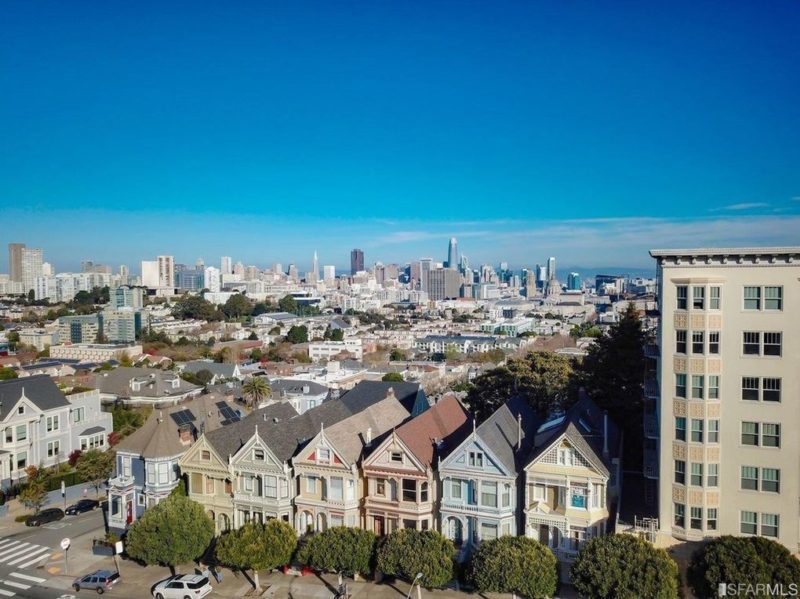 A lot of people associate the iconic Postcard Row of painted Victorians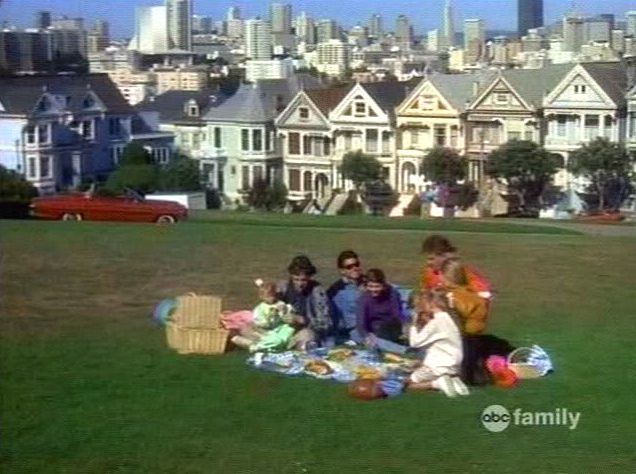 The scenes were filmed in the Alamo Square Park across the street.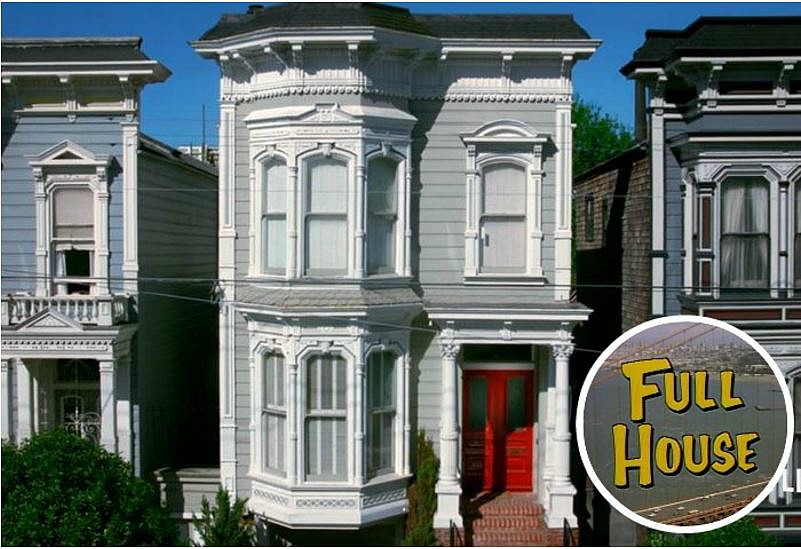 Viewers often assume it was one of the houses on Postcard Row,
but the real thing is actually about 12 blocks away, on Broderick Street.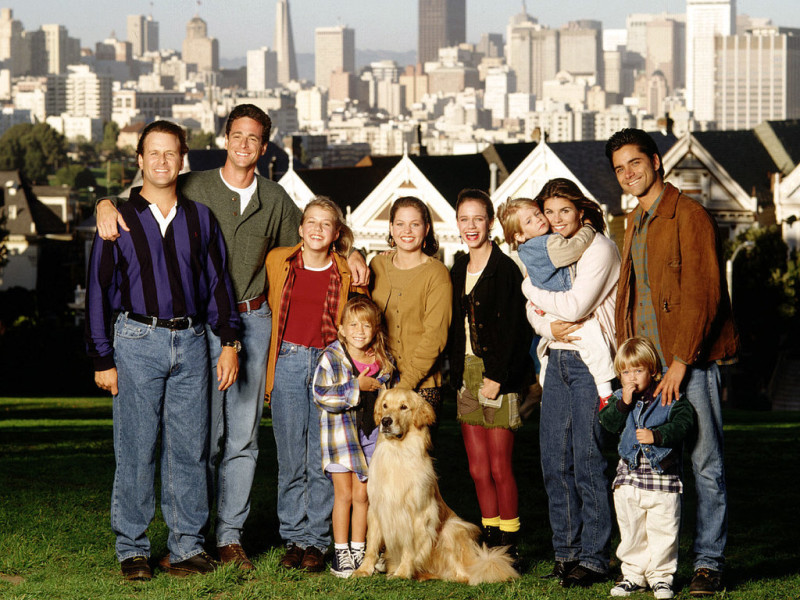 714 Steiner Street Today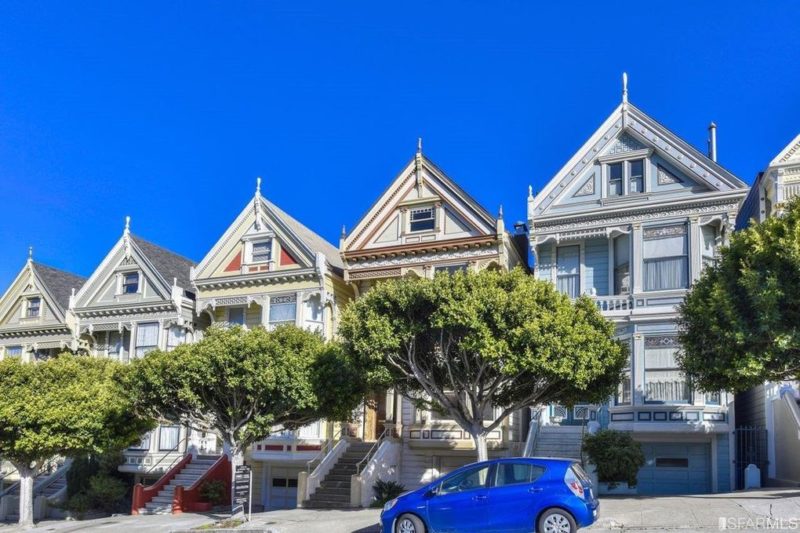 "The worldwide recognition of Postcard Row, as well as its architectural significance, has made it one of the most celebrated sites in San Francisco, and there's truly something invaluable about owning a part of American history," says listing agent Jeremy Rushton.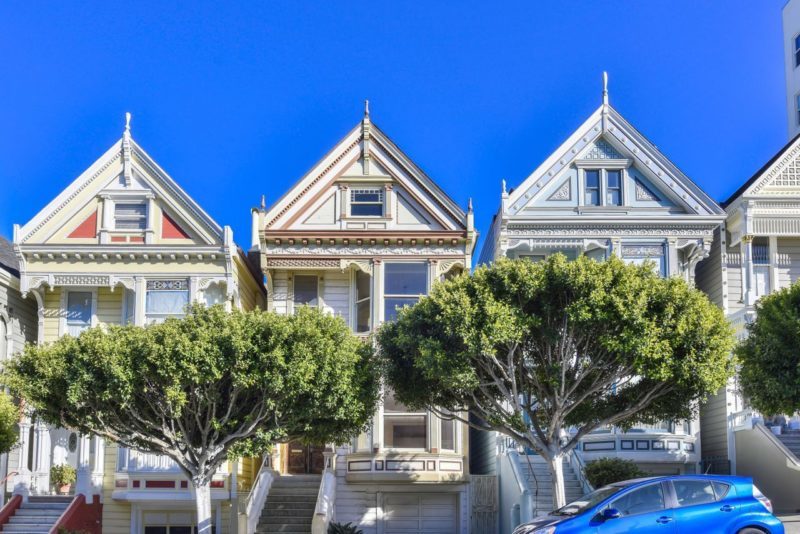 "Where it's positioned, this home offers some unique views of the downtown area and has the potential to be expanded on the lower level, which I think prospect buyers will be interested in."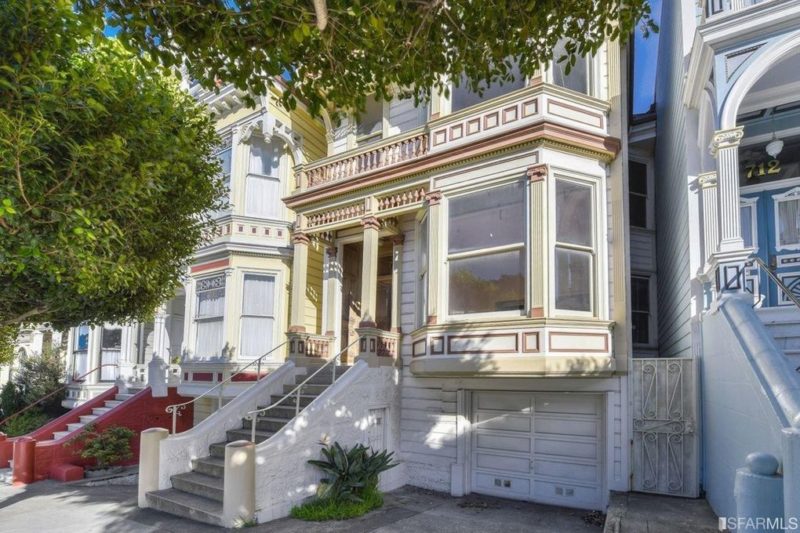 The term "Painted Ladies" was first used in 1978 by writers Elizabeth Pomada and Michael Larsen in their book Painted Ladies: San Francisco's Resplendent Victorians, to describe houses from that era that were painted in three or more colors, accentuating their architectural details.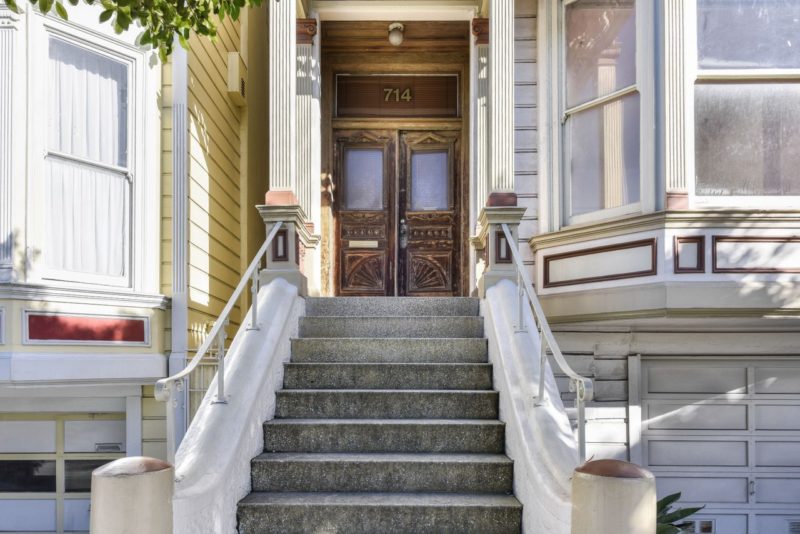 The listing for the house at 714 Steiner Street says:
World-famous Painted Lady situated on iconic Postcard Row!
This elegant 1890s Victorian has charm that radiates throughout with its high ceilings and myriad of period details.
Alamo Square is showcased from the front of all three levels. A full view of City Hall is enjoyed from the kitchen on the lower level, and absolutely striking views of downtown await you on the second and third floor.
On a clear day, a portion of the Golden Gate Bridge can be seen from the front of the third level.
Downstairs features a deep two-car garage that includes an abundance of space for storage or expansion possibilities.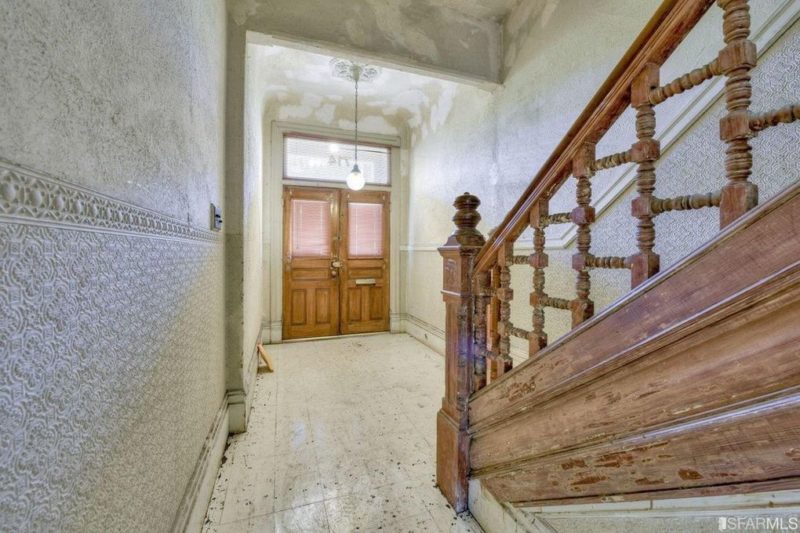 I'd love to see this beautiful old staircase restored,
as well as what appears to be a stained glass window on the landing: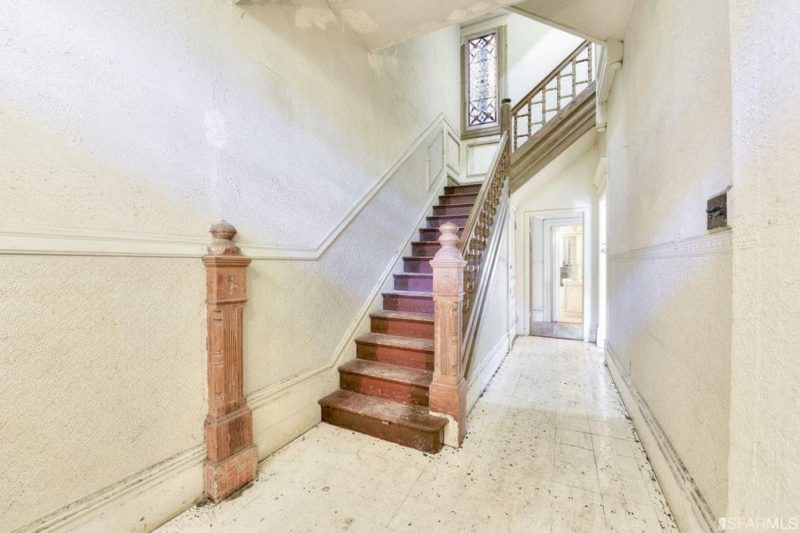 SF Gate wrote about the property:
714 Steiner St., one of the homes in the middle of the row, came on the market this week for $2.75 million.
Unfortunately, the elegant 1890s Victorian needs quite a bit of restoration. The 2,588-square-foot home was originally a single-family house but was converted into two units sometime in the 1960s.
It has three stories and is listed with two and a half bathrooms and three bedrooms, though any buyer is likely to gut the whole thing. It also has two kitchens.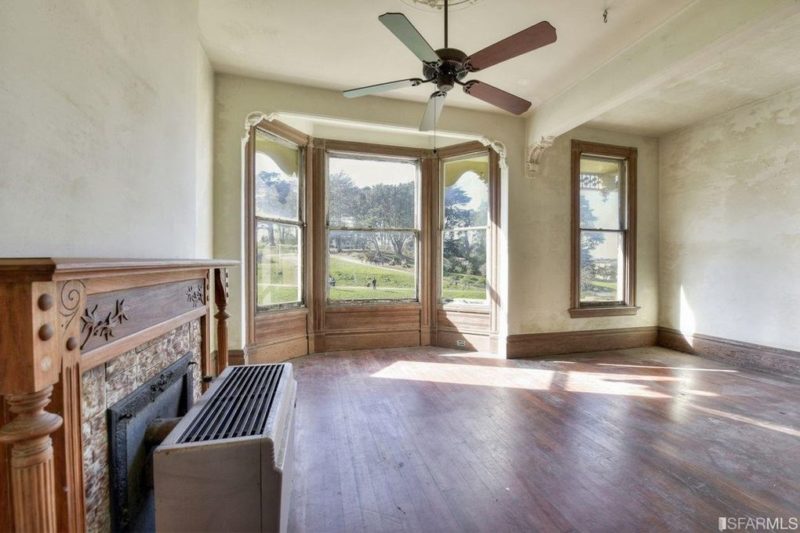 I personally hope no one guts the whole place. Looks like there's still a lot of character worth preserving here. I'm also kind of amazed that all of the woodwork hasn't been painted over.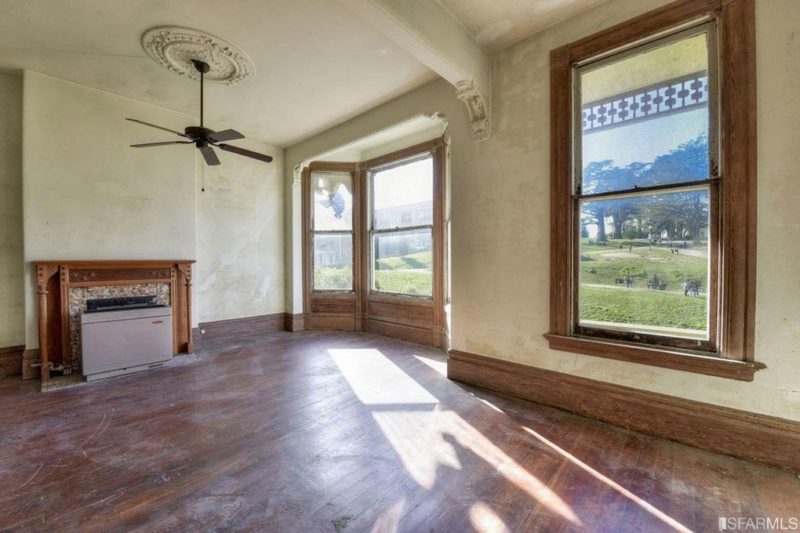 I love the large bay windows and light-filled rooms this house has. So much potential here!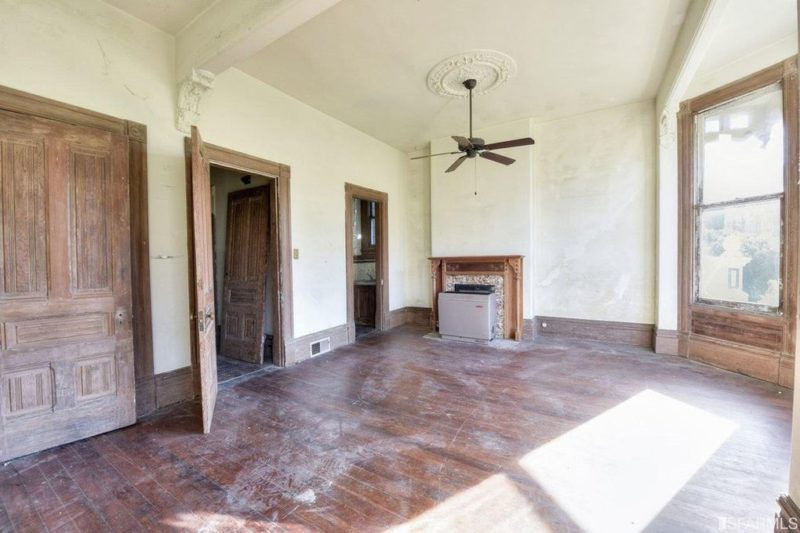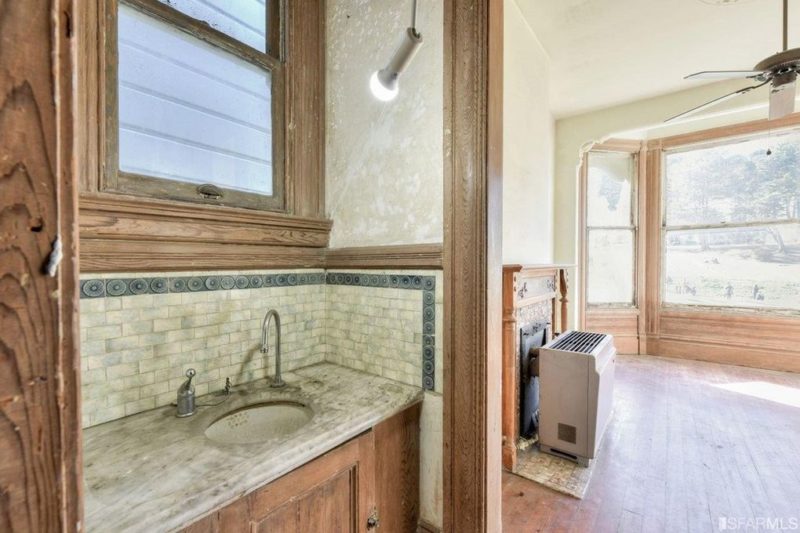 One of the two kitchens: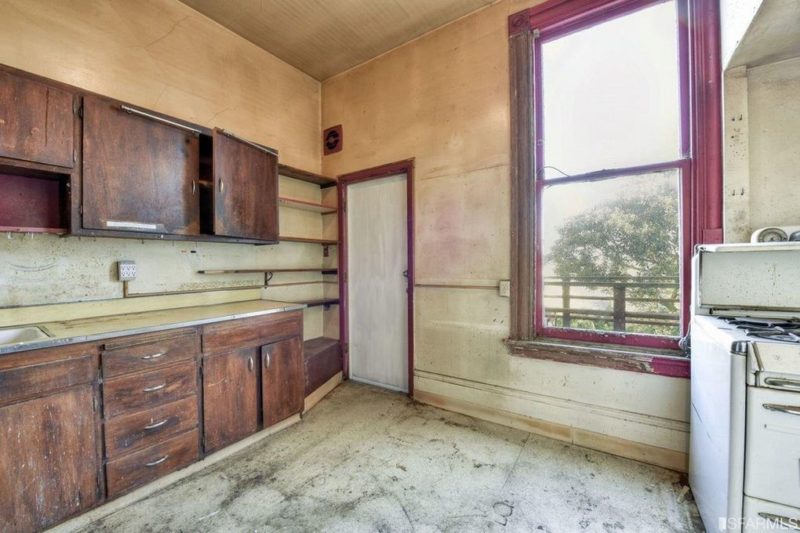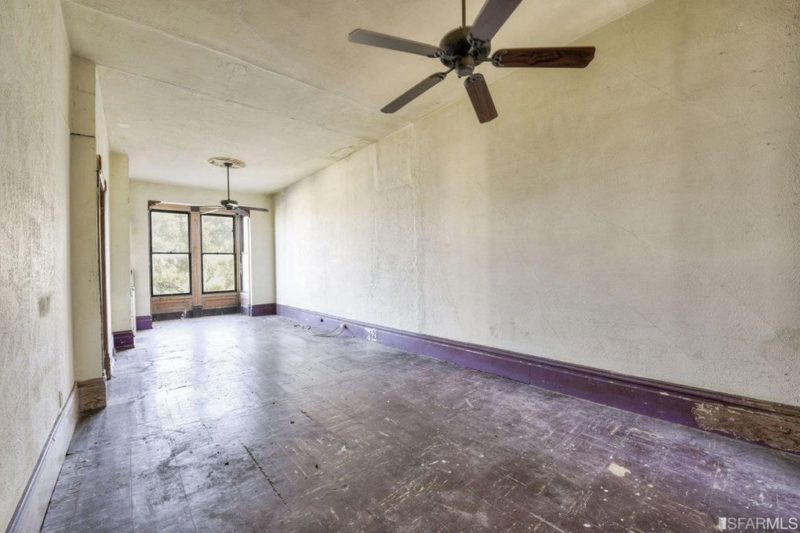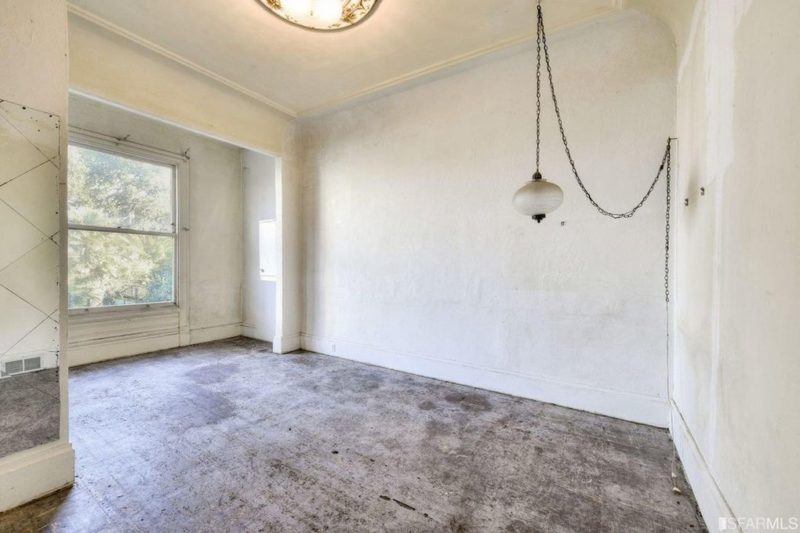 The three-story house was built in 1900.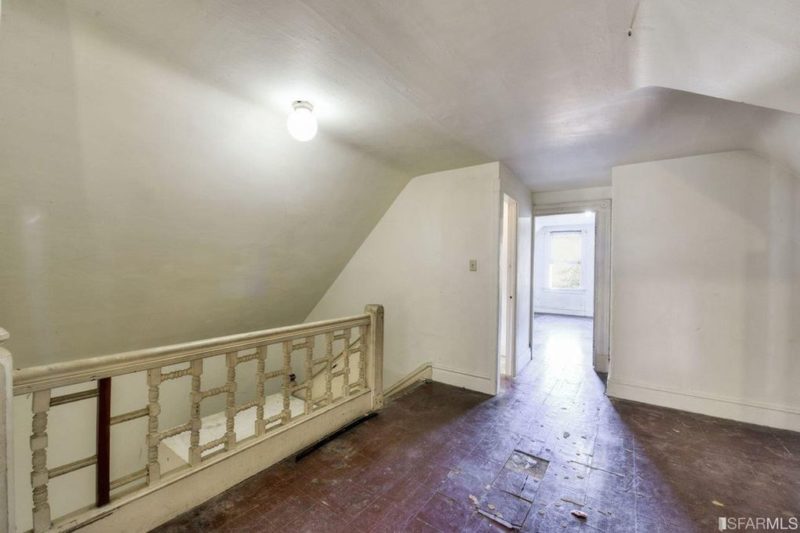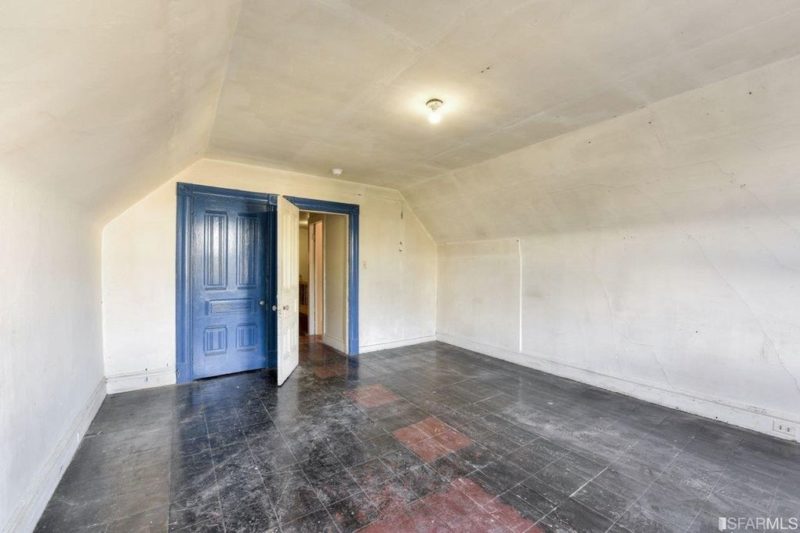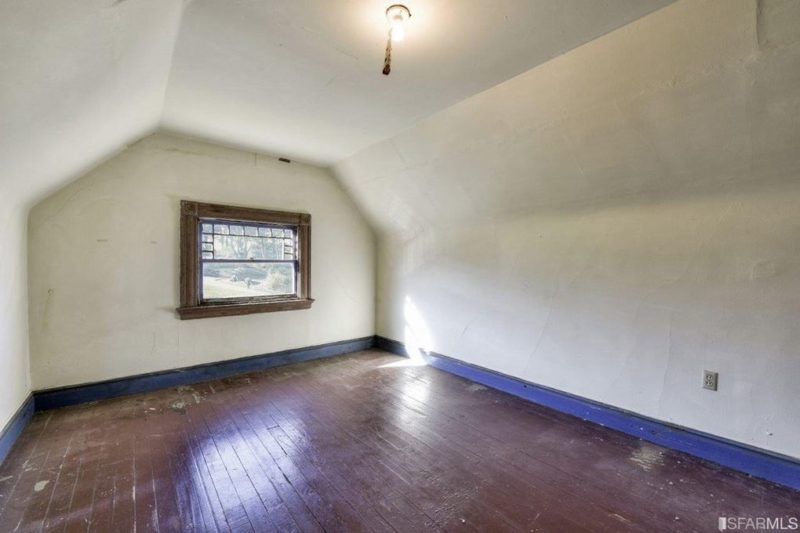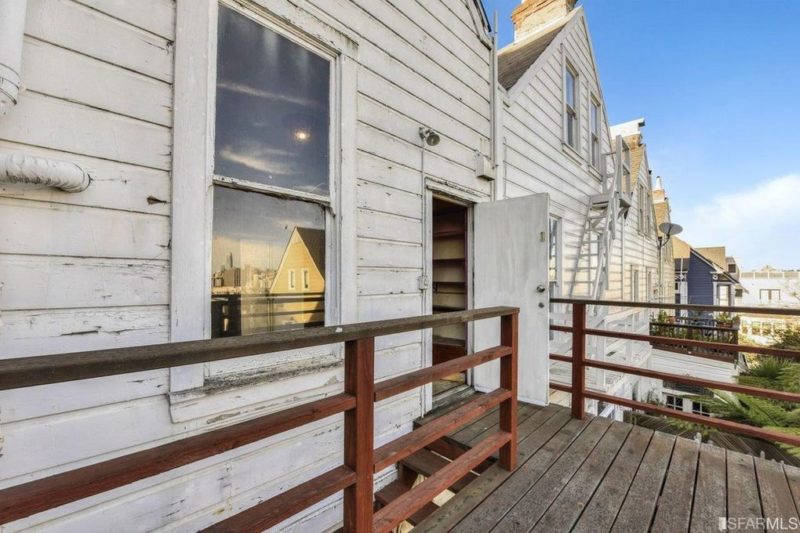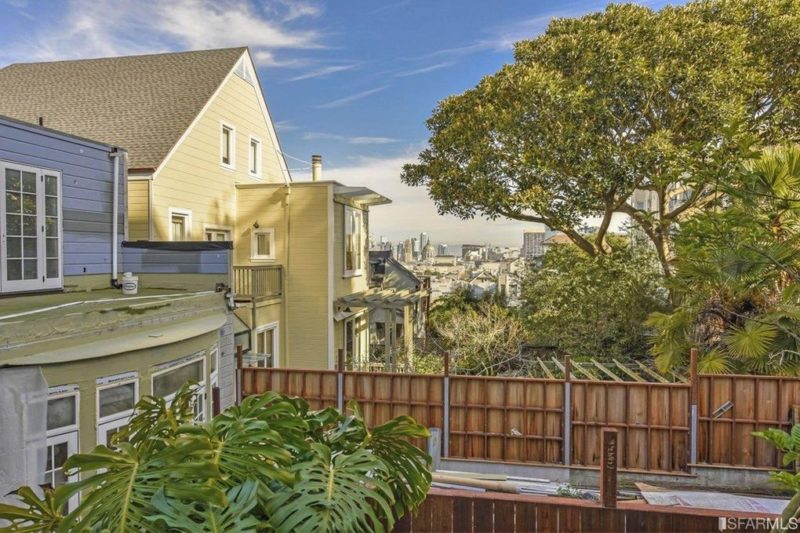 Here's a view of Postcard Row we don't see very often, from the back: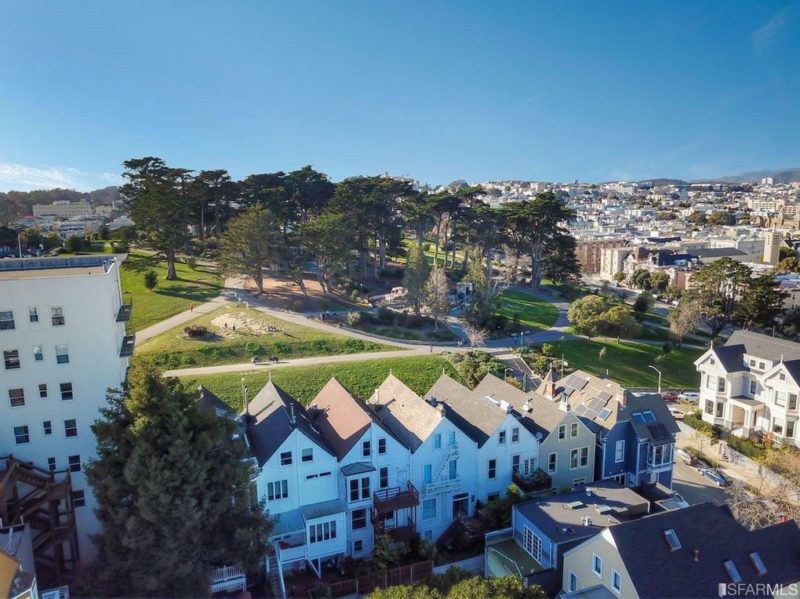 I also like this view taken over the adjoining rooftops: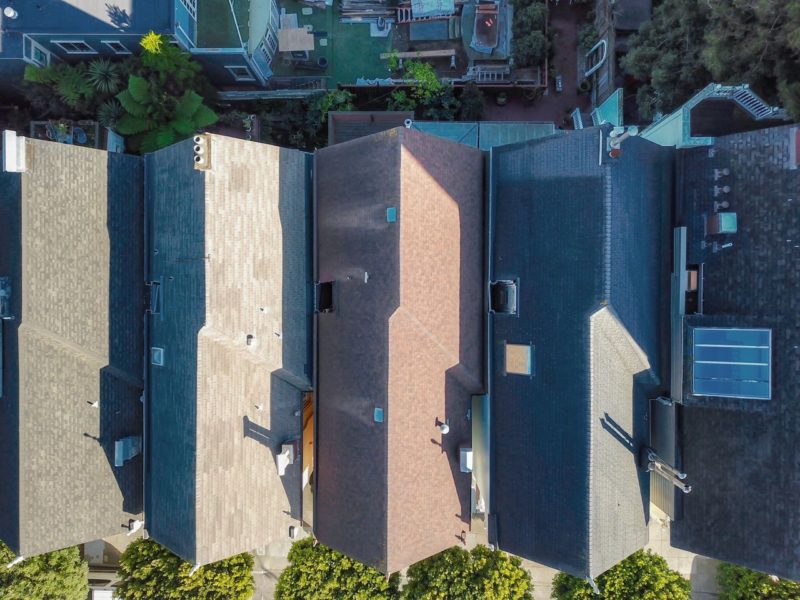 According to an article about the houses and their colors at Dunn-Edwards:
During the 1860s and 1870s, these homes were built in the Queen Anne style, and were originally painted a chalky white to disguise their redwood structure and resemble stone.
In 1963, San Francisco artist Butch Kardum and a band of "colorists," as they came to be called, began experimenting with vivid colors on the façades of these Victorian houses – from lime and vermilion, to gold and turquoise.
By the 1970s, the colorist movement had changed entire streets and neighborhoods. The row of homes on Steiner Street is the best-known group of "Painted Ladies."
The houses were built between 1892 and 1896 by developer Matthew Kavanaugh, who lived just next door.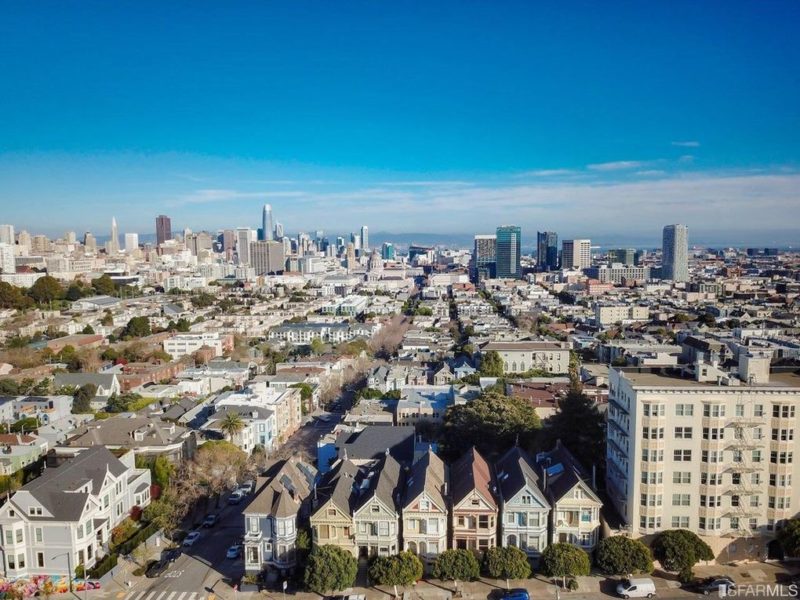 This is what real estate agents mean when they say, "Location, location, location!"
It may be a "fixer," but the asking price is $2.75 million.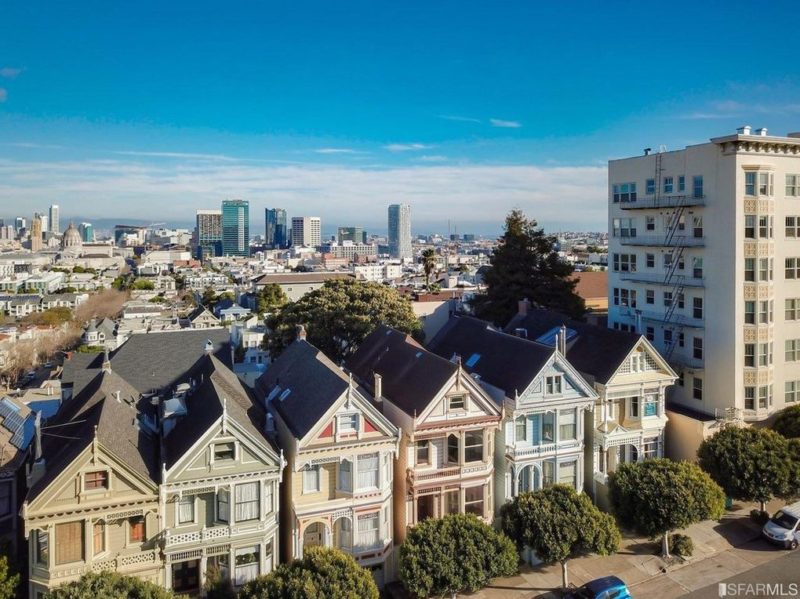 The Victorian at the end of the row (722 Steiner) reportedly sold for $3.1 million in 2014.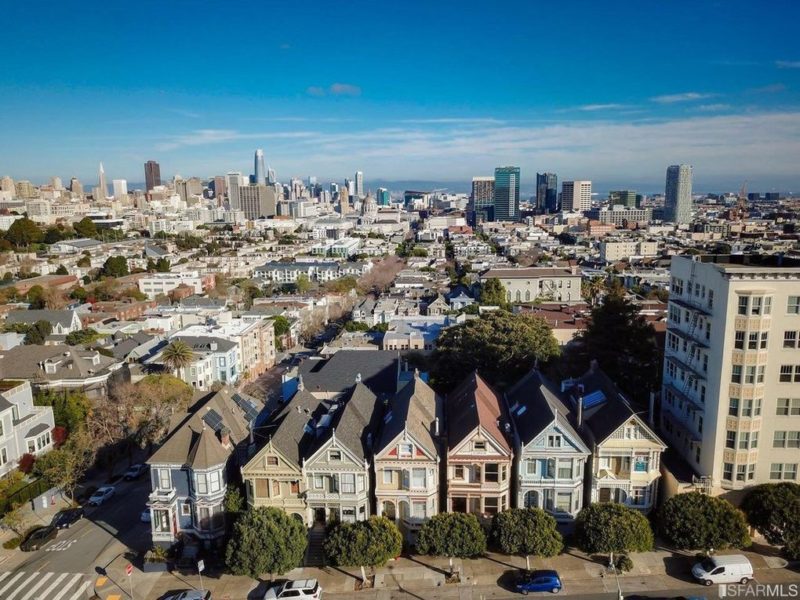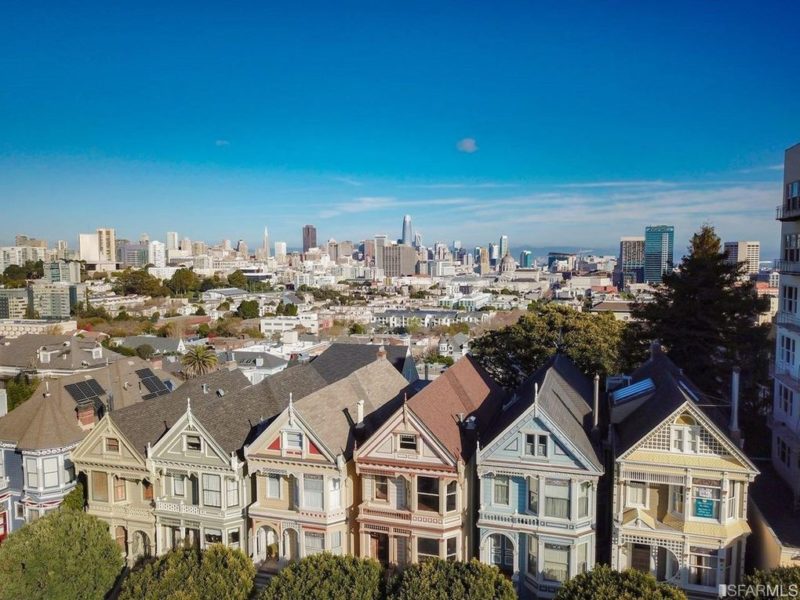 Thanks to listing agent Jeremy Rushton for sharing this property with us. If you have a listing you think my readers would like to see, send it to me!
Update: It sold for $3.5 million and the buyer has an Instagram account where you can follow along with her restoration of this historic beauty!
For more information about 714 Steiner Street, check the listing

held by Coldwell Banker agent Jeremy Rushton. Photo credit: F8 Photography.