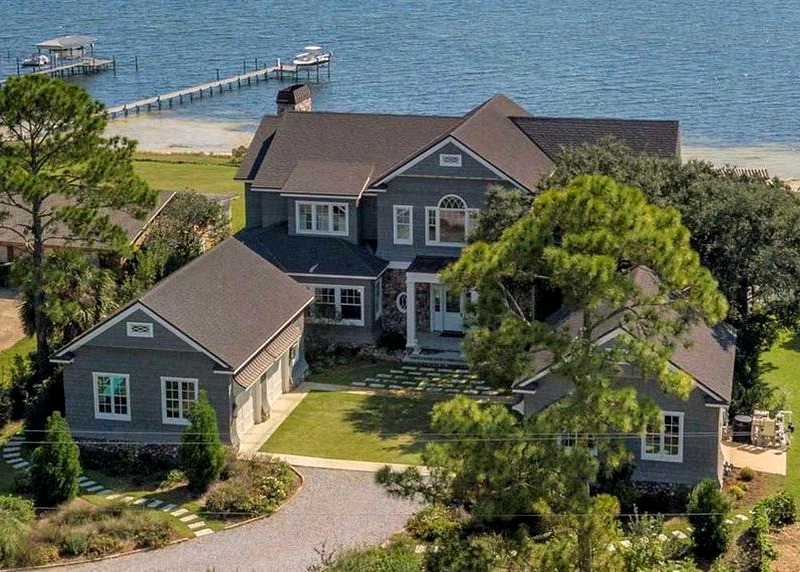 January is always so cold and dreary here in Ohio that I inevitably start fantasizing about moving somewhere sunnier this time of year. When a reader named Brandi wrote me about the dream home she built in Pensacola, Florida, I couldn't help but sigh a little. I'd love to be sitting on her patio by the pool, taking in the views of the water from her backyard, right about now.
The home's design was inspired by the shingle and stone exteriors of coastal houses in New England, and it has to-die-for views of the water from nearly every window.
She's selling her luxury waterfront home on Big Lagoon and giving us the tour today. Take a look and do some daydreaming with me!

A House on Big Lagoon For Sale in Pensacola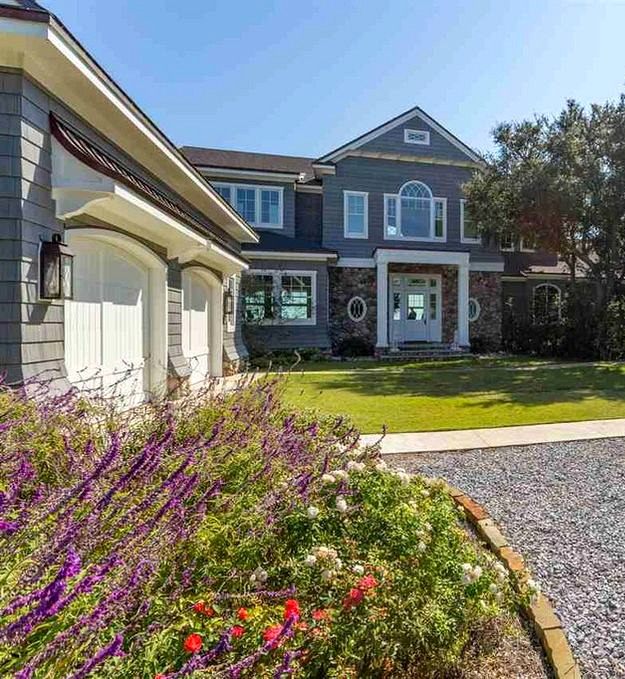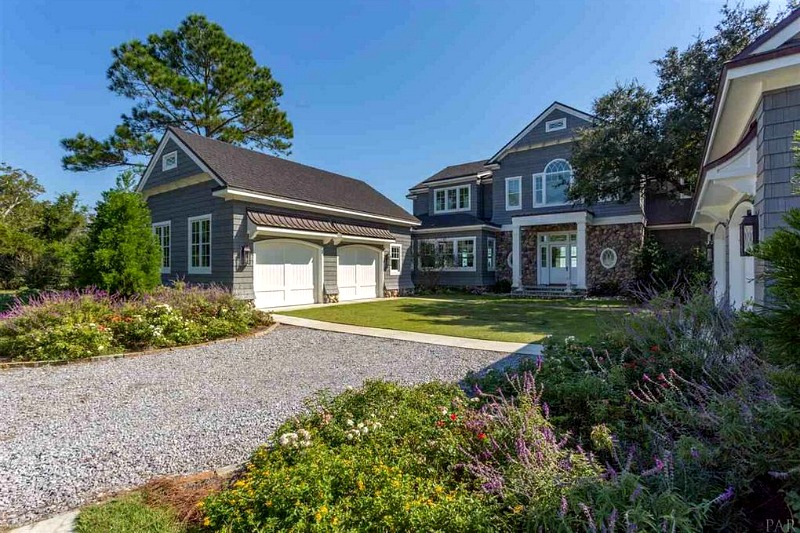 Brandi says she spent three years designing her dream home, which was built in 2016.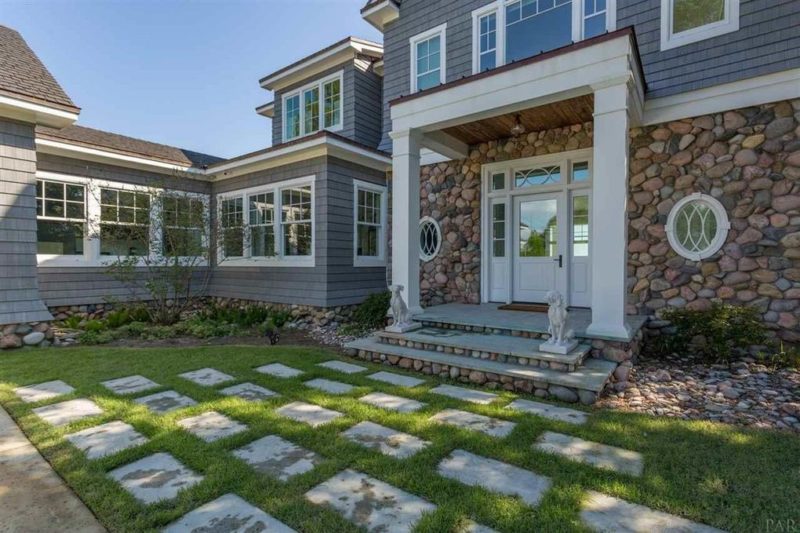 The listing says:
Graceful waterfront home on Big Lagoon invites you to enjoy its spectacular, unobstructed, water views toward Johnson's Beach and the Gulf of Mexico beyond.
Built in 2016, this elegant home has all the charm of a New England coastal paradise, with water views from nearly every room. Peace, serenity, and natural light abound in this airy open floor plan.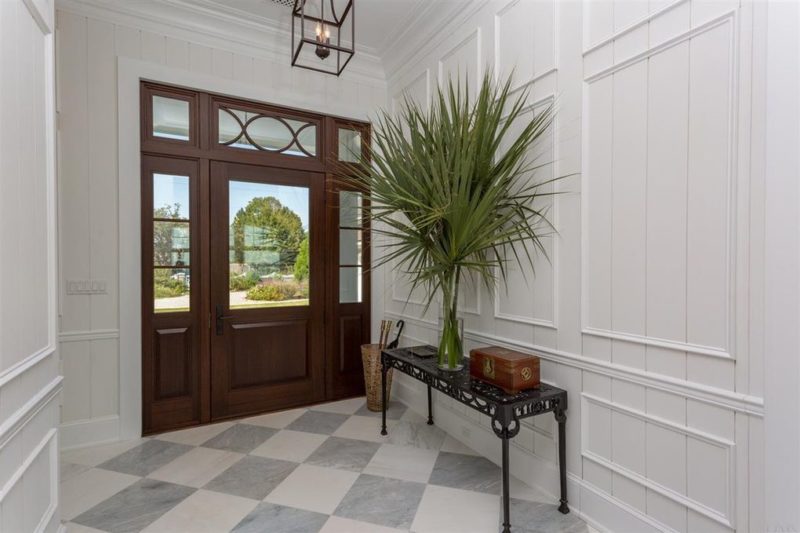 "Enter the formal foyer and walk into the expanse of the great room and dining area
that have floor to ceiling windows that welcome the water view into this home."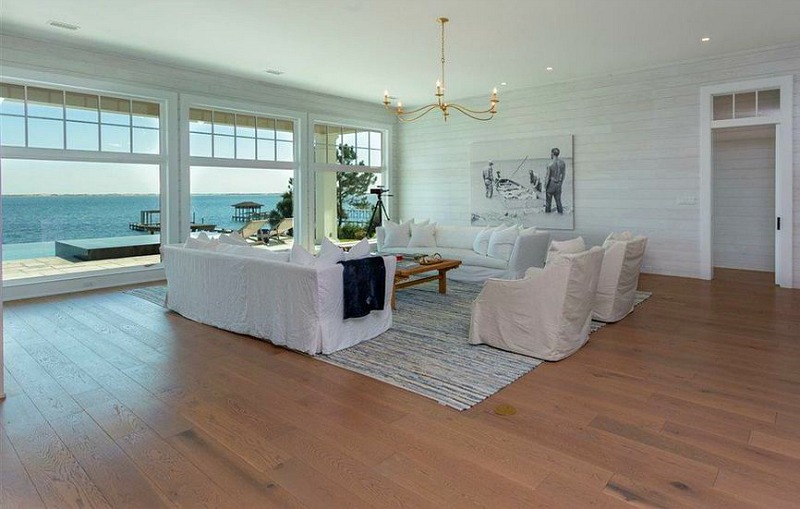 Brandi says, "The house has a casual, open floor plan downstairs."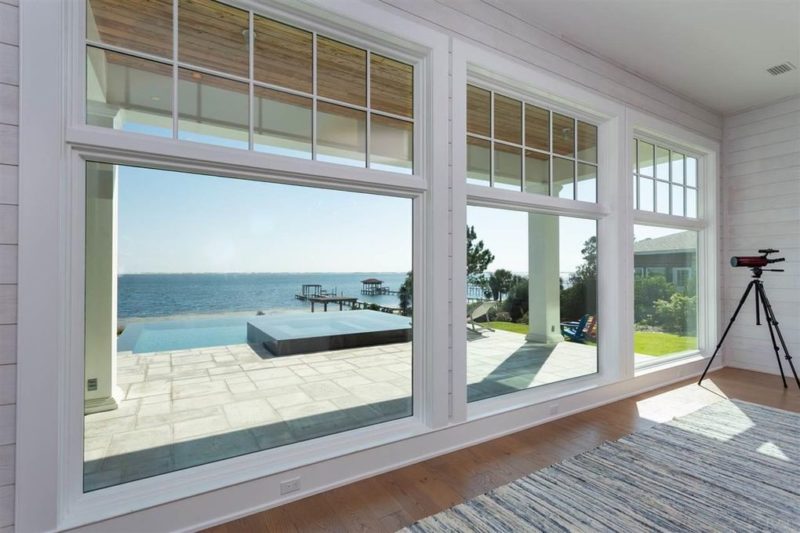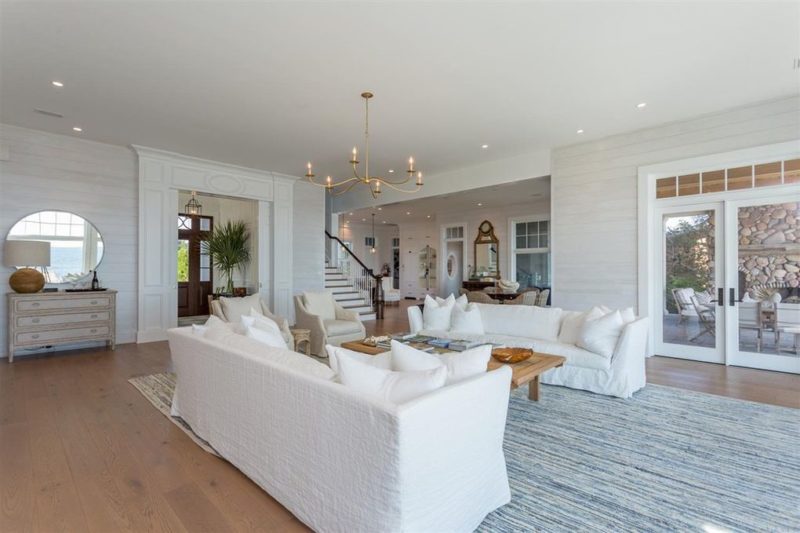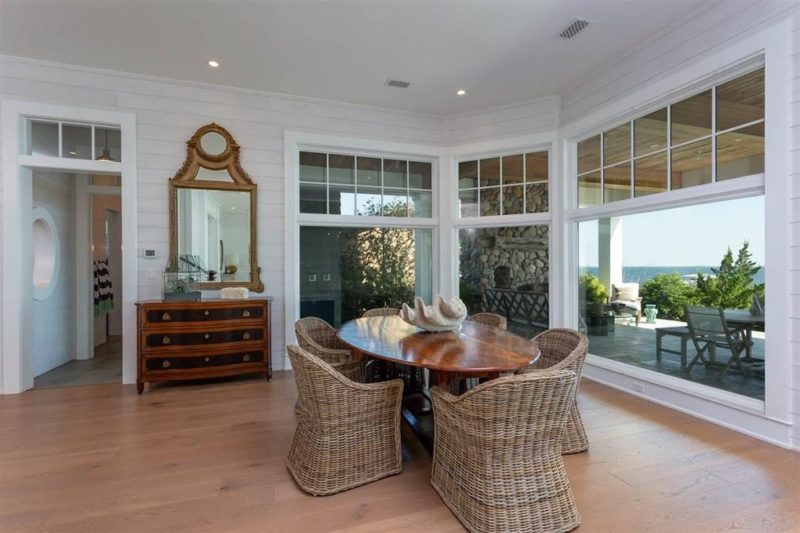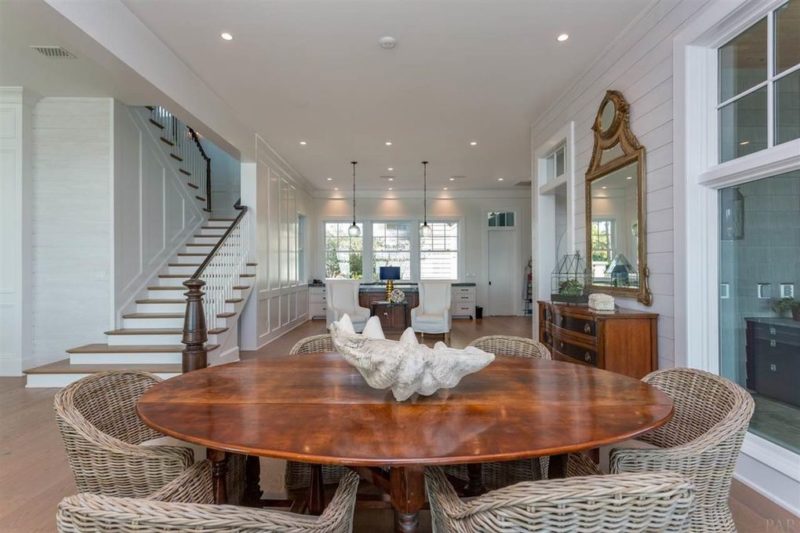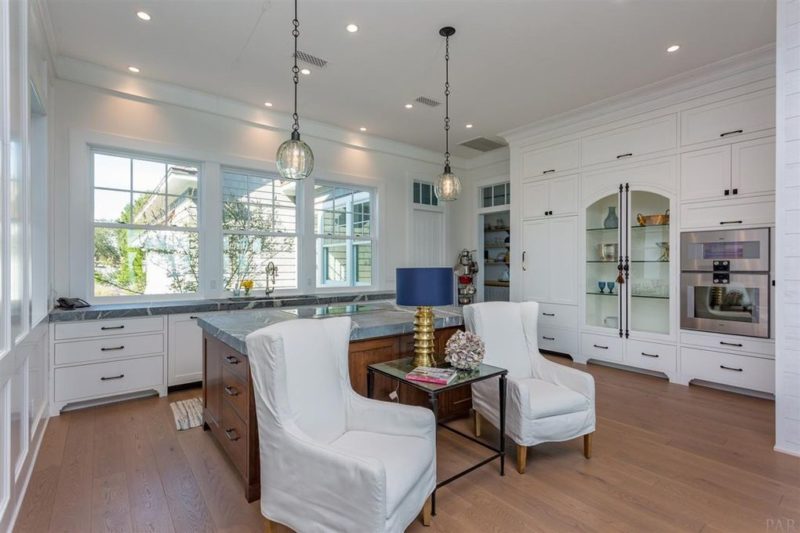 "The kitchen faucet itself is a piece of jewelry."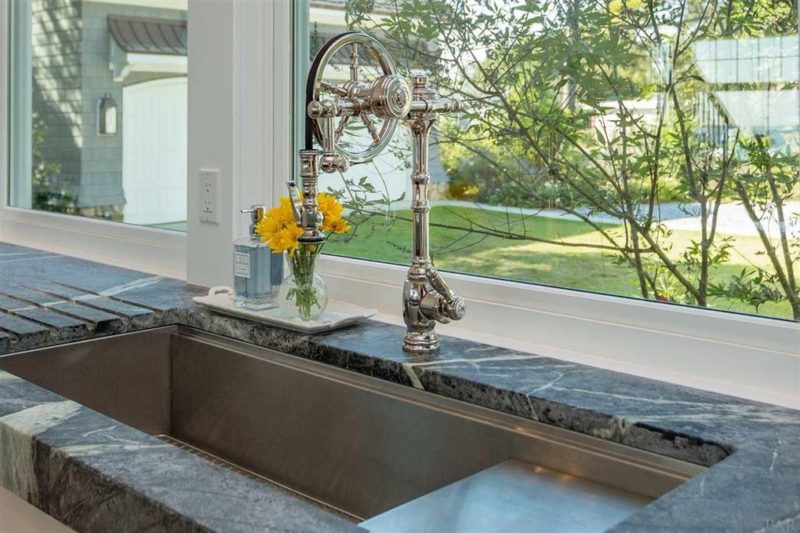 The Pantry has a rolling ladder, as well as a dumbwaiter to the second floor: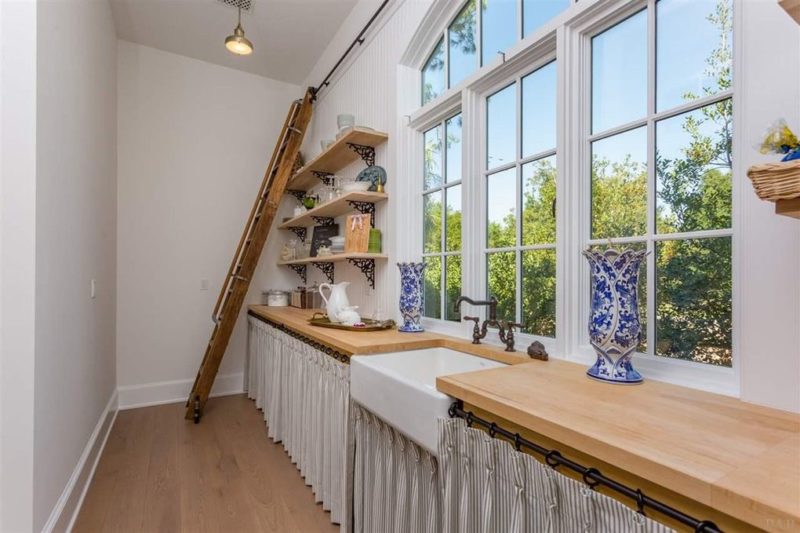 The Master Suite is on the main level: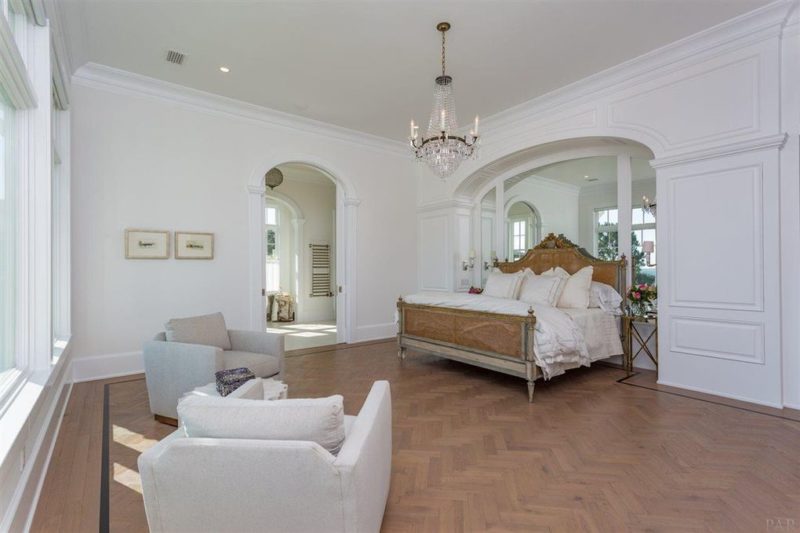 Imagine waking up to these views from your bed each morning: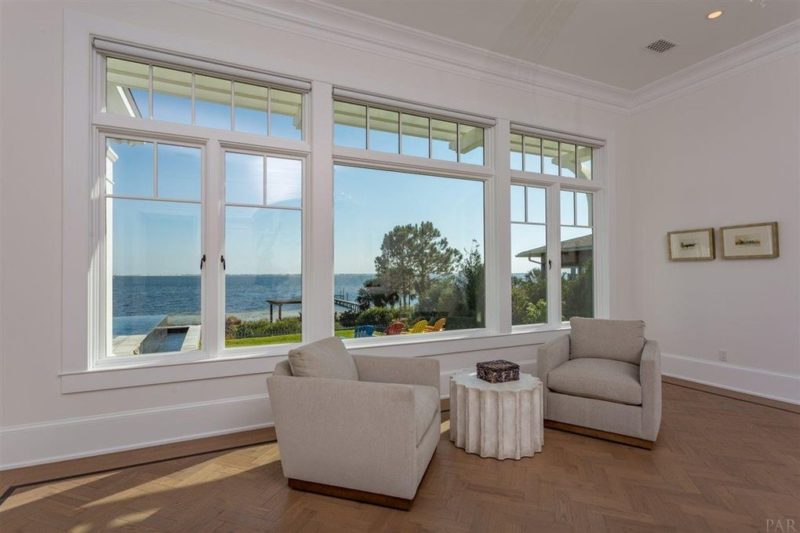 The Master Bath: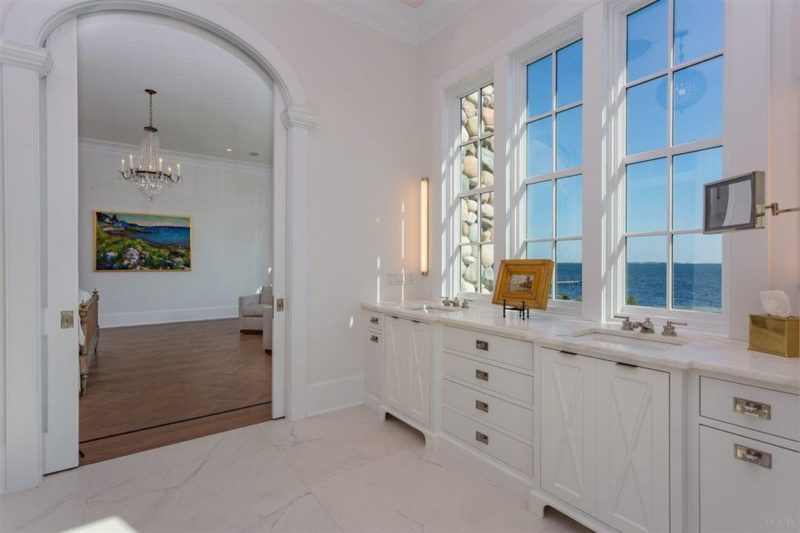 "The master suite has an elegant soaking tub, separate shower, water closet and dressing room."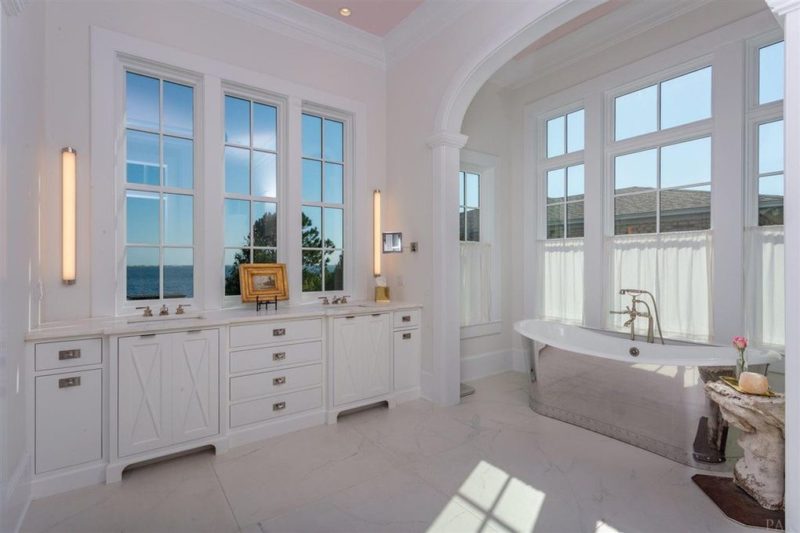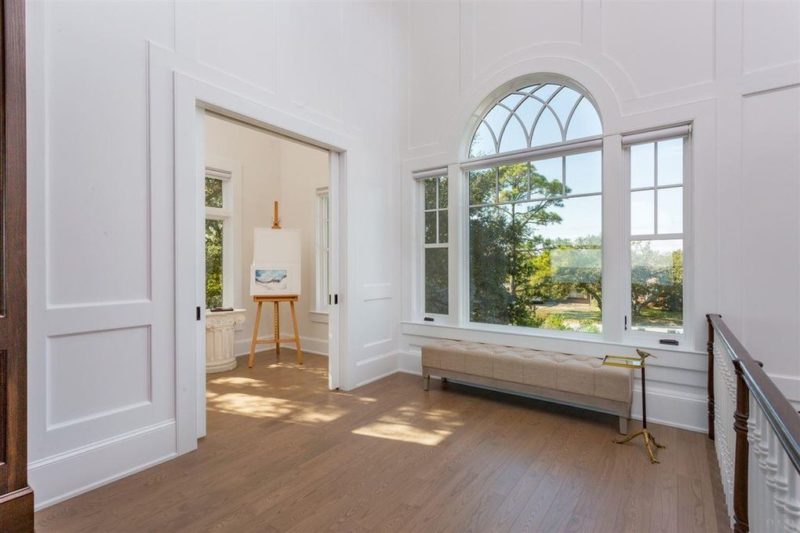 The wood paneled study on the second floor has a dumbwaiter connected to pantry below
for easy entertaining, and a second large covered porch with rock fireplace.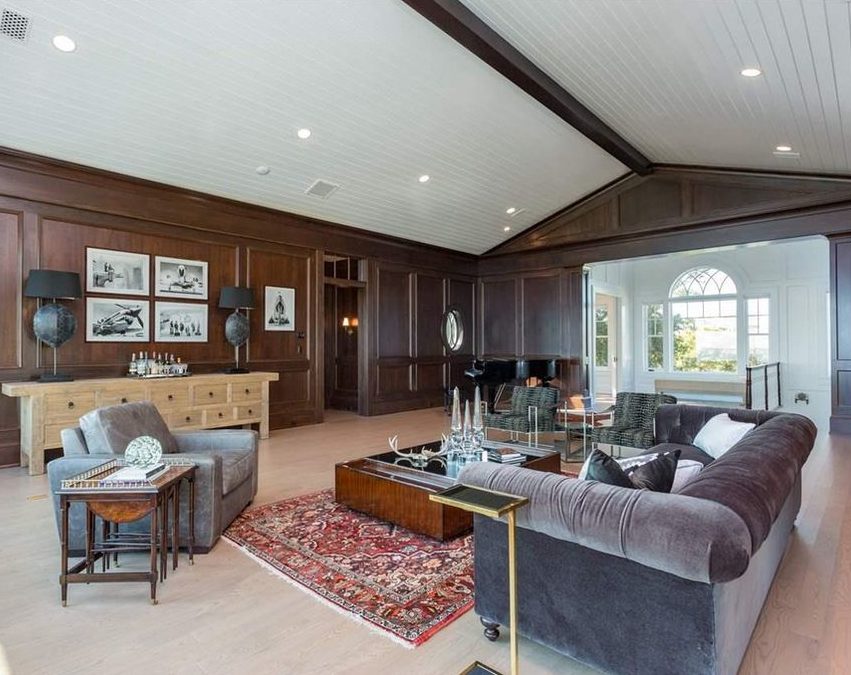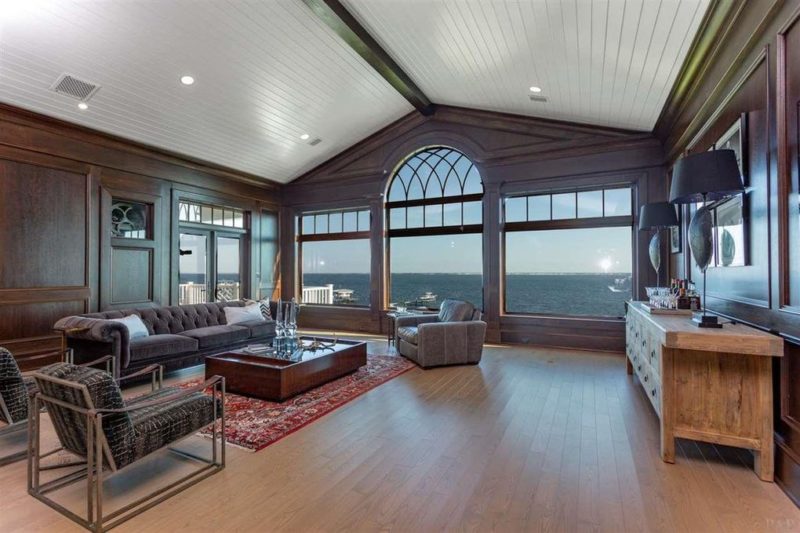 The house has 4 bedrooms, 4.5 bathrooms, and 5,748 square feet.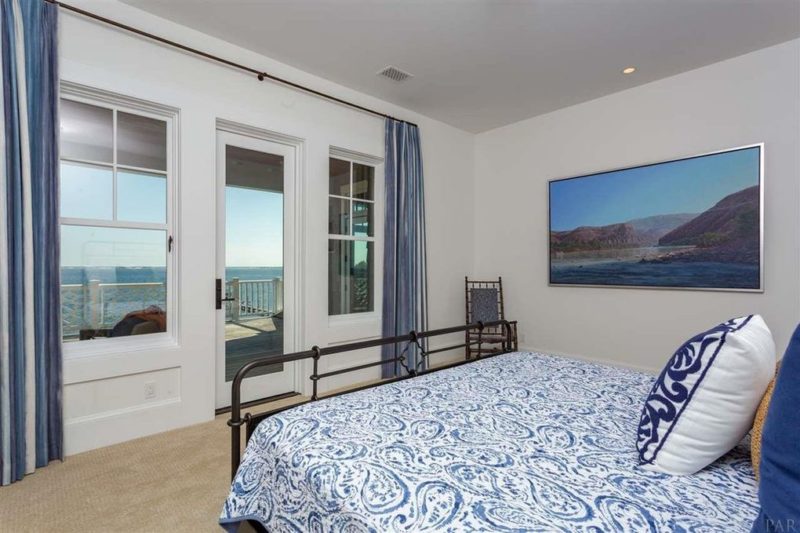 Brandi says, "Both upstairs and downstairs living areas are open to porches with river rock stone fireplaces and the mantels are trees found in nearby rivers."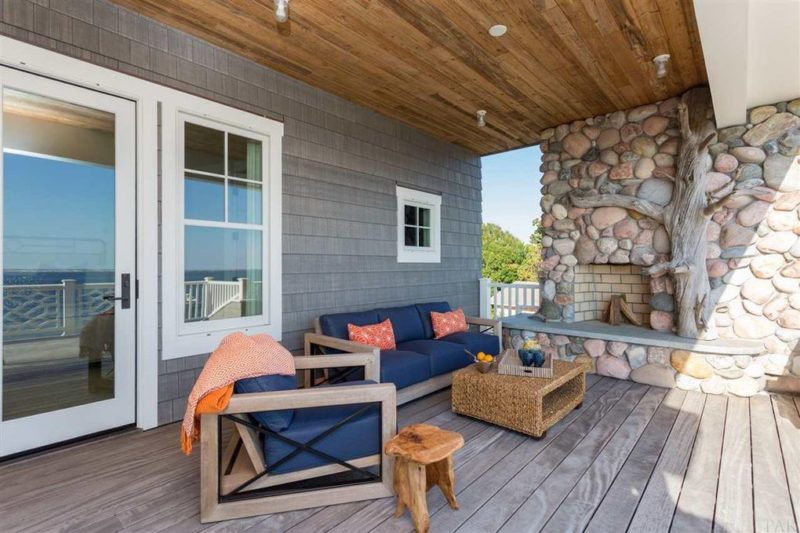 "There are custom Chinese Chippendale railings on the upstairs porch."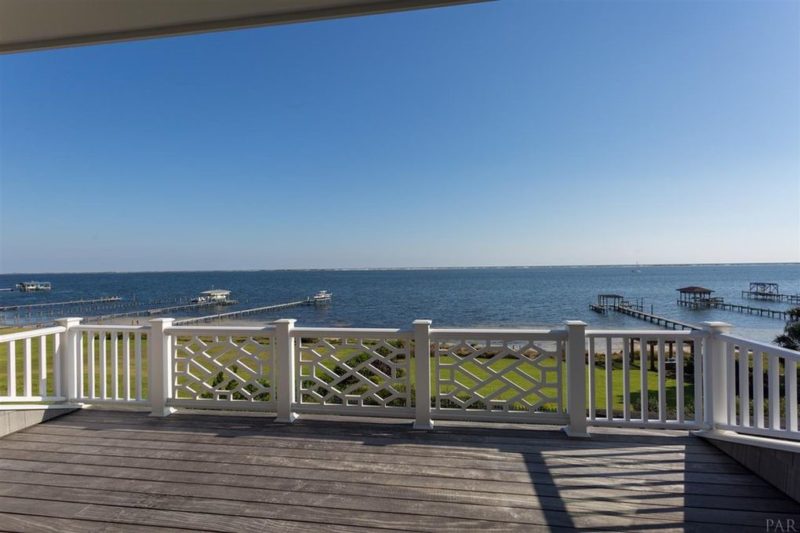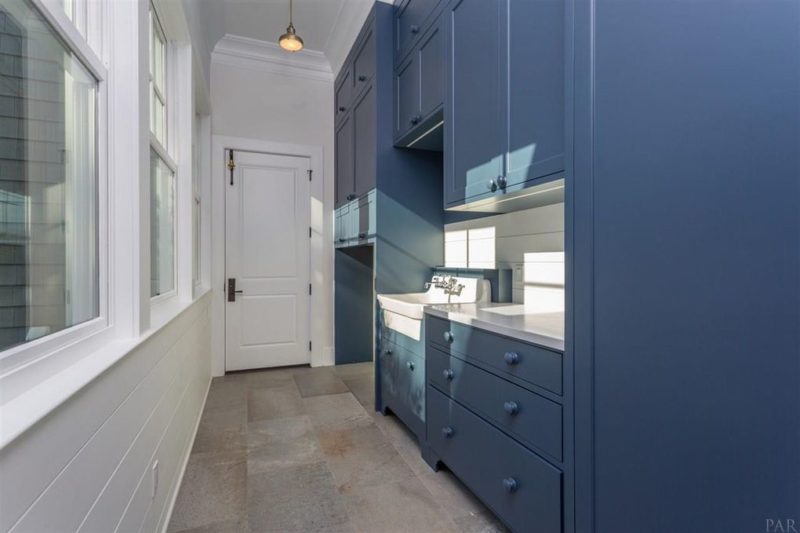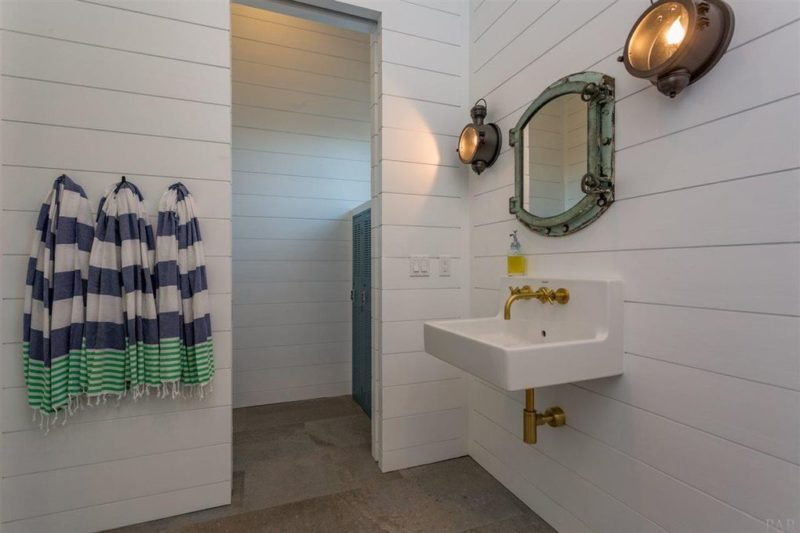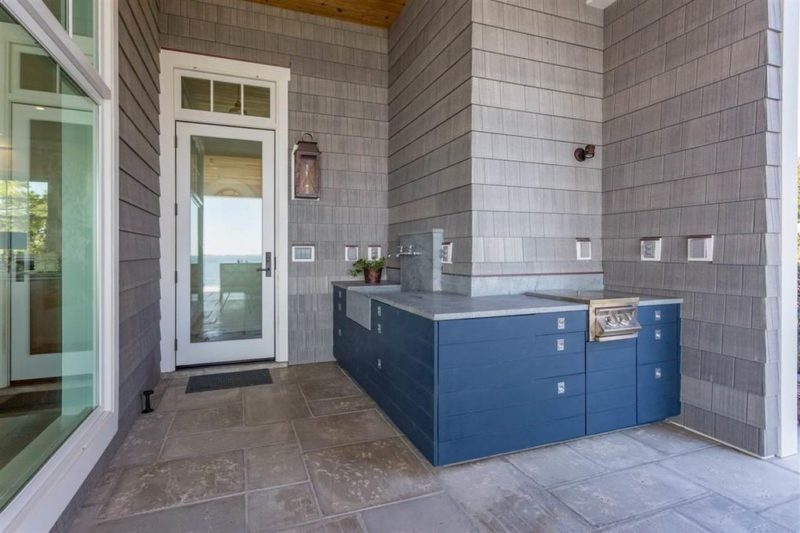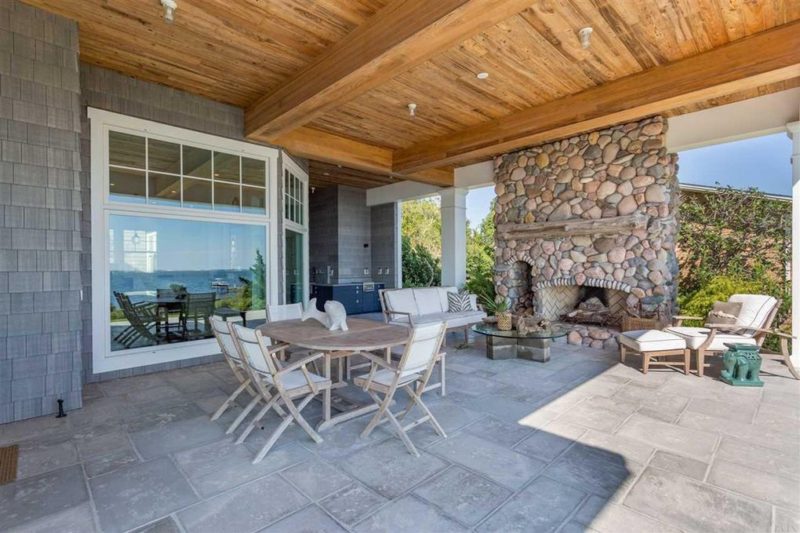 "Submerge yourself in your infinity edge pool, then sit and watch the sunset
from your covered back porch with outdoor kitchen and magnificent rock fireplace."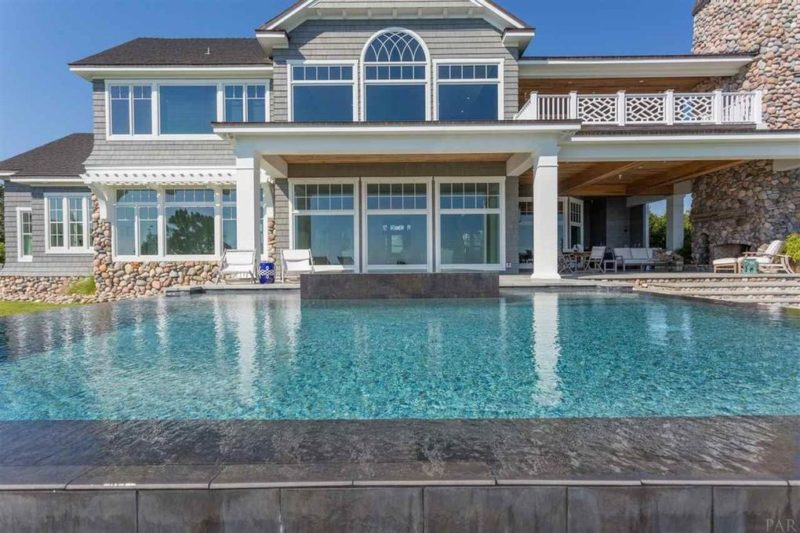 Brandi gave me some more details about her home:
The house has a river rock stone base with flares where the Nichiha siding starts. All corners of the Nichiha are butted or laced highlighting the exceptional installation.
All trim around the house is Azek, so no worries of wood rot at this well thought out home.
Copper roofs shade the main four garage bays and the majority of the house has heavily staggered wood like shingles that are made of recycled products.
Bevelo lanterns on the exterior and most interior lighting is from Circa lighting.
High end interior plumbing fixtures, steam shower in master. Exceptional custom flush inset cabinetry and custom soapstone counters in the kitchen.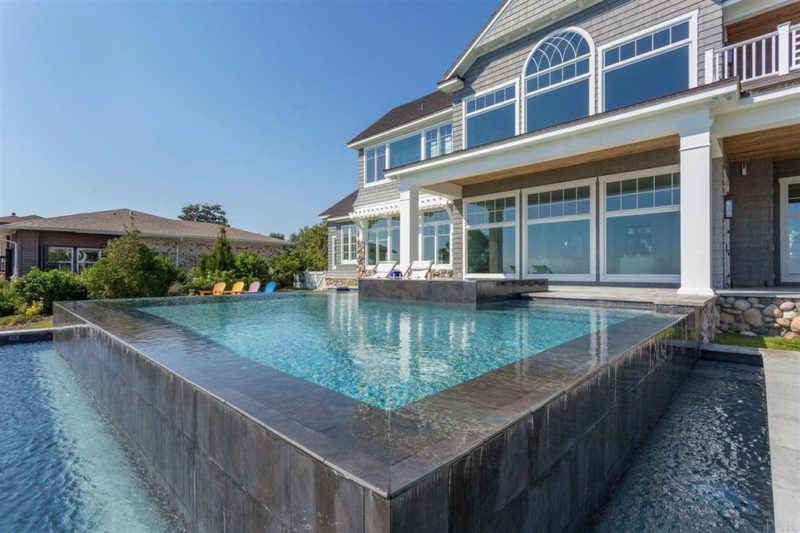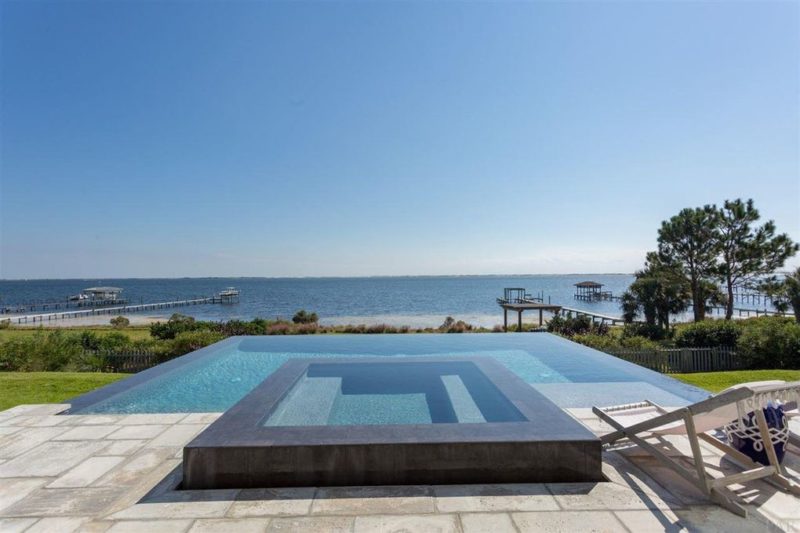 "All exterior ceilings are pecky cypress."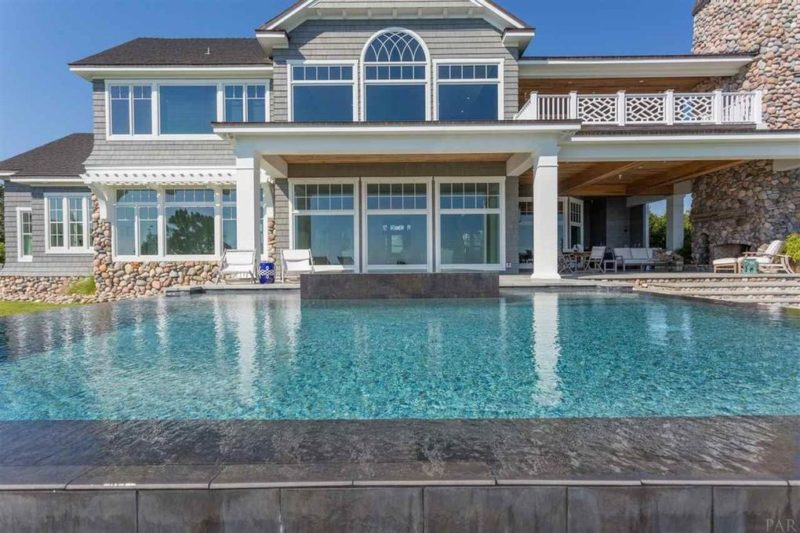 The listing says, "This is a home where you can relax, watch dolphin play, boats pass in the distance, and pelicans coast to their sanctuary at nearby Big Lagoon State Park. Only 7-10 minutes by boat to the Gulf of Mexico!"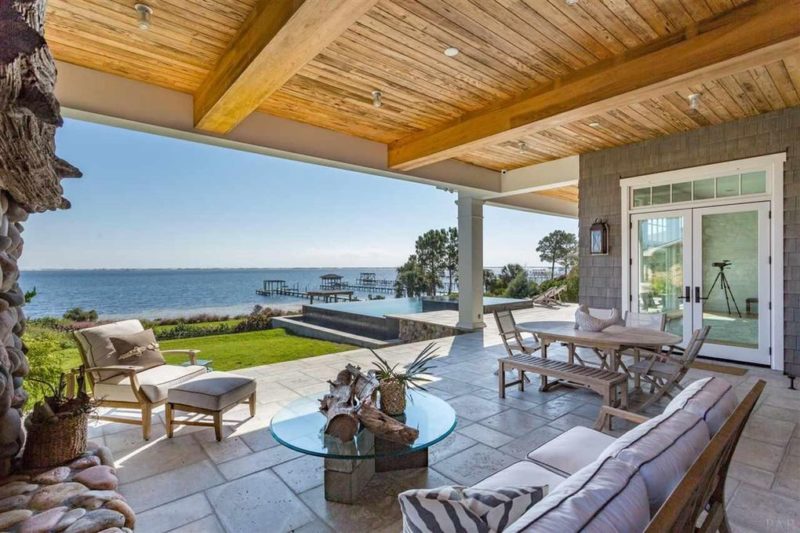 There are lots of spots like this where you can enjoy the water views.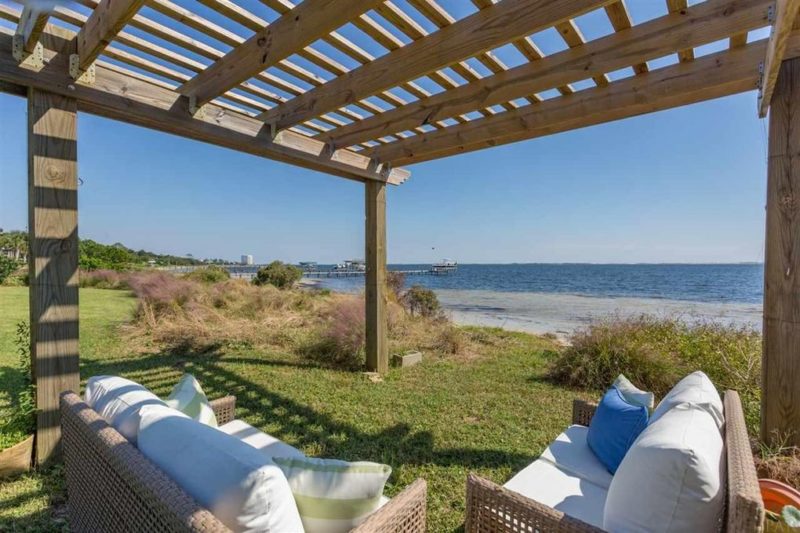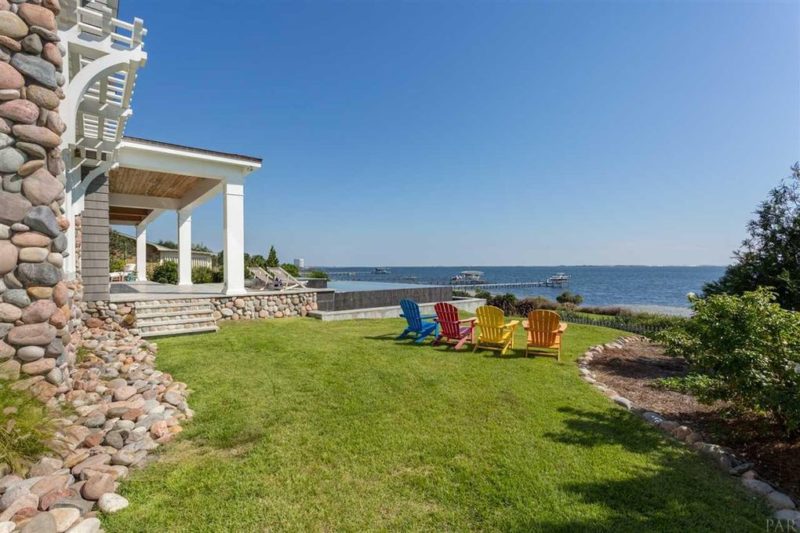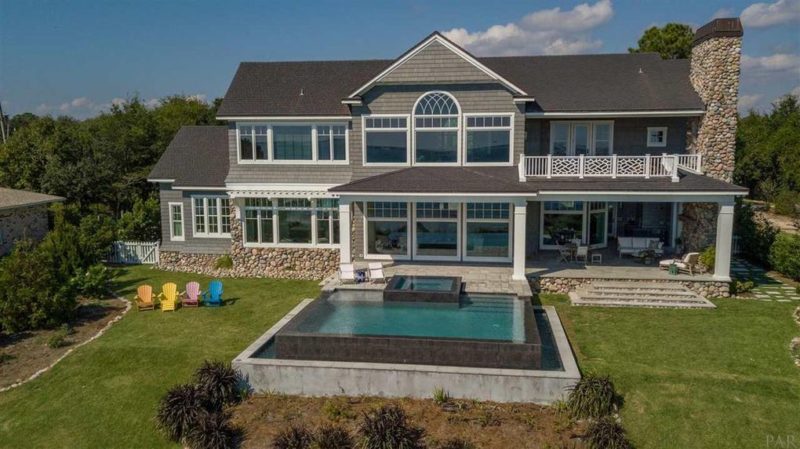 Brandi writes, "The location is exceptional as it is less than 10 mins to the Gulf of Mexico. There is a gradual slope down to the natural waterfront that is further protected by the National Seashore just south of the property across the waterway."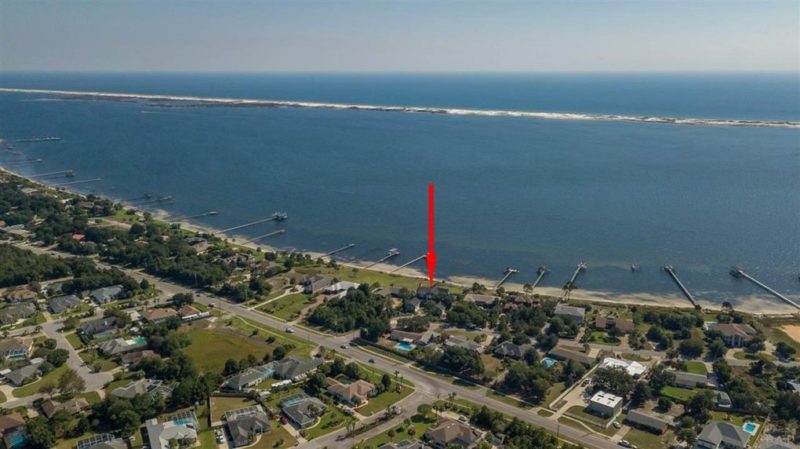 "The gardens are English country style in the front yard with a scalloped white picket fence.
There is a secret hydrangea filled garden in an oak tree grove."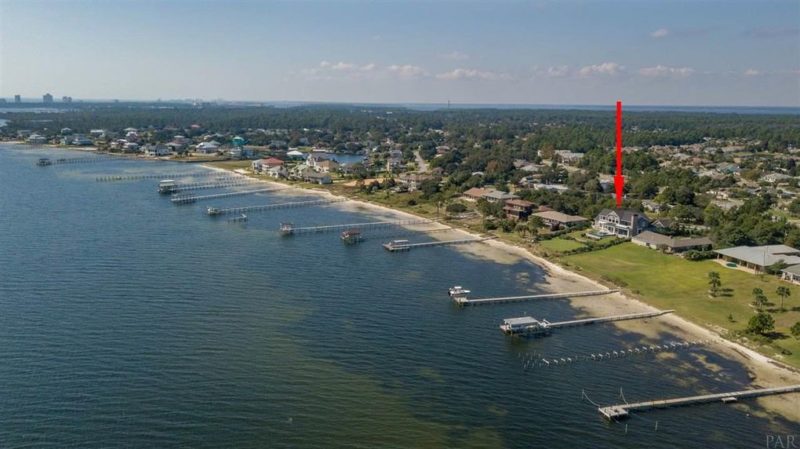 "Sea turtles, dolphins, and manatees are regularly seen at the waterfront,
and there is excellent fishing and crabbing in your backyard!"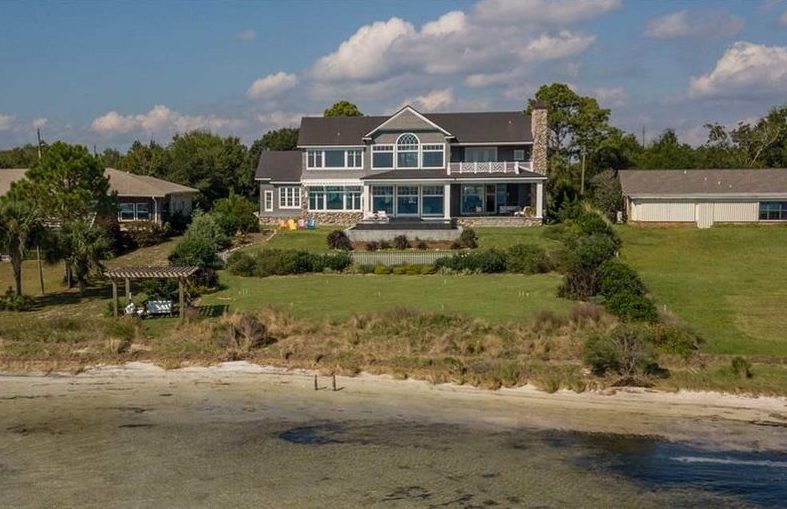 Sounds pretty dreamy to me. Thanks to Brandi for giving us a tour of her Florida home. Got a listing of your own to share? Send it to me!
For more information about 11605 Chanticleer, check the listing

held by Coldwell Banker agent Alisa Shepard. Photo credit: Clint Rackers.

Love searching the listings? Check my Real Estate page to see more.