I'm baaack! We had a fabulous time in the Caribbean, and I'm finding it kind of difficult to get back into my regular routine.
Does anyone else have trouble remembering that just because your kids are home from school, you aren't on summer break with them? I think we should all take summers off, don't you? 🙂
Now check this place out. It was built in the 1990s as a basic "spec house" in Manchester-by-the-Sea, Massachusetts, without much character or distinguishing style. But after a thorough and thoughtful renovation, it was given the "sea-cottage aesthetic" of a classic shingle-style home.

A Classic Shingle-Style Home
The side porch (with pooches!):
According to the design and construction firm Carpenter MacNeille:
The existing house was spec-built in the early 1990's to a basic level of finish. C&M architects and builders worked with the homeowners to reveal the potential beyond, starting with detailed custom interior build outs, including a paneled library, custom kitchen and butler's pantry, two unique fireplace surrounds, a pair of classically detailed dining room china cabinets and a fully paneled entry hall with hidden closet.
Designer John De Bastiana kept things classic with blue and white.
The homeowners "wanted the house to reflect a 19th-century seaside cottage aesthetic with interesting decorative details seemingly round every corner."
14 years after "Something's Gotta Give" made the look popular, I still love a white kitchen with black countertops:
The powder room adds a dose of red to the blue and white:
To keep the rooms modern, the designer introduced ethnic touches like living room curtains with a Moroccan pattern by Brunschwig & Fils and pillows with antique textiles. "It's all wonderfully traditional but with a fresh global spin and a nod to practicality, a style the designer calls 'useful traditional.'"
"For the exterior, while the massing of the house remained essentially the same, a new shingled skin was created, wrapping the house in classic bleached red cedar shingles and a new stone veneer."
Beautiful! The architect was Michael T. Gray and the builder was Don Tison. Photography by Sam Gray. For more information, visit Carpenter & MacNeille, designer John De Bastiani, and New England Home.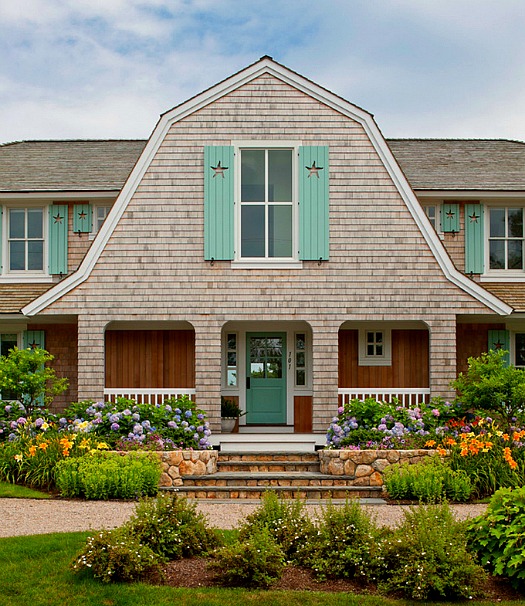 Today I discovered the work of Austin Patterson Disston Architects and swooned over this beach house with nautical style overlooking Moriches Bay. The charming entry hall sets…
Remember this romantic beach bungalow that the amazing design duo Steve and Brooke Giannetti built in Santa Monica? It popped up in all kinds of magazines…