If you're one of my readers who hates to see the original woodwork in old houses painted over, then take a look at this lovingly restored red-brick Victorian in Portland, Maine. 
I was a little disappointed to see that part of what had been a wraparound porch was walled up at some point, giving the exterior a kind of boxy look, but the interiors made up for it.
The entry hall manages to look both welcoming and grand at the same time:
I'm swooning over this staircase and am so happy no one ever painted over it:
Named for its first owner, the John W. Burrows Mansion was built in 1898.
The listing says, "Breathtaking period details have been painstakingly restored, and all major systems have undergone comprehensive upgrades."
The house has 5 bedrooms, 5 baths (a lot for a house this age!), and about 5,400 square feet.
See that built-in cabinet next to the fireplace in this bedroom's sitting area?
It's a hidden door that opens to reveal a closet:
Also? These glass doorknobs kill me:
The house has three stories.
I think this is the room that was created/enlarged when they walled up part of the porch:
The "gourmet kitchen" is a newer addition:
There's also a new laundry room large enough to accommodate a piano at one end (!):
This charming windowseat inside the turret…
…reminds me of the one Reese Witherspoon had in the movie Just Like Heaven: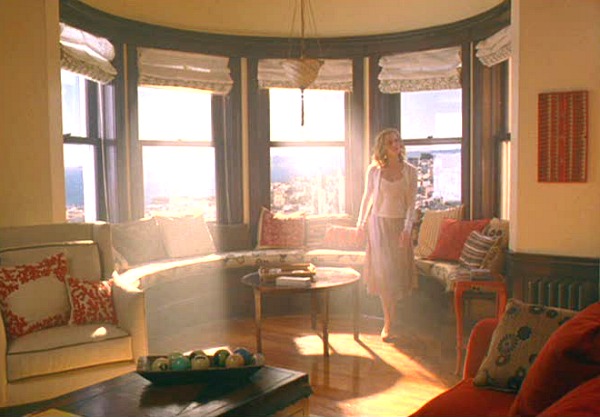 The bench and mirror in the entry look original with details that echo the rest of the woodwork in the house:
The dining room has built-ins and beautiful woodwork, too:
I grew up in an area that had lots of big old houses like this, so it reminds me of home.
There was a red-brick Victorian across the street from our house that I still have vivid memories of playing in with my friends. We lived in a much more humble stucco bungalow, however. (You can see a painting I commissioned of my childhood home posted on my About page.)
The listing for the John W. Burrows Mansion is held by broker Tom Landry of Benchmark Real Estate (looks like it's already had an offer, which doesn't surprise me). Cornerstone Building did the restoration work on the house and you can see more photos there, including ones of the small back staircase.
How was your weekend? It was so hot here that I had to turn on the AC in my sunroom for the first time this year. We've been spending a lot of time out there lately, playing games like Bananagrams with the kids and watching episodes of the charming BBC Northern Ireland series "Ballykissangel." Quite a bit of ice cream has been involved, too. Ha. I love lazy summer days, don't you? 🙂 
P.S. Hooked on Old Houses? Click here to see more, including…
A White Victorian For Sale in San Marcos
Hi guys! Let's kick off the week with a Real Estate Sampler and take a look at 9 houses that are on the market right now,…
This traditional shingle-style home sits on Further Lane Farm in the Hamptons. It was designed by architect John B. Murray and decorator Victoria Hagan, so it's pretty darn…