Longwood Estate was built in the 1760s in Bucks County, Pennsylania, an area known for having more than its fair share of beautiful old stone houses. The listing says, "Inside this Georgian manor home, you'll find custom millwork, high beamed ceilings, wide plank floors, crown moldings, and original hardware and doors."
"A noble, gated entrance opens to a long private tree-lined driveway leading through captivating grounds to a gracious circa 1765 Georgian Manor Home, guest house, pool house, barn and springhouse."
The dining room was originally the "keeping room" in Colonial times:
One of the bookcases in the master suite is actually a secret door that leads to a hidden staircase.
I like the exposed stone walls in the bathroom. Makes an interesting contrast with the marble.
There are 6 bedrooms and 3.5 baths.
The listing says, "Custom gourmet kitchen with Carrera marble countertops and commercial grade appliances."
I was surprised by the kitchen. I expected it to look a little more rustic. I'd love to see some beams and stone in here to tie it to the rest of the house. It's pretty, though!
I'm pretty predictable because the sunroom is one of my favorite spaces in the house:
It's just as pretty from the outside, looking in:
A long covered porch runs across the back of the house:
The reader who told me about the property said, "This room with the ginormous moose head and flag draped on the couch made me go 'WHAAAT?'"
I found a previous listing that explained that it was the pool house. In their photo, we see the room from a different angle, sans Moose and American flag:
The house was featured in Philly Mag last year, which explained, "The Georgian-style manor, named Longwood, was built in 1763 and then expanded and renovated three times — twice in the 19th century."
Want it? For more photos and information, check the listing and Philly Mag.
I think this would be a fun house to decorate for Christmas. I'd love to see it on a snowy day with candles in the windows. I finally took the pumpkins off my front porch and got the lights and wreaths hung on mine, so my holiday decorating is officially finished (*pats self on back*). I think the neighbors were starting to wonder how long I was going to pretend it was still fall, ha. Have a happy Monday! 🙂 
 P.S. Hooked on Old Stone Houses?
This wonderful old house was built in the late 1800s in Concord, Massachusetts, and homeowners Alex and Andrea say that little had been updated since. That meant…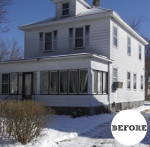 A reader named Doug wrote me about fixing up this old house in South Orange, New Jersey. It was built in 1912 and hadn't really been…