I love a good real estate sampler, don't you? Here are 6 houses that are for sale right now, starting with HGTV's Dream Home 2013…
1. Kiawah Island Dream Home Hits the Market
Remember this Dream Home that HGTV gave away last year in South Carolina? It's on the market for $2.395 million.
The listing says, "HGTV Dream Home 2013 is comfortable, but also embraces the Kiawah tradition of luxurious style and design."
You can see more photos and information about last year's Dream Home in my post about it.

2. A Reader's House in Tennessee
Katie is selling her red-brick house in Antioch. I'd love to have a kitchen with a fireplace, so hers caught my eye. It opens to the family room on the other side.

3. A Ralph Fournier MCM in Missouri
The listing says, "Perched on an old growth forest bluff above the Missouri River is a mid-century marvel. Comes with 2-bedroom guest house, 6-stall stable, and pasture."

4. A Birmingham Magazine Showcase Home
This lovely 1915 Tudor in Alabama won a Birmingham Beautification Award. Check the listing for all the photos and keep an eye out for the visitor in the attic. 😉

5. An Old Stone Farmhouse in Indiana
This lovely older home was built in 1850 and sits on nearly 5 acres. We have family in that area, so I might have to track it down next time I'm up there!

6. Garth Brooks and Trisha Yearwood Selling in Malibu
The listing says, "This beautiful 4 bed/3.5 bath single story ranch home is on half an acre of wooded land, just a few hundred yards to private beach access & gorgeous, sandy Paradise Cove beach. Remodeled in 2007, with a beautiful new master suite on one side of the home."
They also put their house in Tennessee on the market earlier this year, and you can see the pics here:

Bonus #7. The House I WISH Was Still For Sale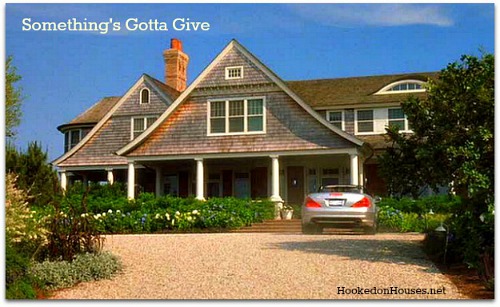 The beach house from Something's Gotta Give in the Hamptons recently sold — without ever hitting the MLS — for $41 million.
The buyer of the 11-bedroom mansion was reportedly Jimmy Tisch, CEO of Loews Corporation, who purchased the property before we ever got a chance to peek inside. Darn it! Since the interiors in the movie were sets, I'd love to get a look at the real deal.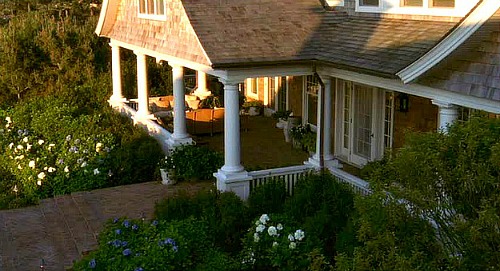 BTW, my post about that house continues to be the top search on my Houses Onscreen page, so I know I'm not the only one who loves it. 🙂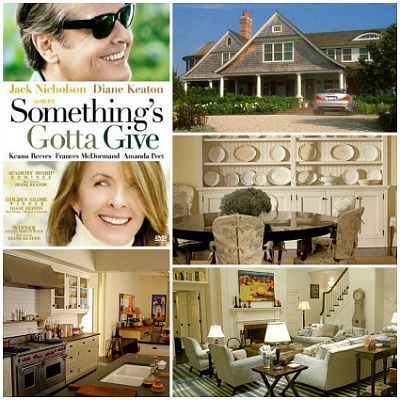 Anderson Cooper just bought this sprawling Connecticut mansion known as Rye House, and now he's selling off two smaller properties in the Hamptons. So I thought it…
1. An 1880s Carriage House in Darien Confession: I've had a crush on Captain von Trapp Christopher Plummer since the first time I saw The Sound…