1. The William Mason House in Connecticut
The website Save the Mason House gives the history of beautiful old home and hosts a petition to help efforts to prevent "demolition by neglect." It says: "Architecturally, the William Mason House (c.1845) is significant as one of Connecticut's best examples of the Gothic Revival style." Surprisingly, it's owned by the famous designer Mario Buatta. They're trying to convince him to either sell the house or renovate before it's beyond repair.
2. Do We Really Need Double Sinks in the Master Bath?
This is a question I've pondered myself. Honestly, I'd rather have the extra counter space than a second sink to clean, so I got a kick out Roxanne's post. She points out that multiple sinks would actually make more sense in the kids' bath in the hall to save time in the mornings. (Another question: Do we really need two-story family rooms?)
3. Larry David's "Gated English Country Estate" in Pacific Palisades

You may remember seeing this house in an interview that the Seinfeld co-creator and Curb Your Enthusiasm star gave a few years ago on Oprah. He just sold it for $12 million.
4. Fixing Up an Old House in Westborough, Massachusetts
Sue was so amazed by the renovation of this old house in her hometown that she contacted the homeowners and got a personal tour. The outside looks much like it did 1800s, but they gave the interior a contemporary look that surprised me (*understatement*).
5. A Small but Sweet Dome Home
How Steve Areen built a 500 square-foot "dream dome" for himself in Thailand in 6 weeks for $9,000.
A reader named Vicki had a fun idea for a blog, which she says was to combine Zillow and Pinterest: "I show decorating possibilities for empty houses." Check it out!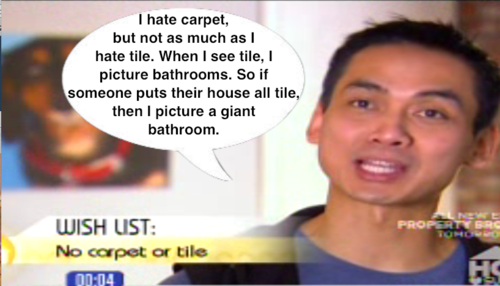 7. Awful People on House Hunters
Have you seen the Awful People blog that captions real things house hunters say on the show? Pretty hilarious. As is a post on Buzzfeed called 79 Thoughts You Have While Watching HH. To be fair, the house hunters are sometimes coached, but it's still funny.
8. Alfred & Alma's House in the Movie Hitchcock
I was watching the movie Hitchcock last night and nearly jumped out of my seat when I saw the house Alfred and his wife Alma lived in. I recognized it as Kennish Manor from Switched at Birth. And it looked like they filmed many of the scenes in the real house, as well as outdoor scenes by the pool, which you can see here. (These are the kinds of things that get me excited…ha.)
9. Blogger Awards
It's always nice to have your work noticed! They put my blog in the "Remodeling" category because I feature so many before & afters. You can check out the full list of nominees and vote for your favorite at Jackson Design & Remodeling.
(Visited 1 times, 1 visits today)