There are several types of houses I dream about owning someday, and a "rustic but elegant mountain retreat" like this is one of them. It sits on over 3 acres in Cashiers, North Carolina, perched high above the valley in the heart of the Blue Ridge mountains. And it comes with a guest house on the property, too.
The agent says: "The property is beautifully landscaped and includes tranquil water features and a koi pond."
"Perched high above the valley in the prestigious community of Cedar Hill, this luxurious legacy estate features stunning mountain views."
The reclaimed lumber and hand-hewn beams make it look mountain-rustic, but there's still a comfortable elegance to the rooms.
"Superb designer finishes, reclaimed lumber and hand-hewn beams combine beautifully for a timeless mountain feel."
I have to say I was surprised to see a white kitchen in this house. It's perfectly nice, but I expected it to be darker and more rustic like the other rooms.
I would love to see what Renita would do with this kitchen. Remember hers?
One of my favorite rooms is the master bedroom with the vaulted ceilings, planked walls, and the big windows.
I've never been to Cashiers but I'd love to someday. Gatlinburg is where we usually take our "mountain vacations," and when I'm looking for a place to stay, the most important thing is finding a deck or porch like this, because I know I'll spend as much time as possible sitting on it.
The listing says: "A separate, well-appointed guest house provides a warm welcome to family and friends with a cozy living room, stone fireplace, kitchen and private bedroom."
I love small houses, so I always get excited when I hear there's one for guests like this.
If you buy this house, I hope you'll invite me to stay.
Want it? Asking price is $2.9 million. Check the listing for all the photos and information. 

P.S. Hooked on Houses in the Mountains?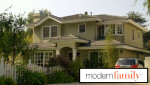 Phil and Claire Dunphy's house on the popular sitcom Modern Family is for sale in L.A. The homeowner gets paid each time the show shoots exterior scenes…
This is the kind of house story I love to hear because it has a happy ending! The Wilkins-Heath House is a painted Queen Anne…