1. I loved reading the story behind this charming "English Cottage Style" brick house that was built in the 1920s in Portland and seeing old photos and advertisements for it.
 2. Bonus! The brick house has a "Quaint English Cottage Garden Apartment" in the lower-level apartment for rent with an adorable vintage kitchen.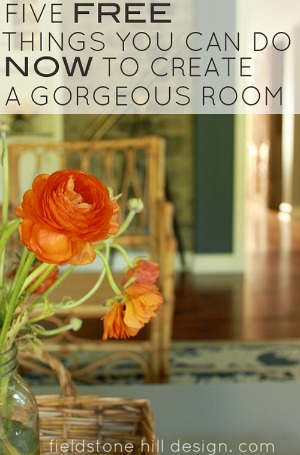 3. Darlene has 5 things you can do today to make your home more beautiful.
4. LaSalle Park in St. Louis is filled with beautiful old houses. Long-time readers may recall that the original header for my blog was a photo I'd taken of a row of them during one of my visits there. So this article in Studio 3 Magazine about updating an historic house in the area caught my eye.
5. This week in unusual real estate photos:
And I wonder how many people do a double-take when they see this shower curtain?
6. Ever dreamed of owning a thatched cottage? This one is on the market in Worcestershire for £300,000. It was built in the 13th century, but don't worry — it was updated in the 17th! They had me at "inglenook fireplaces, bread ovens, and original beams throughout."
7. Designer Emily Henderson has been busy with a sweet new project. 🙂
8. This living room got a "Wow!" makeover at The Lettered Cottage.
1. I just finished reading Melissa Gilbert's memoir Prairie Tales and loved it.  I was really into Little House as a kid, so it was fun reading her…
1. The William Mason House in Connecticut The website Save the Mason House gives the history of beautiful old home and hosts a petition to…