For months I've managed to maintain a positive attitude despite daily doses of snow and ice and frigid temps, multiple school delays and closings, and even the flu. But since this crazy winter weather ruined my son's plan to visit from college over the weekend, I've had it. You're dead to me, Winter. I'm ready for warmer, sunnier days, and would love to be sitting on a turquoise-painted porch like this one in Florida right about now…
We're heading to Florida for a little vacay next month and I'm counting the days…
In the meantime, I'm staring at these photos of a lovely old beach house on Amelia Island and daydreaming about sunny days and palm trees.
This house was the first one built in Fernandina Beach after the Civil War in 1866.
The listing says:
"This beautiful home has been featured in numerous magazines and books and was a stop on the 2011 Amelia Island Museum Holiday Home Tour."
"This 3,503 square-foot home boasts ornate plasterwork on the ceilings, an original heart pine grand staircase and heart pine flooring."
"Within walking distance of the restaurants, shops and marina on Centre Street, this extravagant home sits on more than three city lots and offers three porches with more than 800-square-feet of outdoor living space."
"Three non-working coal burning fireplaces, 13-foot ceilings on the main floor and original double hung windows remind visitors of the history of this amazing home."
There are 4 bedrooms and 2 baths.
The house is featured at CIRCA Old Houses, which has more photos and information.
Anyone else wishing they were lying on a porch like this with a fan whirring overhead today? I'm ready to pull out my sunglasses and flip-flops and get this summer started!

More Summer Houses I'm Hooked on:

A House with Turquoise Shutters

A Classic Shingled House in Massachusetts
1. A House in the Heart of Old Town Steamboat Springs The listing says: "This handcrafted home features a mountain contemporary style with rich wood…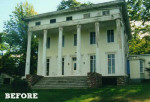 Nancy wrote me about her wonderful old house in Cornwall-on-Hudson, New York. When she and her husband bought it, "It was in a complete state of disrepair."…