1. This Victorian on the market in Pennsylvania has a few unexpected features…
According to the listing for this FSBO, you'd never be lonely in this lovely old house: "Built in 1901, this Victorian features original hardwood floors throughout. 4 bedrooms, 2.5 bathrooms. Slightly haunted. Nothing serious, though. The sounds of phantom footsteps. A strange knocking sound followed by a very quiet (hardly noticeable, even) scream at 3:13 am, maybe once a week. Twice a week, tops. And the occasional ghastly visage lurking behind you in the bathroom mirror. Even still, this occurs very rarely and only in the second floor bathroom." (Well, as long as it's just the second floor bathroom.)

2. A creative solution for a ugly air vents at The Friendly Home.
3. 14 Things You Need to Start Doing Now for Your Spouse's Sake.
4. Check out what one Star Trek fan did with her house.
5. A cool series of black and white photos taken inside Brooklyn homes in the 1970s.
6. Part of an old cargo ship was turned into a house that sits on a cliff overlooking Lake Erie.
7. Kerry shows us how her neighbor gave this house more curb appeal at House TalkN.
8. The Great Gatsby just nabbed a well-deserved Oscar nom for Best Production Design. IMO, they should win for that adorable cottage in the movie alone! It was my favorite movie house of 2013.

Hard to believe but it was 6 years ago this week that I started this blog. It was one of my New Year's Resolutions in 2008 that I actually kept! Every January I wonder how on earth I can keep it up for another year, but somehow I find enough to talk about for another 365 days. 🙂
As of today, I've written 1,664 posts (which would be about a book a year!), and the blog has gotten well over 61 million hits. I'm as surprised as anyone. So I just want to take a minute to thank all of you for being a part of this community over the years, because I wouldn't still be here if you weren't! 
1. Remember the eclectic and colorful farmhouse that artists Richard and Victoria MacKenzie-Childs restored in Aurora, New York? I featured it when it went on…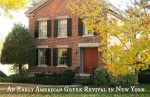 A reader named Elizabeth says that her love of old houses began with this one in Queensbury, New York. She grew up in this "Classic…