Have you seen the show Property Envy on Bravo? A panel of "real estate experts" like Jeff Lewis and Mary McDonald discuss various properties that are on the market. They recently featured Deer Lodge, a $10.9 million property in Santa Barbara, and I tracked down the listing to get a closer look…
The original adobe hacienda was built for the John Deere family in the early 1900s and sits between Santa Barbara and the Santa Ynez Valley. It's now a large compound covering 180 acres that includes 14 buildings.
The main house is described as "rustic and romantic." Mary McDonald said on Property Envy that she appreciated how they updated the old home without making it look brand spanking new in the process.
Jeff Lewis, however, said it looks a little too remote for him. "No one could hear me scream out there." Ha.
Speaking of Jeff Lewis, I got hooked on his show Interior Therapy over the summer. He and his assistant Jenni helped couples overcome their differences — and redecorate.
The house features original dark wood beams and native stone fireplaces.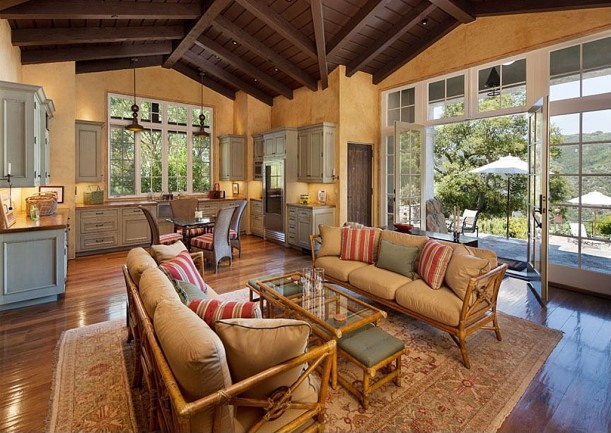 I love that outdoor fireplace. And the views are pretty amazing, too:
SBDigs wrote about the house: "The property additionally boasts a bocce ball court; a deluxe tree house and fort; a 150-foot-long zip line; a lighted sport court; and a 300-vine vineyard (of Syrah and Grenache) planted and tended to by the famous vignerons of the Beckman Estate."
For more photos and information, check the listing and the video on Bravo's Property Envy website.

(Visited 3 times, 1 visits today)