This unusual "Grand Craftsman," which was built in 1915 with three stories and nearly 9,000 square feet in Portland Heights, was designed by Oregon's first State Architect, William C. Knighton. It has been updated, but Craftsman purists will be happy to see so much of the original woodwork intact.
The woodwork throughout the home is "rich mahogany and oak," according to the listing.
The house has 7 bedrooms and 4 full baths.
It's on the market for $2.1 million. For more photos and information, check the Windermere listing and take the virtual tour. Thanks to Kim for telling me about it!
Hooked on Craftsman Houses? Click here to see more, including…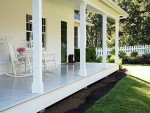 Readers of the blog A Country Farmhouse followed Trina and Mike's adventures in fixing up this old farmhouse that sits on 7 acres in Oregon.…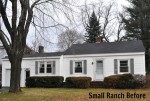 This 2 bedroom, 1-bath post-war ranch in South Portland, Maine, was cute enough to begin with--on the outside, at least. But it was kind of…