Have you seen the so-called "Gingerbread House" in Brooklyn? Some of the readers who sent me the link to the listing described it as "a hobbit house." Others used words like "storybook" and "fairytale." Curbed dubbed it "Hansel & Gretel's Hidey Hole." The asking price is $11 million–more than hobbits or Hansel could probably afford–but gawking is free…
According to the 1988 Landmark Designation Report, "This distinctive residence, an important and rare example of the Arts and Crafts style of architecture in New York City, was designed in 1917 by James Sarsfield Kennedy, a Brooklyn architect, for shipping merchant Howard E. Jones."
The roof, it says, was designed to imitate the thatch roofs of English rural cottages but is actually made from "subdued polychromatic asphalt shingles laid randomly–there are no straight lines."
The Arts and Crafts movement of the late 19th century emphasized the use of natural materials and craftsmanship. They were often inspired by rural cottages: "The Jones residence was built in rubblework of large, natural rocks and boulders of various colors."
"The varying heights of the house step up to the massive end-wall chimney creating a picturesque profile and calling attention to the importance of the hearth within the structure. The asphalt shingle roof is rendered with an undulating surface and smooth molded edges in imitation of the thatch roofs of early rural cottages."
Jason Sheftell of the NY Daily News dubbed it the "most magnificent residence in all of New York City. Everywhere you look is something pretty."
Homeowners Jerry and Diane Fishman, who bought the house in the 1980s, told him, "It sounds crazy to attribute a house to good luck, but from the day we bought this house, there was life magic."
They have restored and maintained most of the original details.
The listing says: "8200 Narrows Avenue is enchanting, inviting, and romantic. This fairy-tale estate has been featured in a Prague Museum as one of the ten most beautiful places in the United States and is considered one of the finest examples of Arts & Crafts architecture in NYC by Landmarks of New York."
Also: "The house features original oak paneled walls, Burmese mahogany floors, coffered ceilings with hand painted canvases, pastoral plaster relief, antique stained glass artwork imported from Europe, handmade tiles, and handcrafted fireplaces."
For more photos and information about the Gingerbread House, check the listing and articles at NY Daily News and Curbed.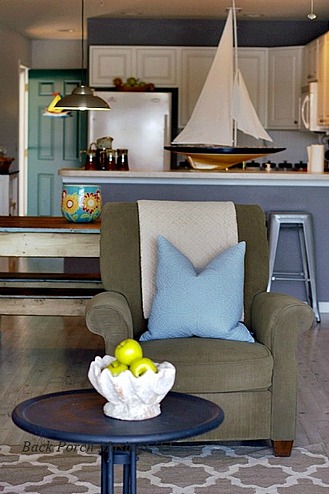 Click the pics and links below to see the listings: 1. Pat's Lake of the Ozarks Condo (more pics on her blog) 2. Emily's parents'…
It's always fun to look through the Seattle-area real estate listings because there are so many great Craftsman-style houses in that part of the country.…